FF247 Fantasy Football Site Team GW13
Plan B.
Welcome to FF247 Fantasy Football Site Team GW13.
They say a week is a long time in politics, which must therefore translate to 'a fortnight must be a lifetime in FPL' for two cracking game-weeks has taken us from a season long low in GW10 to a season's best rank after GW12. Like many we were indebted to our Leicester coverage for our success. New recruit and insta-captain Vardy returned 24pts while Soyuncu at the back weighed in with an 8pter. Goals from Mane, Abraham and Jimenez and at last a clean sheet from Pope saw us score 75pts and we now have a global rank of 25,280th. And we still have two free transfers to use this week! Therefore, all is looking positive and rosy, what could possibly go wrong?!
Our GW12 Result…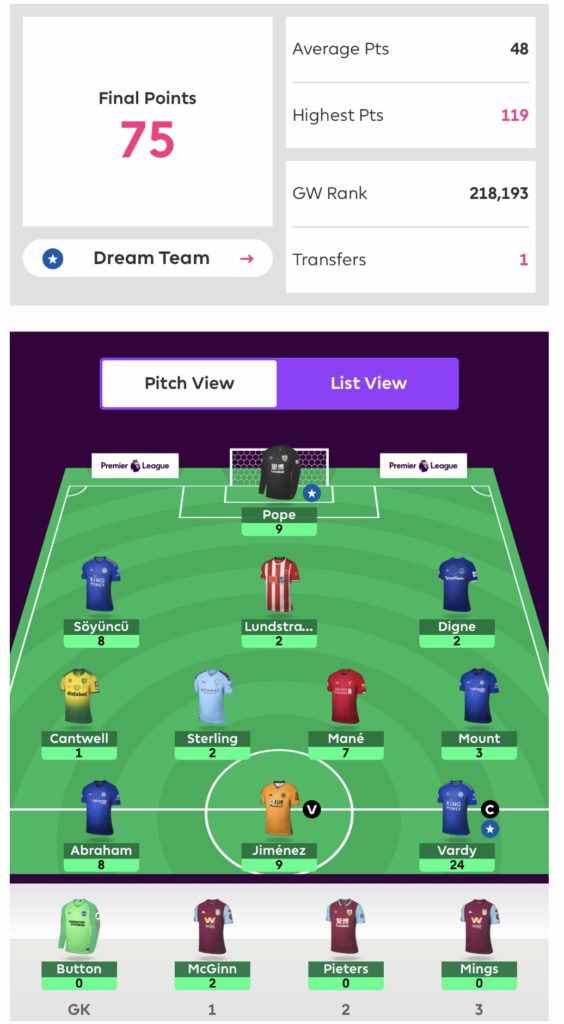 Let's go see what was decided…
Our GW13 Transfer(s)
Not only did we have two free transfers but we also had a whopping £3.3m in the bank to play with after our recent 'fund raising' activities. Which is where the fun began this week because not one of us could actually remember who we were saving up for! You'll have to forgive us, it's been a long IB and we are getting older!
We have some semblance of recall that it may have been KDB but if it was then we must have been relying on some interest payments because we are still short of that one unless we let another big asset go and we are perfectly happy with all of those right now. In theory Digne could have left along with Mount or McGinn to accommodate it but in all honesty we like the fixtures of all three this week, for varying reasons.
Onto Plan B then and the one thing we do seem to have been lacking / missing out on a bit is some Liverpool full-back cover, or a 5th / 6th midfielder as some prefer to think of them as. With Liverpool's upcoming fixtures looking favourable in terms of both goals and potential clean sheets we have decided to invest some of our cash at the back. Ideally we would have sold Lucas Digne as his and Everton's fixtures go in completely the opposite direction after this week, but with Norwich at home he has a final reprieve before we most likely wave him on his merry way next week. Given as we already have Pope in goal and seem to be showing little desire to ever actually double up with both him and Pieters then it was decided that the latter should leave.
So just the one transfer which means that we will arrive with two of the bad boys again next week.
To confirm then we have SOLD Erik Pieters and BOUGHT Trent Alexander-Arnold
Captain – Jamie Vardy
As obvious as this one sounds the vote was actually split with both he and Sterling getting 50% a-piece initially, before one of Raheem's fans had a last minute change of mind, and so Vardy takes our armband down to Brighton to hopefully wreak havoc once more. And put us on a par with the other 95% of people who will have it on him…..
Our GW13 team in full…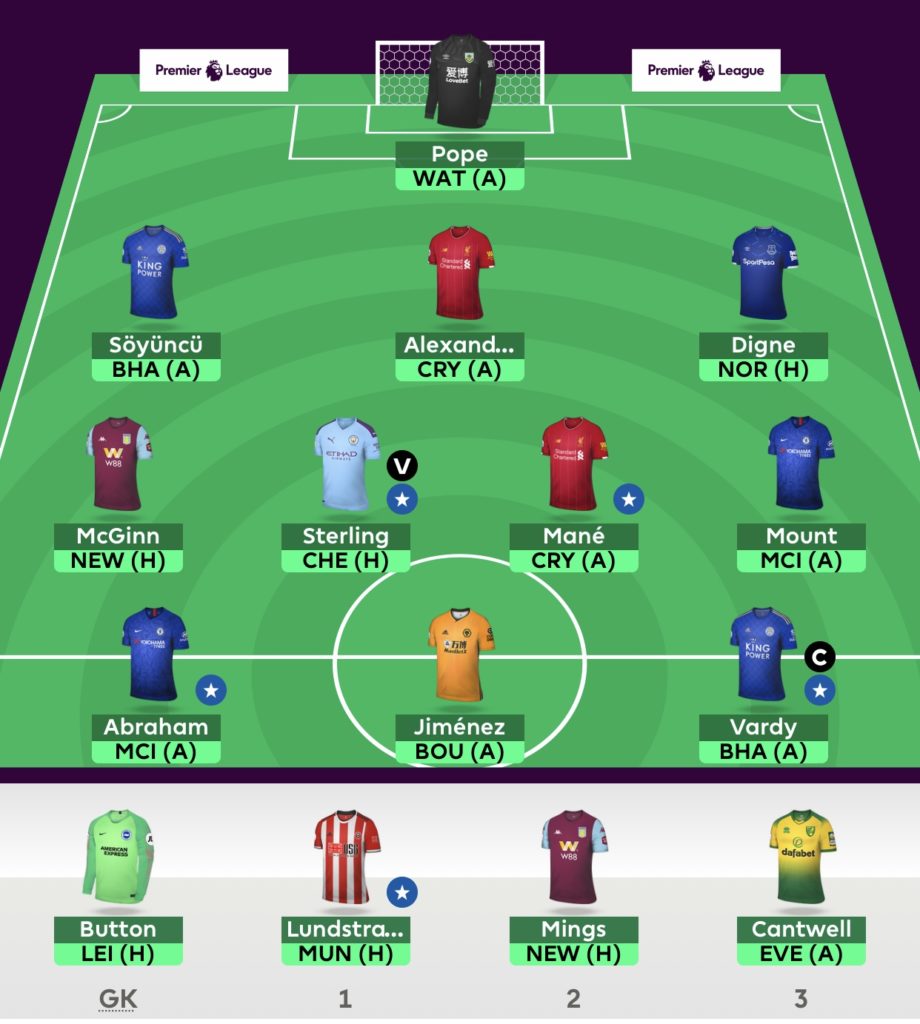 Should you wish to follow the FF247 Site Team's progress you can do so here.
Thanks for reading FF247 Fantasy Football Site Team GW13
FPL FIXTURE TRACKER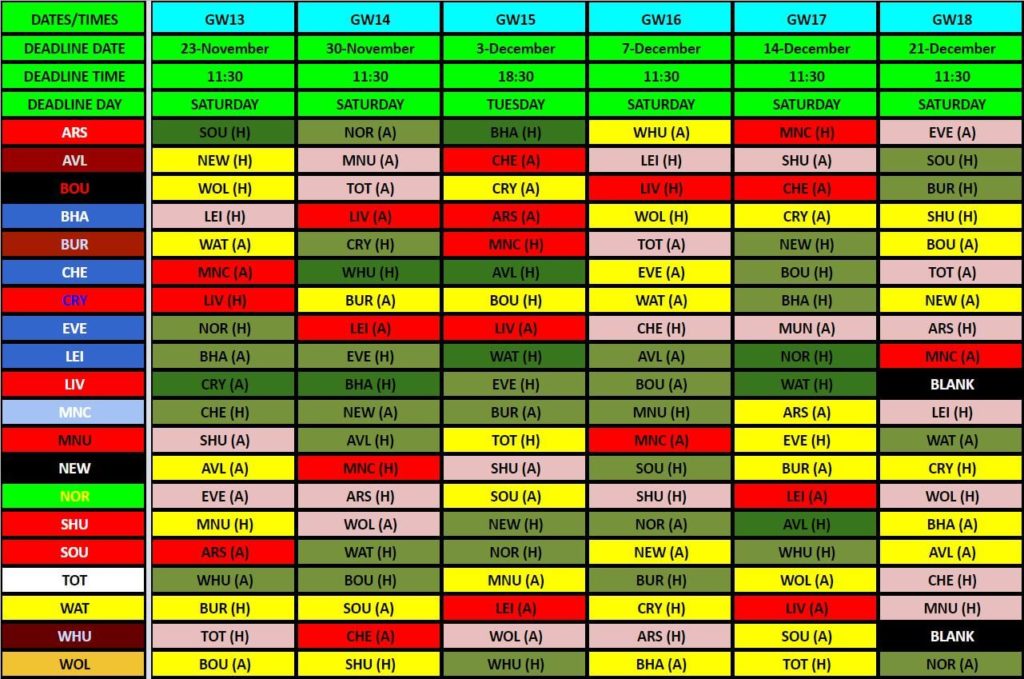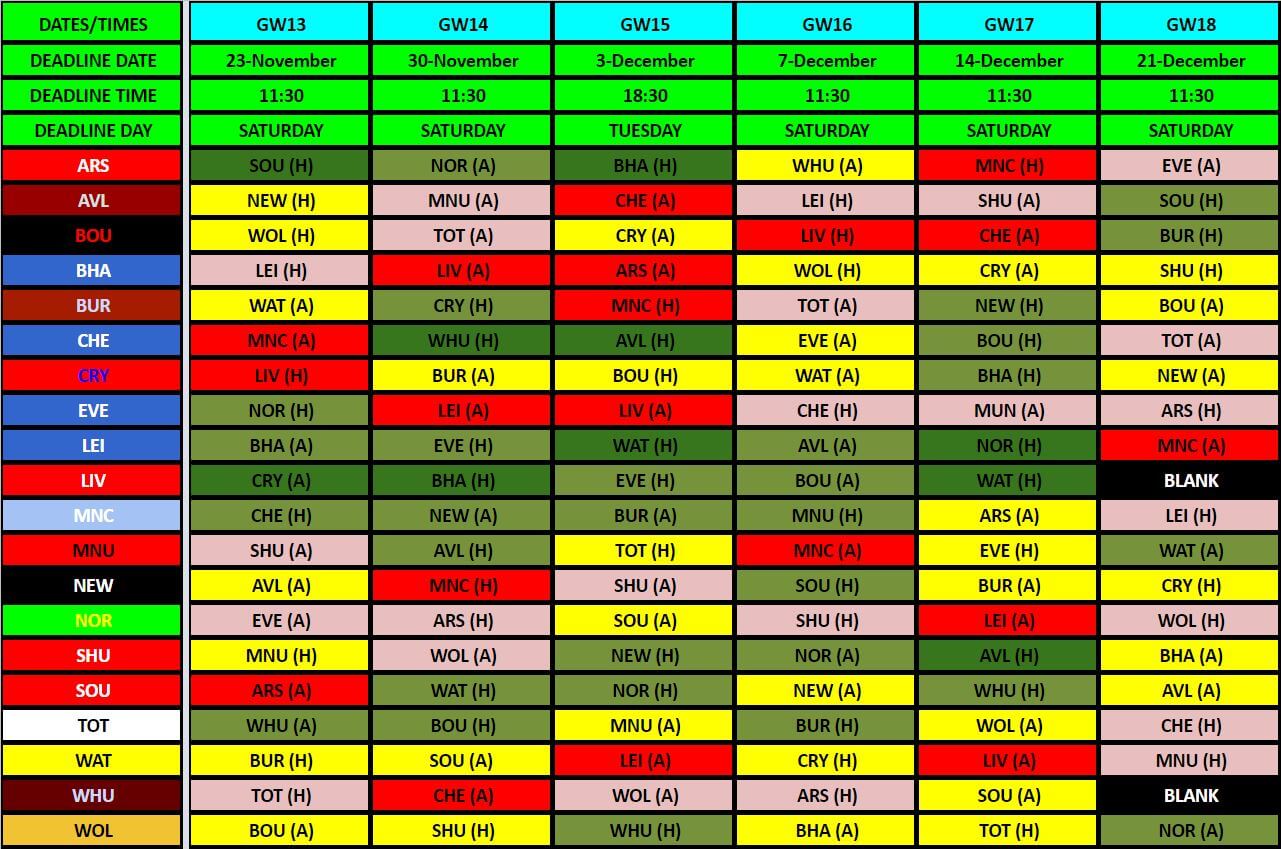 FIXTURE TRACKER LINK
Fantasy Football 247 League Codes: