FF247 Fantasy Football Site Team GW35 Free Hit Special
Welcome to the FF247 Fantasy Football Site Team GW35 Free Hit Special. We've taken a slightly different approach to our usually formulaic Site Team article this week, and this is why… Rather than deluge you with all sorts of different Tips and Captain Picks this week we thought it may be wiser to (almost) let the elongated DGW34 play out to its natural conclusion and then come in with a (relatively) simple look at GW35. Just in case you've been under a rock or something GW35 is also known as Blank GW35 as there are only 6 fixtures this week. Just to be completely prescriptive then the 6 fixtures, or 12 teams involved, are as follows –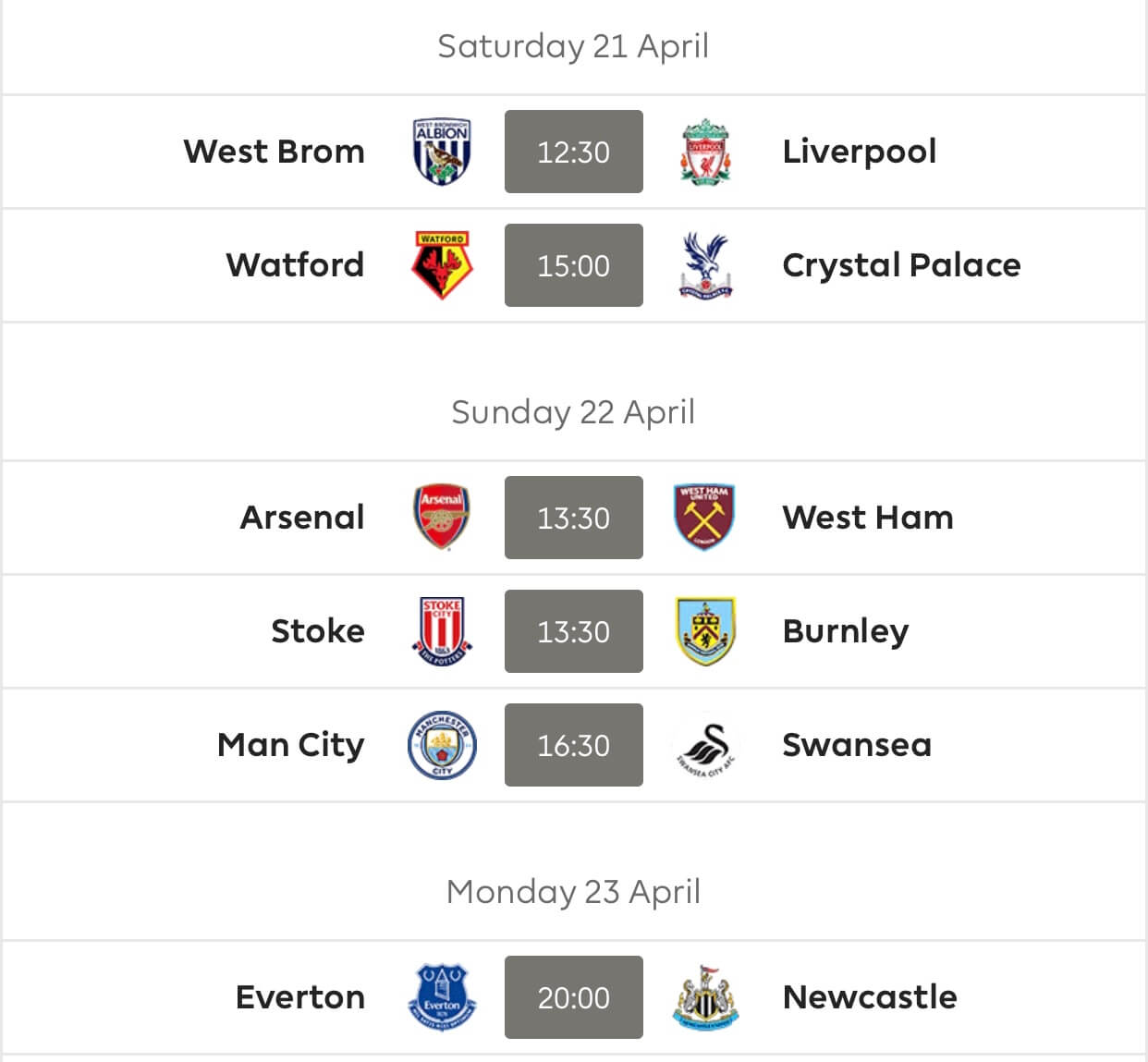 If this comes as some sort of a surprise to you… then said rock may be your best friend, go back and give him another hug. If however you've planned accordingly then there's a fair to middling chance that you are playing your Free Hit Chip this week. If you have then this is certainly a relevant article for you as we are playing ours too and will show you it below, along with an alternative (emergency) one. We shall explain the emergency one also! If you aren't playing it this week then hopefully you can still ascertain from ours the key players we would be bringing in on normal transfers and we shall also explain our Captain Pick. Basically, it's a bit of an all in one job, you just need to read between the lines to pick the bits you need.
Before we show you our actual picks there a few key points which you may like to consider –
Liverpool and Arsenal may screw us all over! Both have decent GW35 fixtures but both also have European semi-finals in the midweek following it and may well prioritise those and choose to rest their key players accordingly.
Aubameyang is your best bet from Arsenal as he is ineligible to play in Europe for them.
The Liverpool line-up for GW35 will most likely be released prior to the deadline. And will most likely dictate how you play your FH Chip! We shall endeavour to retweet this and post it in the comments, if and when it happens. It's usually spot on too so we would have an 'emergency' FH team ready if the worst was to be reported with the likes of Mane, Firmino and Salah possibly rested.
Man City have now won the league and so literally have nothing to play for. That smacks of rotation and maybe blooding some youngsters. The next (actual) meaningful match for the majority of their players will probably be a World Cup Group game in June!
And so onto the team itself…
We actually have 3 teams and 3 scenarios! As we have said above picking a team this week may all depend upon us seeing that Liverpool line-up. As such we are leaving no stone unturned. We won't go into the player specifics on each and that's simply because we have seen so many teams this week and in having done so, and in all honesty, outside of having a raft of Man City and (hopefully!) Liverpool assets along with Aubameyang it's a bit of a lottery with the rest!
Scenario 1
This is our A Team. This is what we would pick if no other scenarios existed. And also what we will go in with if it is revealed ahead of time that Liverpool are indeed going full strength. It's full on Liverpool attack against the bottom club and the only regret really is that we couldn't also afford a 3rd Man City attacker. It's a mixed bag in defence but as we say it's a bit of a lottery back there this week anyway.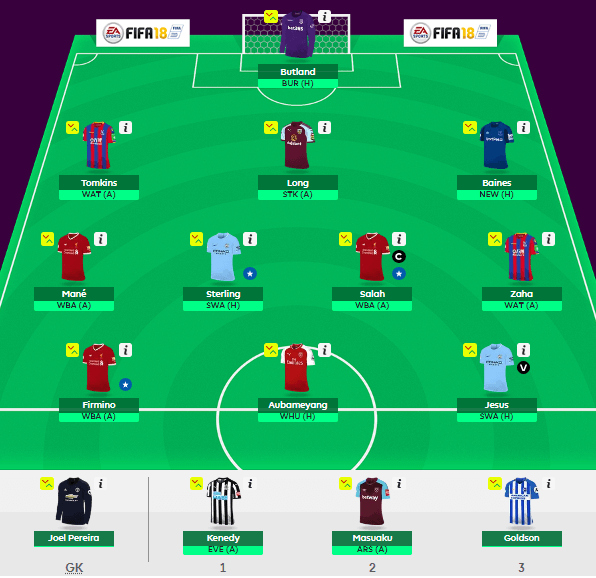 Our Captain is this scenario will be Mo Salah
Salah picks himself in this scenario. The leader of the Golden Boot, 30 goals already this season, 11 assists, on target for a record FPL score of any player ever, playing the bottom team. We'll ignore the fact that West Brom held Liverpool to a 0-0 in GW17 or indeed that the won 1-0 at Old Trafford last week. Salah is on fire and he'll be the popular captain this week, if he plays. And rightly so. Vice captain will be Jesus.
Scenario 2
This is our middle of the road team. This is what we will go with if there is NO leakage of information from said Liverpool camp and we are all left to go in blind. It's kind of a half and half job on Liverpool. We will go with Salah, because you know 'just in case'! And it's a bit more of a full and rounded squad, for obvious reasons. What it does allow us is 3 City attackers, so it may be a blessing in disguise in all honesty as even if Mane and Salah were somehow allowed to start what's the chance they will actually be allowed to go the full 90?!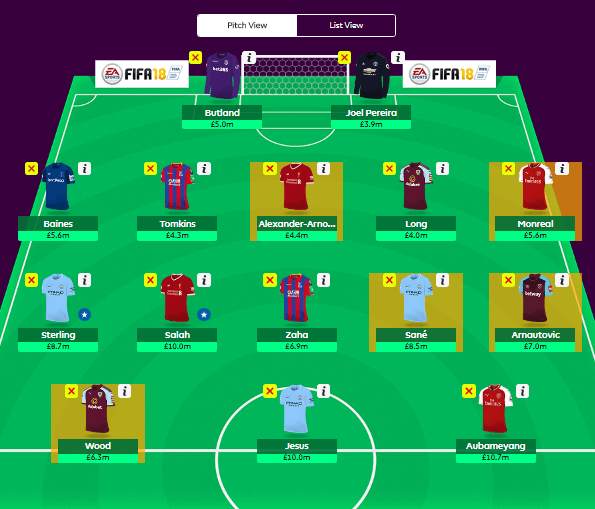 Our Captain in scenario 2 will be Jesus
With no leaking of the Liverpool side, there will be panic, uproar and utter confusion – not a situation where you want to be gambling on your captain. In that regard, Jesus will have the armband – with Kun ruled out for weeks at least, Jesus looks like a shoe-in to play up front. The Brazilian has scored and/or assisted in each of his last three starts and looked lively at Spurs last weekend. The Swans come to the Etihad this weekend and they look ripe for City to dismantle them with no pressure on Pep's men with the title won. Raheem Sterling will be our vice-captain.
Scenario 3
This is our scenario if the Liverpool team is indeed leaked and there won't be any fancy pictures for this one! This is because if the other two were indeed hypothetical then this one would be stretching that boundary a bit too far as we would have to actually see that Liverpool team before we could even begin to tinker. It could be a second string in which case we may just turn our Liverpool assets from Scenario 1 into some of the replacements that are in place in Scenario 2. It could be a hybrid with say Mane in and Salah out and in which case we would probably just take our Scenario 2 team and do likewise ourselves!
Basically it's just too complicated until we know either way to commit to a Scenario 3 team. What we do know is that we will be on red alert all the way up until the deadline and we will be armed and ready to react accordingly with all our different scenarios. There's a good chance that we may end up with none of the above depending on what happens!
If you wish to follow the teams progress more closely you can do so by clicking here.
Thanks for reading FF247 Fantasy Football Site Team GW35 Free Hit Special
The League Codes for FF247 for the 2017/18 season are as follows:
Gameweek Tracker GW35-38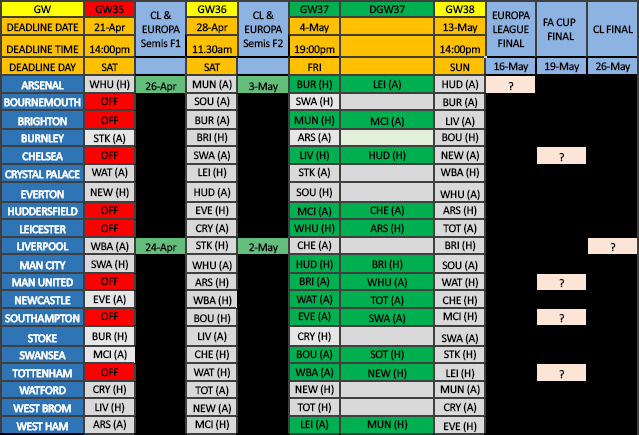 INTRODUCING FANTASY TOTE…
Our new partner has a few words to explain their wonderfully simple to play daily fantasy game. Please do them and us a favour by clicking on the banner link below, have a browse and give their game a try. Over to them…
Fantasy Tote is the next evolution in Fantasy Football. Play daily & weekly games to win real cash prizes.
There are no budget restrictions like in FPL so it's open season on the big players and makes it easy and quick to play. But can you pick the right team to win big?