Welcome to FPL Fixtures Analysis Gameweek 8 : Depending on who you are, the return of FPL might be a godsend. Maybe you've done nothing but wait for the international break to be over so that the Premier League might return, and you can get back to your one and only hobby. Maybe FPL is the only thing you have going on outside of work and family. And if that's you, then this past week has probably been tortuous.
But for some of us, the international break allowed us to take in those things we've been neglecting for a while. I mean…we have Trump v Clinton going on (and most people say that it's the best game in town). We have playoff baseball starting up. The NHL is back this week. Oh, and there's this little matter of the NFL now being in full swing.
But I'll be honest here. I can't stand politics. My baseball team once again failed to make the postseason. My hockey team, the Penguins, look set to wrap up three straight championships (so boring to be so good). And as for NFL? I drafted ten running backs in every fantasy league I'm in and none of them can run more than 3 yards per down. So count me in as part of that group that is seriously glad that the Premier League is back this weekend.
All that being said, let's look at the fixtures. I'm so starved for FPL action that even Stoke v Sunderland looks like a good watch right now.
The Tracker in full…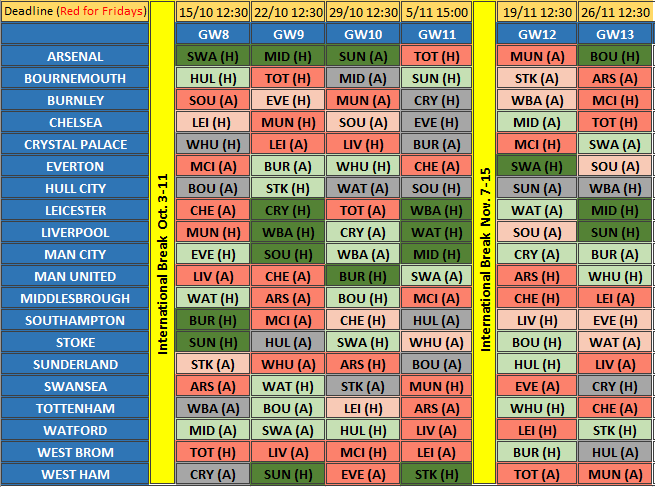 Top 3 Best Bets
#1) Arsenal – SWA (H), MID (H), SUN (A)
[three_fifth padding="0 20px 0 0″]
[/three_fifth]
Arsenal topped our list last week, and I can't in good conscience deny them the top spot here again this week. Sure, they did only just sneak past Burnley two weeks ago with a 1-0 scoreline, but they won with a shutout, didn't they? The fact of the matter is that these next three teams that Arsenal will be facing just aren't up to par; and whether or not we see a repeat slim victory for the Gunners won't change the opinion that we should still see them leave with 9 points from this run.
But we should expect much more from Arsenal here than just slim victories. Arsenal are 3rd in scoring with 16 goals forward from 7 games (2.28 gpg average). In this list of three opponents, Swansea and Sunderland are already allowing more than 2 goals per game – only Middlesbrough bucks that trend with only 10 GA allowed on the year. But Middlesbrough shouldn't be a worry for Arsenal at home, and this schedule looks right for pushing Arsenal a bit closer to leading the league in scoring before we hit November.
Finally, I have a stat for you that you might just throw out as rubbish – but I am one of those people who looks at year by year trends, even though I know players and coaches can change (maybe it's the gambler in me grasping at straws). While researching this round, I noticed that even with the international break, teams will still play 4 Premier League matches in the month of October. This doesn't always happen. In fact in 2014, 2013 and 2012 they only were able to play 3 matches in the month. But historically, when teams play 4 matches in October, I did notice a huge boon for Arsenal…
Maybe you're already thinking that this point I'm going to make is moot, but stick with me.
Looking at the October results for 2015, 2011 and 2010 (the last three season with 4 matches in October), we find that Arsenal have 10 wins, 2 losses and no draws. Their combined scores in those matches was 28-11. They also recorded 5 shutouts. Now, am I crazy? Does that matter at all? Maybe it does, maybe it doesn't. But when you consider that Arsenal have already started out this month with a shutout win… Let's just say it's something to think about.
#2) Man City – EVE (H), SOU (H), WBA (A)
[three_fifth padding="0 20px 0 0″]
[/three_fifth]
On a personal level it pains me to think that whoever coloured in our fixture tracker thinks that Everton will be an easy game for City. But on a pure FPL level, I get it. There is some concern floating out there that Sergio Aguero could've picked up a knock during his international break, but who are we kidding? City didn't skip a beat without Aguero before, and even if he does have limited availability to start off the run, City should steamroll through this schedule regardless.
Just looking at their schedule up to the next international break, you'd have to say that any team with 3 of their next four fixtures at home should be considered for inclusion into your squad. But when City have 3 of their next four at home? It's borderline unfair. City have already won all three of their home contests this year with a combined score of 9-2. Some teams don't make the most of the home advantage, and some teams just like to run up the score.
Oh, continuing the theme from above – City played 3 home matches in October of last year. You know what the result of that was? 3 wins and a combined score of 13-3.
Ok, I'll stop.
I'm just saying, sometimes trends hold up. Look at all of the Rocky Balboa fights, for example. The guy loses the first 7-8 rounds of every fight he's in. And then he really turns it on late. It's real life people. These kinds of trends really aren't that different.
#3) Stoke – SUN (H), HUL (A), SWA (H)
[three_fifth padding="0 20px 0 0″]
[/three_fifth]
I'll freely admit, I'm putting Stoke here based on the colouring of the schedule tracker – and it was either put this team here or recommend Watford again. And since Watford have burned me a couple of times now, I'll choose to write about another team instead.
The fixture tracker, as I understand it, isn't really a win/loss calculator – it's a heat map for potential gains and losses. And there is a difference there when you really think about it. And this is probably the best shot that Stoke have to make some gains this year. Because we can't sugarcoat this fact: Stoke have been awful.
But who has been more awful? Sunderland. Sure maybe Stoke have conceded more goals than any other team in the league, but Stoke don't have a bitter David Moyes at the helm, and that counts for a lot. Hull away will be a worry for Stoke, and Swansea at home is a complete toss-up depending on how well Swansea take to their new manager. But this is it. This is the spot that Stoke will statistically have the best chance to make a move out of the position they're in. And they have the talent to do it, that's the craziest thing about this whole mess. Did anybody see Arnautovic in international play? He's a great player in the right conditions. And maybe Bony wasn't quite up to snuff to Man City's requirements, but he was certainly good enough at Swansea, and he absolutely should be good enough for what Stoke require.
It will be interesting to see how this stretch develops for this team. And no, I'm not giving you past October results for them, because this is all just too far outside the norm to pick a trend.
Teams to Avoid
#1) West Brom – TOT (H), LIV (A), MCI (H)
WBA have received a lot of praise to this point for their relatively stingy defence (just 7 GA allowed through 7 games). But that stat is about to get blown up in all sorts of bad ways. There just isn't any way for me to think that this is a survivable schedule for West Brom. Playing a tight defence in their style might work against some lower teams, but these three teams are just too skilled. There's no way that this team escaped with their 1 GAA average intact.
#2) Swansea – ARS (A), WAT (H), STK (A)
Ordinarily having Watford and Stoke on your schedule wouldn't put a team in the 'Avoid' section. But with a new manager coming in (*gasp*, an American?!), it's always hard to know what to expect from the first few results. And starting off at Arsenal right off the bat isn't fair for any manager – but if Swansea make a good account of themselves in their probable loss, then they could easily be switched up to a team to consider in a couple of rounds. It's just too dicey with new managers to take any chances with your FPL squad.
#3) Man United – LIV (A), CHE (A), BUR (H)
United have had a pretty decent time on the road to start the year (2W, 1L). But their road wins have come against Bournemouth and Hull, not quite the calibre of team that they'll be facing in a back to back road situation like they have now. It's not even that Liverpool and Chelsea are 'better' than United, it's just that you don't know which United is going to show up to the match. In fact, they're one of the few top clubs that probably doesn't even know what the projected lineup will be in two weeks time. United have the ability to beat any of these teams to the tune of 4-1 (like they did to Leicester). But they also have the ability to completely stumble over themselves like they did in that 1-1 draw against Stoke. Too many questions and too many other good options for me to consider United for this run.
One Week Punt
Southampton – BUR (H)
This round, Southampton are the quintessential one week punt. They're playing Burnley in a favourable matchup, but they're following that up with games against Man City and Chelsea. So if you're going to try to shoot the moon in one spot, this is probably it. Burnley have only had a pair of road fixtures this year, and both ended up being 0-3 losses. So on the clean sheet account, Southampton are already looking pretty good. But also for attacking potential, it doesn't get any better than a team allowing 3 goals each time they go on the road. There's not much to say about this match, it's probably the most cut and dry for statistical probability that the schedule has to offer this week. I mean, I could go and look up 2011's October results for this match…but I'm probably already getting laughed out of the building as it is if you've made it this far into the article.
Thanks for reading FPL Fixtures Analysis Gameweek 8 2016-17. This article was written by Guy Sanchez
Fixture Tracker – the next 6 games