FPL Fixtures Analysis GW7
When FF247 checked my readiness for writing this Fixtures article, I realized that I've been put on a 10-day straight work schedule coming up on Monday. You know, during a pandemic that's ramping up all over the States, working 10 days straight is EXACTLY what a person wants to do, right? Ever the gentleman, Adam (Init to you) gave me permission to just bin the article this week and focus on work – but I've done enough of these articles over the years that I thought I could probably churn something out on a lazy Sunday whilst sipping on something poured on the rocks. And if that didn't work, I figured I could always grab a throwback and get some DayQuil into my system to push this article to the finish line. Long story short, Adam gave me an out, but I declined in favour of writing a bit about football.
I should've taken him up on his offer.
Sitting here, trying to write, I'm having a complete collapse in my confidence, nay, my actual ability, to say anything meaningful about football. Be it fantasy, real, American, British… I suddenly feel like such a fraud trying to articulate anything in the realm of football. Just look at my pedigree thus far: I own a pair of Liverpool defenders that have conceded 14 goals and have just one CS, both Everton red cards this year were owned by yours truly, I bought Grealish after he stopped scoring… and I burned my WC in GW2. I'm half expecting the admins of the site to just quietly revoke my credentials here at some point.
Actually, now that I say all of that out loud, I'm beginning to see why they always have me write Fixtures and not Tips. Tips require some semblance of football IQ, I apparently have none. But Fixtures? Score lines and cut-and-dry stats? Maybe I can do that. And hey, even if I fail, I'll just blame it on 2020 like everybody does for everything else.
You know what I mean. That dude at work who had his wife go through his texts and now wants a divorce? 2020, man. Tripped and fell because you didn't tie your shoes? 2020. Seeing DCL score like 20 goals but buy the more expensive Richarlison instead? 2020. Just saying "2020" is the ultimate denial of any personal responsibility it seems. So if you read this, it makes sense, and you put it into practice and it so happens to fail – don't blame me. It's 2020.
FPL FIXTURE TRACKER
But first up that all important Fixture Tracker itself…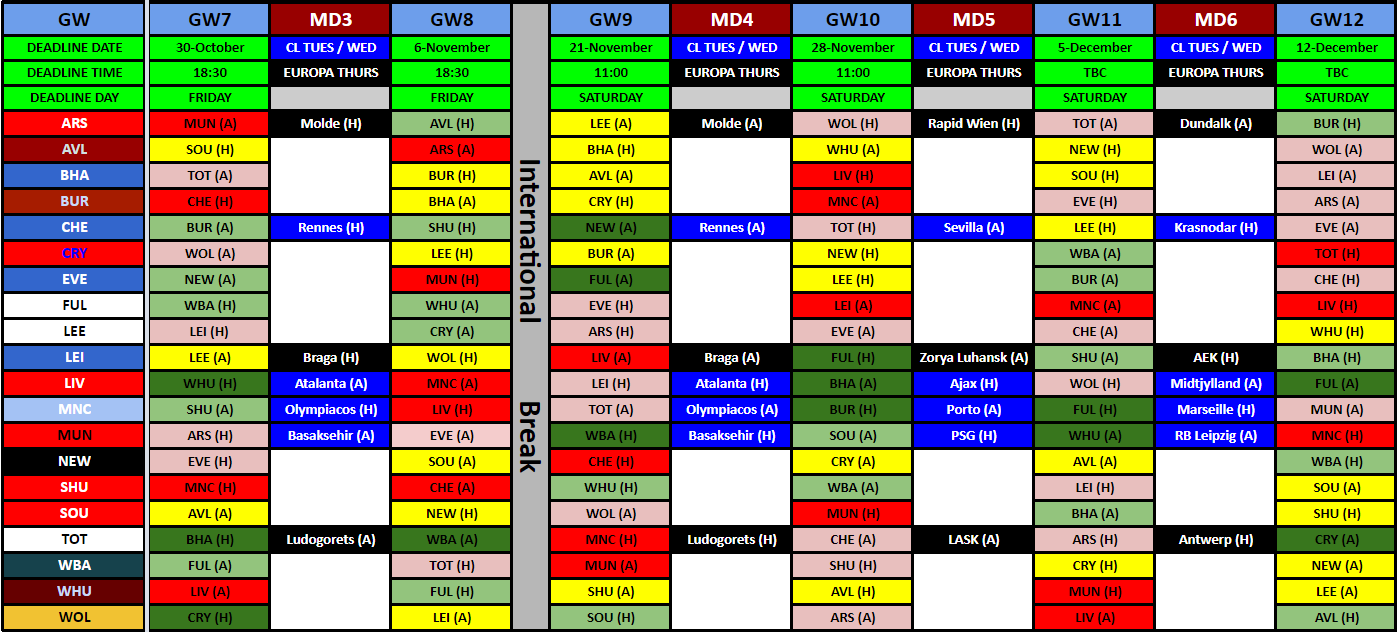 FIXTURE TRACKER LINK
Best Bets
Tottenham – BHA (H), WBA (A), MCI (H)

I should preface this article by stating that the entirety of the text was written prior to Monday's games. So if Spurs lose 0-4 to Burnley, just go ahead and skip this entry entirely.
In my mind, I'll never fully trust a team led by Jose Mourinho. At some point, inevitably, he'll consider himself bigger/better than the project at hand, he'll elevate himself whilst isolating a star player, and he'll blame his players' effort over his tactics in a big loss. Nobody expects this man to completely change his documented behavior and retire from Spurs after a 15-20 year career. It's all going to break bad sooner or later. You know it, I know it, and he knows it.
But until it all does fall apart, Spurs are good for a shout. Both Son and Kane, again prior to the Monday game, are leading point scorers for the entire game with 58 and 60 points, respectively. They spotted the field an entire 90 minutes of potential production and are still leagues above all others in scoring FPL points. Interestingly, the addition of Bale might actually produce a negative effect if Spurs move away from what's been proven to work in some attempt to force Bale into a new game plan – but that's yet to be seen. If Bale is integrated into such a way that he actually accentuates what Son and Kane are currently doing, we could be in for some truly mind-boggling scores coming out of this side.
Chelsea – BUR (A), SHU (H), NEW (A)

Anybody that's ever played Football Manager probably should've seen Chelsea's early stumbles coming from a mile away. Every year, it seems like there's a pretty hard limit to the amount of player turnover you can get away with before you basically have to build your locker room back up from scratch. Even though you upgrade your players, and play a proven tactic, the game punishes you for having complete strangers in the dressing room. Thus far, looks like Chelsea are just life imitating art (and I will fight anybody that doesn't see art in a favoured FM save).
But now that we're a couple of months into the season, it looks like Chelsea are just now rounding out to be a competitive side. They had a 3-3 draw with Southampton, which showed that the offence is there – which was followed by their nil-nil draw with United… which does prove that their defence might have a bit of hope after all.
What this team needs is a run just like this one to put all of the pieces together to start to take the best from each of those last two score lines. Burnley and Sheffield are both living firmly in the relegation zone, and Newcastle are close enough to smell what they're cooking. Chelsea's problem has basically been cohesion, not lack of talent nor lack of direction. This is probably the time to be bullish on their FPL assets.
Everton – NEW (A), MUN (H), FUL (A)

We knew that Everton would eventually lose, and I'm rather glad that it happened as it did. The loss against Southampton stemmed from a perceived lack of effort… and it looks like the players had probably let the media reports go to their heads a bit. They took Southampton for granted, and Southampton are a very capable team. The good news for Everton fans is that Don Carlo isn't going to let that continue into the future. His subs in that game seemed very direct and almost angry.
The Newcastle and Fulham games are almost gimmes at this point. If the team is refocused, I don't think even the most haughty pundits would peg Everton as being underdogs in those two contests. And as for the United game, United are no longer the United of old. Nobody is afraid of them at this point, and they find all sorts of fun ways to not get full points from their games. Everton losing was sad to see from the fan point of view, but it definitely feels more like an aberration today, not a foreshadowing of things to come.
Teams to Avoid
Liverpool – WHU (H), MCI (A), LEI (H)

I've waited a long time to be able to put Liverpool in this category and not have it feel like I was just some bitter blogger rooting against the Reds. But let's be honest here a minute, Sheffield United gave Liverpool problems on Saturday. I'm not saying it looked like they'd lose that game outright, but Liverpool are scrambled at the moment. Here's a stat for you: Two teams are tied for most GA through six games with 14 GA each: One team is Liverpool, the other is bottom of the table Fulham. That's not something you can reconcile in your head as a sustainable situation for much longer. Liverpool have the offence to pull them level against anybody, but when you lead the league in goals allowed, it certainly changes how you view the team from top to bottom. All three of these next opponents have the ability to score goals (though maybe West Ham and Leicester are more likely to score than City…), and given how Liverpool are defending, they may be playing for last-gasp draws more often than wins.
Arsenal – MUN (A), AVL (H), LEE (A)

Arsenal have now lost their last two games to the tune of 0-1, and it's still not clear what their plan is to get the goals rolling again. Their defence has been stellar, and are ranked second in the league in GA. But until they can get their big money putting the ball in the net, it's really all for nought. Adding to the problem, the very best defence in the league (as far as GA goes) actually belongs to Villa – even with that massive stumble they had against Leeds this weekend. No part of this schedule looks to shake out well for Arsenal unless they make some immediate changes to their current approach.
Thanks for reading FPL Fixtures Analysis GW7. This article was written by Footy Fantastic (Guy Sanchez).
Fantasy Football 247 League Codes:
All prizes must be claimed within 30 days of the final GW.