FPL Fixtures Gameweek 10
I'll be honest I was finding it easier to pick out teams with unfavourable fixtures, rather than favourable ones for this week's article. Not sure if teams are so bad the fixtures are looking terrible to me or if I'm just morphing into Kop! I seem to be getting more pessimistic by the second this season so yeah… I'll just say Kop's influence has worn me down.
Coming back from an international break where Ireland played another three games and still didn't score, Salah decided kissing and hugging loads of people at a wedding in the middle of a pandemic was a good idea, and another load of players got injured. Do you really need to question why I'm becoming a pessimist yet?
FIFA really need to have a rethink about these international games and why they are even going ahead as it is beyond idiotic in the grand scheme of things. Plus, it's causing lots of unnecessary stress on fantasy managers! Well let's have a look at the fixtures anyway.
Favourable fixtures –
Leicester – Fulham (H), Sheffield Utd (A), Brighton (H) – 1st



I am writing this while watching Liverpool vs Leicester and really, I am more impressed by Liverpool than the Foxes, but Leicester still take top spot in the favourable fixtures section this week. The reason being they play Fulham at home next and we all know how bad Fulham are, so I don't need to convince you too much. Fulham have conceded 18 goals this season and have kept only 1 clean sheet. I do not see this improving against Leicester! You can get great odds on them doing so as seen on https://www.betbind.com/
Next up for Leicester is Sheffield United who are also struggling so far this season which is a big change from their heroics in the last campaign. Sheffield have conceded 15 goals this season, but they have kept no clean sheets. These two fixtures bode extremely well for Vardy and co who will be looking to bounce back in a big way after their loss to Liverpool. The Foxes looked lacklustre against the defending champions but Liverpool are a whole other kettle of fish to Fulham and Sheffield so I would expect some response from Brendan Rodgers' men.
Last up for Leicester is a visit from Brighton who will be discussed later in this article so I will only mention them here. Spoiler… they might not cause too much trouble for Leicester either!
Liverpool – Brighton (A), Wolves (H), Fulham (A) – 2nd



Like I said above this is currently being written as the Liverpool/Leicester match enters 92:43…44…45… Anyway, I came into this game fearing the worst as Leicester have been playing great and topping the table over the last few weeks. Not only that but Liverpool were looking like they would have to get Jurgen Klopp to go back in time and play at centre back again. Thankfully, Fabinho was back as was Robbo plus Matip has remained fit somehow! Well I was very surprised as Liverpool kept only their second clean sheet of the season and scored 3 goals in the process. They outplayed Leicester in all areas of the pitch and really it should have been more if Mane could have capitalised on some of his chances and Firmino had not been struck with terrible luck.
Let's move onto the future as no point dwelling in the past, and the next fixture is a trip to the seaside to play Brighton who are struggling at the moment (although they did just win against Villa). The match against Brighton could also see the return of Salah and maybe Thiago and Henderson so it will hopefully be a big showing for the Reds.
This next fixture is the reason I put Liverpool in second instead of Leicester as Wolves are a decent team who are just having a bit of an up and down period right now. I don't know what to make of the Portugal B Team, as they have won, lost and are yet to play Southampton in their last three. I would not underestimate Nuno's men as they have a brilliant striker who can easily punish any mistakes. Basically, I think having Liverpool defenders will not be a good idea but having some of their attack could pay off… maybe?! The last fixture here is another easy one and it's Fulham… that's it! No more!
Everton – Leeds (H), Burnley (A), Chelsea (H) – 3rd (tied)



I struggled to decide on the 3rd spot so as you will see I have got Everton and City in a tie for 3rd. Everton come up against Leeds who are struggling in defence. They have 3 clean sheets this season having just earned their third against Arsenal, but they have conceded 17 goals. The main issue with Leeds is they have been letting in big score lines: 4 goals against Pool, 3 against Fulham, 4 against Leicester and 4 against Palace. With the form that DCL has been in this could be great for Everton as he could end up with a monster haul if Leeds are having another off day. What appears to be Leeds' downfall is they like to attack and get caught a lot so with the talent of Rodriguez and the return of Richarlison they will want to be vigilant against Everton.
The Burnley game is discussed below so you will have to wait for that analysis. The last fixture I'll look at is the one that made me put City into 3rd place, alongside Everton, and that is the visit of Chelsea to Goodison Park. Chelsea are on the up over the last few weeks since Mendy took the No.1 spot with 4 clean sheets in 5 appearances. The hardest fixture they faced was United in a boring 0-0 draw so Everton will hope to do better and get at least one goal. This match could prove difficult for Everton but only time will tell.
Man City – Burnley (H), Fulham (H), Man Utd (A) – 3rd (tied)



The reason I didn't put City in as the immediate 3rd team on their own is due to their lack of goals so far this season. Historically, well the last few years, City have been a high-scoring juggernaut that teams hated playing against. With the likes of Aguero, Dilva, Sterling and KdB to name a few, City usually score goals for fun but this season Aguero has been injured, Dilva has returned to Spain, KdB has been sometimes injured and Sterling has looked out of sorts. Add all this to the fact we are playing in 2020 means City have only scored 10 goals in 8 games which is strange for them. Especially since most of their games only had 1 goal scored. We are expecting City to start firing soon… surely… please! The first two fixtures should see City have plenty chances to improve on their scoring stats this season against Burnley and Fulham with both games also being played at home. Should we invest in KdB or others? I probably would try and bring one in if not for the Burnley game then surely for the Fulham one!
Another reason I put City in here as tied for 3rd is the Manchester Derby in 3 games time. United and City will not want to lose to each other and with Ole seemingly fighting for his job every single game these days then it could be a tight game for the Citizens. With the lacklustre attack, coming up against United might not be what City want right now!
Unfavourable fixtures –
Burnley – Man City (A), Everton (H), Arsenal (A)



When I first looked at the fixtures it did not take long to pick out the first team who would be mentioned in this section, Burnley! Their next three fixtures are difficult to say the least. I discussed the City fixture above and such Burnley could be playing City at the right time to nick a draw, but I still wouldn't be rushing out to buy Chris Wood.
Burnley then play a team who are not having the same trouble in front of goals as City are, Everton. DCL has been on fire this season with 10 goals in 9 games, supported by James Rodriguez, Richarlison and others. Usually Burnley have an advantage on set-pieces but even in this game that advantage should be gone. Michael Keane and Yerry Mina are two imposing centre backs who have both found the back of the net already this season. This should mean Burnley will have to be extra vigilant at all times in this game. Lastly, I'll mention that Burnley go on to play Arsenal away from home, which could go either way. Arsenal really are the ultimate Dr Jekyll and Mr Hyde team. It is impossible to know if Dr Jekyll will show up and look great or if Mr Hyde will rear his head like it did against Aston Villa. This game probably has 0-0 or 1-0 written all over it so once again I wouldn't be rushing out to get any Burnley players.
Brighton – Liverpool (H), Southampton (H), Leicester (A)



Putting Brighton in here was pretty easy too! Brighton have just come off a win against Villa but let's not forget that it is only their second win all season. Nothing much to jump and shout about especially since it cost them FPL sweetheart Tariq Lamptey, who was shown a red card. Not the kind of news you want to be hearing before playing Liverpool. Now we all know about Liverpool's injury list but with some players possibly close to returning, including the idiotic Salah then Brighton could have to worry about Liverpool coming out to prove a point! While Liverpool are struggling in defence, they are still scoring plenty of goals and Brighton have conceded 15 so far this season and have only kept 2 clean sheets!
The next game for the Seagulls is why I put them second on this list, playing Southampton. On paper this could be an even match up that Brighton could come away with some points from. However, I would put my money on Southampton to win this game with the form they are in. The Saints have 5 wins and 1 draw in their last 6 games (prior to the Wolves fixture). Now their fixtures have been quite easy bar Everton and Chelsea, but they came through those games with a 2-0 win and a 3-3 draw so fair play to them. Only saving grace I see for Brighton is that Southampton are conceding goals in big scorelines, 2-5 vs Spurs, 3-3 vs Chelsea, 3-4 vs Villa, this could be good for Brighton as they might have opportunities to score and grab some points.
Brighton finish the run of three games with an away fixture against high-flying Leicester. I have written about Leicester above so won't go back over their merits, but they will point to Brighton probably being in for a tough time of it!
Wolves – Arsenal (A), Liverpool (A), Aston Villa (H)



Wolves just had to be put in here due to their up and down form right now. As previously mentioned, Arsenal are the ultimate up and down team so this fixture could be anything from a 0-0 draw to Wolves demolishing Arsenal! I say Wolves beating Arsenal as I did not see much from Arteta's men in their 0-0 draw against Leeds. Arsenal looked good defensively, but it was at the other end of the pitch that they seemed to lack an edge. Wolves will likely find it a challenge to break down Leno and the Arsenal defence especially away from home.
Next up for Wolves is another trip, this time to Fortress Anfield. By this game Liverpool could have a few more players back from the physio room and with the form they have shown at Anfield since 2017, it could be another tough trip for Wolves. Wolves have only scored 8 goals all season (prior to Southampton), this is a terrible showing for a team who we expect a lot more from. One player who has underwhelmed but is till a key component for Wolves is Jimenez who has scored exactly 50% of the 8 goals so far this season. This means if you really want a Wolves player then it just has to be Jimenez.
Last up is Aston Villa, who are all over the place right now! They beat Leicester then lost two in a row to Leeds and Southampton, then beat Arsenal convincingly before losing to Brighton at the weekend! This erratic form seemed to have started once everyone brought in Grealish, Martinez and/or a Villa defender, which just sums up this season and FPL in general. By the time Villa visit Wolves who knows what the team's forms will be but on paper it could go either way!
'Forget about it' fixtures –
Fulham – Leicester (A), Man City (A), Liverpool (H) –



It doesn't take much to wonder why I have Fulham on their own in this section. Not only are they rubbish anyway but just look at who they play in the next three! Playing Liverpool and Man City is bad enough but then you start off playing Leicester who are in a brilliant run of form. I won't waste much time here as nobody should have any Fulham players anyway and if you do, I must ask you… why?!
FPL FIXTURE TRACKER
But first up that all important Fixture Tracker itself…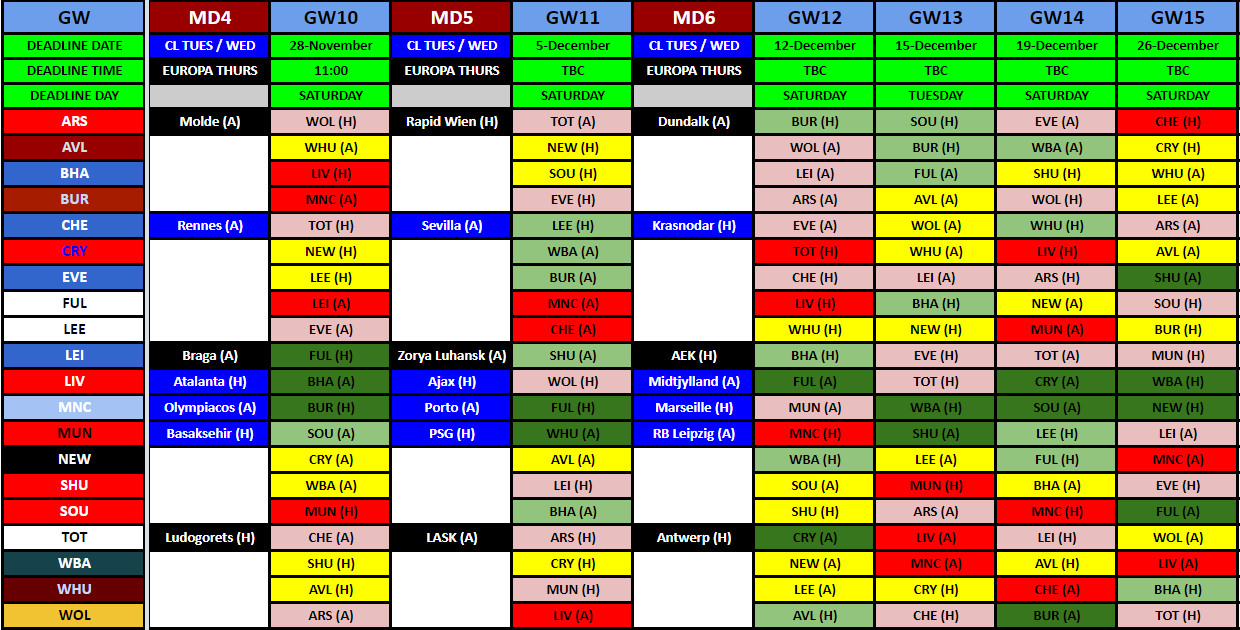 FIXTURE TRACKER LINK
Favourable Fixtures
Unfavourable Fixtures
Thanks for reading FPL Fixtures Gameweek 10. This article was written by Matt.
VOTE ON THIS WEEK'S CAPTAIN POLL GW10
Fantasy Football 247 League Codes:
All prizes must be claimed within 30 days of the final GW.