FPL Fixtures Gameweek 29
A dog is not just for Christmas
A fixtures article in a week that contains just four of them may seem a bit odd, but please just bear with us. The intention here is to analyse those very fixtures themselves, but also, and possibly more importantly, to then have a look at what those teams offer beyond this week. Aka 'are they worth all the hassle'.
We shall then also have a quick delve into the fixtures of all the other teams, simply because you sometimes need to know about what you are selling, as much as what you are replacing it with.
GW29 Fixtures
Fulham v Leeds
This is a tough one to call. Fulham will almost certainly look to stifle and nick the odd goal in the process, whereas Leeds will almost certainly go on the offensive. Depending on whether Bamford has remembered to pack his new shooting boots / recovered from a dead leg (bless) it could conceivably be anything from 1-0 to 1-4.
And the fixtures beyond…

Fulham – Villa (A), Wolves (H), Arsenal (A)
No game will be easy for Fulham from here on in. They have scored just 5 goals in their last 9 games, but have also conceded just 4 in those too (we are exluding the Man City game, as that just didn't seem like a fair contest!).
You could get away with owning a defender but don't get carried away and think any forward asset will be particularly worth your while. And as if to hammer home the point they also then have Spurs and Chelsea after the above ones.

Leeds – Sheffield Utd (H), Man City (A), Liverpool (H)
With The Blades up next you should be ok with some Leeds coverage in the short term. The very short term. As it then turns decidedly ugly. As well as Man City and Liverpool they then also have Man Utd and Spurs in 2 of the next 3. Loading up now is fine but an exit strategy may also be wise.
Brighton v Newcastle
If ever there was a 6-pointer. If ever there was a game that had 0-0 written all over it… You might be good for the odd Brighton defender here, but buyer beware as we shall explain below.
And the fixtures beyond…

Brighton – Man Utd (H), Everton (A), Chelsea (A)
Brighton probably epitomise the exact being of this article. A home game against Newcastle looks wonderful, but don't get carried away, etc. Celebrate your inevitable clean-sheet with champagne and caviar, cherish it for all it's worth. Because it's the last one you will be seeing for a good while.

Newcastle – Spurs (H), Burnley (A), Wolves (H)
Steve Bruce doesn't like the Newcastle players. The Newcastle players don't like being Newcastle players.
Be like Steve.
Or the Newcastle players.
West Ham v Arsenal
Top 6 versus mid-table mediocrity. Oh how the tables have turned. Unfortunately for Arsenal fans only the first part of that sentence would have been unexpected a few months back. As to how it will pan out it is difficult to tell really. West Ham will be competitive, that's for sure. That's often enough to see Arsenal run for the hills. But they do, and can, still have their moments, and are hardly short of a few match winners themselves. They do however still have more 'match losers'. Nostradamus hat on; we'd say West Ham rile them, Arsenal will respond with an inevitable red card and the former will claim a narrow victory as a result.
And the fixtures beyond…

West Ham – Wolves (A), Leicester (H), Newcastle (A)
It is still difficult when writing these short synopses to reconcile West Ham with anything other than Karren Brady being a milf the medioricity that Arsenal are currently suffering. They are just not that exciting, they are certainly no Leicester-underdog eye-catching candy. They are essentially Everton under Moyes circa 2005. That is to say; terribly effective at grinding out results, and ending up in 4th, without anybody ever really knowing how or why it happened.

Arsenal – Liverpool (H), Sheffield Utd (A), Fulham (H)
*Reaches for the 'shrugs' emoji. They are just too inconsistent to paint any viable picture as to how they will fare in any given fixture. In short, they could win, lose or draw all of these and nobody would be surprised either way.
Villa v Spurs
With this being Fantasy Football related we think/assume that we are banned from mentioning certain individuals by Dean Smith. We think that's how it works anyway, but it seems ambiguous at best. Regardless, sans he who shall not be mentioned Villa look like a Championship team. Maybe Deano realises this too and is simply in denial. Things can turn around quickly though in this league, and Spurs are Exhibit A in that respect. One minute they were winning the league hands down, next one Jose was a busted flush, derided as a has-been defensive coach and Nagelsmann was (of course) spotted on a plane to London, the next he is coming over as all swash-buckling and innovative again.
All told, Deano has 1 talisman and he doesn't even know where he is, Jose has 3 and all he has to do is point them in the direction of the pitch.
And the fixtures beyond…

Aston Villa – Fulham (H), Liverpool (A), Man City (A)
Such is the denial there have been no sightings or updates as to his actual status, which has us strangely thinking of Kim Yo Jong. We shall await an update from the absolute leader but suffice to say that with him they could be ok vs Fulham. But regardless of him they may struggle beyond that as the fixtures don't look great. As well as the above they then have Everton, Man Utd, Spurs and Chelsea in 4 of the final 6.

Spurs – Newcastle (A), Man Utd (H), Everton (A)
Bale.
In case of emergency break glass. Or simply call The Belfry and tell him to get his ass back to White Hart Lane (or whatever such nonsense it is now known as). Perhaps he simply wasn't match fit. Perhaps it was just a cunning plan all along; get him super-fit and then release him upon the league like some demented Tasmanian Devil. Either way it has worked a treat. Up until Sunday, but let's call that a blip.
With Newcastle away next the KSB combo looks hot to trot (assuming the S bit is ok). Beyond that it looks a tad more complex (is it?) with Man Utd and Everton on the horizon but after that their run in looks fairly smooth with Fulham, Sheffield Utd, Leeds, Wolves, Villa to come.
As for the rest….
These are the ones you will likely be selling just to field a player in the above carnage splendid BGW.
Ranked accordingly, based solely on their next 3 games after BGW29.
The Top Tier
You can't sell these, surely.
Chelsea – West Brom (H), Palace (A), Brighton (H)
No. Absolutely don't sell these. In fact you should be buying them from 30 onwards, such has been the influence of Tuchel.
Manchester United – Brighton (H), Spurs (A), Burnley (H)
Let's not lie here, we are almost certainly just talking about Bruno. He's captaincy material most weeks, and almost certainly will be vs Brighton & Burnley at home.
Manchester City – Leicester (A), Leeds (H), Villa (A)
It should really go without saying that City players are good to keep for the duration, the obvious caveat being that we really don't know which ones will play from one week to the next, a situation that will probably become exacerbated if and when they wrap up the league and progress further in the Champions League.
The 'could go either way' section
The following lot have a mixed bag and we certainly wouldn't dissuade you from selling them, just make sure it is a measured process.
Burnley – Southampton (A), Newcastle (H), Man Utd (A)
It's probably just a defender we are talking about here, and only really that middle game screams 'clean-sheet'.
Everton – Crystal Palace (H), Brighton (A), Spurs (H)
Who knows what you will get from Everton these days?
Leicester – Man City (H), West Ham (A), West Brom (H)
Ditto what we said for Everton really.
Liverpool – Arsenal (A), Villa (H), Leeds (A)
This one is probably a Salah based conundrum. He releases a lot of funds but can also hurt you if he does go off on one. It should probably be noted that if Liverpool do get their act back together then they finish the season with games vs Newcastle, Southampton, West Brom, Burnley and Palace, in 5 of the last 6.
Wolves – West Ham (H), Fulham (A), Sheffield Utd (A)
The forgotten man of Fantasy Football, which probably makes their inclusion in any section here a moot point.
Sell, sell, sell!
(or in tribute to the late great Murray Walker, perhaps these should Go! Go! Go!)
Well ok, maybe not that drastically but these are the ones that we think you could happily release – that's if you had any of them in the first place.
Crystal Palace – Everton (A), Chelsea (H), Southampton (A)
They also have Leicester and Man City after these, 'nuff said,
Sheffield United – Leeds (A), Arsenal m(H), Wolves (A)
Looked rudderless with Wilder, looking even worse now.
West Brom – Chelsea (A), Southampton (H), Leicester (A)
How funny would it be if they actually sacked him before the season ends?
Thanks for reading FPL Fixtures Gameweek 28. This article was written by Inittowinit.
VOTE ON THIS WEEK'S CAPTAIN POLL GW29
FPL FIXTURE TRACKER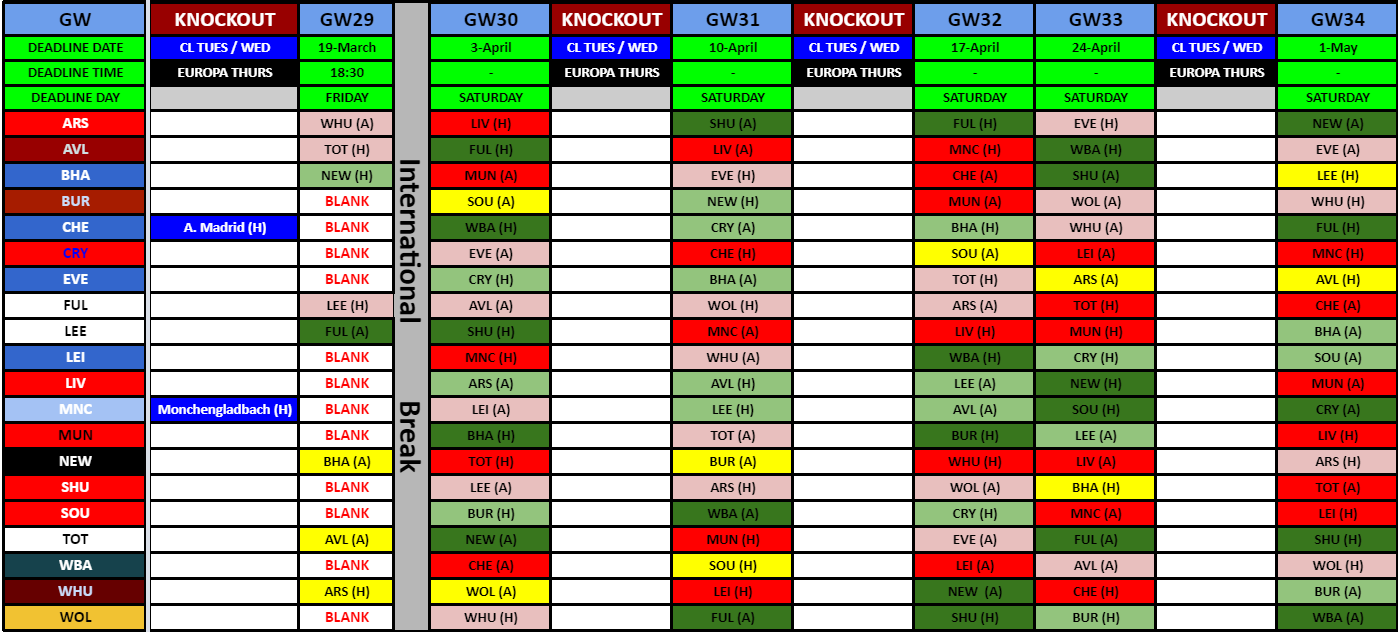 FIXTURE TRACKER LINK