FPL Fixtures Gameweek 3
We all knew deep down that this was going to be a weird 'ol season, for one reason or another. GW's 1 & 2 have sort of confirmed this. We've had goals galore: some from expected sources, some from those less so. We've seen a host of players deliver in GW1 and then a different cast appear in GW2. Salah, Son, Mane and Zaha are all prime examples of this new phenom. Those who didn't have Salah for GW1 suddenly found themselves wanting Son for GW3 instead, probably via some Bruno merry-go-round. Wish lists have been written, scrapped and re-written more times than Raz tells us he's missed the deadline #zomg
Writing a fixtures article at the start of the season might seem easy but I see it as walking through a minefield. Looking at some of the fixtures they seem very easy on paper, or at least going by past performances they do, but could we be being overly-enthusiastic about certain teams?
Obviously, there are teams such as Liverpool, Man City and Man United (maybe not now!) that you could target without having to worry about their fixtures so I will not bother discussing them in much detail. The only caveat I will add is that Liverpool's defence looked vulnerable against Leeds, (albeit less so vs a 10 man Chelsea) so there might be something there but a little on that later.
FPL FIXTURE TRACKER
But first up that all important Fixture Tracker itself…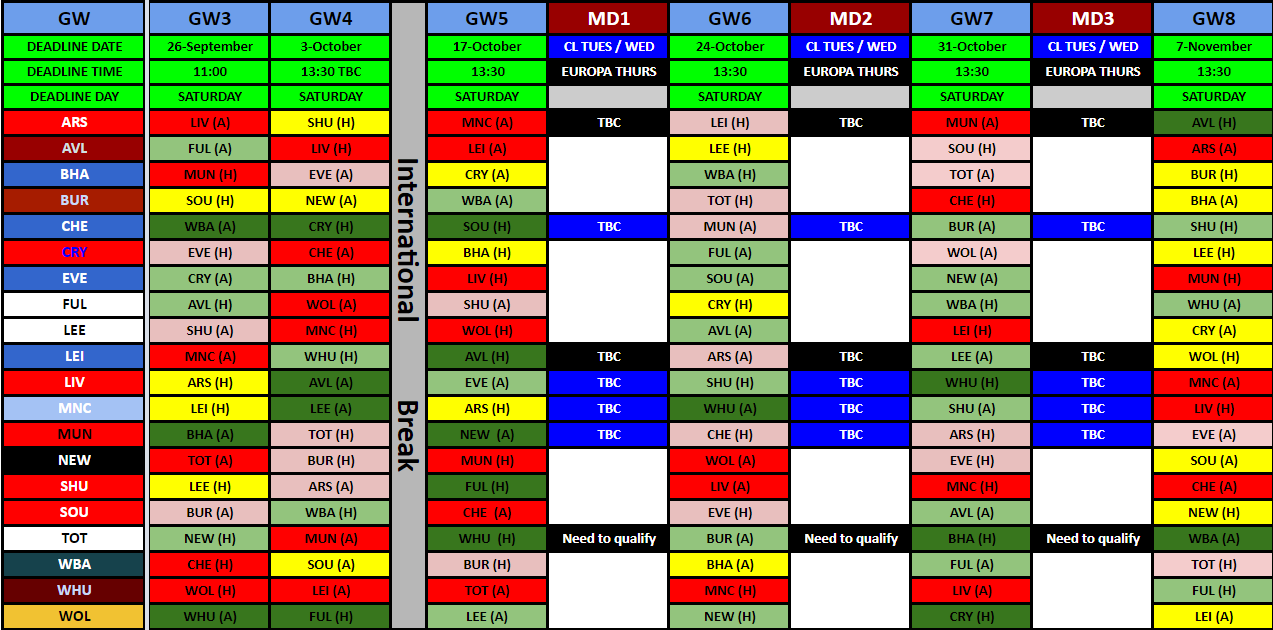 FIXTURE TRACKER LINK
Favourable
Chelsea – WBA (A), CRY (H), SOU (H) –



Ah, Chelsea! After two windows where they could not buy anyone, they have certainly made up for it this summer. Werner, Ziyech, and Havertz are the key signings and it has made that Chelsea attack looking very deadly indeed! This should strike fear into the defences of their next three opponents.
West Brom are coming off a 0-3 loss to Leicester and a 5-2 loss to Everton. Chelsea should have too much for the newly promoted team.
Next up for them are two home visits from Crystal Palace and Southampton. This should provide some comfort for Chelsea as they had 11 wins, 3 draws, and 5 losses at Stamford Bridge last season. Except that one of those losses was to Southampton. I do not see Southampton stopping Werner and co. from scoring but Palace are looking good at the back and lightening quick on the break so Chelsea might have to be wary of their fellow Londoners.
Southampton have been shocking and were knocked out of the Carabao Cup having played pretty much their starting XI and looked abysmal. And then they played Spurs…
The worry for me would be the Chelsea clean sheets. I am not knocking the defenders but rather that fool between the sticks! Kepa is a liability, really can't seem to stop long shots and is in a bad run of form. He had conceded 9 goals from the last 13 shots on target, and in the last two seasons he has conceded 19 goals from long shots! That was prior to Liverpool, who managed to get 18 shots (on and off target) and scored 2 of them. 18 in 90 minutes suggests leaky, Kepa aside. With the skills of Zaha, Ings, JWP, even Eze; I would not be surprised if Chelsea concede some goals in the latter of the three fixtures. Batman will be ineligible to play against his parent club but Zaha and Ayew could still cause issues for the Spaniard in goal. As could my Gran.
Wolves – WHU (A), FUL (H), LEE (A) –



I am loving the look of Wolves' fixtures for a good while yet, not just for the next three games. But let's deal with those in the immediacy. Lots of people were looking at having Matt Doherty bombing up and down the wing for Wolves but he left to Spurs. Next, we all wanted the 4.5 mln Vinagre after Jonny Otto was confirmed out but what happened… he didn't play! Now the best way into the Wolves defence looks to be the 5.0 players (Edit: Vinagre was on as an early substitute on Monday night and may now be back in favour). Over the next few games though that 5.0 could well pay off with loads of points! West Ham don't have the most prolific of goal scorers with Antonio and Haller being the best options but even that duo only provided 17 goals between them last year. Fulham and Leeds are new to the league and whilst Leeds put 3 past Liverpool, and 4 past Fulham, I don't see Nuno's men being as sloppy.
I think there are points to be had at the back, but all eyes will be on the Mexican luchador, Raúl Jiménez. Having scored in his first two outings this season, he has certainly hit the ground running keeping up the consistency of last season having scored 17 goals. Jimi is definitely the main man at Wolves since his arrival in June 2018 having provided 45 attacking returns in 78 games. This means he has got an attacking return every 1.75 games. What more could you ask for? Bringing him in will be difficult but should definitely be worth if over the next few. In a conversation with Swirly, we agreed that Fulham, West Brom and Leeds just can't defend so Wolves attackers could be having lots of fun!
Everton – CRY (A), BHA (H), LIV (H)

The dark horses. Who would have thought that signing the odd player or three would make such a difference. Carlo, perhaps. With James pulling the strings they suddenly look a different beast. Palace away wont be easy of course but you could at least imagine them scoring there now. And you can definitely imagine them scoring at home to Brighton. Liverpool at home won't be easy but again you could finally envisage them doing something against their old foes, finally.
Unfavourable Fixtures
Arsenal – LIV (A), SHU (H), MCI (A) –



Arsenal looked amazing against Fulham but so did Bamford so… make of that what you will! Willian started life in London Red brilliantly after a hat-trick of assists with people saying Arteta has brought Arsenal back to the top of their game. Now whilst Arsenal made it two wins from two against West Ham, they didn't exactly blow their London rivals away. The first real test is at Anfield against Liverpool. If Arsenal beat Liverpool away from home, then I will be impressed but I still don't like their chances over the next few. Liverpool have not lost at home since April 23rd 2017 and since then they have turned Anfield into a fortress.
Now if Arsenal do pass the test of Anfield, I don't see them having any problem against Sheffield United. The Blades have lost Henderson back to Manchester United but replaced him with Aaron Ramsdale so the defence might take time getting used to working with a new keeper and a 1-0 loss to Villa doesn't inspire much confidence! A lot of people are selling their Arsenal assets since the West Ham game and the fixtures support that due to having not only the trip to Anfield but also a trip to the Etihad. City looked bang at it again vs Wolves so basically, I would sell Arsenal players, in fact I have, as I am not expecting much over the next few.
Leeds – SHU (A), MCY (H), WOL (H) –



What to make of Leeds? They played Hull in the EFL Cup on Wednesday and their defence were all over the place according to the Gillette Soccer Special lads – or what was left of them! The problems in defence were also seen in the league opener against Liverpool and against Fulham, having conceded 7 in the process. But also scoring 8…
Leeds could do well against Sheffield United, where a draw is well within their grasp. The reason I have them in this section is the following two fixtures: City and Wolves.
The last time City met Leeds in the league was all the way back in 2004 where the Citizens won 2-1. This was long before the oil money came into the club so we can't exactly go off that result. The only other time these two teams have met since was in 2013, during the FA Cup in which Man City won again, this time by a score line of 4-0. Now lots have changed for both clubs since then, but I worry for Leeds if they are going to continue their defensive mistakes coming up against KDB, Sterling and co.
I absolutely love the way Wolves play and I can see them hurting Leeds too! Now these sides have played each other a few times over the last few years in the Championship and it is pretty even but I fancy Wolves' Premier League experience will be too much for Leeds and could cause them issues. Overall, I would give bringing in any Leeds players a miss for the moment.
Horrible fixtures
West Ham – WOL (H), LEI (A), TOT (A) –



Just look at these fixtures… just look! Who in their right mind would own a Hammers player right now, especially someone like Bowen?! You know exactly who you are (AT), and I hope by now you've sold him. West Ham started the season with a loss to Newcastle, followed up by a 2-1 loss to Arsenal. I do not see West Ham having much (if any) luck in the next few games. As mentioned previously I love Wolves' style of play and I think they will cause West Ham problems at the back. Jimenez looks to be starting the season very sharp. Plus, Wolves seemed solid enough in their win over Sheffield United. Wolves did the double over West Ham last season by a score line of 2-0 in both fixtures. I wouldn't be surprised to see another similar result this weekend.
Things don't pick up for West Ham as they have two away trips to Leicester and then a short journey to White Hart Lane for a London derby. Leicester and Vardy have started the season brightly with a dominant performance over West Brom. Some may say that the Vardy goals were both just penalties, but it doesn't matter how they cross the line, just that they do! Much like Wolves, both Leicester and Spurs did the double over West Ham, with score lines such as 4-1, 3-2, 2-1 and 2-0. This does not make good reading for Moyesy or any Hammer fans. With Spurs seeing the return of Bale along with the signing of 'the best LB in La Liga' Regulion I fear for that West Ham team.
Anyway avoid, avoid, avoid at all costs!
Thanks for reading FPL Fixtures Gameweek 3. This article was written by Matt.
VOTE ON THIS WEEK'S CAPTAIN POLL GW3
Fantasy Football 247 League Codes:
All prizes must be claimed within 30 days of the final GW.