FPL Fixtures Gameweek 30
Where's Wally?
Hello Mr Bond, we've been expecting you. Was that ever actually said?!
We shall let you investigate that for yourselves. Either way I wasn't particularly expecting to see myself this week, at least not back on Fixtures duty so soon after the last one. But needs must, and in an effort not to repeat myself I have recruited a helping hand. A scapegoat, if you will, although I haven't actually told him that yet. In fact he will take centre stage, with all of the favourable goodness. And I shall come back in at the end of it, with all the miserable stuff – a sort of licensed troubleshooter.
Why miserable? Because I'm still seething on the back of Bale being benched, and being kept there. By Mr Miserable, aka Dr No. (that's your Easter Egg starter for one, the easy one, plus you already missed at least one!).
As for the fixtures ahead there's a massive caveat needed in regard to the article below. That is to say; as we speak GW32 has been decimated by FPL towers, but we expect that most of the games will be simply reinstated to a midweek slot in 32, and we have written the article accordingly. No doubt they will be scattered around GW's 36-38 about 20 minutes after we publish this!
The other thing we don't really touch on below is GW33, In that one Fulham, Man City, Saints and Spurs will blank. Or at least that's the theory.
Right now we can't really be absolutely sure of anything, so take the below as some sort of short term advive as to what we know as we speak.
FPL FIXTURE TRACKER
But first up that all important Fixture Tracker itself…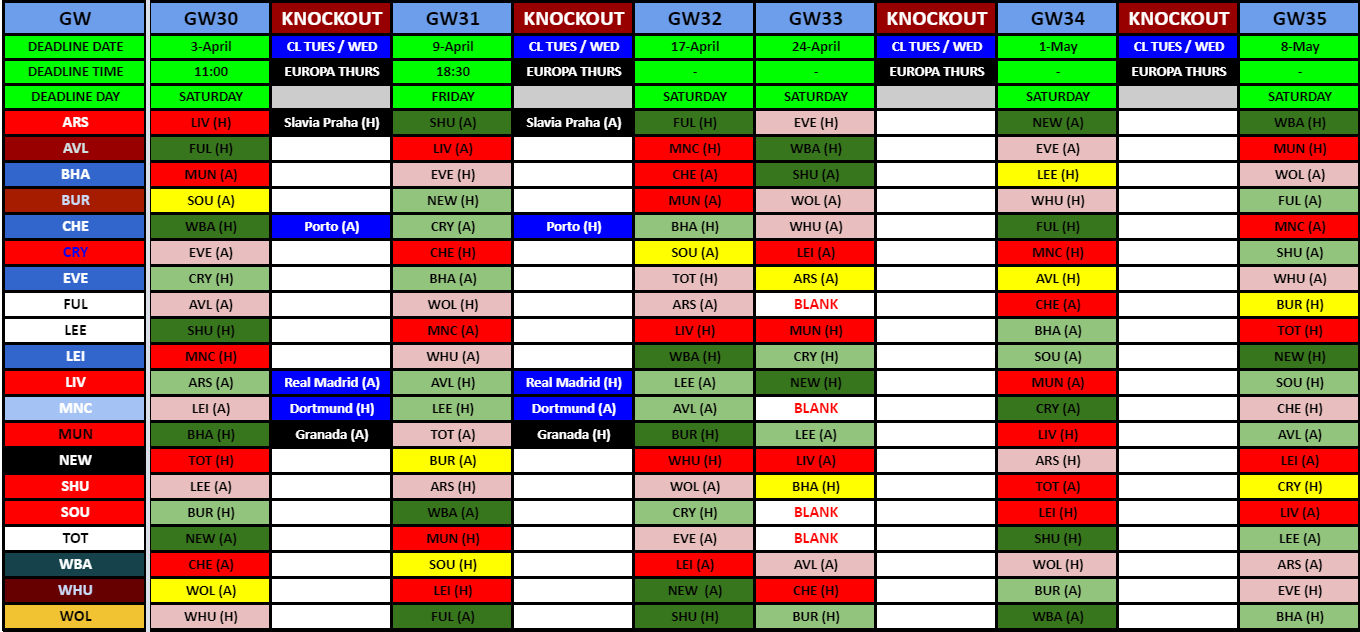 FIXTURE TRACKER LINK
Favourable Fixtures
"Inittowinit, you expect me to talk?"
"No Mr Cook, I expect you to die!"
Well maybe not literally, but fall on my sword I will as I look to point you in the right direction for the next few weeks. For your eyes only


Chelsea – WBA (H), palace (a), BRIGHTON (H)
A lovely run of fixtures for The Blues starts with the visit of West Brom and given The Baggies have scored just once in their last five matches, another clean sheet seems a given for Azpi & co. In fact under Tuchel, Chelsea have kept an impressive eight clean sheets in 10 matches and this is clearly where the value lies in their players. If you can avoid the rotation.
Chelsea have won the last six vs The Eagles so fixture form would suggest little to worry about here. Palace's arch enemies are the next visitors to The Bridge but one could reasonably expect another clean sheet in this one. Fixtures to die for but as I have already alluded to, rotation could be an issue with The Blues still fighting in Europe and FA Cup.

Everton – PALACE (H), brighton (a), SPURS (H)
I've included Everton here more in hope than expectation in all honesty. Matches vs Palace and Brighton should lead to some level of optimism for DCL, Digne & Richarlison owners but recent results have been somewhat sticky for The Toffees and some of the pizazz that was on show earlier in the season seems to have faded. However if Ancelotti can get James (minus his chopper?) firing again on the pitch then the good times may return. A fixture vs Spurs is hardly a scary option these days, especially for the front men – the two met in the FA Cup back in February with Everton winning 5-4 – now that would be a thrilling one for DCL & Kane owners!

Man Utd – BRIGHTON (H), spurs (a), BURNLEY (H)
Having limped out of the FA Cup last weekend, United can now focus on CL qualification, either through a top-4 finish or winning the Europa. With Ole banging on about league position being the true illustrator of progress, then it's fairly safe to assume that rotation won't be a big factor for United players going forward. Bruno and Shaw look good bets for the foreseeable, especially with home matches vs Brighton and Burnley coming up and having won at the Etihad and San Siro, United will feel no trepidation in going to Spurs.

Southampton – BURNLEY (H), wba (a), PALACE (H)
You probably weren't expecting to see Southampton popping up in this section of a Fixtures article, but one look at their up and coming games may lead to some fantasy interest in one or two of their number. An away day at West Brom is sandwiched between home visits of Burnley and Palace and those matches could well provide an opportunity to jump on some 'unfashionable' cheaper assets (Adams, JWP etc) while other managers look to the more household names from more illustrious clubs.
The Best of the Rest

Arsenal – LIVERPOOL (H), sheffield united (a), FULHAM (H)
The Gunners host Liverpool in GW30 but with both defences looking far from solid, who would bet against a goal fest of sorts here? With Lacazette in form (3 goals in his last 3 starts) and seemingly redundant in Europe, maybe he's the play with fixtures vs Sheffield United and Fulham on the horizon (and Newcastle and West Brom shortly after). Just avoid their defence!

Liverpool – arsenal (a), VILLA (H), leeds (a)
This has not been the title defence they would have wanted but if Klopp can rouse the dressing room and have them playing for each other again then a top 4 finish isn't yet out of the equation and they have the fixtures to do it. They travel to the Emirates this week and given that West Ham strolled past the Gooner defence at will in GW29, Salah, Mane and Jota have little to fear.
They then face Villa and Leeds in matches you would expect them to win, but we've said that many times this season and fallen flat on our faces. This is crunch time now for Pool – get their act together now, and it needs to be now, and they have a chance because they have a lovely looking run-in with matches vs Newcastle, Southampton, West Brom, Burnley and Palace in five of their last six GWs.

Wolves – WEST HAM (H), fulham (a), SHEFFIELD UNITED (H)
West Ham at home will be tough for Wolves but after that they face Fulham and Sheffield United. And then Burnley, West Brom and Brighton. So that's why they're in this section. The trouble is I just can't identify a player that I want to own. Neto I guess is the only real possibility, but only because he is so cheap. And he's so cheap 'cos they can't friggin' score – only Sheffield United, West Brom, Fulham and Burnley have scored less than Wolves this season.

Man City – Leicester (a), LEEDS (H), aston villa (a)
City are here because no fixture is tough, let's be clear they're head and shoulders above anyone else in the division right now, and that's just their reserves! Therefore nothing needs saying about City that you don't already know. The question is though, do you want to gamble holding three City assets while they are competing on four fronts and holding a 14 point lead in the league? Pep will clearly rotate from now until the end of the season, indeed he's even admitted that he can make 6-007 changes and not destabilise the team or compromise its quality.
I guess my gut here is that you can hold Gundogan and Stones due to their price and value. The rest are expensive and do you want that cash sitting on your bench? Stones for example is rarely brought on in a game and offers a scoring threat that Dias doesn't. Gundo is the steal of the season, just ahead of Stones, and it's hard to find value like this, so possibly he too can be held. After all, diamonds are forever. The rest I wouldn't bother with personally, you'll see plenty of benched assets while other players in other teams who are still fighting for European qualification, will be less subjected to missing matches. That's just my take on City, I could be wrong. But this is no time to die.
Unfavourable Fixtures
Diamonds may be forever, or at least 3 GW's, but the following lot certainly aren't, but never say never again as their time may come around once more, just not for a while.

Aston Villa – FULHAM (H), liverpool (a), MAN CITY (H)
Villa need Grealish back and sharpish. Since he got injured they have won just once and scored only 3 goals in 6 games, and one of those was an OG.
There's a saying in England: Where there's smoke there's fire': There's also a stat flying around that Villa win 50% of their games with him and only 17% without. I've no idea if that's just this season or over his whole career and frankly I couldn't be bothered to check, simply because it sounds about right either way.
Fulham will be fighting for their lives, Villa not so much. After that it's Liverpool and City. I'd perhaps keep Martinez for obvious reasons, but beyond him I wouldn't be massively plussed.

Brighton – man united (a), EVERTON (H), chelsea (a)
Brighton may also be fighting for their lives but all of their upcoming opponents still have things to play for too, notably Champions League spots. The fixtures are shocking. Positively shocking. Beating Newcastle 3-0 should sound like green shoots, but in all honesty that should be a given right now. It's unlikely you will have many of their attacking assets, more likely just the odd Dunk or two ('why is is that people who can't take advice always insist on giving it?'), and I wouldn't be particulary hopeful about that working out too well with this little run.

Leeds – SHEFFIELD UNITED (H), man city (a), LIVERPOOL (H)
This is probably more of a cautionary tale in terms of saying that if you own some Leeds players then fine, just don't go buying any more for now. This is a tough run, it's also followed by Man United after it. Given their unpredicatble nature they could as easily win the lot as lose them, the truth will most likely be somewhere in-between those stools.
Newcastle – SPURS (H), burnley (a), WEST HAM (H)
Less a cautionary tale as simply a chance to laugh at Newcastle. I mean no ill toward them, and have no axe to grind, but they have long since been an exploding clown car of a club and recent goings-on only feed into that narrative. We could begin with that Matt Ritchie saga, or last week's revelation that 'some players' believe Bruce is trying to get sacked, especially after playing with no strikers vs Brighton and seeing Carroll and Gayle storm down the tunnel after the game having being unused subs. Or simply end with the s
quad then being given 6 days off over the IB. And that is just the stuff we know / hear about.
Nobody in their right mind owns any of their players anyway, just know to keep it that way. Unless you are scouting them ahead of playing Fantasy Championship Manager next season.
Newcastle down? 'I thought Christmas only comes once a year'.
Thanks for reading FPL Fixtures Gameweek 30. This article was written by Cookie and Inittowinit.
VOTE ON THIS WEEK'S CAPTAIN POLL GW30