FPL Fixtures Gameweek 35
It looks like we finally get to write about some upcoming fixtures that we know will actually happen and won't be changed on a whim. DGW35 was announced last week and along with it a blank-ish GW36. As ever with these things they are not mutually exclusive and as such the excitement of bringing in assets from Arsenal, Leicester, Chelsea and Man United for a bumper double haul will be tempered with the knowledge that they will all then cause you a headache with a blank the week after. However, Villa, Palace, Everton and Saints all now have 3 games in 2 weeks, with the caveat that they are all fairly crap teams!
Which was all well and good up until Sunday when Man United vs Liverpool was called off! This has to be fitted in somewhere and the best guess right now is that the Liverpool game vs West Brom will be pulled forward into GW35, meaning a double for them, and the aforementioned game will take its place in GW36 meaning no blank for Man United. For the purposes of this article we shall assume that this is what will happen, especially given that there there seems to be little other alternative.
We shall attempt to guide you through the above mess as best we can with a quick guide as to who has what and when and whether we think they are even worth the bother.
FPL FIXTURE TRACKER
But first up that all important Fixture Tracker itself…
(This is sans the Man United vs Liverpool game, pending any official announcement)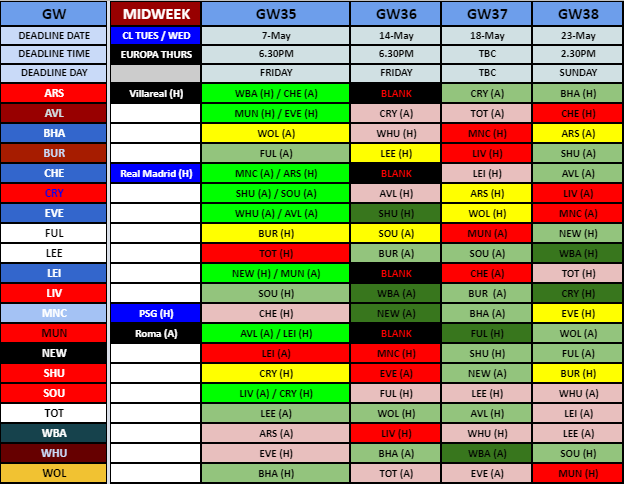 FIXTURE TRACKER LINK
We shall split the above into two categories; those who have a double and no blank, and those who have a double but then take a GW36 break.
DGW & NO BLANK

Aston Villa
GW35 MUN (H), EVE (H)
GW36 CRY (A)
GW37 TOT (A)
GW38 CHE (H)
In the immediacy
To have and to hold. That's pretty much how we would approach Villa in this DGW. That is to say that buying any more may be folly but if you happen to have any then you may as well play them. Ollie Watkins may be the exception here but that's only if you have a spare slot up top that you absolutely need filling.
Life beyond DGW35
Palace away is your archetypal mid-table end of season clash. It could be anything from 0-0 to 4-4. After that Villa become inadvertently embroiled in the chase for European qualification.
Conclusion
Villa are almost a microcosm of the whole season itself; there's nothing to get particularly excited about here.
DGW Rating – 6/10

Crystal Palace
GW35 SHU (A), SOU (A)
GW36 AVL (H)
GW37 ARS (H)
GW38 LIV (A)
In the immediacy
With literally nothing to play for Palace are hard to call. Sometimes this can be dictated to by the opposition but in this case neither of their DGW rivals have anything much to play for either! Southampton could in theory be dragged into the relegation reckoning but that is highly unlikely.
Life beyond DGW35
Again it's difficult to call really, in theory they could easily lose all three of these and nobody would particularly bat an eyelid, not least Palace themselves.
Conclusion
You may have sensed that we aren't seeing much to get excited about here with Palace.
DGW Rating – 5/10

Everton
GW35 WHU (A), AVL (A)
GW36 SHU (H)
GW37 WOL (H)
GW38 MNC (A)
In the immediacy
It may be a relief to Carlo to take his troops back on the road as their home form has been abysmal as of late. That's the plus side, the downside is that neither of these fixtures look straight forward. West Ham still have plenty to play for and Villa have just been to Goodison and won.
Life beyond DGW35
The good news is that the follow up games could be more negatable. The first two have nothing to play for and Man City may well roll out a second X1 with their eyes on a bigger prize ahead.
Conclusion
DCL and the like could grab some points but much like Villa (isn't everyone) this may be a case of have and hold but don't go rushing to jump on any more.
DGW Rating – 7/10

Southampton
GW35 LIV (A), CRY (A)
GW36 FUL (H)
GW37 LEE (H)
GW38 WHU (A)
In the immediacy
Much like Villa….
In all honesty these DGW teams are all seeming to be a bit… 'meh'. Saints can score in both of these games, they can equally concede too.
Life beyond DGW35
According to the fixture tracker above all three games are ok-ish, but in all honesty they are probably all on the verge of turning yellow, which is to say they are bland and you shouldn't really expect too much either way.
Conclusion
Buy a defender? Not on your nellie, they can concede with the best of them and in fact they do; only West Brom have conceded more. Buy an attacker? Definitely a case of 'after you Claude'.
DGW Rating – 5.5/10
DGW & A BLANK GW36
Ok, so this pursuit of some worthy DGW assets is going well then! Having pretty much wriiten off all of the above we then come on to those who have a DGW35 but will then cause you issues in GW36 by simply not playing.

Arsenal
GW35 WBA (H), CHE (A)
GW36 BLANK
GW37 CRY (A)
GW38 BHA (H)
In the immediacy
West Brom sure do like to concede a goal or two, Chelsea have become the polar opposite. Would you bank on a clean sheet in either? Probably not.
Life beyond DGW35
This may largely depend on how they fare on Thursday vs Villarreal. Get through and we may not see many of their main players until the final, what with CL qualification at stake. Get knocked out and who knows. It'll probably be a crap shoot either way.
Conclusion
We'd largely avoid Arsenal, which should probably be a generic FPL mantra anyway.
DGW Rating – 6.5/10

Chelsea
GW35 MCY (A), ARS (H)
GW36 BLANK
GW37 LEI (H)
GW38 AVL (A)
In the immediacy
Finally! A team to write about who actually have something to play for in our DGW. A top four spot is well within their gift but they still have to secure it. Unlike most, Tuchel's Chelsea still feel fresh, which may be just as well as it is Man City up first. TT has already knocked Pep out of the FA Cup though so we wouldn't write this one off, as we do with most when vs City. Next is Arsenal which they should win. Clean sheets in either are not particularly a given though.
Life beyond DGW35
No game in 36 of course which sort of lessens their appeal, if there was indeed one to begin with.
Conclusion
Hold who you have but don't go investing much.
DGW Rating – 6/10

Leicester
GW35 NEW (H), MUN (A)
GW36 BLANK
GW37 CHE (A)
GW38 TOT (H)
In the immediacy
Finally! A team with something to play for with no other interests. It's top four or nothing for Leicester and so we can expect them to go full tilt at these games, with a full first choice team, which is always a bonus from a fantady perspective! They should make mince-mewat of Newcastle, and at the very least cause Man Utd problems.
Life beyond DGW35
They certainly wouldn't have hand picked these two final fixtures but they are notoriously better against the better teams so it may be a blessing in disguise.
Conclusion
Be thankful for whoever you have vs Newcastle and then bench them in 36.
DGW Rating – 7.5/10
MAKING ASSUMPTIONS…
As we say, this is all just supposition at this point but we really can't see any other way that this can handled given the respective schedules already in place for all the teams involved. The propsed changes would mean a DGW for both Liverpool and West Brom in 35 and a game for Man United in 36, which would otherwise have been a blank.

Liverpool
GW35 SOU (H), WBA (A) maybe
GW36 MNU (A) maybe
GW37 BUR (A)
GW38 CRY (H)
In the immediacy
An enticing single GW now becomes a rather tasty looking double. For those without Liverpool assets this has suddenly gone from 'can we get away with it' to 'ah… shit, no'.
Life beyond DGW35
Who knows what to expect in 36 vs Man United but if you've jumped on then stay there as Burnley and Palace will probably be on the beach. Hopefully just not one in either Burnley or 'Palace'.
Conclusion
Stay tuned but if this is rescheduled as we expect then your transfer plans may just turn red.
DGW Rating – 8/10

Man United
GW35 AVL (A), LEI (H)
GW36 LIV (H) maybe…
GW37 FUL (H)
GW38 WOL (A)
In the immediacy
Man United playing in 36 will probably do a favour to many an FPL manager as it is simply one (or two) less blanks to hurdle. Prior to that (perhaps?!) they have Villa and Leicester. We have previously addressed both above but from a United POV they should really be resting key players from here on in ahead of the inevitable Europa League final. Although resting Bruno doesn't seem to be on Ole's agenda. Whether they do or not is a different matter. The originally proposed line-up for Sunday's game suggested otherwise.
Life beyond DGW35
The last two look enticing but as we say; who will actually play in them? Probably Bruno, which may be all you need to know.
Conclusion
Good on paper but in reality they should be unreliable in terms of line-ups. Apart from poor old Bruno!
DGW Rating – 7/10

West Brom
GW35 ARS (A), LIV (H) maybe…
GW36 BLANK maybe…
GW37 WHU (H)
GW38 LEE (A)
In the immediacy
West Brom's almost inevitable relegation may have just been brought forward a week. That won't particularly bother Big Sam though as he will be laughing all the way to the bank either way. Severence pay will be negotiated and he will then sit back and wait for next seasons strugglers to emerge, RightMove renters will be putting up their prices in Watford and 'Palace' as we speak.
Life beyond DGW35
A blank will occur in 36 if we are correct in our assumptions, followed by two relatively meaningless games. To West Brom, anyway.
Conclusion
If you have them then you'll just have to hope that they can keep the flame alive in 35 but the games don't look particularly great.
DGW Rating – 6/10
Don't throw the baby out with the bath water
Looking at your FPL team page and seeing a sea of DGW fixtures below each name is always a satisfying sight. But don't let this blind you to the gold that may lie in having a few with just a single game too. It's hardly unusual for a SGW player to outscore a DGW one.
Here are those who we think you may be as well holding onto this week;

Spurs
GW35 LEE (A)
GW36 WOL (H)
GW37 AVL (H)
GW38 LEI (A)
It was always going to take some time to unravel the mess post-Jose and change the mindset back from defence being the priority to… attacking occasionally actually not being a bad idea. It's a bit late in the season for watershed moments but that Sheffield Utd result may have been one for Spurs. Goals look likely once again, certainly in the next three.

West Ham
GW35 EVE (H)
GW36 BHA (A)
GW37 WBA (A)
GW38 SOU (H)
"Hand pick me 4 games to get us in the CL", said Moyes.
"Yes Master", replied Gollum.
Thanks for reading FPL Fixtures Gameweek 35. This article was written by Inittowinit.