FPL Fixtures Gameweek 5
WTAF?!
You'll have to excuse a few profanities in the intro here but I'm sure you've all uttered similar enough recently, and for similar reasons, so here we go:
Right then, what is it you actually want to know? You want to know who has good fixtures and who has bad ones, yeah? Well… how the f*ck am I supposed to know when Man Utd concede 6 at home, Liverpool get beaten 2-7 by Aston Villa, Leicester look like world beaters by sticking 5 past Man City and then back it up by getting stuffed 0-3 at home to f*cking West Ham. How on earth am I supposed to write a normal and sensible 'fixtures guide' on the back of all that?!
Good question….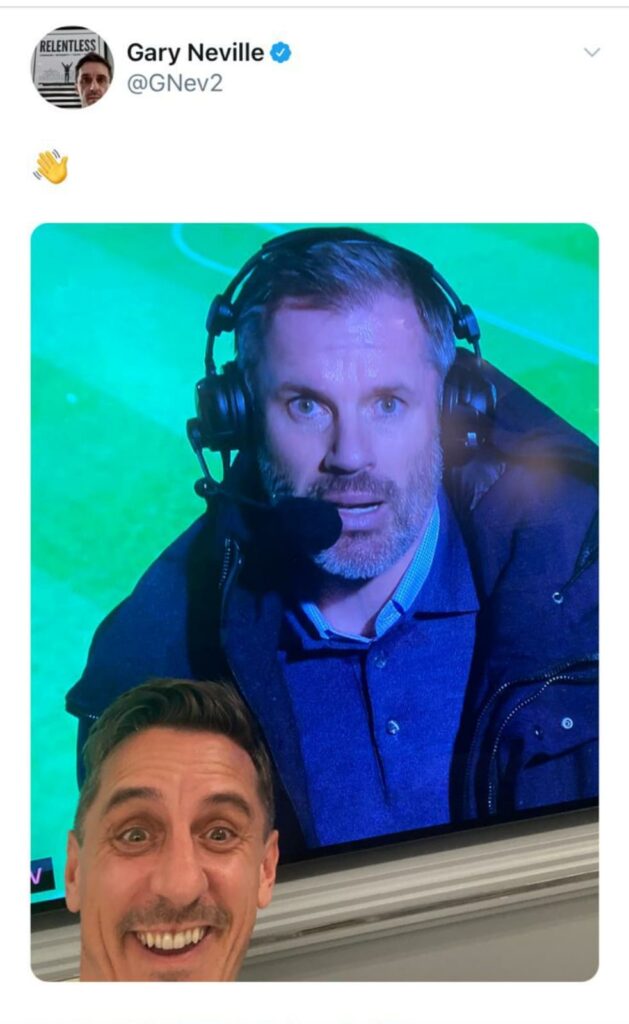 That tweet from GNev2 probably summed it all up (although it needs context), but crack on we shall and I'll try my best to make some sense of it all, but apologies in advance if it all goes t*ts up: it most likely will if 'so far' is anything to go by!
FPL FIXTURE TRACKER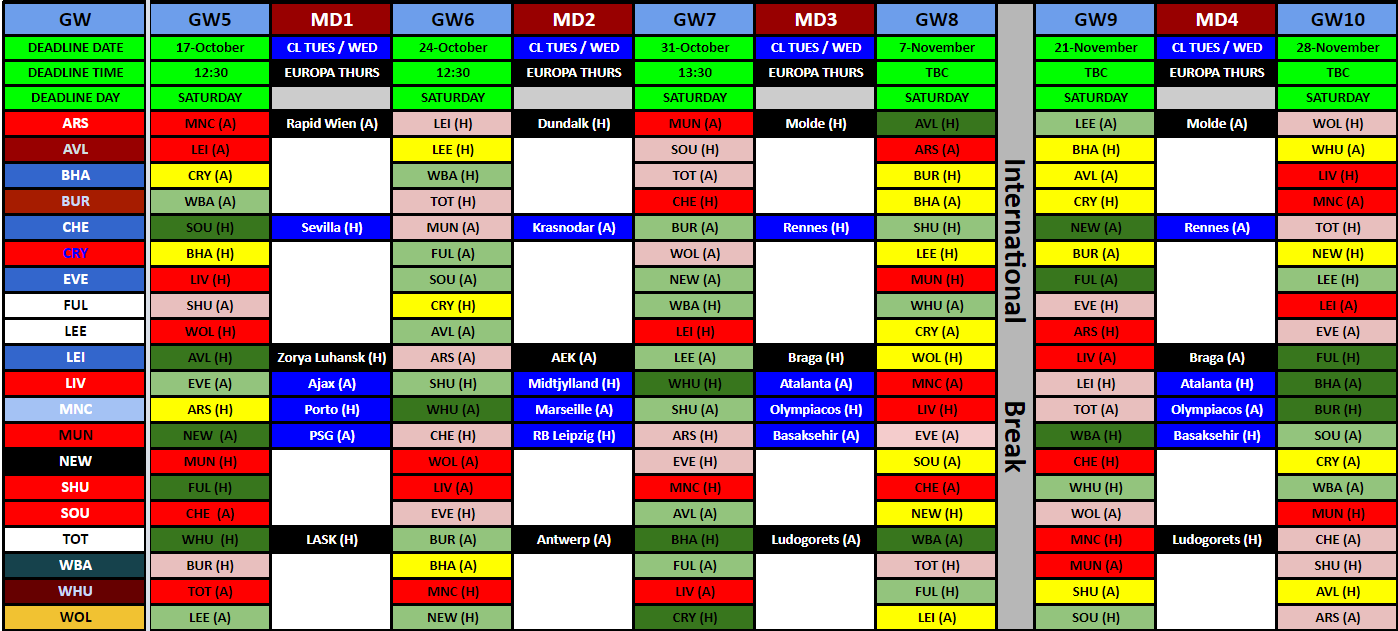 FIXTURE TRACKER LINK
For those who want their own tracker to play with, just make a copy using the link below;
Favourable Fixtures
Spurs vs West Ham (H), Burnley (a), Brighton (H)


Looking at Spurs' results so far it really is 'All or Nothing'. A drab opening day defeat to Everton at home had many wondering if the Jose curse / bubble was in full effect already. It usually takes three seasons for him to grab his massive pay off get sacked, perhaps he'd finally perfected the art of doing it in two? Then they seemed to come to life a bit with 10 goals in the next 4, including 5 in the league vs Southampton. Then it was back down to earth with a 1-1 at home to Newcastle. In their last two though they have scored 13! Yeah sure, one was against some hapless minnows but they also put 7 past Maccabi Haifa. (*waits for Man U fans to unpack that one…)
It does smack of some semblance of form though, and Kane and Son in particular seem like they've clicked like never before with the pair getting (at least) 7 goals and 3 assists in those last two games, and Son didn't even play in one of them.
Fixture wise it looks pretty good, in theory (as most things are these days). The opener against West Ham may be the trickiest though as their London rivals do have a habit of turning it on against both Spurs and Chelsea. Funny that.
Burnley and Brighton both find themselves in the bottom 6, with 6 defeats out of 7 between them and 18 goals conceded. Spurs then go to West Brom who have shipped 13 alone. After that they play Man City and Chelsea back to back but you can worry about that then, the next 4 at least look likely to produce goals.
Everton vs Liverpool (H), Southampton (a), Newcastle (a)


Most teams who open up with a game against Liverpool and then follow it up with 2 potentially tricky away games probably wouldn't normally get a look in here, but let me explain… It's my club, I love them and we haven't been anywhere near the top for about 20 years so shut up and let me enjoy it! they actually look pretty good, almost like the real deal. If it was Martinez or Koeman in charge you'd be forgiven for thinking it was a flash in the pan, soon to be distinguished. But with Carlo at the helm this does look more genuine. And the new signings have all bedded in superbly. And he's even getting a tune out of some of the existing bunch of misfits, Siggy is one but we all know there's a player there, however if you can make Iwobi replace Richarlison and have nobody notice then you're almost approaching Paul Daniels status.
Back to the fixtures though, sure enough it's Liverpool up first but would you bet against Everton scoring here, or indeed Carlo having the nouce to see what both Leeds and Villa did to them by simply having the audacity to attack (scoring 11 in the process)? Probably not.
As for those 'tricky' away games, if they hurdle Liverpool and make it 8 wins in 8 in all competitions (having scored 24 in 7 already) then I wouldn't be particularly concerned about holding a few Toffees in those.
After that they have a home game vs Man Utd, which they often relish, followed by Fulham and Leeds.
Crystal Palace vs Brighton (H), Fulham (a), Wolves (a)


Yeah I know… I'm starting to think I'm losing my mind too but let's see if I can make a valid argument for a team who have lost their last 2 and just got gubbed by Chelsea 4-0.
It's tough! But there is hope: they started off on fire by beating Southampton and then destroying Man United, but then doesn't everybody… What is more promising is their fixture schedule. Brighton and Fulham have shipped a combined total of 21 in 8 games, an average of 3 each per game. Wolves and Leeds will be tougher but neither are exactly looking watertight. After that it's Burnley and Newcastle.
As a set of 6 fixtures that ain't half bad, which is why Palace sneak in here. I think. But who knows.
West Brom vs Burnley (H), Brighton (a), Fulham (a)


Alright, alright, I'm full on laughing myself now too! But again… hear me out! At least give me that before you order the medics / straight jacket.
Some combo of Burnley, Brighton and Fulham has featured above a fair bit, West Brom can shout BINGO in that respect. Sure enough they are still finding their Premier League feet but in all honesty I have seen enough from some of their more creative forward players to suggest that with a good run of games they may yet come good. And that they have.
Let's hope they do though because beyond that it's Spurs and Man United next.
Unfavourable Fixtures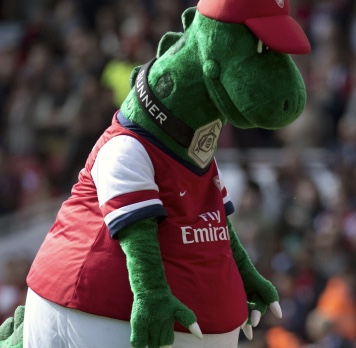 Arsenal vs Man City (a), Leicester (H), Man United (a)
I'll be honest I had Arsenal down for this section prior to 'Gunnersaurus-Gate' anyway. But I couldn't give a fudge about those fixtures now, and I shall insist they remain in this section forever and a day until they reinstate the 'big green guy', as Mesut called him. I don't care if they have Northampton, Rotherham and Oldham up next, any club which can do that to a bloke / mascot on the same day that they announce a £45m signing is dirt in my book. I thought West Ham were bad but this takes the (dinosaur shaped) biscuit. Must be something in the water in London.
They play Man City, Leicester and Man United next. And I hope they lose the lot. And every other game they ever play, ever.
West Ham vs Spurs (a), Man City (H), Liverpool (a)
Speaking of those despicable, fur wearing, sex toy waving neighbours… they've got it tough too. Good. (Although I wouldn't mind waving my own 'sex toy' in the direction of our favourite MILF Karen Brady…).
But I hope they lose the lot. And every other game they ever play, ever.
Newcastle vs Man United (H), Wolves (a), Everton (H)
Anytime Mike Ashley comes bottom of a poll of 3 in anything then you know the other two must be misbehaving really badly! But for once in his life this isn't a character assassination, it's based soley upon the fixtures. And they aren't great. Or are they? They might be. They shouldn't be. But they might yet be.
But… we shall finish as we started by saying that we just don't really know anymore!
Good luck?
Thanks for reading FPL Fixtures Gameweek 5. This article was written by Inittowinit.
VOTE ON THIS WEEK'S CAPTAIN POLL GW5
Fantasy Football 247 League Codes:
All prizes must be claimed within 30 days of the final GW.