FPL Fixtures Gameweek 6
When I first realised I was writing Fixtures this week my initial thought was 'what's the point'. That's not me being petty or dismissive, more a genuine consideration given the results over the opening 5 game weeks. The two constants for any FPL manager – form and fixtures, no longer seem quite so important. Take West Ham as a case in point. They lose their opening two fixtures; at home to Newcastle and away to the Gunners, so we conclude they are out of form, right? Their fixtures in Game week's 3 and 4 (home to Wolves and away to Leicester) looked like 'bad' fixtures so logically we should avoid them but they win both, score 7, conceding 0. Normality seemingly returned as they headed towards a 3-0 defeat to Spurs at the weekend, only for them to score 3 in the last 8 minutes and snatch what seemed an unlikely draw. Bonkers.
In the first 5 weeks of the 20/21 season, the bizarre has become ridiculous and it's making our job (as Fantasy managers) all the more difficult. Not for everyone, of course, some are thriving, but as I sit in the lowly position of 2.7 million (my lowest rank ever) I know I'm not alone. So, I've decided to do something slightly different this week. Rather than pick out the teams who (on paper) have the best fixtures and try to convince you of their merits, I'll instead give a balanced argument for and against.
A word of warning, I will be delving (lightly) into 'expected data'. More specifically xG (expected goals) and xGC (expected goals conceded). I've never been a huge follower of these metrics, but they do interest me. In light of nothing else really making sense I figured why not? For those of you not familiar with xG data, there are plenty of sites out there that will explain it better than I can, the link below gives broad strokes, and hopefully, I've kept it light enough that it makes sense regardless.
FPL FIXTURE TRACKER
But first up that all important Fixture Tracker itself…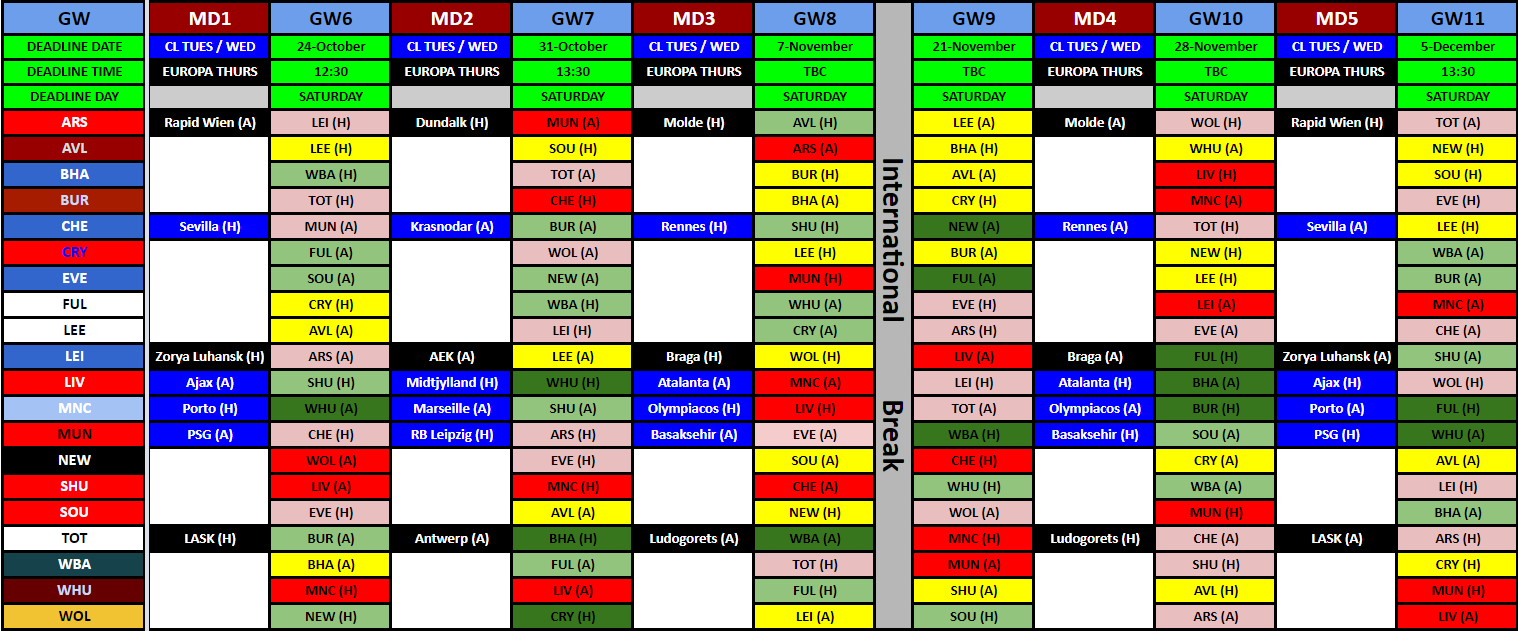 FIXTURE TRACKER LINK
Favourable Fixtures
Fulham – Palace (H), West Brom (H), West Ham (A)


If the fixture tickers are to be believed, no team has a better run in the next 3 than second from bottom Fulham, but do we care? Played 5 lost 4, drew one, scored 4, conceded 12. Let us make the assumption that nobody will be looking to Fulham for their defensive assets. Move that to one side and we're pretty much left with those holding Mitrovic, and perhaps more importantly those who have players from their opposition in the coming weeks.
Two home games would actually have meant something in seasons past. However, if the results across the league give any indication, home advantage is not what it was. Fulham's home and away form show little difference – 6 conceded at Craven Cottage, 8 on their travels, their 4 goals all coming in away fixtures only serves to drive home the point. Maybe Fulham are just rubbish? Let's scratch beneath the surface and see if things become a little less cut and dried.
With an xGC (expected goals conceded) of 7.67, underlying stats suggest they've been unfortunate to have let in 12. At the other end of the pitch, an xG (expected goals) of just 4.99, shows that the meagre 4 goals they have scored is a fair representation.
Palace are the visitors in GW6. Their away data shows 1 win, 1 defeat, Scored 3, conceded 5. An xGC (expected goals conceded) of 3.91 (against 5 conceded actual) indicates that they have been marginally unlucky, but as a whole are not as defensively sound away from Selhurst Park (3 goals conceded). From an attacking POV, 3 goals in their 2 away games with an xG of 1.81 shows they are slightly over-performing. I expect a low-scoring encounter in this one.
Unlike Fulham, West Brom (the visitors to Craven Cottage in GW7), have actually picked up points this season. Sadly, they haven't done so on their travels. Played 2, lost 2, scored 2, conceded 7. With an xG of just 0.53 (the lowest in the league) their 2 goals would seem somewhat fortunate, and whilst an xGC of 5.20 suggests they have been a little unfortunate to concede 7, they still sit bottom of the pile for both stats. If Fulham are going to start picking up points, and they need to, then I suspect they will get no better opportunity.
The Cottagers travel to London Stadium in GW8 and in my opinion there is nothing easy about this fixture given the Hammers current form. They put 4 past an out-of-sorts Wolves team with no reply in their last home fixture (GW3), although an xG of 2.36 suggests 4 goals was fortuitous, it is what it is. At the other end of the pitch, their clean sheet was well deserved conceding just 2 shots on target and not a single big chance. Fulham will get nothing from this I suspect.
Tottenham – Burnley (A), Brighton (H), West Brom (A)

Init's fixture article in GW5 touched on the up and down nature of Spurs season thus far so I'll avoid repetition and instead delve straight into the fixtures.
Spurs thus far have faired better on the road this season. Their GW2 exploits (a 2-5 win at St Mary's) were eclipsed in GW4 as they stuck 6 past the Red Devils, so what will they do to a Burnley team who have failed to win or even score at Turf Moor this season? In fairness, Burnley has only played once on home soil, so it's difficult to draw any conclusions, especially given injuries to both of their first-choice centre-backs. Spurs, on the other hand, have scored 11 times on the road, but an xG of 5.60 would indicate they have been very lucky, but let's be honest, if you watched either the Southampton or Man Utd matches you'll not need xG data to know that. The return of James Tarkowski will have given the Clarets a much-needed boost, however, I'm not sure it'll be enough to keep out a Spurs attack that could themselves be boosted by the return of prodigal son Gareth Bale to their starting 11.
Brighton are the visitors in GW6 and they should take heart from the Lillywhite's results at the Tottenham Hotspur Stadium this season. However, I've once more delved into the murky depths of Expected data to see if the defeat to Everton (0-1) in GW1, a draw (1-1) at home to Newcastle (GW3) and the 3-3 draw with West Ham (GW5) tell the full story. In GW1, Jose's men had an xG of 1.13 and an xGC of 1.20. What does that mean? Perhaps 1-1 would have been a fairer result. In GW3 an xG of 2.95 suggests they could quite easily have had 3 goals (not 1) and all 3 points had lady luck been smiling on them as she was the week prior at St Mary's. Against West Ham, they scored 3 with an xG of 1.69, an upturn in returns more representative of their away form this season. At the other end of the pitch, an xGC of 1.90 would suggest they were somewhat unfortunate to concede more than 2 goals having dominated the match for 80 minutes, sadly for Jose and Harry, football matches last (at least) 90.
A trip to the Hawthorns rounds out this appetising trio and looks the most likely of the 3 to yield yet another glut of goals for Messrs Kane, Son and maybe even Bale this time. On the surface its 2 draws 1 defeat, 3 goals scored 6 conceded for Slaven Bilić's team at the Hawthorns. The expected data shows that they got their just deserts in their 0-3 opening day defeat to Leicester with an xGC of 2.83 and an xG of just 0.42. What's more interesting, however, is the data from their GW3 3-3 draw with Chelsea where an xG of just 0.58 shows just how fortunate they were to score at all let alone 3 times. The data is telling me that a spanking could be on the cards.
Wolves – Newcastle (H), Palace (H), Leicester (A)

Wolves epitomise everything that is wrong with this season. Last season they were sure bets, but so far, their form can best be described as 'mixed'. An opening day win away to Sheffield looked perfunctory, but since then they've been far from convincing. Their fixtures look appealing, but can they be trusted?
Last season games at home to Newcastle and Palace would have looked like safe bets for both goals and clean sheets, but if we're looking at this seasons home form, neither can be taken for granted. In their two home games thus far they couldn't have faced two more different sides, few would have expected them to beat Manchester City but they were expected to at least put up a fight. As it was, they succumbed to a 1-3 defeat, their xG was just 0.56, their xGC 1.90, perhaps a 0-2 defeat would have been fairer, but that's hardly a ringing endorsement. In GW4 Fulham were the visitors, we all had high hopes, but they laboured to a 1-0 win. With both the Magpies and the Eagles showing mixed form on the road, it's clear anything is possible, Wolves really should be picking up maximum points in both fixtures, will they? Your guess is as good as mine.
Finally, it's a trip to Leicester in GW8. I'd have said this was a tricky fixture for Wolves, but back to back defeats for the Foxes in their home games to West Ham (GW4) and Villa (GW5) show a team low on confidence. Right now, it's too hard to call. Leicester have 2 tricky away days (Arsenal and Leeds) in their next 2, they could head into this one on the back of 4 consecutive defeats if they're not careful and then who knows what kind of game we'll see play out.
Villa – Leeds (H), Southampton (H), Arsenal (A)

Villa have played 4 won 4, scored 14 conceded 2. They look a different animal to the side that only just survived relegation in the 2019/20 season. Their data is obviously skewed somewhat by their impressive 7-2 win over Liverpool in GW4, but with home games against Leeds and Southampton up next, FPL managers will have high hopes of returns at both ends of the pitch.
First-up its Leeds who have 1 win, 1 defeat from their away days. They've scored 4 against an xG of just 1.49 which is surely not sustainable and with an xGC of 4.16 (against 4 conceded actual) its surely only a matter of time until the results match their underlying data. A Villa win or low scoring draw would not surprise me. Then again, nothing would surprise me.
Next, it's the visit of Southampton who thus far has 1 win, 1 draw, 1 defeat from their 3 away fixtures. At the weekend, they grabbed an unlikely point at Stamford Bridge, an xGC of 1.76 indicates they were fortunate to score 3, but perhaps that's more a reflection of the opposition on the day. I expect another Villa win for my good friend Swirly and I wouldn't begrudge him it for one second
Finally, it's a trip to the Emirates in what will surely be Villa's toughest fixture of the 3. Arsenal have won both their home fixtures 2-1, but an xGC of just 1.67 (against 4 scored actual) will give the Villians encouragement. Their win over Leicester at the weekend was a scrappy affair but in the end, they did what needed to be done, can they do it again in GW8? I think they might you know.
Unfavourable Fixtures
Sheffield UTD – Liverpool (A), Man City (H), Chelsea (A)

Could their fixtures look any worse? Man alive, things do not look good for the Blades. They grabbed their first point of the season at the weekend but that followed 4 defeats in their opening 4 matches. They have now conceded 7 goals and have just 2 goals to show for their efforts. I'll not bore you with any more xG data, just give the stripey red and white shirts a swerve for the foreseeable.
West Ham – Liverpool (A), Man City (H), Fulham (H)

I've spoken at length about the Hammers. They're clearly in the type of form that means perhaps they should fear no fixture, but a trip to Anfield and the visit of the Citizens must have even the most ardent Hammers fan feeling slightly nervous of their prospects. There is light at the end of the tunnel, however. If Moyes' boys can navigate the next two, then they welcome a Fulham side that has an Antonio 4 goal extravaganze written all over it. Until then, avoid.
That's all from me, I hope you're all having a better season than I am so far, but keep looking over your shoulder because if there's one thing I love, it's a challenge. Game face on.
Thanks for reading FPL Fixtures Gameweek 6. This article was written by Rosco.
VOTE ON THIS WEEK'S CAPTAIN POLL GW6
Fantasy Football 247 League Codes:
All prizes must be claimed within 30 days of the final GW.