FPL Fixtures Gameweek GW26
We're now entering what is generally known as the business end of the season. The time for plans to be executed, Chips to be utilised, chances to be taken and if all goes well the time for big leaps in the rankings. Or if you're like me, plans to be made, said plans to be ignored and Chips wasted!
With all this in mind and following the announcement of the majority of rescheduled fixtures, allow me to try and navigate you through the next four game-weeks (and in some cases beyond). These next four game-weeks are a real mixed bag – we start with the season's biggest double game-week and end in GW29 with just four fixtures. And just to add spice to those quirky weeks we have a tiny DGW in 27 and a possible DGW in 28 for Villa and Everton.
With so many teams doubling in DGW26 I have written the Fixtures article slightly differently to how it is usually presented and cover all the teams.
The teams doubling are split into three sections: 'Double Top' (good fixtures, ensure you have representation), 'Double or Nothing' (fixtures are mixed, a bit meh) and 'Double Double Toil and Trouble' (fixtures are rubbish).
Finally there is a section on the small number of teams who do not have a DGW but who do play in GW29.
So whether you still have a Wildcard to burn, are happy to hit, intending to use your FH in G29 or need to build for it now, I have written the article to ensure, I hope, that there is something for everyone. Maybe you're looking for a cheeky punt for this week or the next few weeks, in which case look no further!
Most teams have a smaller than usual write-up, short and to the point. An idiots guide if you like. Written by the Chief Idiot himself.
For clarity, BGW means Blank Game-week and if a fixture is listed in CAPITALS, it means the fixture is at home.
FPL FIXTURE TRACKER
But first up that all important Fixture Tracker itself…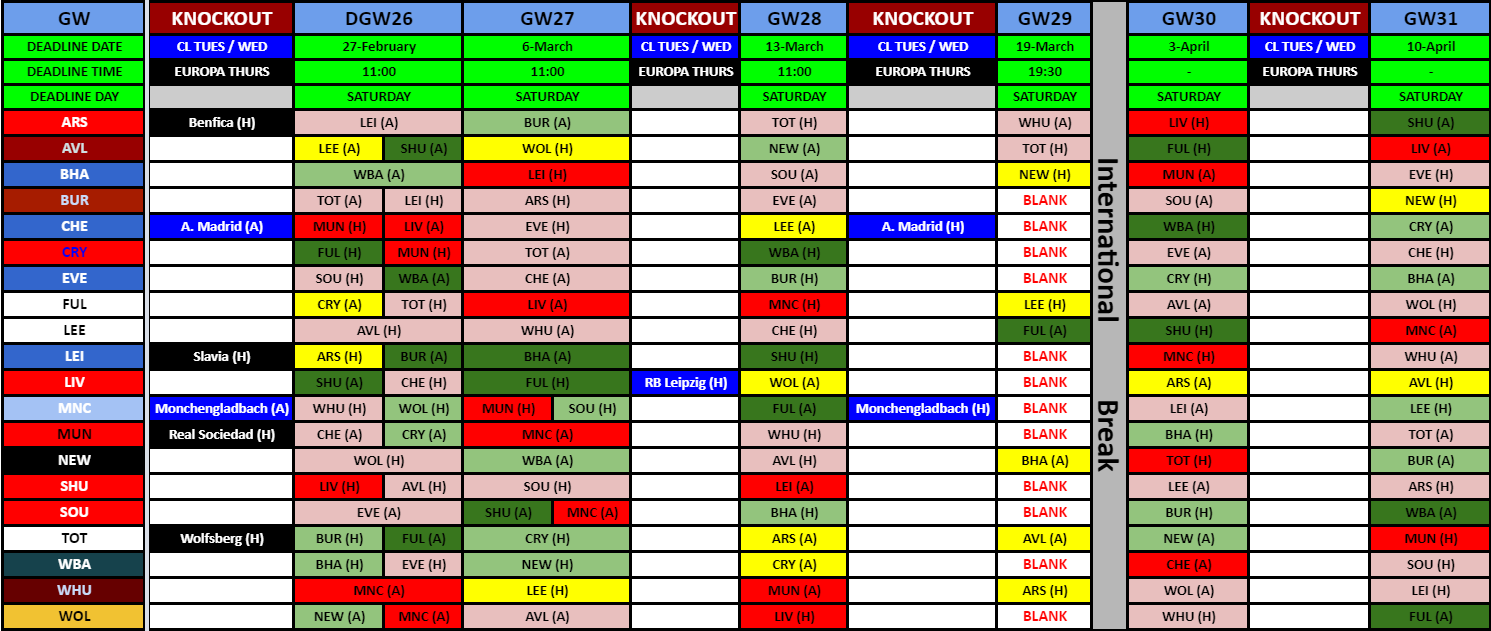 FIXTURE TRACKER LINK
DOUBLE TOP
Man City – DGW26 vs WEST HAM, WOLVES; DGW27 vs MAN UTD, SOUTHAMPTON; GW28 vs Fulham, BGW29.


Let's be honest, no fixture seems that tough for City right now, our only issue is working out who is going to play. Best to pick 2-3 City players, stick with them and ride the rotation. It doesn't get any better than two double game-weeks on the bounce with all four of those fixtures at the Etihad. West Ham, Wolves and Southampton will be taken to the sword, and likely United will too, although they may put up slightly more of a fight. A trip to Fulham in GW28 is not likely to trouble them before their blank in 29. Nothing to worry about, load up.
Everton – DGW26 vs SOUTHAMPTON, wba; GW27 vs Chelsea; PROBABLE DGW28 vs BURNLEY, aston villa; BGW29.


The Toffees will be glad to have DCL back as they try and take advantage of what could be 5 matches in 3 GWs. DGW26 is kind on paper and given they have just beaten their local neighbours, they should certainly have enough to see off Southampton and West Brom. Chelsea in GW27 will be tougher, but don't go selling DCL, Digne, Doucoure and Davies just yet as they could well double again in GW28. They already host Burnley but their rearranged match vs Villa could well fall in that midweek before they blank in 29.
Aston Villa – DGW26 vs leeds, Southampton; GW28 vs WOLVES; PROBABLE DGW28 vs Newcastle, EVERTON; GW29 vs SPURS.


This is a decent little run for Villa. If the aforementioned fixture vs Everton is rearranged for GW28 then they will be the only side to play 6 matches in four game-weeks as they also feature in GW29. One area of doubt is how long Grealish is ruled out for and that's certainly something to keep an eye on. Their opening DGW sees two road trips, one up to Leeds, the other down to Southampton – Ollie Watkins should be licking his lips at those two before Wolves appear on the doorstep in 28. A trip to Newcastle should see young Ollie foaming at the mouth before two home fixtures vs Everton and Spurs will likely prove tougher, although both of those defences are hardly impenetrable. If you're still not convinced to load up on Villa assets then be warned they then host Fulham in GW30. All aboard!
Leicester – DGW26 vs ARSENAL, burnley; GW27 vs brighton; GW28 vs SHEFF UTD; BGW29.


I'm mightily impressed by Leicester right now and I would urge all of you to get hold of Barnes, Maddy or Vardy for not only this run of games but for the foreseeable.
The visit of Arsenal in the first part of DGW26 will likely be Leicester's toughest challenge of this mini set of matches, but having seen off Liverpool and Villa in recent weeks, should they fear going to the Emirates? Probably not from an attacking viewpoint at least.
The Foxes then embark on trips to Burnley and Brighton, where you would expect them to continue their challenge
for a second place finish. The visit of Sheff Utd in GW28 is of course a gimme… unless you're Man Utd – Vardy will be well up for that one and it's the striker who is lagging a way behind the midfield duo in terms of form and goals right now.
Aside from the GW30 visit of City, Leicester have a lovely run of matches right the way through to GW's 36, 37 & 38 when they go to Man Utd and Chelsea and host Spurs.
West Brom – DGW26 vs BRIGHTON, EVERTON; GW27 vs NEWCASTLE; GW28 vs crystal palace; BGW29.


If ever a run of matches was wasted on a set of players then this sequence for West Brom must be pretty much up there. Home matches vs Brighton and Newcastle and a trip to Palace should have us frothing over a team's assets.
Or am I speaking too soon? Maybe Pereira at 5.4mln could fit the bill with those fixtures, after all The Baggies ran Burnley ragged at the weekend but just couldn't finish – a Soucek replacement perhaps?
Liverpool – DGW26 vs sheff utd, CHELSEA; GW27 vs FULHAM; GW28 vs wolves; BGW29.


In more normal circumstances Liverpool have a decent little run of matches here. But this ain't no normal time, the Champions are whimpering away their title defence and have lost four on the bounce at home. Further injuries, rumours of in-fighting, Klopp losing his 5h1t on the touchline have left many of us questioning whether even Salah is worth his huge expense anymore.
They start this run of fixtures with a trip to Sheffield Utd which is about a good a fixture as a team can get right now (unless you're Man Utd). They then encounter three matches which we would expect them to win, but how sure of that can we be right now?
Chelsea have tightened up to an extent, have a clue tactically and possess match winners in their team, Fulham are fighting tooth and nail to stay up, while a trip to Wolves in GW28 looks a less straightforward game now than potentially it did a month or so ago.
Clearly going without Salah opens up huge possibilities in terms of budget in your squads, but do bear in mind of you ignore him right now that looking further ahead after their blank GW29, Liverpool will come up against Villa, Leeds, Newcastle, Southampton, West Brom, Burnley and Palace in seven of their last eight game-weeks of the season.
If I owned Salah (and I don't), I would keep for DGW26 & GW27 and reassess. Plus owning Salah (or Mane) could be gold in GW27 when other team's fixtures are not quite so attractive.
Spurs – DGW26 vs BURNLEY, FULHAM; GW27 vs CRYSTAL PALACE; GW28 vs arsenal; GW29 vs aston villa.


If Liverpool are a conundrum then Spurs are not far behind, although in fairness our expectations of Jose's men are probably less than of Salah and co.
The weekend's loss at West Ham was Spurs' fifth defeat in six, with only a win vs West Brom to lift the gloom in that sequence. So why do they appear in this section? A good question. Having watched much of the second half vs West Ham, Spurs created a fair few chances (albeit only really after Bale was introduced). I have seen arguments that their DGW26 fixtures at home to Burnley and Fulham are vs sides that sit back and don't allow space for the likes of Son to run into, but while this may be true can anyone really have confidence in a Burnley defence that should easily have conceded three to a 10-man West Brom at the weekend? Yes, Burnley kept a clean sheet but that said more about West Brom's woeful finishing than it did about Pope, Mee and Lowton. Fulham could well prove a tough nut to crack, I will concede – although I do expect Spurs to score in that one.
So given those arguments for and against, I present my case for owning Kane and Son – look at GW27… at home to Crystal Palace – in a week where Leicester go to Brighton, the Mancs square up against each other and Chelsea host Everton, Spurs really do have the perfect fixture and even if you're 50/50 on owning Kane and Son for 26, you're surely want them for 27. And you'll certainly want them for GW29 when they go to Villa.
DOUBLE OR NOTHING
Man Utd – DGW26 vs Chelsea, crystal palace; GW27 vs man city; GW28 vs WEST HAM; BGW29.


This is far from a straightforward run of fixtures for The Reds and their opening DGW26 encounter with Chelsea may be pivotal in deciding which of the two is best placed to secure a top 4 finish. United do have the luxury of visiting Palace before they then cross the city for the derby where they will do well not to get steamrollered, just as everyone else is right now. The visit of West Ham in GW28 will, I expect, prove tougher than it may look on the fixture tracker, it's the kind of match that we would expect United to win but they may well struggle in – as we have seen recently when they hosted Sheff Utd, Everton and even Newcastle, for long spells on Sunday.
Clearly you'd be mad to go without Bruno, but I remain to be convinced that any further United coverage is necessary at this stage.
Chelsea – DGW26 vs MAN UTD, Liverpool; GW27 vs EVERTON; GW28 vs leeds; BGW29.


A DGW vs United and Liverpool, welcome to the Premier League Herr Tuchel. So far in his brief reign Tuchel and Chelsea have been granted a pretty decent run of games, but that ends now. The aforementioned double will test all Chelsea's resolve and will tell us more about what we can expect from them. The visit of Everton in GW28 will also be a test, while the trip to Leeds would have been more fun for the supporters than it may be for the players.
The Blues blank in GW29 but after that things certainly change as they begin a run of five matches vs West Brom, Palace, Brighton, West Ham and Fulham. No need to rush for Chelsea assets now, but be ready for GW30 onwards.
Southampton – GW26 vs everton; DGW27 sheff utd, man city; GW28 vs BRIGHTON; BGW29.


I view Southampton as the most Jekyll & Hyde team in the league. Let's forget the trip to City in DGW27 part deux, but focus instead of trips to Everton and Sheff United and the visit of Brighton – it's quite conceivable that the Saints could win all three or indeed lose all three and frankly if you told me one or the other I wouldn't be shocked. I guess if you still have McCarthy you play him (though everyone else will be looking at you asking why you don't have Martinez), Ings of course can score vs anyone and JWP is always up for some set-piece sorcery but if you don't own them already I wouldn't rush out and snap them up.
DOUBLE, DOUBLE TOIL AND TROUBLE
Fulham – GW26 vs crystal palace, SPURS; GW27 vs Liverpool; GW28 vs MAN CITY; GW29 vs LEEDS.

Ah a trip to Palace has caught your eye on viewing Fulham's fixtures at a glance. Don't get too excited as they follow that gift with fixtures vs Spurs, Liverpool and City. They do at least play in GW29. I'm not sure if you'll actually want any Fulham players for that but they do at least have a cheap striker in Maja who seems to know where the goal is, a keeper who can make a save or two and of course Lookman's goal vs Sheff Utd at the weekend has brought him into the spotlight once again.
Wolves – DGW26 vs Newcastle, man city; GW27 vs aston villa; GW28 vs LIVERPOOL; BGW29.


Any interest in Wolves from a FPL perspective was laid to rest when our old mate Jimenez was laid out sparko at The Emirates. In fairness there's probably many an Arsenal fan who has been begging to be put to sleep there for a few years now. I digress. Would you want a Wolves asset vs Toon? Yes probably, but who? Neto maybe. And then you wouldn't want him vs City or Liverpool and probably not even vs Villa in all honesty. Avoid.
Crystal Palace – DGW26 vs FULHAM, MAN UTD; GW27 vs spurs; GW28 vs WEST BROM; BGW29.


No Zaha, no party. I don't care that they play Fulham in 26 and then West Brom in 28. United and Spurs are the sandwich and they'll likely eat Palace for breakfast, lunch and dinner. And maybe Fulham and West Brom will too. Avoid.
Burnley – DGW26 vs spurs, LEICESTER; GW27 vs ARSENAL; GW28 vs everton; BGW29.


Nothing to get excited about here either – a clean sheet is unlikely given how exposed 10-man West Brom made them look at the weekend and if they do manage to score you won't own the scorer, or even want to. Even Pope has valid competition this season with the likes of Martinez stealing his thunder. Lowton or Taylor remain cheap enablers at the back and therefore going forward may prove useful but that's as positive an insight as I can think of.
Sheffield United – DGW26 vs LIVERPOOL, ASTON VILLA; GW27 vs SOUTHAMPTON; GW28 vs Leicester; BGW29.


I'm not even going to waste my energy in writing anything about this lot as that would only waste your time reading it. No-one cares for Sheff United anymore. Sorry, but it's true.
And as for the rest of them….
All the below teams feature in GW29 so if you own any assets from these teams and your Free Hit has been used, you may well want to keep hold of them for the mini-week in 29.
Brighton – GW26 vs wba; GW27 vs LEICESTER; GW28 vs Southampton; GW29 vs NEWCASTLE.


Their home fixture in GW29 vs Newcastle is the only thing to get excited about and if you're building to that then their keeper and defenders offer good value. Treble up for GW29 and avoid before and after. A free-hit's dream team.
Newcastle – GW26 vs WOLVES; GW27 vs wba; GW28 vs aston villa; GW29 vs brighton.


As per Jimenez for Wolves and Zaha for Palace, Newcastle without Wilson are worthless from an FPL standpoint. Even their keeper is priced at 5.0mln – who makes up this 5h1t? Shame really as their fixtures are not the worst. Sadly from a Toon point of view, the Magpies are slipping down the table at an alarming rate. Avoid, even in GW29.
Leeds – GW26 vs ASTON VILLA, gw27 vs west ham; GW28 vs CHELSEA; GW29 vs Fulham.


We all loaded up. And now we probably all want to get rid, but can't 'cos they play Fulham in GW29. Fixtures vs Villa, West Ham and Chelsea are not wow, but could well offer something for Raphinha or Bamford. However, from a defensive point of view, I wouldn't get too excited. In all honesty, our fantasy interest in Leeds may have peaked for this season, apart from GW29.
Arsenal – GW26 vs Leicester; GW27 vs burnley; GW28 vs SPURS; GW29 vs west ham.


This is a tough run to call for the Gunners, but let's be honest, we'll only really care about them in GW29. If you own Saka you keep him as you'd bank on Arsenal scoring vs Burnley, Spurs and then West Ham, but I wouldn't go out and buy any Gooner quite yet – however, similar to Chelsea their fixtures look fantastic from GW31 onwards.
West Ham – GW26 vs man city; GW27 LEEDS; GW28 vs man utd; GW29 vs ARSENAL.


Like Leeds above, our FPL interest in the Hammers may well be over for this season. Yes they play in GW29 and so you may want Cresswell, Coufal or Antonio for that, although the latter will probably have picked up 3 new muscle strains before we even reach GW29. The simple message here is, if you have a Hammer and a Free Hit you can get rid for now.
Thanks for reading FPL Fixtures Gameweek GW26. This article was written by Cookie.
VOTE ON THIS WEEK'S CAPTAIN POLL GW26