Harry and Lloyd's Predictions GW8
Welcome to Harry and Lloyd's Predictions GW8. Last week was one for the conservative predictors amongst you; 5 games finished 2-0 and only 2 teams score more than 2 goals. The only real surprise was the Hammers 3-1 victory over Man Utd, few saw that one coming, Jose included. Another landslide victory for Man City was predicted but didn't come to fruition, and Everton finally kept a clean sheet, scoring 3 goals in the process.
Other than that it was business as usual. Which is how it was for this weeks winner; DenPerryDidIt on 18pts. So often top of the weekly competition last season, he also went on to clinch the Joint top spot in the overall league. It could be time for a Harry and Llyod titan to head back to the top! In 2nd place was PM with an impressive 17pts, thanks in no small part to his correct  First Goal Scorer (Anderson) prediction. The podium was complete with the 3rd place spot taken by Mahelmy with a solid 16pts.
Congrats to DenPerryDidIt on his win, please email us at contact@fantasyfootball247.co.uk to claim your prize.
We'll reveal the weekly winner in the following weeks article and each week our winner will walk away with a FF247 branded t-shirt! We'll also have an overall league table which we'll update on a monthly basis.
Scoring couldn't be simpler:
Correct Score = 3 points
Correct result = 1 point
Correct First Goal scorer of the game-week = 5pts
(Points are awarded on an 'either or' basis, so you'll either score 3 points for a Correct Score or 1 point for a Correct Result, these are never added together for a 4 point score.)
Tie-Breaker
In the event that two or more members are tied as winners for the week the overall winner of the t-shirt will be decided by a tie-breaker.
In order to do this we ask that you also post your prediction of the time that the first goal of the week will be scored at. Nearest the pin wins.
This Week's Comp…
The rules are few; 1 entry per person, and all entries must be submitted prior to the first game of the game-week. Kick-off this week comes on Friday at 20:00. Once all the games have been played, we'll count up the scores and the winner(s) will be announced in the following weeks competition article.
So just to recap all you need to do is
– Copy and paste the fixtures from below and pop your score prediction on each.
– Tell us who you think will be the first goal scorer of the week (and that can be from any game regardless of your other predictions)
– Add in your time of the first goal of the week for any potential tie-breaker situation.
Here are the fixtures, best of luck to you all!
Deadline is: 5th October 19.00 pm
Brighton v West Ham
Burnley v Huddersfield
Crystal Palace v Wolves
Leicester v Everton
Spurs v Cardiff
Watford v Bournemouth
Man Utd v Newcastle
Fulham v Arsenal
Southampton v Chelsea
Liverpool v Man City

Thanks for reading Harry and Lloyd's Predictions GW8
This article was written by Harry and Lloyd… aka Matt and Rosco.
FPL FIXTURE TRACKER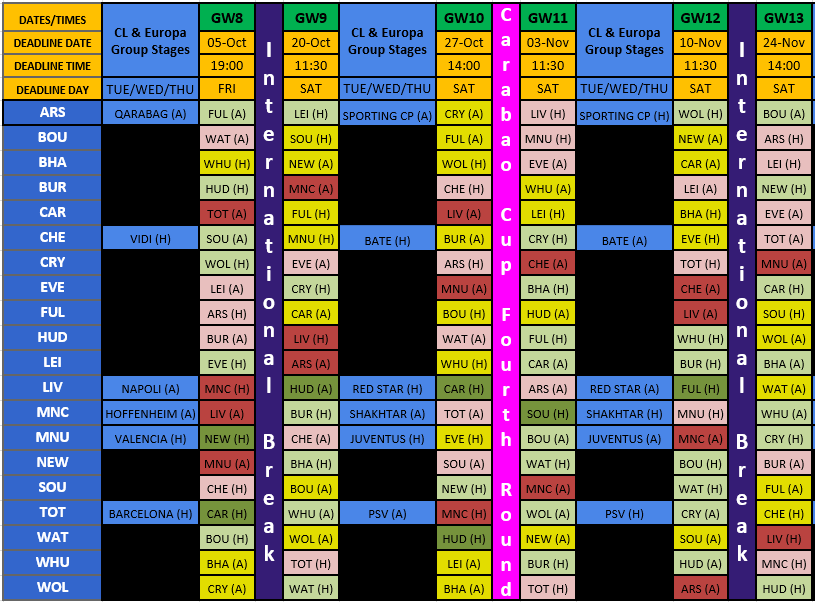 FIXTURE TRACKER LINK
Welcome to our Fantasy Football leagues section.
The League Codes for FF247 for the 2018/19 season are as follows –
Thanks to our friends Follow @ff_surgery and please give them a follow.