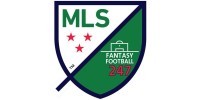 Once upon a time we all fell in love with MLS fantasy football. We've since been through a messy break-up period for various reasons. One being that they took the best fantasy game out there and decided to ruin it completely! We did manage to turn the other cheek on that one and kept playing but then our MLS guru Guy Sanchez, who skilfully guided us through each week, had to take a break from writing for a bit. And as a result we haven't had an article on it since. Until now! For anyone who hasn't kept up since the FPL season finished then in short one of our website friends Fantasy Football First has called it a day and that left their brilliantly talented MLS writer Ivan a bit homeless. It therefore felt like a no brainer to invite him to continue his great work on here. And so here we are, on the start of another journey.
NEW FF247 MLS LEAGUE
To celebrate our new arrival we have decided to start up a fresh FF247 MLS league beginning this week. As a quirk of the new MLS rules they have split their season in two. The first part expires in GW17. You will then automatically be entered in to our league again for the second half of the season.
It's a perfect opportunity to begin playing MLS if you haven't already, or if like many others you've been playing but haven't given it due care and attention due to the busy end to the FPL season then perhaps a perfect opportunity to kick-start your MLS season.
TO JOIN THE NEW FF247 LEAGUE JUST CLICK HERE OR THE CODE ITSELF IS RAVFLP3H
THIS WEEKS DEADLINE IS 01:00AM UK TIME on SATURDAY (That's Friday night, ish)
This weeks fixtures…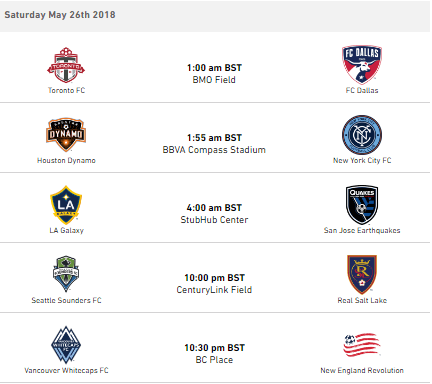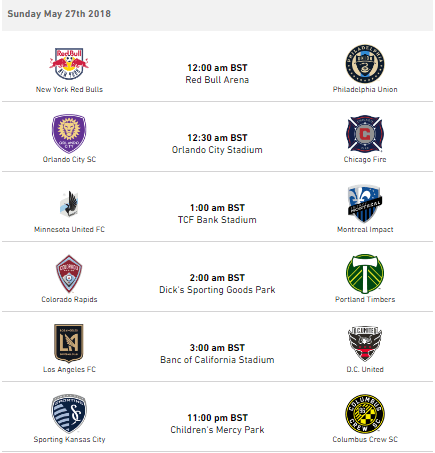 And so finally over to the man himself Ivan…
It wasn't the easiest double gameweek (DGW) for fantasy football managers, having to make difficult decisions over DGW players from two currently unstable teams. Nevertheless, we witnessed 38 goals, including 3 braces, and many managers crossed the 100 points threshold once again (as that has now become the norm, the next target is the 200 points landmark!). It was an emotional day at the Yankee Stadium where David Villa Day was organised to present the player with a trophy for his 400 career goals. To mark the occasion, he added two more and an assist.
Pregame honors + two goals + three points = A very happy @Guaje7Villa Day. #Villa400 pic.twitter.com/gt4vBkYTSu

— Major League Soccer (@MLS) May 19, 2018
Gameweek 12 Review
In the first game of the week Vancouver Whitecaps split the points with San Jose Earthquakes. In the 19th minute the home team opened the scoring through Techera, but seconds before half time Hoesen made it level. Lima reinstated the visitors' lead in the second half before Reyna scored in the 64th minute to secure the draw. Score: 2-2.
Toronto FC salvaged the three points at home against Orlando City. Both sides had equal possession and the host team had 14 shots compared to 10 from the visitors. After a goalless first half, Chapman opened the scoring for the hosts in the 63rd minute, but Higuita cancelled the lead ten minutes later. Telfer then scored his first MLS goal for the win. Score: 2-1.
On a rainy day at home, New York City FC thrashed Colorado Rapids. In the 22nd minute Moralez found Villa, who opened the scoring. Shortly after the start of the second half, Matarrita added another. Then, in the 56th minute, Villa repaid the favour to Moralez by assisting his goal to extend the lead. Later, David completed his brace for the resounding win. Score: 4-0.
Portland Timbers ended the six-game unbeaten streak of Los Angeles FC, thanks to two players who scored their first MLS career goals. After many attempts from both sides, the first half finished goalless. At the start of the second, Paredes went on the scoring board for the hosts. The visitors answered with a goal from the ever dependable Vela. When everything looked to be heading for a draw, Armenteros found the net to bring home the three points. Score: 2-1.
Goodness what a strike from Armenteros. 2-1 Portland. pic.twitter.com/ztbRR69EWL

— Total MLS (@TotalMLS) May 19, 2018
It was a disappointing draw for FC Dallas when they hosted Vancouver Whitecaps. The only goal in the first half was scored by Cannon (another player registering his first MLS goal). Urruti doubled the score in the second half, but less than five minutes later Figueroa gave one away with an own goal. In the last seconds of a long ten minutes of added time, Kei Kamara scored from the penalty spot to earn a point for the guests. Score: 2-2.
New England Revolution faced their second home defeat of the season when they welcomed Columbus Crew. Both teams battled hard on the soaked pitch in the heavy rain. The lone goal came from Abubakar. Score: 0-1.
Philadelphia Union comfortably won their home game against Real Salt Lake. Epps and Dockal produced the goals in the first half. Kreilach scored the consolation goal for the visitors, but Philly went on to extend their lead with goals from Ilsinho and Rosenberry. Score: 4-1.
In their second game of the week, San Jose Earthquakes were demolished at home (somewhat surprisingly) by D. C. United. The job was done and dusted by the visitors in the first 37 minutes, with goals from Steiber, Mattocks and Asad. Hoesen scored the consolation goal for SJ. Score: 1-3.
Despite the better possession and 24 shots (including 10 on target), Sporting Kansas City had to settle for a point when they visited Minnesota United. The visitors quickly went on the scoring board with a goal from Shelton in the 8th minute. The lead didn't last long as Quintero levelled the game in the 20th minute. Score 1-1.
Chicago Fire didn't have enough gas in the tank to overcome Houston Dynamo. Quioto was quick off the mark for the visitors in the 4th minute. The hosts answered with goals from Nikolic and Campos. The guests increased their domination in the second half (with twice as many shots as their opponents), which eventually paid off when Elis scored a brace to snatch the three points. Score: 2-3.
That feeling when you score your first of the season…? #PHIvRSL pic.twitter.com/OMgKrxFMuv

— Major League Soccer (@MLS) May 20, 2018
Atlanta United failed to win at home against New York Red Bulls. The home team was looking good at the start with a goal from Barco, but Royer produced the equaliser a few minutes before half time. The Bulls pressed harder in the second half and the great Bradley Wright-Phillips scored his 16th brace for the club. Score: 1-3.
Montreal Impact endured another loss at home, this time to LA Galaxy. It wasn't the most entertaining game. Perhaps the highlight was Zlatan Ibrahimovic being sent off in the first half after slapping an Impact player. Despite going down to ten men, Ola Kamara managed to find the net in the 75th minute to earn three points for Galaxy. Score: 0-1.
Gameweek 13 Preview
After a rather strange mini DGW we are back to normality for a week before we jump into another big DGW with eight teams playing twice. Atlanta United is on bye this week. Let's see what we can do without the usual staples Almiron and Martinez this time around.
TOR (W 3 D 1 L 6) vs DAL (W 4 D 5 L 1)
After a shameful two losses in the previous round, somehow the Reds managed to pinch a win last week. That doesn't mean they are out of the woods yet, as it's a long road ahead if they want to get into a playoff position. Many are beginning to wonder what is going on with the reigning Champions, as the excuses about the CCL are well behind them now. That said, old habits die hard, so expect to see Giovinco popping up again in many teams. As for the rest, it depends how much trust you have left.
The Texans remain in a respectable position in the West, despite having drawn 50% of their games so far. They really need to start turning those draws into wins. Still, the defence remains the best in the league, with only 11 goals conceded in 10 games. Perhaps this isn't the best matchup to select players here, but neither will they be a walkover for Toronto.
HOU (W 4 D 3 L 3) vs NYCFC (W 7 D 3 L 2)
The Orange are on a three game unbeaten streak. Will they extend it? They certainly have the assets to do it in Manotas, Elis and Quioto (although it can be a bit of a lottery as to which one will score from week to week). I wouldn't be looking for defenders here, as they will be hosting another in-form team.
After that disaster in the Hudson River Derby a couple of weeks back, the Blues went on to become the first team to cling to a draw at Banc of California. Last week things went even better for them, after demolishing Colorado. Although this game looks unpredictable, expect them to fight hard as, with Atlanta United on a bye, the Blues have a great opportunity to regain top slot in the Eastern Conference. Of course, Villa remains a safe choice at home or away.
The winner for @HoustonDynamo. ? #CHIvHOU pic.twitter.com/kEfuz7dfPY

— Major League Soccer (@MLS) May 20, 2018
LA (W 4 D 1 L 6) vs SJ (W 2 D 3 L 6)
The California Clasico is back and we are about to find out whether it will retain its former glory or if it will be overshadowed by the new El Trafico Derby in the Golden State.
Both teams are struggling at the moment and I personally would ignore this game.
SEA (W 2 D 2 L 5) vs RSL (W 4 D 1 L 6)
Nothing is going right for the Sounders this year. Last year's runners-up are at the foot of the Western Conference with a pitiful 8 points out of a possible 27. In DGW 11 they managed to scrape a win against Toronto and then go on to lose at Portland. Their star player Lodeiro missed both games with some mysterious toe injury (which we only found out about at a later stage). Will they find some way to get out of this slump? They had a bye last week to regroup, so let's hope they come back showing their fighting spirit from last season. Watch out for injury updates.
Real is the worst team on the road this season. With no wins and five losses out of six away games, they just can't be trusted. Only the biggest gamblers will chance a player from this team.
VAN (W 4 D 4 L 5) vs NE (W 5 D 2 L 4)
The Caps seem to be stuck in a black hole of late, and if things don't improve soon their chances of remaining in the playoff section will quickly diminish. Often they take the lead, but then can't hold it and have to settle for a draw. I suspect all the players who were backed for the DGW last week will be dropped by fantasy managers this week.
The Revs are becoming increasingly inconsistent and causing a headache for many managers. Will the next game be a win or a loss? You will need a crystal ball for the answer. With so many bad matches in this round, Penilla could be a decent punt here.
NYRB (W 7 D 0 L 3) vs PHI (W 4 D 2 L 5)
The Bulls are on fire at the moment. With four consecutive wins, and 12 goals scored in them, it will be a hard job for any opponents to try stopping them. Bradley is surely a must-have for this game, alongside the in-form Royer and the assist-king Kaku (7 assists and 2 goals in his last four games). Watch out for injury updates as Kemar Lawrence was taken out on a stretcher and Adams received a knee injury last time out.
There is a glimpse of improvement with Philly, but it's too early to get excited. On the road they are eternally bad, with only one win out of five and only two goals scored. I simply can't see them doing much this week, playing away to a very strong team at home.
BWP gets his second. 3-1 RBNY pic.twitter.com/GVha5KuxXE

— Total MLS (@TotalMLS) May 21, 2018
ORL (W 6 D 1 L 4) vs CHI (W 3 D 2 L 6)
After a great six game unbeaten streak, the Lions hit a brick wall with two consecutive defeats. This will be their chance to make sure they don't slip any further down the table at this crucial point in the season. They still remain one of the highest scoring teams but the problem at the back needs to be looked at. Key striker Dom Dwyer missed the last game with some lower body injury, so watch out for news on that (they have a worrying trend of losing when Dom isn't playing). If he is back, then pairing him up with Kljestan might be a good idea.
The Fire was extinguished for a second week in a row. They are slipping down the table quickly and jeopardising their chance for a playoff place. Last year's Golden Boot winner, Nikolic, remains their main man. He has been inconsistent this season, but might try to top up his tally of six goals so far.
MIN ( W4 D 1 L 7) vs MTL (W 3 D 0 L 9)
The Loons are just about hanging on to the last playoff spot, but with their inconsistency it won't be long before they fall off the cliff. It has been said many times, they are there to spoil the clean sheet of their opponent with a single goal as always. This game has a draw written all over it, so avoid any defence.
The Canadians have totally lost the plot of late, registering their third loss in a row last week against the 10 man LA Galaxy. Piatti blanked yet again and will surely be off the radar now for fantasy managers.
COL (W 2 D 2 L 6) vs POR (W 5 D 2 L 3)
The Rapids are currently in a total mess. Five consecutive winless games and 14 goals shipped between them. Even the high altitude doesn't scare teams anymore.
On the other hand, the Timbers will arrive with their heads high, looking to extend their five game unbeaten streak. Valeri or Blanco should be considered for this game.
LAFC (W 6 D 2 L 3) vs DCU (W 2 D 2 L 5)
Unfortunately, the hype over their new home has not been justified yet for the Black and Gold. Since moving in, they've had to settle for two draws in four games, with only six goals scored. After a stormy start at the beginning of the season, Rossi has gone completely off the boil. The team can't rely on Vela alone. Maybe this will be a chance for them to meet the high expectations before they go on the road for the next two rounds.
The Black and Reds will arrive here with a pinch of confidence after their first road win last week. That said, I doubt the party will continue on the West Coast. The team is still in bad shape, so don't let the result at San Jose fool you!
What a beauty from Vela. 1-1. pic.twitter.com/XX204KkjWz

— Total MLS (@TotalMLS) May 19, 2018
SKC (W 7 D 3 L 2) vs CLB (W 7 D 3 L 3)
Sporting only managed a draw last week, but they are still sitting four points clear at the top in the West. Returning home will be a different story, as we know the Children's Mercy Park is a fortress for them where visiting teams are not allowed many goals. Melia and the rest of the defence will take centre stage in many fantasy teams. Zusi will most definitely take back his seat. Russell and Salloi must also be considered.
Despite coming here on a six game unbeaten streak, the Crew has scored only 3 goals on their travels. With the endless and unpredictable roulette of different scorers, it's probably best to make plans around the home team instead.
Captain Picks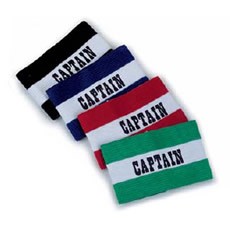 1. Bradley Wright-Phillips (NYRB) On great form with a promising home fixture.
2. Carlos Vela (LAFC) The main playmaker at home against bad travellers DCU.
3. David Villa (NYCFC) He can be trusted in any game.
Notes for your Diary
Many players will be departing soon for the upcoming World Cup. Clubs can hold onto their players until 28.05 but some can leave earlier. Surprisingly, MLS has decided to have a summer break this year, from 14.06 to 23.06. After that, it all depends how far players progress with their respective countries. The group stage finishes on 28.06. This is a list with players who have been chosen for their national squads.
Deadline
Friday 25.08.18 at 8 PM EDT – Saturday 26.05.18 at 1 AM BST
Best of luck to all managers.

Post your teams below and we will be sure to help out as much as possible.
Thanks for reading: MLS Tips Fantasy Major League Soccer GW13. This article was written by Ivan The Terrible