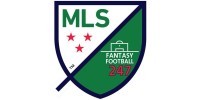 It was another strange round with quite a few unexpected scores. Some of the most popular choices (and especially captain picks) failed to deliver, which disappointed many managers. Once again we witnessed more misery for the highly rated 2017 winners and runners-up, Toronto and Seattle. On the positive side, despite not playing this week due to an injury, Luis Robles was honoured with the longest Ironman streak in MLS history, for 183 consecutive appearances between the sticks for the New York Red Bulls.

NEW FF247 MLS LEAGUE
For anyone who missed it we have decided to start up a fresh FF247 MLS league beginning last week in GW13. Please feel free to join in. As a quirk of the new MLS rules they have split their season in two. The first part expires in GW17. You will then automatically be entered in to our league again for the second half of the season.
It's a perfect opportunity to begin playing MLS if you haven't already, or if like many others you've been playing but haven't given it due care and attention due to the busy end to the FPL season then perhaps a perfect opportunity to kick-start your MLS season.
TO JOIN THE NEW FF247 LEAGUE JUST CLICK HERE OR THE CODE ITSELF IS RAVFLP3H
THIS WEEKS DEADLINE IS 00:30AM UK TIME on THURSDAY (That's Wednesday night… ish)
This weeks fixtures…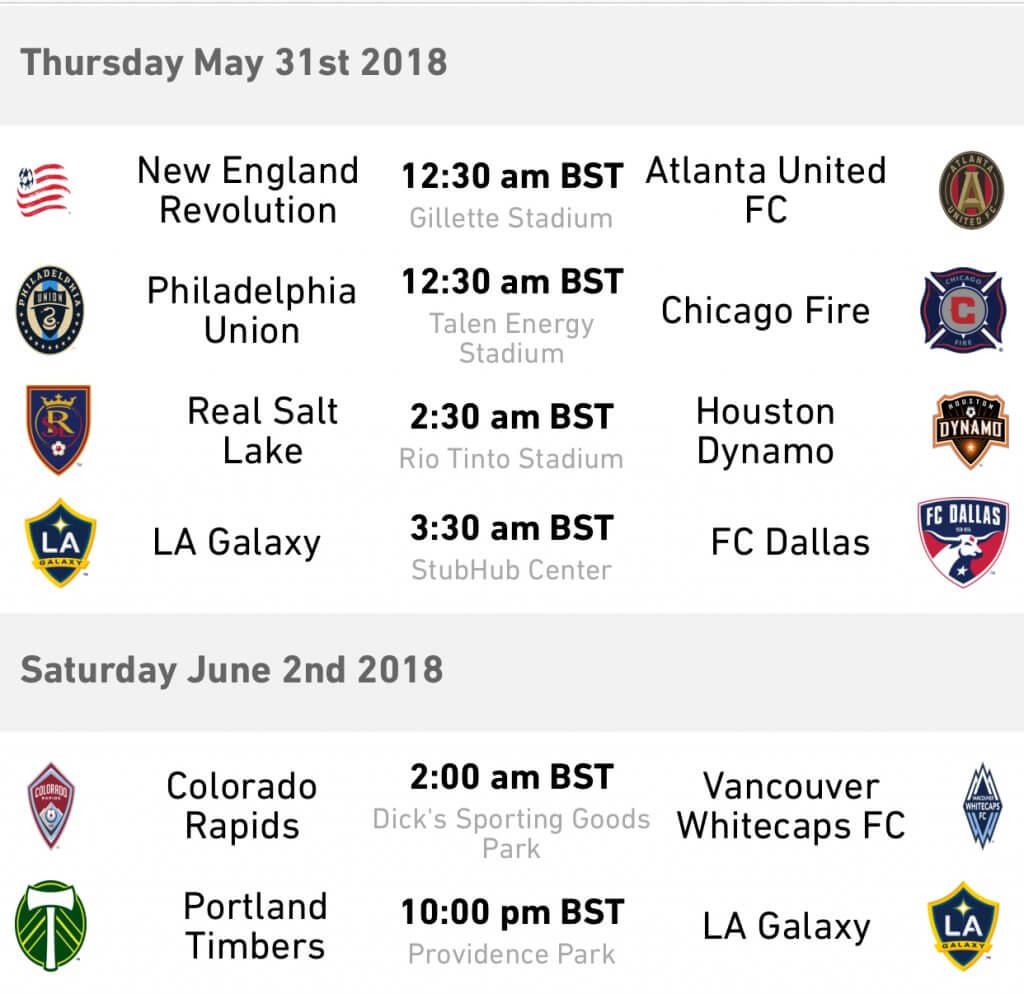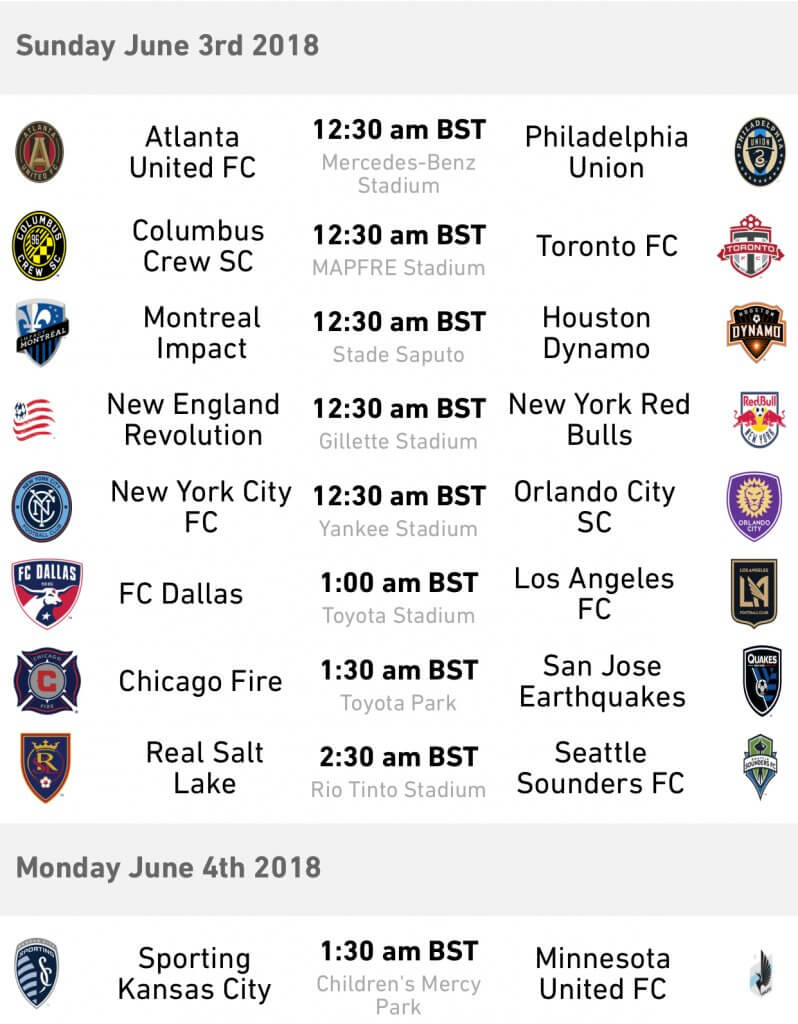 GAMEWEEK 13 REVIEW
Once again Toronto FC lost at home, this time against FC Dallas. The visitors took the lead in the 11th minute through Urruti. A few minutes later the Reds had a chance to equalise with a penalty kick, but it was missed by Giovinco. Score: 0-1.
Houston Dynamo comfortably won at home against New York City FC. The Blues went on the scoreboard quickly with a goal from Villa in the 6th minute, but that was all they had to offer. Dynamo came back strong, with goals from Fuenmayor, Martinez and Elis, to deservedly collect the three points. Score: 3-1.
On the prowl. ? pic.twitter.com/RATyljitit

— Major League Soccer (@MLS) May 26, 2018
The El Clasico derby was won by LA Galaxy just edging San Jose Earthquakes. It was certainly no classic, with each team only having a single shot on target during the whole match. The difference was that LA made their shot count, with Alessandrini finding the net in the 82nd minute. Score: 1-0.
Surprisingly, Seattle Sounders were shutout at home by Real Salt Lake, who registered their first away win for the season. It was another low scoring game, with the lone goal coming from Saucedo. Score: 0-1.
After three consecutive 2-2 draws, Vancouver Whitecaps had to settle for a single point yet again when they hosted New England Revolution. The first half finished with the Revs in the lead through an own goal from Ghazal. From the very start of the second half the game went mad. Penilla quickly made it two for the visitors, but Techera then scored twice in three minutes to level things. Shortly after that, Bunbury put the Revs in the lead again but Techera came back to complete his hat trick and secure the draw. Score: 3-3.
Six goals in #VANvNE today. ? pic.twitter.com/QbUFzvcH2J

— Major League Soccer (@MLS) May 26, 2018
Despite extending their unbeaten streak to five, New York Red Bulls could only manage a goalless draw against Philadelphia Union. The final score would have been different if Sapong hadn't missed a penalty. Score: 0-0.
Orlando City failed at home against Chicago Fire, despite registering over twice as many shots (21 vs 10). The guests opened the scoring in the 13th minute with a goal from Katai. Higuita levelled the game before half time. In the 82nd minute Gordon found the net to seal the victory. Score: 1-2.
Minnesota United became the latest team to add to the misery of Montreal Impact, who are now on a four game losing streak. Ramirez and Ibarra contributed to the home shutout. Score: 2-0.
Once again Colorado Rapids failed to win. Despite the own goal from Cascante, Portland Timbers were the dominant side, earning the win through Armenteros' brace and a goal from Valeri. Boli's goal in the end made no difference. Score: 2-3.
Valeri makes it 3-1 Portland pic.twitter.com/A6xAYtk4Yr

— Total MLS (@TotalMLS) May 27, 2018
Los Angeles FC split the points with D.C. United. Diego Rossi scored the only goal in the first half. The hosts were forced to play the full second half with 10 men after Jakovic was sent off. Minutes before the end, Mattocks equalised for the visitors. Score: 1-1.
Perhaps unsurprisingly in a meeting between two in-form defences, Sporting Kansas City against Columbus Crew played out as a goalless draw. The host team had the edge in terms of possession, but there was a decent amount of shots from both sides. The final minutes of the first half saw the most drama, when Melia fouled Zardes in the area, only to make immediate amends by saving the resultant penalty. A few minutes later, after a controversial VAR decision, Higuain was shown the red card for a serious foul. The 10-man Crew did well in the second half to shut out the hosts and cling on for a point. Score: 0-0.
Gameweek 14 Preview
Another big double gameweek (DGW) is upon us and of course another short turnaround with it (deadline Wednesday night). The teams playing twice are Atlanta, Chicago, Dallas, Houston, Galaxy, New England, Philadelphia and RSL. At the same time D.C. United will be on bye, perhaps busy organising Rooney's welcome party
At least we know where the scrubs will come from for our switcheroos
Only two teams have the advantage of playing both games at home (New England and RSL), while Houston will be on the road for both of their games. This will be a particularly tricky DGW for fantasy managers to navigate. In addition to expecting the usual DGW rotations, we also have to factor in players who have departed for the World Cup and others who will be playing in international friendlies. More details in Notes for your Diary at the end of the article.
NE (W 5 D 3 L 4) vs ATL (W 8 D 1 L 3)
The Revs are one of the two teams staying at home for both games this week. They are holding on to the last playoff spot at the moment and will hope to remain there and not end up outside like last year. The two fixtures are against teams in good form, but the home advantage should make you consider Bunbury or Penilla, with six and five goals respectively. As for defence, you could gamble on Turner (with three clean sheets) in a keeperoo unless you want to opt for Rimando.
Penilla makes it 2-0 New England pic.twitter.com/H9Vw5CuW86

— Total MLS (@TotalMLS) May 26, 2018
The Five Stripes will be back after a week of rest. They will be eager to repair the damage done by the Bulls in round 12, as their top position in the East is now under threat from CLB and NYCFC who are both only a point behind. In their second game they will be hosting Houston and it looks the better one of the two. That said, they've lost their last two home games. Gonzalez Pirez will miss the first game due to yellow card accumulation. Without a doubt we'll see Martinez and Almiron in many teams (although be aware there is a possibility for the latter to be called up by Paraguay). If you are stretched with your budget, Barco is $6.0M cheaper than Almiron and has scored in the last two games.
PHI (W 4 D 3 L 5) vs CHI (W 4 D 2 L 6)
So far Philly is pretty much repeating their performance from last year, with their ups and downs. Their first game could turn out well – at home against the leaky Fire – but the same can't be said for their second, which is on the road. Their away record continues to be as awful as last season, with only one win and two goals scored so far (their goalless draw away to NYRB last week can almost be seen as an achievement!). Traditionally, with teams on double, there will be some temptation to pick players, but I personally don't see anyone to catch my eye. Sapong, Picault and Bedoya can be ignored, with better choices around.
The Fire can't stop surprising us with their non-stop inconsistency. Their away statistics mirror their home ones, with two wins and losses in each. They do score goals, but at the same time they can't stop conceding at the other end. The on and off performances from Nikolic and Schweinsteiger are becoming frustrating. Katai is looking promising but, once again, picking any Chicago players carries risks at all times.
RSL (W 5 D 1 L 6) vs HOU (W 5 D 3 L 3)
Real can be notoriously bad on their travels, but the picture at Rio Tinto stadium is different. They've won the last four home games in a row, so perhaps these two home fixtures could be a springboard to move them up the table. That's all good in theory but, with Rusnak away on international duties and Plata with a leg injury, who do we go for? Maybe Baird or Savarino if you don't have any other ideas. Rimando is still one of the best goalkeepers, with 45 saves to his name, so could be a decent pick if you think at least one clean sheet is in the pipeline (more likely in the second game against Seattle, who they just beat last week on the road).
It won't be easy for the Orange, with two games on the road, but the good news is that both opponents are manageable with their current state of play. They showed that two weeks ago when they went to Chicago. The team is one of the highest scoring ones, but you must make up your mind who to choose from Elis, Manotas, Quioto or Martinez.
LA (W 5 D 1 L 6) vs DAL (W 5 D 5 L 1)
The Galaxy are slowly finding a vein of form. Perhaps it's too early to get over excited, as the last two wins were achieved by just a single goal in each. Let's not forget the four-game winless streak before that, with 11 goals shipped in them. These two games should indicate whether they are finally on the right track. The Dos Santos brothers are already off to Mexico, but we'll see the return of Ibrahimovic (hopefully less frustrated this time!). My bet is that Alessandrini will be in most teams and perhaps Zlatan as a punt. Both games will be tricky, especially the second. Ashley Cole is on four yellow cards, so look elsewhere if considering a defender.
Don't bet against Alessandrini's left foot. #CaliClasico https://t.co/xvNntZyQcQ

— Major League Soccer (@MLS) May 26, 2018
The Texans are on a four-game unbeaten streak and they will be looking to extend that run, as only four points separate them from the leader in the West. Let's hope they improve their discipline, as seven yellow cards in a game is not a joke. They will be dealing with both LA teams, first away and then at home. That means Urruti (6 goals) and Diaz (6 assists) will try to expand their accounts, so it's advisable to have one of them.
COL (W 2 D 2 L 7) vs VAN (W 4 D 5 L 5)
It's not easy to describe the Rapids, with six losses in a row (their longest such streak since losing seven straight in 2014). The only likely prospect here is that they will go on to match that gruesome record. It can be said straight: ignore and move on!
The Caps have turned into the draw masters of the league. Somehow they always manage to level the score. Their away record is not good, but given their opponents it may be a big chance for them to stay in the playoff zone. Techera could be a popular pick after his hat trick last week.
POR (W 6 D 2 L 3 ) vs LA
The Timbers are in tremendous form, with six consecutive wins including 13 goals and three clean sheets. They have not lost at home so far and I doubt the visitors will change that. If you are not overdosing on DGW players, find a space for Valeri or Blanco. The rise of Armenteros is hard to ignore, especially at that price.
Armenteros again! 2-1 Portland! pic.twitter.com/7szIto7yF6

— Total MLS (@TotalMLS) May 27, 2018
LA are covered above.
CLB (W 7 D 4 L 3) vs TOR (W 3 D 1 L 7)
The Crew continued their excellent defensive record with a goalless draw away to Sporting Kansas last week. That was their fifth consecutive clean sheet as part of a current seven-match unbeaten run. With that kind of form, at home against a struggling opponent, there's a lot to recommend for Columbus assets this week. Unfortunately, with no DGW, it may be that they get unfairly overlooked. Steffen, Abubakar, Valenzuela or Afful could be great single gameweek differentials.
The misery for the Reds continues. Last year's champions are now floating above the very bottom of the Eastern Conference. The same mistakes keep happening like Groundhog Day; with them conceding early goals and then being unable to recover. With their current bad form, and with big names still on the injury list (Mavinga being the latest victim), few managers will repeat the mistake from last week (I was one of them) and go for any player.
ATL vs PHI
Both teams are covered above.
MTL (W 3 D 0 L 10) vs HOU
With 8 losses in the last 9 games, the Canadians are in a dire phase. It's scary to trust them even in a home game. If you are one of those mad optimists, then go and pick up Piatti again. I am not.
Houston are covered above.
NE vs NYRB (W 7 D 1 L 3)
New England are covered above.
The Bulls served us with one of the biggest shocks of last week, by blanking at home after a nice winning streak. The Revs are not the easiest team to visit, but with the previous three games won on the road it's possible. You know the usual suspects if you go for any.
NYCFC (W 7 D 3 L 3) vs ORL (W 6 D 1 L 5)
The Blues stumbled last week and missed the chance to move up, letting Columbus overtake them. As we know, they tend to recover quickly. This big DGW is one of those where you can easily forget about the strong single gameweek contenders, like Villa.
Quality from @Guaje7Villa! ?

His 8th of the season puts the visitors ahead. #HOUvNYC https://t.co/n4S3XgOGS7

— Major League Soccer (@MLS) May 26, 2018
After winning six in a row the Lions have now lost three straight games. Dwyer missing in the last two games could be one of the reasons. Watch out for injury updates.
DAL vs LAFC (W 6 D 3 L 3)
Dallas are covered above.
The Black and Gold continue at a slow speed, with unnecessary draws by allowing late goals from their opponents. They are in danger of losing second spot in the West, as Portland and Dallas are chasing hard and only a point behind. Last week was a good time for Rossi to show that he is still around, as he will be relied upon now Vela, Ciman and Urena will be away for some time.
CHI vs SJ (W 2 D 3 L 7)
Chicago are covered above.
The Quakes are back in losing mode and I doubt anyone will be interested this week.
RSL vs SEA (W 2 D 2 L 6)
Real are covered above.
Unfortunately the Sounders are in very bad state. Another team to be ignored.
SKC (W 7 D 4 L 2) vs MIN (W 5 D 1 L 7)
Sporting continue their dominance, sitting four points clear at the top of the Western Conference. They are super-strong at home, so you would expect them to win this game. Melia is always a safe pair of hands, and the backline are dependable for clean sheets of late (although Minny are well known as clean sheet spoilers). Playing last again, perhaps this is good team for switcheroos if your earlier punts fail.
It was a nice win from the Loons last week, but with so many other options around perhaps it's time to give them some rest.
Captain Picks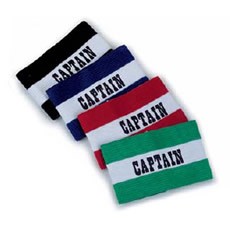 1. Penilla (NE) Two home games. Time for a differential captain?
2. Martinez (ATL) Could do well, particularly in the second game.
3. Villa (NYCFC) Very often single gameweek players can outscore those on a double. And Villa at home is surely one of them!
Notes for your Diary
As mentioned above, the World Cup is not the only concern. Some players will be away on international duties involved in friendly matches. So far confirmed players who will miss games are: Kaku (NYRB) possibly Almiron and Villalba (ATL) joining Paraguay to play Japan. Russell (SKC) to Scotland playing Peru and Mexico. Kamara (LA) and Berget (NYCFC) to Norway to play Iceland and Panama. Rusnak (RSL) joining Slovakia for games against Holland and Morocco. Delgado (TOR) for USA to play Ireland and France. Watch out for further updates.
Best of luck to all managers.

Post your teams below and we will be sure to help out as much as possible.
Thanks for reading: MLS Tips Fantasy Major League Soccer GW14. This article was written by Ivan The Terrible