As the World Cup is just around the corner this is a short article for a short round before MLS takes a break and gives us a chance to prepare for the big event.
NEW FF247 MLS LEAGUE
For anyone who missed it we have decided to start up a fresh FF247 MLS league beginning in GW13. Please feel free to join in. As a quirk of the new MLS rules they have split their season in two. The first part expires in GW17. You will then automatically be entered in to our league again for the second half of the season.
It's a perfect opportunity to begin playing MLS if you haven't already, or if like many others you've been playing but haven't given it due care and attention due to the busy end to the FPL season then perhaps a perfect opportunity to kick-start your MLS season.
TO JOIN THE NEW FF247 LEAGUE JUST CLICK HERE OR THE CODE ITSELF IS RAVFLP3H
This weeks fixtures…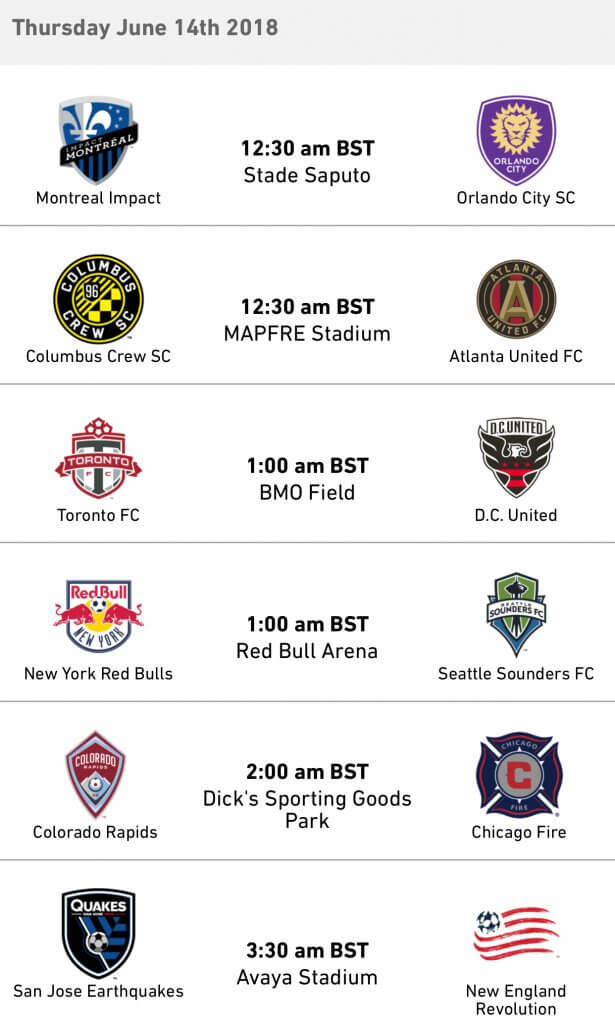 Gameweek 15 Review
Most of the action last week was in the West, where we saw crazy games like Vancouver Whitecaps vs Orlando City and San Jose Earthquakes vs LAFC with seven goals in each. We witnessed five braces – from Osorio, Kei Kamara, Ibrahimovic, Diomande and Wondolowski. While the top two positions in the Eastern Conference remained unchanged (after the NYCFC vs Atlanta draw), in the Western Conference FC Dallas's latest win saw them draw level on points with leaders Sporting Kansas City. The Golden Boot race has intensified at midseason and is currently led by Martinez with 13 goals, followed by Zardes on 10 and Bunbury and BWP on 9 each.
Zlatan scores. Zlatan wins. Zlatan happy. pic.twitter.com/h3TnE5jNnT

— Major League Soccer (@MLS) June 10, 2018
Gameweek 16 Preview
In typical MLS fashion, when the entire fantasy football community has turned its head towards the World Cup, they've decided to keep us entertained with a short round containing just six games. It will be a quick affair; all done in one go, with all six kick-offs happening within a 3hr period midweek. Due to the congested schedule the chances for switcheroos are extremely limited.
MTL ( W4 D0 L11 ) vs ORL ( W6 D1 L7 )
This will be a strange unpredictable game with two teams in very bad form of late. The Canadians have been shutout in five of their last six games, and only managed to score a single goal in the other game. Just over a month ago the Lions were enjoying a six game winning streak and now they find themselves on five consecutive losses, shipping 14 goals between them. One of the reasons was the absence of Dwyer. He came back last week, subbed on for the last half hour, and scored (although that didn't help much against Vancouver's five goal thrashing). That leaves us with great uncertainty. Will we see the return of Piatti, who spent the last game on the bench and hasn't scored in the last six, or will we witness re-ignited magic from the Sacha-Dom tandem? The latter seems more probable, given their opponents 31 conceded goals. Both teams are leaky of late, so avoid defence.
CLB ( W7 D6 L3 ) vs ATL ( W9 D3 L3 )
The Crew remain the most in-form team in the league. They extended their unbeaten streak to nine and are fast approaching the top two in the East. It will be another hurdle to overcome the current leader, but with five wins and two draws at the Mapfre Stadium that doesn't look impossible. Zardes added another goal last time, taking his tally to 10 so far (second top scorer in the league). Zack Steffen should be back for this one, which bodes well for a clean sheet. He was on a run of five consecutive shutouts immediately prior to leaving for the international friendlies. Let's hope he picks up again where he left off!
.@gyasinho adds another to his 2018 tally! #CLBvRBNY pic.twitter.com/DxC7GvHDlX

— Major League Soccer (@MLS) June 9, 2018
The contrast of home and away is still there for the Five Stripes. That said, it's not all doom and gloom, with 4 wins and 2 draws on the road. With their immediate chasers NYCFC on a break, Atlanta will have a chance to extend their lead at the top (and at the same time try to stop the dangerously placed Columbus from closing in). Watch out for injury updates as Almiron only played in the first half before being forced out with an injury.
TOR ( W4 D2 L7 ) vs DCU ( W2 D3 L6 )
It's still early to judge whether the Reds are on their way to full recovery, but their first road win last week showed a glimpse of hope. They have a lot of catching up to do if there is any chance of getting into the playoffs, but they're a team who are capable of doing that. Expect a heavy presence of Red players in fantasy teams for this matchup, with potentially a captain pick and a chance of a clean sheet. You just have to make the right selection. It's noticeable this season that Gio hasn't been scoring at his usual rate and has turned into more of an assist man (six so far). With the return of Hagglund, Bradley finally moved back to his natural position after being used as a CB for the last two months.
The Black and Red are still at the bottom of the Eastern Conference and their prospects of moving up don't look promising. They are exceptionally bad on their travels, with only one win and 18 goals conceded. Avoid.
Twice as nice! @OsoJ92 bags the brace#TFCLive | #PHIvTOR pic.twitter.com/mdonAtT0AA

— Toronto FC (@torontofc) June 9, 2018
NYRB ( W7 D2 L4 ) vs SEA ( W3 D2 L7 )
The Bulls managed only a draw last week, but that was away so can be considered as a good result. At the Red Bull Arena they are much better, having only allowed three goals so far. No doubt Bradley
Wright-Phillips (with 9 goals) and Kaku the assist master (with 9 of them) will be popular picks. Defence could be considered here as well. Robles came back last week after missing three games and helped secure the draw with his five saves. Long and Lawrence can't be overlooked at the back. For those on a tight budget pay attention to Ndam at $4.5M who started a second straight game and looked impressive.
COL ( W2 D2 L9 ) vs CHI ( W5 D3 L7 )
The Rapids continued their abysmal run of form and now sit atop a nine game losing streak, which includes their last four matches at Dick's Sporting Goods Park. Badji returning from suspension could help them to turn the tide, but picking any of their players at the moment is a high-risk strategy.
If you want to play with fire don't look further than Chicago! The Jekyll and Hyde performance continues with their mad inconsistency. Watch out for news about their star player Nikolic, who left early in the first half with a head injury. Like everything else with the Fire their road performance is a mixed bag, with only eight goals scored. Apart from Schweinsteiger, another player to be considered is Katai who has returned either a goal or assist in each of the last five games.
SJ ( W2 D3 L9 ) vs NE ( W6 D5 L4 )
This small round will finish with another unpredictable matchup between two more teams who are struggling of late. The Quakes have not won in the last six games. The last time they had a victory at the Avaya Stadium was on opening day against Minnesota. That said, they do score goals, like last week in the narrow loss against LAFC.
On the other hand you have the Revs, who have only one win on the road but like to score as well. Ignoring both defences, just throw the dice and pick from Hoesen, Vako or Wondo (if you fancy SJ) or Bunbury, Fagundez or Penilla (if you fancy NE). After all, in a small round like this, taking a gamble will play a big part in the game.
#WondoWatch ? pic.twitter.com/pLMVEoaLWA

— Major League Soccer (@MLS) June 10, 2018
Captain Suggestions
1. Bradley Wright-Phillips (NYRB) He is good at home. Or you can opt for Kaku who will definitely be involved in the scoring.
2. Giovinco (TOR) If you think he will return to scoring instead of assisting. Once again, you could opt for a midfielder with better chances.
3. Zardes (CLB) Second highest scorer and he will be hungry for more. Not an easy game but he will try to catch up with the number one scorer Martinez who plays against him.
Deadline
Wednesday 13.06 at 19:30 EDT – Thursday 14.06 at 00:30 BST
Best of luck to all Managers and enjoy the World Cup!

Post your teams below and we will be sure to help out as much as possible.
Thanks for reading: MLS Tips Fantasy Major League Soccer GW16. This article was written by Ivan The Terrible