Another exciting round, with many goals and surprises, is over and we are heading for another big Double Gameweek (DGW). The highlights were dominated by the sixth hat trick from Josef Martinez, which is a new MLS record.
https://twitter.com/MLS/status/1020782516372828160
Gameweek 21 Review
The round started and ended well for Minnesota United, who won both their home games (including a 5-1 thrashing of LAFC to round off the gameweek). It was a different story for the other DGW team, New England Revolution, who lost both of their away matches. The Cascadia Cup finished with a clear win (and a home shutout) for Seattle Sounders over Vancouver Whitecaps, while Houston Dynamo and FC Dallas shared the points in a 1-1 draw at the Texan Derby. The Rocky Mountain Cup ended in another 2-2 draw between Real Salt Lake and Colorado Rapids. Toronto FC showed a glimpse of recovery with an away win in Chicago, while LA Galaxy had a comfortable victory while visiting Philadelphia Union. Columbus Crew dashed the hopes of Orlando City with a last minute goal to snatch a 3-2 victory.
https://twitter.com/MLS/status/1020860970170642437
NOTE: FMLS announced last week that there are yet more rearrangements regarding the midseason fantasy switchover. Instead of the expected GW 22 start for the fall season that will now happen in GW 23. League scores will be reset to 0 and the budget will go back to $100 M, with some player price adjustments. Because MLS
Gameweek 22 Preview
This is another big DGW with eight teams playing twice:DCU / HOU / LA / NYCFC / NYRB / ORL / SJ / SEA. It should be an intriguing round as the bottom team in each conference will play twice at home, while the Blues have the hard task to travel for both of their games. To make it even more interesting, New England will be on bye – so you know where to select your scrubs from
We have another short turnaround, with the deadline on Wednesday.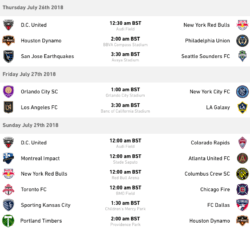 DCU ( W 3 D 5 L 8 ) vs NYRB and vs COL ( W 4 D 5 L 11 )
The Black and Red will return to their new home, Audi Field, where they will play most of their remaining games for this season. This will probably be their last chance to move off the bottom of the table, which is not impossible with four games in hand over 10th placed Toronto. That first game – The Atlantic Cup – won't be easy but the team have a good record in this fixture and might at least see a draw. The second game looks more promising, but the usually road-sick Rapids scored twice in an away draw last week, so nothing is certain. Asad and Mattocks, with eight goals each, will likely be popular picks as part of a switcheroo. Rooney had a terrible game in his first start last week, so it will be difficult to decide whether he should be chanced.
NYRB is covered further below.
Despite their draw last week, Colorado cannot be trusted on the road, with only one win from nine away games this season.
SJ ( W 2 D 6 L 11 )  vs SEA and vs RSL ( W 9 D 3 L 9 )
The next conundrum involves the Quakes, with two home games at the Avaya Stadium. This is usually a very enticing prospect for a DGW, but it should be noted that the Quakes have won only once since their opening day victory and have failed to keep a single clean sheet all season. Although the team had a bye week last round, they were busy with the friendly game against Manchester United on Sunday, which played out as a goalless draw.As with DCU, we can't expect fireworks, but both matches are manageable against teams who are not the best at travelling (only eight goals scored apiece). Wondolowski (against LA) and Hoesen (against NE) both scored braces in recent home games, so could perhaps be chanced here.
SEA is covered further below.
Real are simply very bad on the road, with very few goals scored and 25 shipped.
NYCFC ( W 12 D 4 L 4 ) @ORL and @SEA
The second-placed Blues will have the hard task of playing twice on the road this week as they attempt to move up closer to Atlanta or avoid being caught by the Bulls. Success is far from guaranteed, even given the recent poor form of both opponents, as the Blues haven't won away from the Yankee Stadium in almost four months. They had a rest last week, so should have enough gas in the tanks, but perhaps defence this time won't be popular.
ORL and SEA are covered further below.
LA ( W 9 D 4 L 7 ) @LAFC ( W 10 D 5 L 5 ) and vs ORL
The Galaxy will start their DGW campaign with the El Trafico, which will be the second for this season (and in MLS history). We still remember the excitement of the first one, when a 3-0 lead for the Black and Gold became a 4-3 win for the hosts thanks to the debut of Zlatan. Expect another high-scoring, Hollywood-style drama in this Los Angeles Derby.
With almost two home games (as the first is only a cross-city hop), there is no doubt that Ibrahimovic will be a must-have player this week. We can also expect to see Alessandrini in the mix. For the rest, you need to decide how much do you want the likes of Vela or Diomande if not loading entirely with DGW players.
https://twitter.com/MLS/status/1020828350275702784
HOU ( W 7 D 6 L 6 ) vs PHI ( W 7 D 3 L 10 ) and @POR ( W 8 D 7 L 3 )
This will be a mixed bag week for Dynamo. Hosting Philly will be the easy part but the trip to Portland could be a tricky one. You'll need to guess who is going to shine this time: Elis (9 goals) or Manotas ( 8 goals). T. Martinez could be considered as well.
The Union were impressive two weeks ago away to Chicago, with four goals, but it's doubtful there will be much interest this week with better options available from the DGW teams.
The Timbers extended their unbeaten streak to 13 last week. They have not lost a game at home so far and have only conceded 7 goals at the Providence Park. However, their appeal this week could be dampened by them only playing once.
NYRB ( W 12 D 2 L 5 ) @DCU and vs CLB ( W 9 D 6 L 7 )
The Bulls have a chance to catch their rivals NYC as they are just two points behind. Both games provide the opportunity for BWP to top up his tally of 13 goals. NYRB had a home shutout in the last round, so a defender could do well this week, particularly in the second match.
DCU has already been covered above
The Crew did well last week but that was at home and against Orlando. They will be back on the road again, where they have been shutout in their last three games with eight goals conceded. In general, they are not good away, with only three goals scored.
9️⃣9️⃣ for 9️⃣9️⃣@BWPNINENINE closes in on a century of MLS goals! #RBNYvNE https://t.co/NvWONDDz4c

— Major League Soccer (@MLS) July 22, 2018
ORL ( W 7 D 1 L 12 ) vs NYCFC and @LA
It will be a make or break week for the Lions. After a glimpse of revival two weeks ago they went on to lose again in the last round. The old curse is back; starting well and then allowing late goals to throw away their advantage. Dwyer was left on the bench, due to playing full time in the earlier Open Cup game. Both games will be tough and, with their recent poor form, many managers will be cautious of selecting players from this team just yet.
NYCFC and LA have already been covered above.
SEA ( W 5 D 5 L 9 ) @SJ and vs NYCFC
The Sounders keep blowing hot and cold as always. They are unbeaten in their last four games, but that includes a goalless draw and another with just a single goal in it. No doubt Lodeiro will remain in many teams after he added a brace last week to his goal from the previous week. He is beginning to resemble the player of old; however, for the others it will be taking a risk.
SJ and NYCFC have already been covered above.
Lodeiro x 2⃣! @SoundersFC are off to a hot start at home. #SEAvVAN https://t.co/ISoHT6dRfE

— Major League Soccer (@MLS) July 21, 2018
MTL ( W 9 D 1 L 12 ) vs ATL ( W 13 D 5 L 4 )
The Canadians earned a respectable draw away to Portland and Piatti registered another assist. They are unbeaten in the last five games, with four clean sheets. It's doubtful they will get one this time, but Piatti or Taider could be chanced as decent SGW options this week.
The Five Stripes are solid overall leaders in the East at the moment and can't be disregarded home or away. Surely some will go with Martinez again after his latest outstanding performance and record-breaking hat trick.
TOR ( W 5 D 4 L 11 ) vs CHI ( W 6 D 5 L 11 )
This will be a reverse fixture from last week, where the Reds broke their long standing slump with a win. Both star players, Giovinco and Nikolic, went on the scoring board in that match and could easily do so again this week.
Will their win last week encourage the hosts to kick-start their season or will the Fire be ignited enough to avoid suffering a fifth consecutive loss?  Either way, no clean sheets should be expected here.
SKC ( W 9 D 6 L 5 ) vs DAL ( W 11 D 6 L 3 )
It wasn't long ago that Sporting were putting pressure on the Western leaders Dallas, but now they find themselves six points adrift. That said, they still have one of the best home records while the visitors can be a bit shaky on the road. It's difficult to predict the outcome here but, with so many DGW options this week, investment in either of these teams seems unlikely.
VAN ( W 7 D 5 L 9 ) vs MIN ( W 9 D 1 L 11 )
With four losses in their last five games, the Caps have slipped well below the playoff zone and it will take some effort to return to it. With the Loons being the worst away team in the league, this game should be ignored altogether.
Captain Suggestions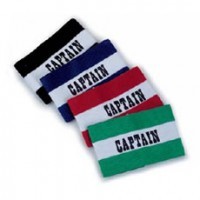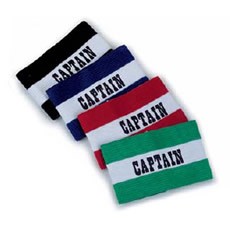 1. Bradley Wright-Phillips (NYRB) With 99 career goals he will be chasing the century with two easy on paper games.
2. Zlatan Ibrahimovic (LA)  Expect more from him after 9 goals in his last 6 starts.
3. Danny Hoesen (SJ) A chance to add to his 10 goal tally in two home games against two shaky on the road teams.
Deadline
Wednesday 25.07 at 8 PM EDT – Thursday at 1 AM BST
Best of luck to all Managers.Post your teams below and we will be sure to help out as much as possible J
Thanks for reading: MLS Tips Fantasy Major League Soccer GW22. This article was written by Ivan The Terrible and Chipster