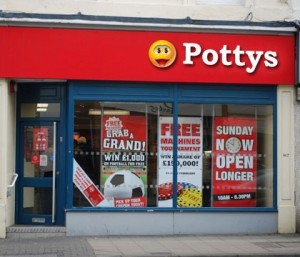 So before we hit the Road to Wembley let's look back at the past weeks events in Potty's Bookies. The Predictions Competition was won by elleffcee whose 2 correct scores backed up with a fine predicted 1st goalscorer time, won him the weekly Free £10 Ladbrokes Bet. Rumour in the betting circle's is that he has lumped it on Dappy to win Celebrity Big Brother as he adores N-Dubz. Wicked init!!!!
Meanwhile, Monday's "Lucky 4's" was a joint win between Mito and Griff (Ajax Trees).  I said you may need a garage for this prize so once they have both contacted me I can figure out how to separate it into 2 equal halves. Don't be shy lads. Shipping costs could be fun on this one, especially to Mito.
FA Cup Special Predictions Competition
So onto this looming blank Premiership weekend – well fear not, Potty's comps always run. So to enter simply predict the scores in the FA Cup matches below for your chance to win a Potty Prize. Plus, please predict how many goals you think will be scored in total in all 4 matches. The fixtures are:
Nottingham Forest v Preston (Friday 24th Jan 20.00)
Bournemouth v Liverpool (Sat 25th Jan 12.45)
Birmingham v Swansea (Sat 25th Jan 15.00)
Southend v Hull (Sat 25th Jan 15.00)
Please post your predictions below.
Also this weekend, Potty's FA Cup Sweepstake returns. On Friday I will post all the matches and which team you have got along with the fixtures, if you're still involved that is, so I expect some major Friday banter.
Thanks for tuning in my Potty Punters.
Hairy Man Hugs.
Potty