It is a bit tricky to write anything that does not account for all of the variables in terms of knowing what signings might still be made and how a team will gel with those new players. However we will try and point out where fixtures and good rotation of home and away might favour you. Through the coming weeks we will post articles that will try and help you navigate through the tough terrain of choosing a side. This includes having our very own team that will try and use all the information possible to build a highly competitive squad. For the most part we will only cover until game-week 20 in this article since after the start of said fixtures the winter wildcard can be activated. Hopefully we can cover a good deal, but obviously we can't cover all of them. So please do share your ideas in the comments section, if you see something that was not covered. So let's get to it and see what we can come up with…
Teams that rotate perfectly home and away are:
Arsenal & Tottenham
Aston Villa & West Brom
Burnley & Hull City
Chelsea & QPR
Crystal Palace & West Ham
Everton & Liverpool
Leicester & Southampton
Manchester City & Manchester United
Newcastle & Sunderland
Stoke City & Swansea
So conceivably you could have a rotation with keepers or defenders going on with any two teams and always have one at home. However we all know that in the cases of some pairs, this is nearly impossible while our budgets are still a measly £100m. So this table has been built to help you decipher what team could be a good rotation partner even if they don't rotate all 38 weeks. Be warned though; always check fixtures to see who they are playing. Just because they rotate well or perfectly doesn't mean it is favourable.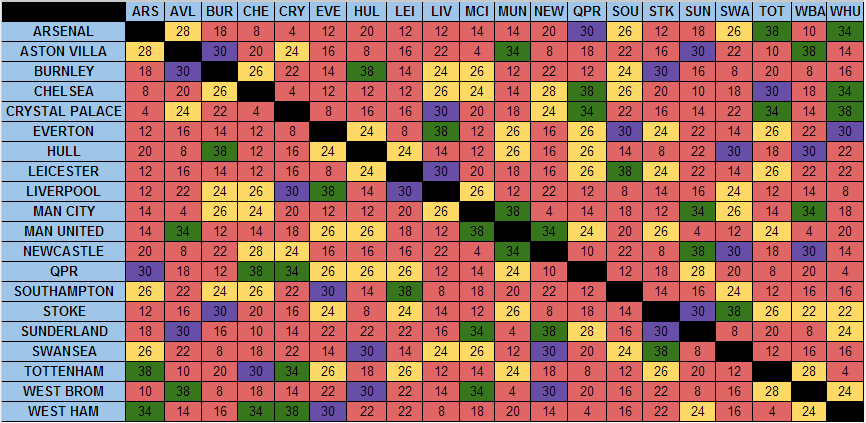 This board offers you the opportunity to see which teams rotate home and away the best over the course of the season. The legend below explains the colouring to better help you decipher what teams you should focus on, if rotating is in your plans.
After getting a glance at our colourful board, let us look at those first 20 weeks a bit closer with our pairings from above in mind. For the top teams (and by top, we mean last seasons top 7) we will look more at their fixtures than rotation since it is hard to rotate keepers or defenders from big clubs when our budgets are just enough to get by.
Arsenal & Tottenham
Usually if you own a player from Arsenal at the start of the season, he is a premium player in your squad and you are unlikely to rotate them. Many of us remember the Gunners for some of the savage beatings they took on their travels against top teams, but many forget that they garnered 59 points out of a possible 66 against teams that finished 10th or lower. They only lost 1 game at home and that was their opening fixture, while maintaining 17 clean sheets last season, only second to Chelsea. Despite that we can see a tricky set of games right out of the gate. They play Everton, City, Spurs and Chelsea in 4 of the opening 7 fixtures. After that they only play Man United at home and Liverpool away from GW 8-20. So perhaps avoiding the possible rough start and jumping on for a home fixture vs Hull City in week 8 is advisable.
Tottenham offers you the possibility of investing in them in the first 5 weeks with only Liverpool (H) being what one would call an even game. Then they face Arsenal and City away in a blip on their schedule where you are better suited in avoiding any cover with them. Once past City you have a 10 game stretch from GW 9-18 where Spurs only face Everton (H) and Chelsea (A). So any investment in Spurs should be early or after GW 9. Be aware that when they face the top 4 sides last season they only managed one draw in 8 games garnering only point. Just like their best friends at the Emirates they took a pounding versus top competition allowing 27 goals against and only 2 in favour, YIKES!
Aston Villa & West Brom
Villa rotates perfectly with West Brom… but, and there is a but… Both only combined for 16 clean sheets last season. Their fixtures are not necessarily easy and you might end up playing one of them and then hiding behind the couch. One look at GW 4-8 on both sets of fixtures will feel like a cruel joke from the rotation fantasy gods. Villa starts off with 3 fixtures that they will feel they can get something from, but after that they play last seasons top five in consecutive weeks. So unless you want to designate transfers early on or plan on playing an early wildcard, Villa should probably be left from any consideration until at the very least game-week 9. From there on they only face Spurs and Manchester United (both at home) as difficult fixtures. After GW9 you can consider a possible rotation with Burnley, Swansea, Sunderland and of course West Brom as they all rotate perfectly until the winter wildcard with Villa.
West Brom has in many ways a very similar schedule to Villa in terms of where their more difficult fixtures lie. So this combo should probably be avoided despite their perfect home and away rotation. If you simply can't resist the temptation of owning a baggie, then let us suggest Newcastle as the better alternative. They rotate in 30 out of 38 weeks and more importantly in 16 of 20 before the New Year. Furthermore, this partnership allows you to avoid a top 7 team all but one game-week (18) even if it does mean you might have to play the away team on certain occasions. Hull has equal numbers in terms of home and away rotation, but their fixtures when combined with West Brom are a bit more troublesome.
Burnley & Hull City
Burnley has what one would call seven difficult fixtures before 2015, but we could make an argument that every game is difficult for them as they adapt to the top flight. Defensively speaking, Burnley was no slouch in the Championship. 19 clean sheets in 46 games, never allowed more than 3 goals, only allowed 14 goals total in 23 home games and only lost 5 games all season. They have a tricky schedule in the sense that they get a couple of winnable and then a couple of toughies. They go back and forth that way until the winter wildcard never having an extended run of good fixtures. However if you were looking to rotate with someone, Hull does seem ideal; when Burnley play 6 of their 7 most difficult games, Hull plays QPR, Villa, Soton, Swansea, Sunderland and Leicester. So a Burnley-Hull partnership based on rotation and fixtures could pay dividends. They also rotate well with Villa and Stoke but neither covers for them the way Hull does when their fixtures are tougher.
Hull City has a kind opening set of games until game-week 5. After that they see 8 games vs the top seven teams (Everton twice) before the New Year. Owning a Hull player as a stand alone with no rotation is only recommendable for the opening fixtures. Commencing in week 6 you will probably need someone that will allow you to sit your tiger against the tougher teams. As recommended above Burnley sets up nicely, but if you distrust the newly promoted team than perhaps Swansea who doesn't rotate home/away perfectly, but helps you avoid the tougher fixtures in all but 2 weeks through the first part of the season is more to your liking.
Chelsea & QPR
We suspect that if you are looking at Chelsea you are not interested in rotating. For one they are too expensive and two why would you ever rest a Chelsea defender? They kept 18 clean sheets last season to lead the EPL including a run of 12 in their final 19 games. City and Liverpool were only shutout at home a combined 3 times and CFC accounted for two of those. They only allowed 27 goals all season which was ten better than the second best defence. However for all their defensive prowess and records against the better sides last season, a look at the fixtures does see show some potential stumbling blocks. They face Everton, City, Man United and Liverpool all away before week 11 and Arsenal at home. After game-week 12 things get much lighter, a home and away with Spurs is about the toughest they will see before they face off with City at home in GW23.
QPR rotate perfectly home and away with Chelsea, but I can't see many a manager resting their CFC defender to play one of 'Arry's men. However we all know that some of you can resist the appeal of being a mini Tony Fernandes and owning a QPR defender. So if you feel compelled to own one, Crystal Palace and Burnley are your best options when we look at the fixtures and the home/away rotation. Both teams play 16 games out of 20 before January where they are either home or away when QPR is the opposite. When looking at both teams and what they offer, they will both leave you with two games out of 20 where rotation won't avoid a tough fixture. Not bad though for teams that offer somewhat cheap options to go along with a QPR defender.
Crystal Palace & West Ham
Who could forget Crystal Palace's memorable run of games last season to conserve their spot in the top division. Most of us will remember that it was based on a capacity to keep it tight in the back. Rotation is key with them, as they lost 15 of 20 games vs the top 10 teams. West Ham rotate perfectly with them home and away and only in GW 8 & 11 can you not avoid the more difficult fixtures by rotating this combo. Palace can also be combined with Tottenham, as they will also carry you to January while keeping you away from all but one of the tougher fixtures. QPR is worthy of consideration as a partner for price reasons, but would fall third in line as far as fixtures go, especially when comparing them to the alternative that West Ham and Spurs give a manager that also carry a Palace defender.
West Ham obviously rotates perfectly with Palace and the best other rotations are teams that usually carry higher priced defenders. As the next best rotations are CFC, Arsenal and Everton. These teams are not the kind of places where you will find cheap rotating players to go along with your West Ham player. No worries though, as we look a bit deeper we see two candidates that despite not rotating home/away well, do help you avoid the tougher fixtures by simply rotating them based on fixture instead of location. Stoke City and Sunderland would both allow you to avoid the top teams for the rest of this year with the exception of one game-week each. So if you team up your hammer with one of these two, in particular Stoke, you can avoid any tough games until week 18 and by then you are unlikely to have any of the players from week 1 anyway. 😉
Everton & Liverpool
The Toffees defence provided a lot of joy in particular at the beginning of the season for managers who invested in them. They had 15 clean sheets last season, 8 of which came in the first 14 games. Because of some of the prices on their players it is unlikely that rotation is in your plans, in particular because their best partner is their bitter rival who also doesn't come dirt cheap either. It is also hard to see them being much of an option at the beginning of the season once we check their fixtures. They have 4 games in the first 7 weeks vs teams who are likely to finish above them in the standings. In game-week 8 though things should get much easier and if looking to invest this could be the moment. From GW 8-20 they only face Spurs and Man United of note, the rest of the games one would feel that Everton has a decent shot of taking all 3 points.
Liverpool started out with three straight one to nil wins last year and that was the last time we can remember anyone donning their colours playing anything that resembled defence. Their fixtures were much friendlier last season to start off with and despite that advantage after week 4 they started to leak. Trips to City and Tottenham in weeks 2 & 3 this season definitely makes them less appealing for any investment. That is of course if you had not already discarded them because of their comedic defending last season. Nevertheless if you are a brave soul or simply lost a bet and have to have a Liverpool defender, then beginning in game-week four might be your best bet. Two difficult fixtures versus Chelsea and Everton at home are all they will see from GW 4-15 as the rest should be winnable.
Leicester & Southampton
I think it is very obvious that Leicester slept with the FA's wife. Their schedule is so unkind to start off with that you can easily see them coming away with o points in their first five. Despite giving up less than a goal a game last season it is difficult seeing them survive the onslaught that will come their way in the opening weeks. They rotate perfectly with Southampton, but by rotate we mean play the Saint and leave your Leicester filler on the last spot of the bench. After GW 5 you could sift through their team and see if there is anything worth grabbing. From game-week 6-13 their fixtures are ok enough to have a go at them if the price and display during the difficult beginning leads you to believe there is value there. After week 13 though comes another difficult batch of fixtures so be aware.
Southampton was a big surprise at the beginning of the season last year. Only losing one of their first eleven fixtures and keeping 6 clean sheets in their first 9 games. Despite some lapses throughout the season they still kept their opponents scoreless in 15 games. Leicester rotates with them perfectly home/away, but undoubtedly this would feel like only one team cares about the relationship as Southampton would have to carry the burden. From game-week 2 through 12 the Saints only face Tottenham away from the seven teams that finished above them last season. It is not expected that they will be as strong defensively as we may see some of their starting defenders accompany Luke Shaw out the door. The fixtures though should at the very least make you question whether they are worth a cheeky punt.
Manchester City & Manchester United
City is also one of those teams that you are unlikely to look to rotate. If you own them, you play them. So instead of looking for a rotation partner perhaps we should be looking for when it might be ideal to own one. A quick glance at their fixture list suggests that investing after week 5 would be the most ideal scenario. But if you feel like having a City defender from the start than you can take solace in the fact that despite their tough fixtures at the start, 3 of the 5 are at the Etihad. We can all remember how scarily good they were at home last season and even a side that was sometimes maligned for their lack of defensive conviction was still able to keep ten clean sheets in their seventeen home games.
Manchester United might just get off to a much better start this season. If this is the case, I am sure many United fans will fall at the feet of Van Gaal and join the rest who are already there. But not so fast my United friends, a look at the fixtures will tell you that the living God will probably not get much better results than Moyesie did vs the same opponents (excluding the promoted teams) last season. United's first six games include the 3 promoted teams and the other 3 games are against teams that United beat by a combined 13-3 with 5 wins and 0 losses (Moyes was fired before the United loss to Sunderland) last season. In a roundabout way we are trying to say that United's fixtures really look tasty and even the "Chosen One" could do well, because he did. We could ride with United until week 8; sell any assets that are clean sheet dependent thus avoiding CFC, City and Arsenal that are sandwiched in from week 9-12 before the schedule gets tasty again in week 13.
Newcastle & Sunderland
Le Toon has a perfect candidate to rotate with and of course it had to be their half-brother. Sunderland rotates home/away perfectly with Newcastle and a glance at the schedule also says that fixtures wise, is not too shabby. If you decide to alternate them you will find that you can avoid the more difficult games on most occasions before the 1st of the year. Only 2 weeks will you be forced into games where you will feel a bit uncomfortable. Newcastle also can rotate with Swansea or West Brom, but neither fits in as well as Sunderland in home/away or avoidance of difficult GWs. If you wish to have a Toon defender as a stand alone than GW 2-14 does offers a good run of fixtures.
Sunderland as mentioned above is in a relationship, possibly. But if for some reason you prefer to look for a different rotation partner, Aston Villa actually offers good home/away rotation and good avoidance of difficult fixtures. Yes, we are aware that Villa have a murderous run of fixtures from week 4-8, but Sunderland could conceivably cover for them with 3 home games and games away vs Burnley and Southampton. Having said that, we would still be in favour of avoiding any usage of Villa players. One other scenario could see you going for Stoke City as a partner for the first 10 weeks and then weighing your options as the rotation goes sour. From week 11-20 you would be forced to play a top 7 team on 5 occasions no matter who you pick.
Stoke City & Swansea
The Potters not only find an ideal partner for home/away rotation in the Welsh club, they find a near perfect avoidance of the top teams through the first 20 weeks. Only in week 11 would you be forced to play a Swan or Potter vs a top side. There should be some cheap options in both clubs to allow this rotation if you feel this could pay off. Sunderland as mentioned before rotates ok for the first 10 weeks, but the second option if you were looking for one, would probably be Burnley. Stoke/Burnley rotate home and away 16 out of 20 weeks and avoid top teams all the way until week 17. So if Swansea is not your style than Burnley's cheapies could fit the bill.
Swansea ideally is matched up with Stoke as mentioned above. However just like Stoke a second option for them could be the inclusion of Burnley. To see how they interact with Burnley, just check the Burnley piece as this is already covered. There is an interesting option though that ventures away from the regular two team rotation. Since Burnley is such a good second option for both Stoke and Swansea, we decided to look at a 3 team rotation and see what fixtures we be left with over the first 20 weeks. It was found that you could conceivably play a fixture list from week 1-20 by rotating the right team in, that consists of matching up against promoted teams a total of 9 times. You could also include 3 games a piece vs Villa and West Brom seemingly two of the weaker teams in the EPL. A total of 15 games in 20 weeks vs what could be five teams fighting relegation, sounds pretty good if you budget will allow it.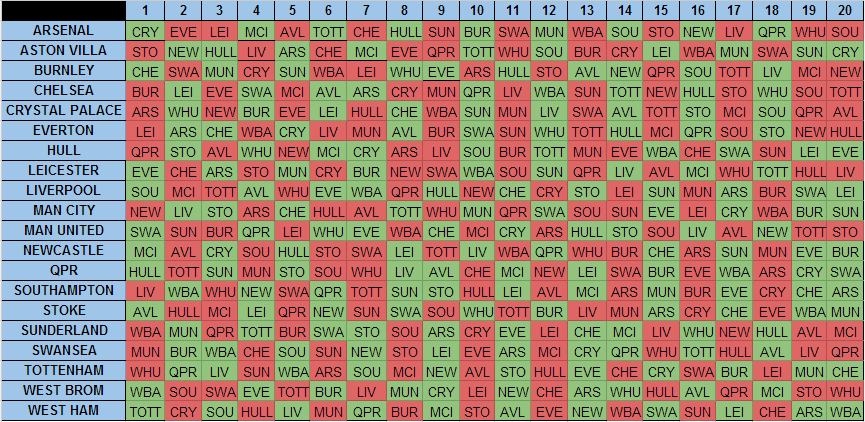 We made this table so managers can better compare fixtures for themselves. It is always easier to spot things when things are placed side by side. So we hope that you found this article of use and we were able to point out some things that might have escaped you when looking at rotations and fixtures over the long haul.
If you made it all the way through we thank you and if you only looked at the pictures we are still grateful. Thanks for reading this article, it was written by Mito21 @TheLegendMito21
Rotation analysis – Home and Away rotation and favourable fixtures