UEFA Champions League Fantasy Football 2019/20 Last 16 – 1st Leg
Planning and Preparation
Hello everyone and welcome to UEFA Champions League Fantasy Football 2019/20 Last 16 – 1st Leg. The CL is back with a bang this Tuesday. And then Wednesday. And then the following Tuesday. And then the following Wednesday. And that's just the 1st leg… Confused yet? Worry not, we got your back. The purpose of this article is two-fold;
1) We shall make simple sense of the above for you in terms of how you should approach this upcoming round.
2) It's an interactive chat so as ever dive in below, ask questions, answer questions and then when the deadline(s) pass (more on those later, all 3 of them!) you can simply crack on and chat sh*t about the games.
So what do you really need to know this week…
Unlimited Transfers
Yep, you get to press the reset button this week, simple as that.
You can now include four players from any one team at this stage, as opposed to the standard three, this increases as we progress through the rounds.
Deadline(s)
They are aplenty!
The main one is the first one of course which is Tuesday 18th Feb at 8pm GMT. Which is kick off time too so you will at least have the benefit of seeing the team sheets for all of Atletico, Liverpool, Dortmund and PSG.
The above is the deadline for your initial squad selection but beyond that you can make substitutions and captain changes before each 'game-day' (what FPL call a 'game-week', UEFA call a 'match-day', but within each 'match-day' there are separate 'game-days');
Subs and Capo Changes
One of the beauties of Fantasy CL is that you get multiple bites at multiple cherries. Basically you get to change your captain between each game-day if you don't like what the last one did, until the point at which you land on one you do like and also you can bring players off your bench who haven't played yet and ditch ones who have from your initial XI. Just bear in mind that if you do any of the above you forfeit the right to automatic substitutions, but then again why wouldn't you?
Which all brings us nicely onto;
Fixtures
We were going to create a nice fancy fixture tracker but it's easier to follow the sequence of these games in simple text format:
Tuesday 18th Feb 8pm
Atletico v Liverpool
Dortmund v PSG

Wednesday 19th Feb 8pm
Atalanta v Valencia
Tottenham v Leipzig
Tuesday 25th Feb 8pm
Chelsea v Bayern
Napoli v Barcelona
Wednesday 26th Feb 8pm
Lyon v Juventus
Real Madrid v Man City
The good thing to note from the above is that the deadline on each game-day is 8pm, no faffing around with early kick offs, so again you will see the team sheets for all four teams each day before you have to submit your changes.
Strategy
1. Make the most of the teams with the 'best' fixtures. Why? Because they're the best fixtures. But also because they are the teams most likely to progress. And that's good because… they'll still be in your squad! Although, granted, there are no gimmes at this stage, so we shall stop short of telling you that, for example, the likes of Leipzig, Napoli and Lyon may have their work cut out for them…
2. Spread your squad around a bit. By this we mean to take into consideration your sub and capo changes and try to play the percentages a bit. For example; If you have all of your defensive eggs in a Liverpool basket in day one and they concede you are limiting your chances of subbing someone in on a later game-day. Likewise with your potential Captain Picks, try and have a few big hitters spread across the four days, for obvious reasons.
The 2nd-Leg
This is an entirely separate 'match-day' and begins on Tuesday 10th March. You will get another 3 free transfers ahead of this one and it is laid out similarly to the 1st-Leg, the only difference being that the teams switch the days that they play on, so Liverpool, for example, go on Wednesday next time as opposed to Tuesday. We shall have another article to deal with this one at that point though.
The Game Itself and the FF247 League Codes
You can access the game here – Fantasy Champions League
We have two leagues running;
Our official FF247 league code is 32NQYUI4KW
This one is the usual open air league that all and sundry are welcome to join; there are over 1000 people in it. We have no idea who most of them are!
Our other one, the 'Regulars League' is now only open to new entrants via email
Please email us on contact@fantasyfootball247.co.uk if you want the code.
We did ask that people respected the purpose and integrity of this one; that is to say that you should only enter it if you consider yourself to be a Regular Community member on here. But this was unfortunately not adhered to. The phrase 'this is why we can't have nice things' springs to mind. As a result we have now booted about 70 people out of it who we do not recognise. If you find yourself suspended and feel you shouldn't be then please just say so in the comments below and we shall happily reinstate you.
The Regulars League Table
The Top 10 as we stand…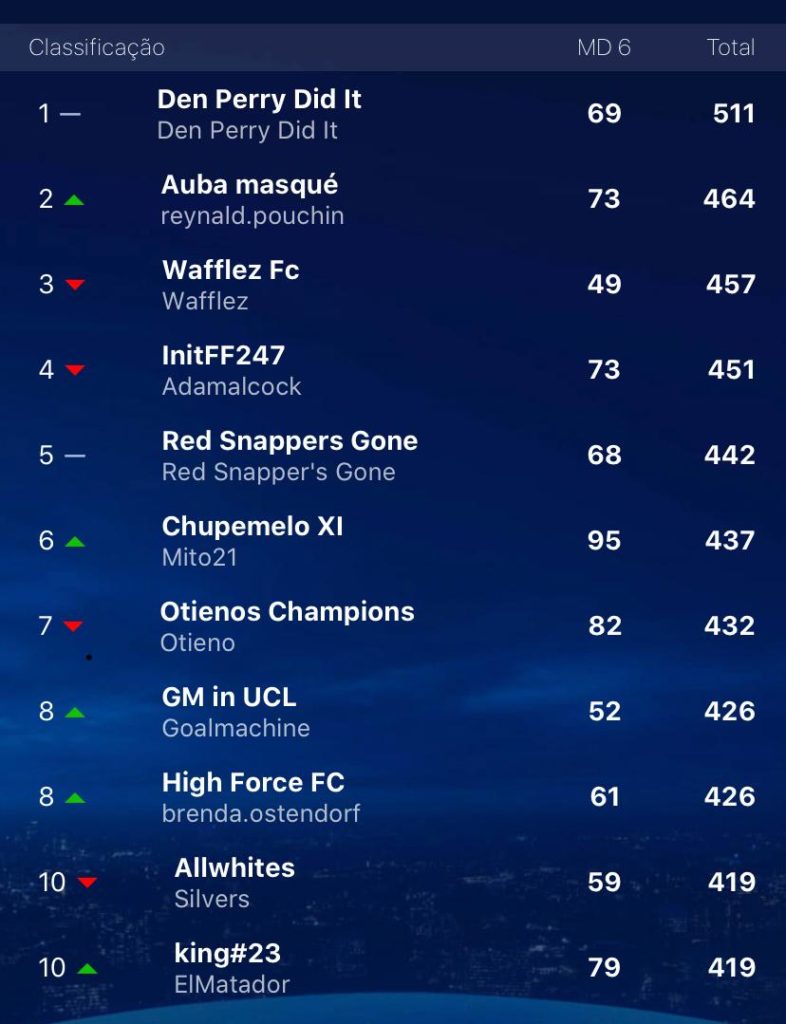 Thanks for reading UEFA Champions League Fantasy Football 2019/20 Last 16 – 1st Leg. This article was written by Inittowinit.