UEFA Champions League Fantasy Football 2019/20 Last 16 – 2nd Leg

Hello everyone and welcome to UEFA Champions League Fantasy Football 2019/20 Last 16 – 2nd Leg. The CL is back for part 2 of this protracted round on Tuesday. Even though it's the 2nd leg it's essentially a fresh GW with new transfers to be made and captain / substitutions to be poured over once more. Let's go make sense of it all for you once more…
So what do you really need to know this week…
3 Free Transfers
Yep, you get three free fresh transfers ahead of this round, simple as that.
(You can now include four players from any one team at this stage, as opposed to the standard three, this increases as we progress through the rounds).
You can carry one over into the next round if you like but no more than one and you get five free transfers ahead of that one so there's plenty of scope to kick out the deadwood at that point.
Deadline(s)
They are aplenty!
The main one is the first one of course which is Tuesday 10th March at 8pm GMT. Which is kick off time too so you will at least have the benefit of seeing the team sheets for all of Leipzig, Spurs, Valencia and Atalanta. Your 3 free transfers need to be done by then.
The above is the deadline for your initial transfers but beyond that you can make substitutions and captain changes before each 'game-day' (what FPL call a 'game-week', UEFA call a 'match-day', but within each 'match-day' there are separate 'game-days');
Subs and Capo Changes
One of the beauties of Fantasy CL is that you get multiple bites at multiple cherries. Basically you get to change your captain between each game-day if you don't like what the last one did, until the point at which you land on one you do like and also you can bring players off your bench who haven't played yet and ditch ones who have from your initial XI. Just bear in mind that if you do any of the above you forfeit the right to automatic substitutions, but then again why wouldn't you?
So basically you get 4 captains if you so want. And you can transfer your bench players in between each days play. Just order them accordingly (plays first = pitch, plays later = bench, etc).
Which all brings us nicely onto;
Fixtures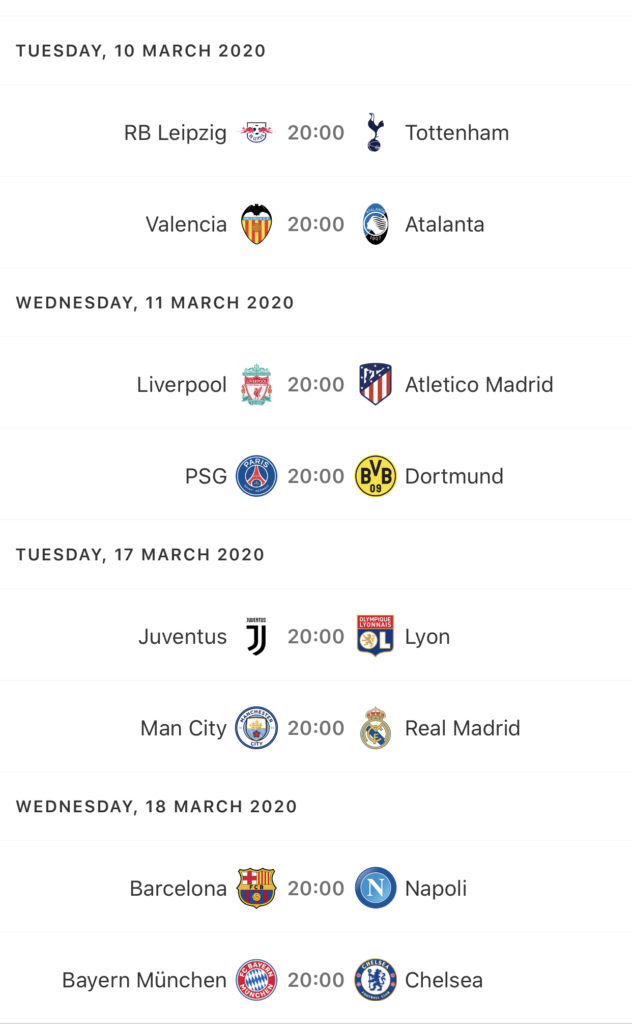 The good thing to note from the above is that the deadline on each game-day is 8pm, no faffing around with early kick offs, so again you will see the team sheets for all four teams each day before you have to submit your changes.
The Game Itself and the FF247 League Codes
You can access the game here – Fantasy Champions League
We have two leagues running;
Our official FF247 league code is 32NQYUI4KW
This one is the usual open air league that all and sundry are welcome to join; there are over 1000 people in it. We have no idea who most of them are!
Our other one, the 'Regulars League' is now only open to new entrants via email
Please email us on contact@fantasyfootball247.co.uk if you want the code.
The Regulars League Table
The Top 10 as we stand… (corutesy of DMC as ever, who has consistently (not deliberately) (& much to his chagrin) extended the courtesy of staying out of the Top 10 in order to provide the pic itself!).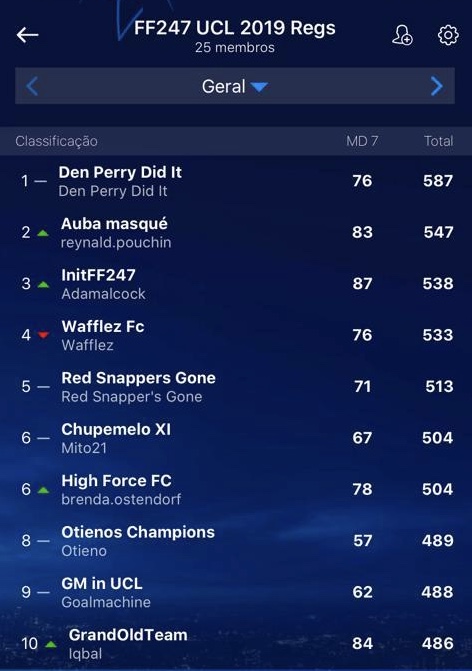 Should be fairly straight-forward this week but if you have any queries just post them in the comments below and as always ask questions, post teams and generally just have a good natter…
Thanks for reading UEFA Champions League Fantasy Football 2019/20 Last 16 – 2nd Leg. This article was written by Inittowinit.