World Cup Final and 3rd/4th Place Play-off Live Match Chat
Putin must be delighted at the thought of Europe's finest taking over Moscow on Sunday. But it is what it is and the stadium will be covered in red and blue as France take on Croatia in the World Cup Final. These two have only met once before in the World Cup, in 1998, when the French triumphed 2-1 in the semi-final on the way to winning the trophy for the first and, to date, only time.
Croatia have never beaten France in their only previous five meetings, losing three and drawing the last two.
The 3rd/4th place play off sees England meet Belgium – a match dominated by Premier League involvement, unless of course Belgium make mass changes, which they may well do. The two have met three times previously in World Cup competition – in 1954 when the teams drew 4-4 in what must have been a tremendous game, in 1990 when David Platt's last gasp goal saw England progress to the quarter-finals and of course in the group stages earlier in the tournament when both sides played their reserves in a 1-0 Belgium victory.
We will see the line-ups pre-deadline for the 3rd/4th place off match so maybe it's best to wait to see which players are selected before making any transfers. It's also worth noting that in the previous four World Cup tournaments there has been 17 goals in the 3rd/4th place play off compared to just 8 goals in the last four finals.
We are again allowed five free transfers and can now select a maximum of eight players from any one team.
THE GAMES IN FULL
Saturday 14th July
Belgium vs England (3pm)
Sunday 15th July
France vs Croatia (4pm)
So that you have them to hand in one place here's a reminder of the substitution rules, transfer allotment, wildcard and boosters. AKA the rules…
SUBSTITUTIONS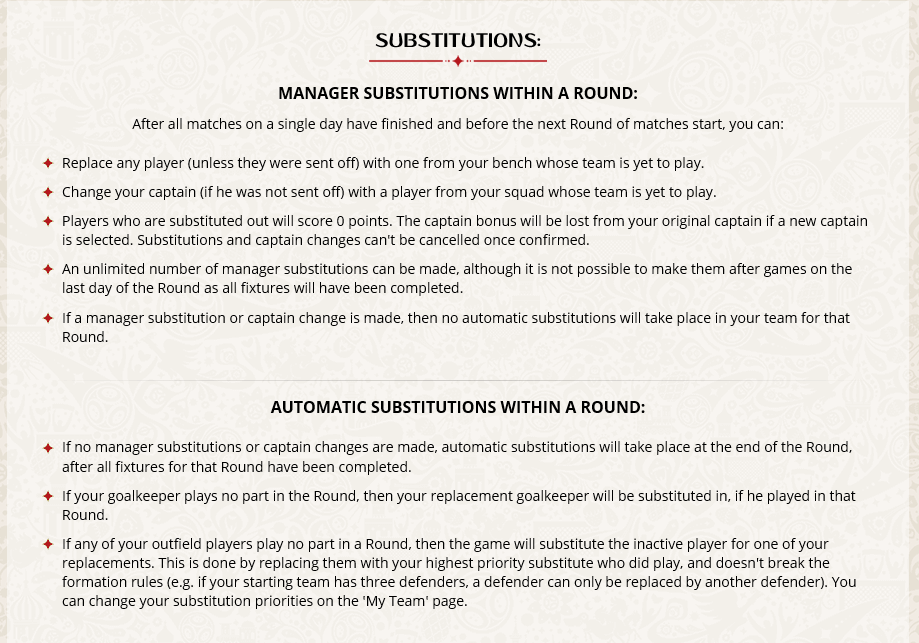 TRANSFERS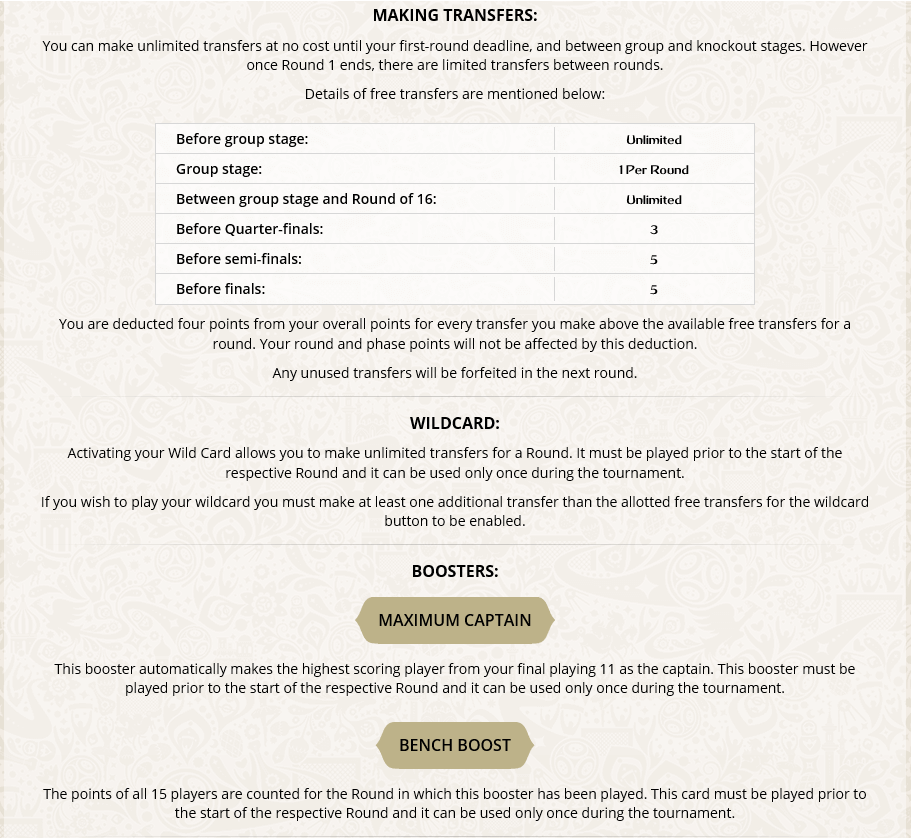 Keep track of all the action, the goals, the talking points, right here at FF247 Live Match Chat, an interactive chat which encourages you to keep involved and share your thoughts and emotions as the matches take place.
Good luck!
Thanks for reading World Cup Final and 3rd/4th Place Play-off Live Match Chat