World Cup Last 16 Rate my Team / Live Match Chat
Welcome to World Cup Last 16 Live Match Chat. No more second chances, it's do or die time. Penalties will be missed. Tears will be shed. Let's just hope it's German ones for once (lol, we wrote that before Wednesday, we left it in because it's even funnier now!). From a fantasy perspective though there sort of is a 2nd chance as you can now make unlimited transfers right up until the deadline which is on Saturday at 3pm (GMT). Which is why we've jumped in early with a new article, we just wanted to make sure that everyone was aware. And give everyone a chance to post up that shiny new wildcard team. Just in time for Mito returning from holiday to destroy it in the comments!
After that you get 3 free transfers for the quarter-finals and then 5 for each for the semis and the final. Choose wisely then as you don't really want to be hitting the next round with half of your team eliminated. We move onto a 2 game a day format now spread over 4 days. Or in other words that's 4 bites at the captain cherry if you plan it correctly.
To recap then from a Fantasy perspective there are really just 4 things to be aware of right now –
1. It's wildcard time all round.
Unlimited transfers up until KO on Saturday. That's the main one.
2. You have a new budget of £105m, an increase of £5m from previously.
This is because, in theory, the 'budget' options have probably now exited stage left. This is not altogether strictly true just yet as there are a few bargains left but just be aware that the budget grip will tighten the further we progress through the rounds as some of these may indeed go home this round.
3. Price changes are in effect.
Sort of, we think… prices have increased on some players since the last round. Despite the rules stating this –
"Original player prices will remain the same until the group stage (Round 3). Upon completion of the group stage, player prices will change depending on performances".
'Upon completion of the group stages'… they already went up prior to that. And there's no indication as to when that may happen again, or indeed when, or of course why. Basically then they're making it up as they go along as usual.
4. Increase to 4 players per team as opposed to 3.
As it says on the tin.
THE GAMES IN FULL
Saturday June 30th
France vs Argentina (3PM)
Uruguay vs Portugal (7PM)
Sunday July 1st
Spain vs Russia (3PM)
Croatia vs Denmark (7pm)
Monday July 2nd
Brazil vs Mexico (3PM)
Belgium vs Japan (7PM)
Tuesday July 3rd
Sweden vs Switzerland (3PM)
Colombia vs England (7PM)
So that you have them to hand in one place here's a reminder of the substitution rules, transfer allotment, wildcard and boosters. AKA the rules…
SUBSTITUTIONS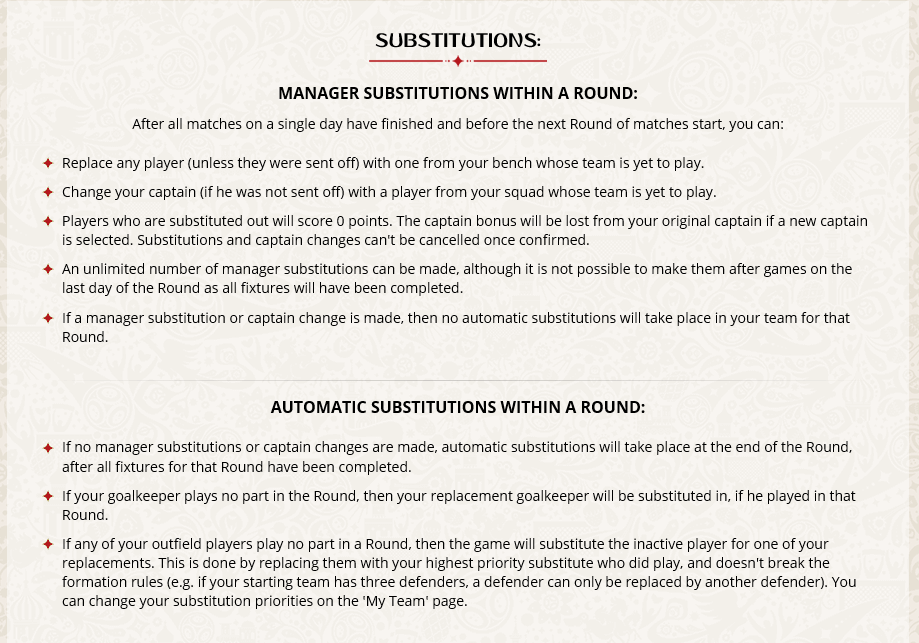 TRANSFERS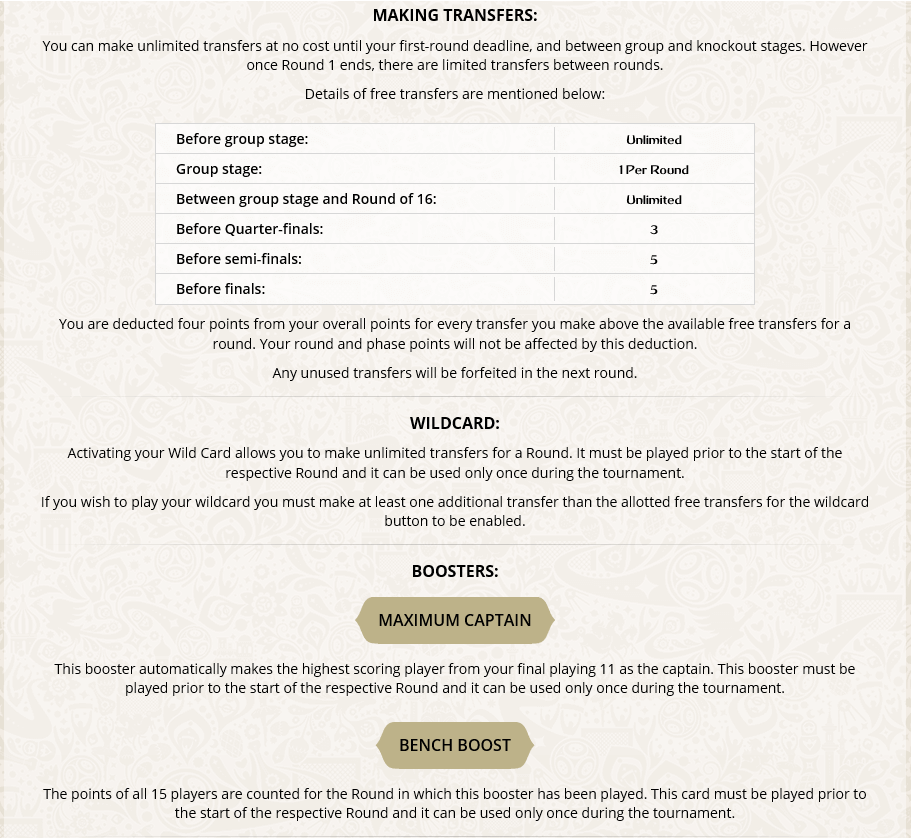 Keep track of all the action, the goals, the talking points, right here at FF247 Live Match Chat, an interactive chat which encourages you to keep involved and share your thoughts and emotions as the matches take place.
Good luck to most of you, but not all of you for this 3rd phase of fantasy World Cup!
Thanks for reading World Cup Last 16 Rate My Team / Live Match Chat