Fantasy Football Captain Picks Gameweek 3 2017/18
Welcome to Fantasy Football Captain Picks Gameweek 3. It actually feels like I've caught you at a bad time: summer is nearly over now; the Minions recently surpassed our beloved ogrelord Shrek, as the highest-grossing animated film franchise in history; the initial buzz of the new season is fading and player prices have started to fall. I can't stop any of these dismal events, but I can offer hope for the future, a mere taster of the FPL points to come. Andy Carroll — our favourite Donkey — should really be the only player we need to save us but, considering his eternal state of injury, we should probably consider some inferior options.
Christian Eriksen vs Burnley (H)


This man has never featured in one of my captaincy articles before. That's quite surprising when you consider his pedigree. Tallies of 132, 162, 178 and 218 over his 4 seasons in the Premier League so far suggest we should all buy him in before he hits 250+ points this time! Why don't we captain him every week? He's very unlikely to score a hat-trick or even break past 12 points in a given gameweek. But this is Mr Consistent we're dealing with here.
Eriksen seems like a really nice guy; you ladies (or, as it's 2017 now, you male-loving people) wouldn't mind bringing him home to meet your parents. I can back this up. He's only been booked 9 times in those 4 seasons (and 11,203 minutes played) which yields a yellow-card average of just one per 13.8 matches. Talk about discipline. Better yet? None of those bookings came last season and he's never been red-carded before! The sign of a gentle lover if ever I heard one. Alli's the guy that you tell him not to worry about…
Anyway, this Burnley fixture comes as the last kick-off this weekend and Eriksen has picked up 3 assists already, claiming 5 bonus points in the process. The negatives? I instantly thought of Spurs' recent defeat against Chelsea, continuing their terrible 'home' form at Wembley, then remembered that Burnley beat Chelsea the weekend before! My suspicion is that a 'cycle of wins' between the trio will be completed. It's hard to see past a solid 2-0 win here and Eriksen is likely to be instrumental once again.
Form: 7
Fixture: 8
Explosiveness: 5
Romelu Lukaku vs Leicester (H)


Manchester United are on fire. Starting off with consecutive 4-0 wins is terrifying team form. The current FPL top-5 scorers are 4 of The Red Devils and Hegazi, but somewhat surprisingly, it's Lukaku who sits on the bottom of that list. Mkhitaryan and Pogba will both gladly accept your armband too, if you have one of them, of course.
Lukaku has 3 goals already and is as nailed-on as you can get for a 90-minute game from a striker. His past record with Everton shows that he loves playing at home. Don't we all…
Leicester are tougher than Swansea or West Ham, the two teams that have bent over for this United team so far, but did happen to concede 4 goals against Arsenal in their first away match of the season so far. I'm not completely sold on this match being such a high-scoring affair but, with Lukaku's ownership creeping up towards the 60% mark, it's dangerous business to back against a man in his form.
Form: 8
Fixture: 7
Explosiveness: 8
Sergio Agüero vs Bournemouth (A)


Speaking of Minions, this guy has certainly brought in a lot of income, almost certainly including mini-league prize money for FPL managers in past seasons. He would've been the obvious captain choice for almost everyone back then. Now, many of us don't even own him, myself included. He's in here on merit. Sergio's become that friend who nobody really likes anymore but it feels too rude to disinvite them. That's not coming from personal experience! An old friend once told me. They haven't spoken to me for a while…
Agüero did score in City's opener, away from home, so this isn't entirely a pity mention. It should be noted that Bournemouth have lost both of their opening matches and City have won all 4 of their past meetings in the Premier League with The Cherries: the scorelines read 0-2 and 0-4 for the two away fixtures. Jesus, despite his emergence last season, still seems to playing a secondary role under Pep Guardiola in terms of minutes played.
This fixture is the dreaded early kick-off of the weekend, but City aren't usually shy in front of goal, are they? You're probably reading this thinking "I have KDB and Jesus instead" which will quickly be followed by "I hate FPL" but, fear not, another thrashing and the points will hopefully pour in from all directions. Pep is love. Pep is life.
Form: 4
Fixture: 6
Explosiveness: 9
Javier Hernández vs Newcastle (A)

Who's this? The Little Pea, the Real Madrid legend, the 7th-most prolific Premier League goalscorer in history. Chicharito, of course, folks! He's averaged 130 minutes per goal in his English career so far and, although that was with Manchester United, he's made a similarly quick start with another United now. West Ham will fancy their chances when they visit The Magpies, a team that have pedigree but no form, also losing both of their opening matches. That said, the only away performance West Ham have given so far was dreadful, which probably moves your armband back onto Lukaku; this would be a punt.
Form: 6
Fixture: 7
Explosiveness: 6
Harry Kane vs Burnley (H)


I faced a moral conflict when writing this up. It's almost impossible to recommend Kane after opening with a pair of zero-goal, zero-assist, one-yellow-card and one-damn-point performances but, equally, he's currently my team's captain. Kane has been pretty unlucky so far — he's rattled the woodwork a few times — and few players enjoy playing against so-called weaker teams at home more than he does. Burnley, putting their stunning win at Stamford Bridge aside, are arguably the worst away team around. It feels like only a matter of time before Kane's relentless goal attempts are converted into points galore. He probably would've made a stronger start in a beauty contest than he has done in the Premier League but, just remember, it's not August for much longer…
Form: 2
Fixture: 8
Explosiveness: 9
All the best with whoever you choose! See you on the boards.
Thanks for reading Fantasy Football Captain Picks Gameweek 3
The League Codes for FF247 for the 2017/18 season are as follows:
Gameweek Tracker GW3-11

BONUS PIECE! – Starting 11's GW3 Preview

Starting 11 is the premier daily fantasy football app. The perfect complement to your FPL squad, Starting 11 picks up where your FPL squad leaves off. Managers can build new lineups each matchday without having to play their Free Hit chip and can make substitutions to their fantasy lineups in real-time – just like a real-life football manager.
Starting 11 is currently offering free Premier League contests worldwide and will add cash prize contests in the U.K. and U.S. in the coming months.
Download on iOS and Android today.
Welcome to Starting 11's Gameweek 3 Preview. Only two weeks into the season, the Premier League has already offered up plenty of drama and excitement, including red cards, last minute winners, and a newly promoted side taking a short turn at the top of the table. So, what have Starting 11 managers learned in GW1 and GW2 that can be applied in GW3? Here are three things we are thinking about in the run up to GW3:
1. Manchester United's midfielders might be ready to wear the armband
The vast majority of managers playing Starting 11 on Saturday gave the armband to Romelu Lukaku, and with good reason. In GW1 Lukaku rewarded owners who captained him with a massive return – 48 points in our game. With United travelling to Wales to face a Swansea side that recently bid adieu to Gylfi Sigurdsson, another successful day looked to be on the cards.
Swansea played deep and compact though, and it wasn't until the 80th minute that Lukaku did anything to justify the decision to captain him. However, even with the goal to his name, Lukaku failed to score more points that the majority of United's midfield. Indeed, Pogba, with his goal, assist, and constant involvement scored 35.6 points. Mkhitaryan and Matic both came in with 22.6 and 21.2, respectively. Any of the midfielders, if captained (captains receive 2x points, just like FPL), would have outperformed Lukaku this weekend. GW3 might just be the time to turn over the armband to a United midfielder?
2. Mane looks to be the man in Liverpool's attack
One of the early struggles for fantasy managers this season has been deciding on which Liverpool attackers should be included in their line-ups. With a plethora of options – Sadio Mane, Mohamed Salah, Roberto Firmino, to name a few – fitting all of them in has been difficult. After two Premier League matches and a Champions League match against Hoffenheim, it appears that Mane is the man. Mane has been a consistent presence in the lineup and on the scoresheet, while Salah has already seen the bench as a result of rotation, rest, and another midweek fixture and Firmino was kept quiet for most of Saturday's match against Crystal Palace.
Smart managers will keep a keen eye on the Champions League return leg this week to see which Liverpool attackers look set for Sunday's match against Arsenal, but our money's on Mane to continue to be the driving force in Liverpool's attack.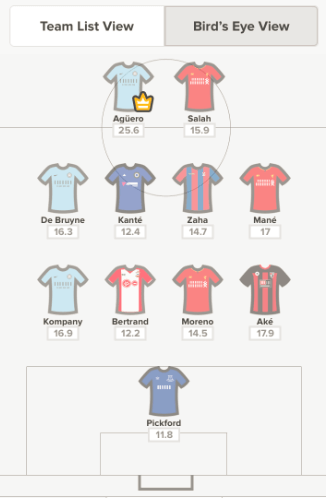 3. Late substitutions will be key to success in Starting 11
Many a manager has seen his weekend ruined after he locks in his FPL squad and finds out two of his midfielders are on the bench. Starting 11 eliminates that scenario by allowing managers to substitute players even after lineups have been announced and matches started. Indeed, the ability to sub off a defender for an extra attacker allows one to seize the initiative and go for the win. In GW3, managers should look to players like Anthony Martial who are being brought on late and making an instant impact. Indeed, Martial has proven that he will get the most out of his minutes with two goals in 25 minutes of action.
Substitutes brought on late in matches can really make the difference in a Starting 11 contest, especially when one side is on the front foot and looks threatening. Managers that take advantage of these situations will find success on Starting 11.