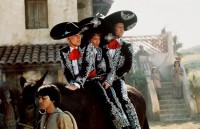 Welcome to another installment of Grab, Avoid or Bore off for the 2015-16 season. As always we will tackle some of the most unimportant questions in FPL and in life in general. The 3 Amigos are back for another round of very difficult questioning and the occasional FPL question. Will Kun come straight in? Is Mertesacker slower than a dead turtle? Does Ozil see better at night? Will Miss Colombia be given a crown for the embarrassment they caused her? WoW! I am dying to see the answers, so let's get to it and see what our 3 wise men have in store for us.
[highlight_yellow]This Bore Off was completed a couple of days before GW18, so if some of the questions seem a tad late, that is the reason.[/highlight_yellow]
Thanks for reading Grab, Avoid or Bore Off! – Fantasy Premier League 2015-16. This article was compiled by Mito21
[divider_1px_dashed]
[row][span6]
Vote on our Captain Poll Now

[/span6][span6]
Fixture Tracker
Would extra money every week come in handy? TeamProfit.com teaches you how make over £1,000 risk free in your spare time by beating the bookmakers every week, completely risk free. Join over 10,000 people making money by beating the bookmakers.