Fantasy Football Tips Gameweek 2
Two phrases I've learned and hated my entire adult life – 'think outside the box' and 'introspect'. As though it mattered much, since my own life was involved in finance and statistics, where you actually look inside 'boxes' (and not those of the nice kind mind you) and introspecting gets you called a lackadaisical weirdo. We left that to the office shrink. But a new season of fantasy football is upon us. A lot of bets have been placed. Some (unjustifiable) ego and pride are at stake. Many of us are just a tad bit short of a suicidal Japanese-workaholic. And the only thing keeping us from tearing our hair out and sticking a pen in Slick Joe's eye, as he lathers up yet another pretty new intern with his smooth words, hair, gestures and just the right touch on the elbow, is the fact that we get a few wry smiles and some resentful gesture of congratulations from those in the office pool every now and then. Then so be it! Think-out and introspect we shall.
A few things to deliberate right off the bat. Gameweek 1's total average score of 53 from nearly 4.87 million accounts registered in Fantasy Premier League is quite high. Someone who is fantasy-football-geekier needs to help us out here with past years' Gameweek 1 numbers. Regardless, the advice to new entrants is to keep close to the weekly global average (a little below it, match it, or even outdo it) if you want to salvage any of the things that you've wagered above – wages, pension, pride, wives, etc. It'll keep your personal scores respectable, and might even help you win your office or 'friends' pool. The average score of total players is not always going to be this high, believe me (or don't).
A lot of early punts have paid off. This is for those of you who are mesmerized by the person(s) who Triple-Captained United's Shaw. There'll be many such miracles over the course of the season. Not that Shaw is a bad player. He actually is a decent fullback, when he is off his KFC addiction. The fact that his dining-mate Rooney is no longer at United also helps. But the thing is – a lot of such accounts are one-week punts. Keep an eye on the number of Total Players. It will keep increasing every week from now on as these 'one-week punters' keep creating new accounts, buy the Gameweek's most in-form players with the best fixtures, and outscore all else for just that one week. Or better still, keep an eye on the account(s) that triple-captained Shaw, or are in Gameweek 1's Top Ten. They will disappear faster than the fifteen seconds glory that they had. Forget the miraculous punt on Shaw, even those of us average-Joes who took a chance with Neves, Jorginho, Kante, Jota, Fraser, any of Southampton's defenders, Wan-Bissaka, Pereyra, etc (not Fulham's Cairney) paid off significantly. The midfield looks especially attractive this year. And, not only because no forward player scored more than 8 points in Gameweek 1.
One last thing about punts, check out Gameweek 1's Top 10 players – all with 131 to 137 points each. Every single one has used their Bench Boost tickets. Now this could be a viable strategy to get an early lead in the short run or they could be one of these one-week-punters. But, the Bench Boost and Triple Captain tickets better serves you at the end of the season, in my humble opinion. Like yesteryears, there'll be a backlog of games due to the weather, cup competitions, internationals, Pogba's hair, Kane's claims, Mourinho's moans, etc, etc. Therefore, if planned properly, boosting the bench or triple-captaining during those Double Gameweek (DGW) games will certainly raise your standings locally and globally. Comeback szn, Wrong Direction, SAZ F.C., my choice' Jarcia's PDAFC, #hashtagproblem, Lion UTD, Team_2, Clownprinceofcrime and Have it! FC … the current Top Ten, will make interesting case studies for an early Bench Boost (if nothing else) I'm certain.
Another phrase that I've learned and hated my entire life – "be patient". It's hard to be when FPL drops and raises its players' prices every single week. Where you find you can afford Kun, Auba and Lukaku one week, you find you can't afford any of the three the next week. But in the wise words of Master Yoda, "Patient, you must be". If you have set up your GW1 team a certain way using nearly a month's worth of research, tinkering, discussions, FF247's feedback, downright kneejerk reactions, shamans, soothsayers, at 1 am in the backseat of your car after a fight with your missus; chances are the returns from this team will be better and bigger than just a few days' tinkering. The caveat being that – if the players who have performed big in GW 1 are going to keep doing so in the middle and long-terms, then you'll be priced out of a chance to cash-in on their price, points or form. I myself have been a fan of setting a team out for the mid and long terms and seeing how that plays out. It has served me well sometimes, and not so the other times. This year though, it seems the usual bets are going to pay off. A lot of fantasy leaguers have tripled-up on the big teams of Manchester City and Liverpool. I also see at least two players from other top teams like United, Chelsea, Tottenham, and Arsenal; and from good safe bets like Crystal Palace, Everton? Sounthampton? and Wolves. Which is why, if I were given an option, I would wait, save those Free Transfers (FT) over a week or two before pulling the plug.
I've scored 88 points for GW1. It's pretty decent. I am not a regular blogger, expert, commentator, or even writer for this site like Cookie, innittowinit, Raz, AT, Gallant Pioneer, Kop Warrior, Rosco, and et.al. But I have contributed an article before and have been invited to do so again. I guess any gobsmack has a niche these days. I have cracked the Top 1000 once before (it would've been Top 500 but I got cocky). And if all this is not enough credibility, I have a free FF247 T-Shirt to prove it. Cheers and have an awesome season ahead!
Thanks for reading A Midsummer Night's Fantasy … (Football Musings). This article was written by Punk Dragon
FPL FIXTURE TRACKER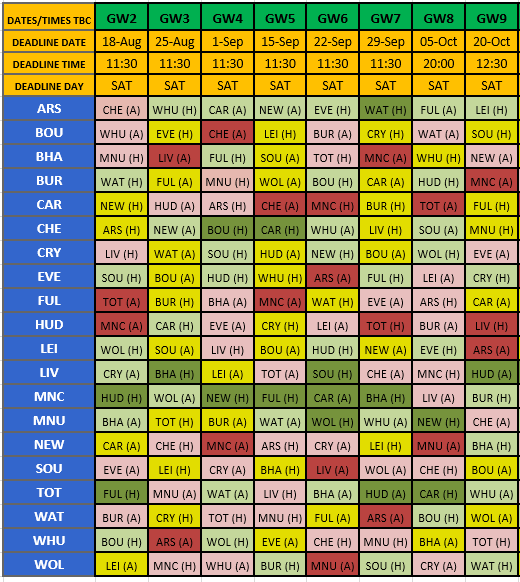 FIXTURE TRACKER LINK
Welcome to our Fantasy Football leagues section.
The League Codes for FF247 for the 2018/19 season are as follows –
Thanks to our friends Follow @ff_surgery and please give them a follow.