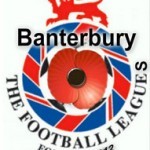 Hello and welcome to the game-week 15 review of the Banterbury Leagues. Now to the action and we start with the Premier League.
Premier
Park Bench Exports go top after beating his bogey side UD Stoke who did the double over Bench last term. This is Bench's 8th win in a row, though 5 of those wins have been by 5 points or less, he has been very fortunate indeed. This win has also guaranteed Bench's place in the Shield in the New Year. Cookie's Monsters drop to 2nd and are having a bit of a wobble after losing to his great rival Kop Warriors, his defeat will be even more hurtful as Kop will now have bragging rights till they meet again in mid-April next year. Despite this defeat, Cookie needs just a point to be playing Shield football in the New Year. Odds on to join these two are Arsene's Boys who move 3rd after defeating Eddy Hitler XI. The final place is really up for grabs after Where's The Dosh? who drop to 4th & Reubens Rioters lose, they meet one another in a crunch match next game-week. Hoping for a draw in that match will be 6th place Bocadillo Allstars who failed to capitalize after defeat to Killer Instincts. In 7th place & still also hoping to grab that last shield place are Gasco's athletic. Pork n Cheese United beat Horse FC 64-63 to move 9th and a place above Horse. In the bottom half there were big wins for PUT THE OLD DOG DOWN 12th (formerly I LOVE THE CAKE), Kojak's Fireball 13th, Prutsers; allemaal 14th and 15th place Buzz's Bomb Squad. Killer Instincts in 16th are really turning their season round, after picking up just one point from their first 10 games, they have since picked up 15 from 15 in the last 5 game-weeks. UD Stoke drop to 17th, while Kop Warriors stay in the bottom 3, but he must be thinking he has turned the corner after this morale boosting win over Cookie. TheKopKnightRISES in 19th stay 7 points above poor THE MUTTS NUTS who can't buy a win for love nor money, but up next is a must win game for both MUTTS & TheKopKnightRISES as they meet in a massive 6 pointer.
Championship
Gallowgators stay top after beating Soap Powder Thieves. WhoIsRonaldo remain 2nd, level on points with Gallow, both just a point away from qualifying for the shield. James 101 remain 3rd after beating 6th place Real Morbid and put 4 points between themselves and those chasing a shield spot. Elleffcee stay 4th but lose to one of the teams still hoping to make the top 4 at Christmas, 7th place One Under Parr who are now just a point behind them. Son of a Pitch lose to 2nd from bottom The Gallant Pioneers. Two big games next week for those final Shield places are elleffcee vs Real Morbid & WhoIsRonaldo vs One Under Parr. 8th place Shylass @ the finish can still qualify but need results to go their way and up next for them are in form Mito's Mercenaries who have moved up to 10th after beating The Reds 55-54 and have now won 3 on the spin, The Reds drop to just a place above the relegation zone. At the bottom there where good wins for The Greatest FC and Red Magic moving them both up in the league to 14th & 15th respectively. The Bottom 3 stay as they were despite Pioneers win as 3rd bottom Balotellibubbies beat rock bottom Pathético Morbid.
League 1
Powerful Potty Fc trip over the line to be involved in the banterbury shield competition in the New Year, but have qualified never the less. Everyone must think Potty is a match fixer as he has lost his last 3, this time to 2nd place Monty (Caz Daz) 64-63, who with that result also qualify with Potty. CFC (Awesome) 3rd who beat Potty last week are all but there too after winning again. We love manchester stay 4th after damming bottom club Nifty's Hotshots to their 12th straight defeat and stay 3 points above 5th place DavesRedDevils with 2 qualification games to go. Bodene's Army in 6th still have a slight hope of a place in the shield but they must beat we love manchester who are up next for them. The Bottom 5 all lost and stay as they were.
League 2
4th Place Trophy (formally know a E for Idiot) go top and qualify for the shield. Norfulk-in-chance drop to 2nd and need that finish line to come soon, after being beaten this time by Bring on ze Trumpets 62-61, though they should make it as they're 5 points ahead of 5th placed White Boys Day. ChorleyRocks in 3rd lost to Busby Babes who move to 6th just 3 points behind CR. Wavey Squad in 4th lost to Owls Rule in 7th and this defeat has really opened up the race for the two remaining spots! In theory anyone down to Prata in 15th place could still make it. White Boys Day must be kicking themselves after only managing a draw with ChelseaFTW.
Banterbury Cup 3rd Round
The Cup has come down to the last 16 and it is a real international affair. The Irish boys enjoyed success as Kop Warriors & Gasco's athletic both beat Championship sides to make the last 16. WhoIsRonaldo, flying high in the championship beat Reubens Rioters from the premier 66-63. Son of a Pitch of the championship saw off league 2's ALSED FC and making up the Emerald Isle contingent are Busby Babes of league 2 who caused an upset by beating a championship side in the last round. English managers Park Bench Exports & Horse FC both of the Premier League had comfortable wins against lower league opposition. Gallowgators top of the Championship beat the premier leagues Rising Phoenix who were last season's semi-finalists, in an all English affair. Another all English tie saw two teams from league 1 aiming for a place in the 4th round with Fergie's Henchmen coming out on top. 3 ex pats also win through to the next round, Cookie's Monsters (Monaco) Bocadillo Allstars (USA) both Premier Leagues sides win & Owls Rule (New Zealand) upset the odds and beat elleffcee of the Championship. Also, Buzz's Bomb Squad (scotland) of the premier league beat league 1 side inittowinit*** and 2nd in league 1 Monty (Caz Daz) (India) is our only Asian representative left in the tournament having won his tie easily . Making up the final 16 are 2 Australians, DavesRedDevils of league 1 & Manlet F.C 14th in league 2 who are the lowest ranked team left in the competition. The 4th Round ties are to be played in GW20 which is New Year Day.
Banterbury Cup 4th Round Draw
Park Bench Exports v Fergie's Henchmen
Busby Babes v Bocadillo Allstars
Gasco's athletic v Monty (Caz Daz)
Son of a Pitch v Cookie's Monsters
Horse FC v Manlet F.C
Kop Warriors v DavesRedDevils
WhoIsRonaldo v Buzz's Bomb Squad
Owls Rule v Gallowgators
You can view the all the Banterbury Cup results/draws in the competition tab.
I'd like to finish with an announcement about Team Name Changes. It takes a lot of work trying to organise the leagues, cup & shield and a lot of my free time writing the weekly review. So all I ask is that if you feel the need to change your team name, could you please have the common courtesy just to drop me an e-mail to banterburyleagues@gmail.com so I can update my records.
This article was written by Bench@banterburyleagues