Barry and Paul's Predictions GW31
Welcome to Barry and Paul's Predictions GW31.
It's always nice when a player pops up with the first goal of the game-week that people simply did not see coming. Anyone have Marcus Rashford? No me either. Rashford scored the first goal in Man Utd 2-1 win; he then grabbed the second, as if to drive home the point. Other notable results were Swansea grabbing a 0-0 despite playing with 10 men for almost the full match, Chelsea chucking away a clean sheet at the death (2-1) and Arsenal finding their cojones not once, not twice but three times, not to mention Troy Deeney losing his.
A tie at the top this week, Igy4 and Labyrinth both finished on 12pts. It was a close ran affair, with third place also shared, Mahelmy, Sam10, Jamie Mc and our very own boy-wonder; AT, who all finished up with an almost winning 11pts. Init continues to go from strength to strength in both FPL and here at B&P's; he's still top, can he be beaten? Keep trying folks!
Thanks to everyone who entered, better luck next week everyone!
Congrats to Igy4 and Labyrinth, please contact FF247 at contact@fantasyfootball247.co.uk to get your hands on that FF247 t-shirt.
Weekly Leaderboard (GW30)
Winners =Igy4 and Labyrinth 12pts
3rd = AT, Mahelmy, Sam10 and Jamie Mc 11pts
Cumulative Overall League Table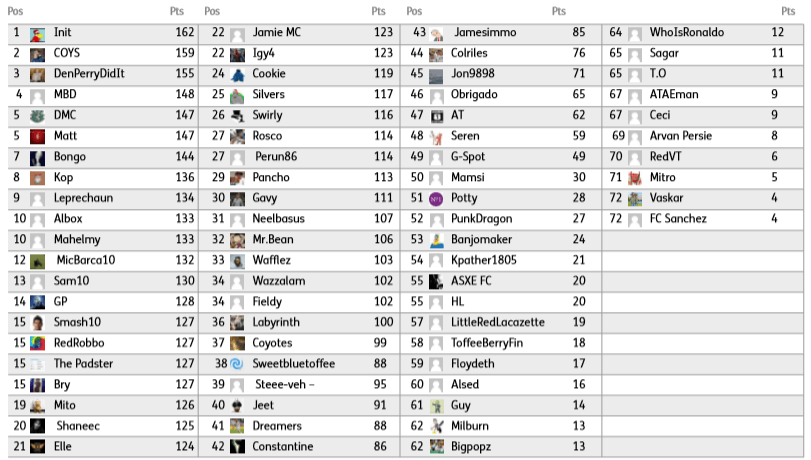 This week's competition
The rules are few; 1 entry per person, and all entries must be submitted prior to the first game of the game-week. Kick-off this week comes on Saturday at 3pm. Once all the games have been played, we'll count up the scores and the winner(s) will be announced in the following weeks competition article.
So just to recap all you need to do is copy and paste the fixtures from below, pop your score prediction on each and then tell us who you think will be the first goal scorer of the week. And that can be from any game regardless of your other predictions. Oh and if you say 1-0, you mean 1-0 to the home team. Not either team. Capiche?
Scoring
Correct Score = 3 points
Correct result = 1 point
Correct 1st goalscorer = 5 ponts
Points are awarded on an 'either or' basis, so you'll either score 3 points or 1 point for a correct prediction, these are never added together for a 4 point score.
Here are the fixtures, best of luck to you all!
Saturday 17th March
Bournemouth v West Brom
Huddersfield v Crystal Palace
Stoke v Everton
Liverpool v Watford (17.30)
Thanks for reading Barry and Paul's Predictions GW31
This article was written by Barry and Paul aka Matt and Rosco.
The League Codes for FF247 for the 2017/18 season are as follows:
Gameweek Tracker GW31-38