Barry and Paul's Predictions GW28
Looking at last game-week, there are only a couple of scores that really standout. The obvious one is of course Newcastle's 1-0 victory over Man Utd, one half of the Brothers Chuckle is especially happy with that one! The other; Huddersfield's 4-1 win over Bournemouth, the other half of the brothers Chuckle no doubt equally made up, given his love for a certain Aaron Mooy.
The rest was all pretty much as expected; Man City scored loads and won, Watford showed their 4-1 win over Chelsea was a one-off, reverting to type in a 2-0 defeat West Ham and Spurs proved once more that they are top-dogs of North London with a 1-0 win over Arsenal.
Many correctly predicted Harry Kane as first scorer (hardly a Mystic Meg moment), but its last week's winner, the man, the legend (ok enough compliments) Init, who also correctly predicted not one, not two, but three correct final scores (Everton v Palace, Southampton v Liverpool and Stoke v Brighton), Kudos. Not content with smashing in 16pts to win two weeks on the bounce, Init has now taken his place at the pinnacle of the overall league table too. Fix! I hear you cry, well all I can say is – don't hate the player, hate the game… actually no don't hate the game, definitely hate the player! Pushing everyone's favourite cock(erel) all the way was Micbarca10 and Leprechaun; 15 points, so close. If you don't want Init to run away with the title, then get those predictions in, and get more correct than Init – simple really.
Thanks to everyone who entered, better luck next week everyone!
Weekly Leaderboard GW 28
Winner = Init 16pts
Runners up = Micbarca10 and Leprechaun 15 points
Congrats to Init, please contact FF247 at contact@fantasyfootball247.co.uk to get your hands on that FF247 t-shirt.
Cumulative Overall League Table
If you have a Grav and its not showing then just let us know in the comments and we'll be sure to update it next week.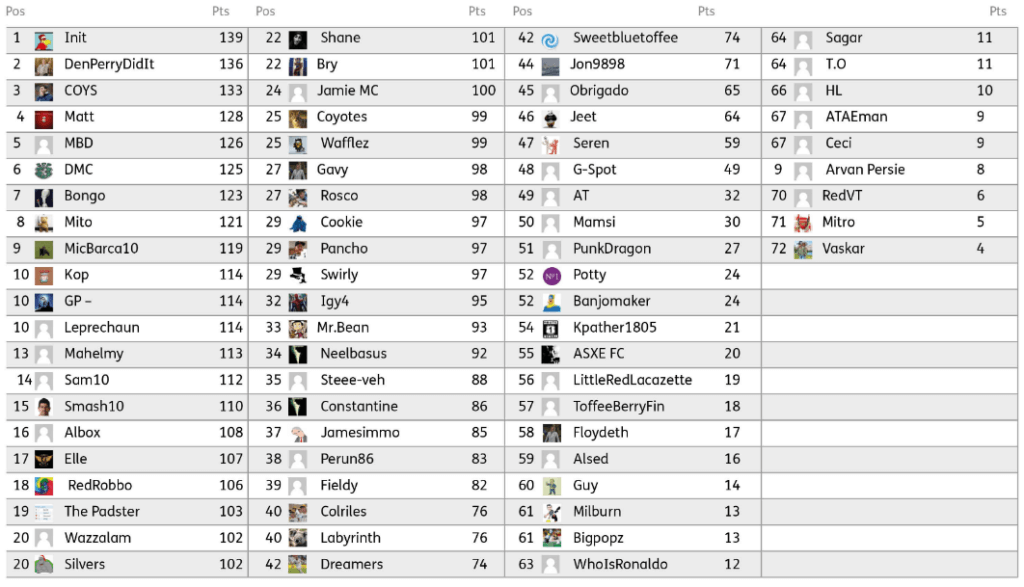 This weeks Competition
Rules & Scoring
Correct Score = 3 points
Correct result = 1 point
Correct 1st goalscorer = 5 ponts
Points are awarded on an 'either or' basis, so you'll either score 3 points or 1 point for a correct prediction, these are never added together for a 4 point score.
So just to recap all you need to do is copy and paste the fixtures from below, pop your score prediction on each and if you say 1-0, you mean 1-0 to the home team. Not either team. Capiche?
Oh, and add your 1st goalscorer of the week prediction. Probably best if you go for someone in the earlier games! 😉
Here are the fixtures for this week's comp, best of luck to you all!
Saturday 24th February
Leicester v Stoke (12.30)
Bournemouth v Newcastle
Brighton v Swansea
Burnley v Southampton
Liverpool v West Ham
West Brom v Huddersfield
Watford v Everton (17.30)
Sunday 25th February
Man Utd v Chelsea
Monday 26th February
Crystal Palace v Tottenham
Thursday 1st March
Arsenal v Man City
Thanks for reading Barry and Paul's Predictions GW28
This article was written by Barry and Paul aka Matt and Rosco.
The League Codes for FF247 for the 2017/18 season are as follows:
Gameweek Tracker GW28-33