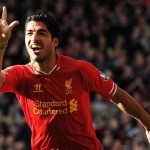 Welcome to our weekly Captain's Picks article. Every week we will look to elucidate potential captains for the forthcoming games and give you our opinions on each, but also analyse their recent form to help make that crucial decision a little easier for you. We will do this by using a new in-play performance index called Kickdex.
Kickdex
Every player has a single Kickdex value that updates every time anything happens on the field of play. This number represents the player's contribution to their team. E.g. Suarez 32.2 (-2.34%). The second number shows the percentage difference since their last match.
Kickdex is at the cutting edge of sports analytics. Kickdex uses a complex algorithm using a number of advanced mathematical theories. This algorithm is perfect for analyzing team and player form, Kickdex adjusts for the relative strength of fixtures to remove the misconstrued view that form and performances aren't always directly related to a team's results and league position. A team or player may perform superbly, but unjustly lose because of a lucky deflection or outside influence.
If you wish to have a closer look at how Kickdex works, or have a look at the Kickdex web application yourself, head on over to:
Suarez v Aguero
Firstly we will compare the two big-hitters of the Barclays Premier League season thus far – namely Luis Suarez and Sergio Aguero, with 9 and 10 goals to their names respectively. Alongside being the league's top goal scorer, Aguero has also provided 8 assists, with Suarez providing 4. It's worth noting that Suarez only returned to action this season in GW6, by which time Aguero had already 3 goals and 2 assists to his name.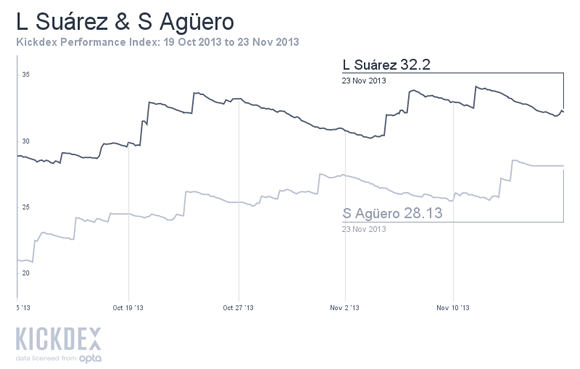 Although scoring a goal and providing an assist in the Merseyside derby this past weekend, we see the leading Kickdex performer drop by -2.34%, in comparison the rampant defeat of Tottenham by Manchester City, and the 2 goals and assist delivered by Aguero meant an increase of +10.4% for the Argentinian.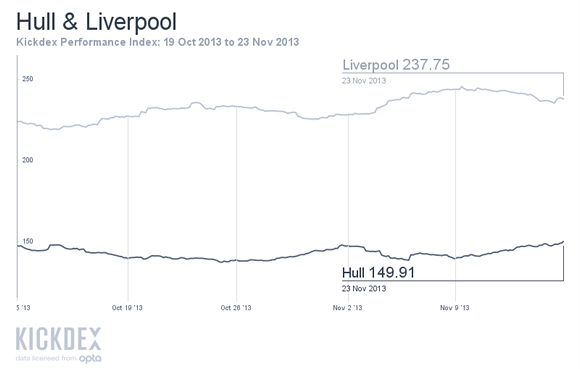 Suarez faces Hull away this coming Sunday and with Liverpool having the top Kickdex performance value you'd expect the in-form Uruguayan to extend his run. Liverpool have shown great consistency this season in terms of performance, likewise Hull have also been rather consistent, yet at a much lower level to the aforementioned Liverpool. Interestingly the only player who could offer some threat to Liverpool is Tom Huddlestone (20.17, +0.28%) who ranks closely with Glen Johnson (20.03, -0.76%) in terms of Kickdex value.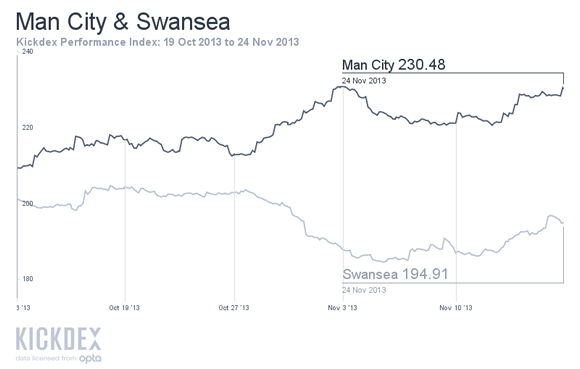 Aguero faces Swansea at home. City have been a different team when playing at the Etihad this season in comparison to their away games, evident in Aguero scoring double the amount of goals in home fixtures as opposed to away. Had we seen this fixture 3 or 4 game-weeks ago we could have been in for a much closer game, but looking at recent form and the trend of home performances by City it's hard to ignore Aguero's chances.
Lukaku v Benteke
Our next comparison will be between Romelu Lukaku and Christian Benteke, the 'battle of the Belgians' if you like. Both have struggled to replicate their form anywhere near to that of the end of the 2012/13 season. Benteke got off to a good start with 4 goals in 4 games and with these goals being against Arsenal, Chelsea, Liverpool & Newcastle many thought the fixture-proof Belgian was back, but due to injury he was side-lined and has been unable to score since. Lukaku has had a mixed season thus far, though with 7 goals and 1 assist he's hardly been a bad option, especially since he's only played regularly since GW5.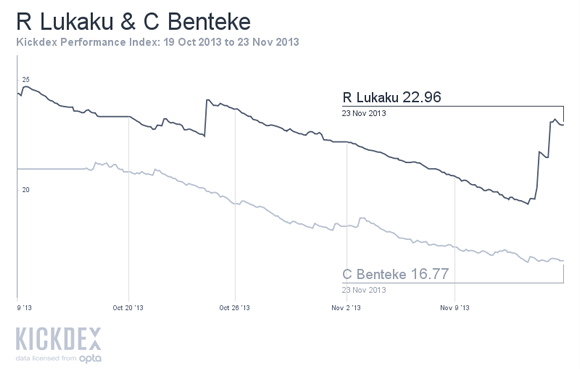 Lukaku scored 2 goals in the Merseyside derby last weekend, which saw his decline in form suddenly take a turn for the better with an increase in Kickdex value of +11.35% from his previous match. Many will be hoping this will be the transformation in to the 'beast' that he is nicknamed. Benteke however, has continued to show a decrease in performance since his return from injury, another poor week sees his Kickdex value drop by -3.62%.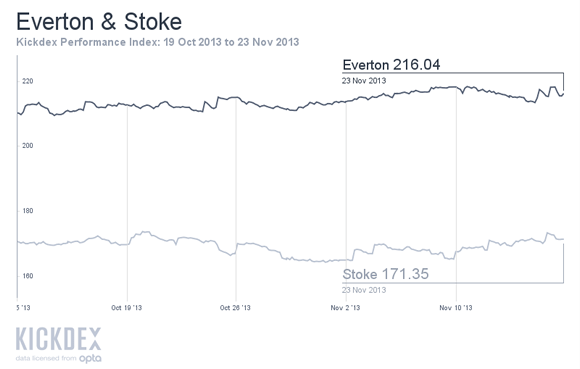 Everton host Stoke at home, and the consistency that Everton have shown this season so far will hopefully carry on. An out-of sort's defensive display from them against Liverpool sees a drop in Kickdex value of -0.76%, regardless they still stand 4th in terms of overall performance this season. Stoke enter this fixture on the back of 3 good results, with an increase in performance from last week of +2.25%.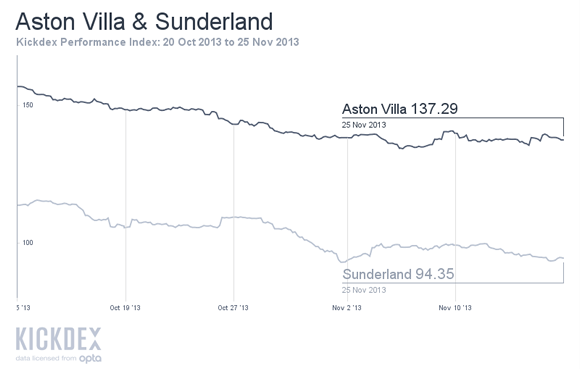 If Benteke could ask for a fixture to turn his season around, it couldn't be any other than bottom of the table Sunderland. Going in to this match Villa have finally slowed their decline and although struggling to increase their performance value, a drop of only -1.75% could be the start of a U-turn where they hope to gather some momentum going in to the Christmas period. Sunderland have further dropped in value with a change of -4.68% since last week and worryingly for them they have a few tough games ahead.
Summary
Despite the criticisms of Liverpool lately, it seems that their form is quite consistent. For this reason giving Luis Suarez the captain's armband remains a popular choice. Given the advantages of having the player with the highest Kickdex value playing for the team with the highest Kickdex value, it is quite predictable that Suarez will be amongst one of the top scoring players in the coming weeks.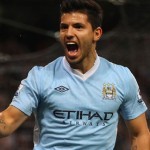 Given the current high profile debate with regard to Sergio Aguero and Manchester City's home performances of late, it is also a favourable option to choose the Argentinian. It is important however to consider the form of Swansea, and although out of form at present, last weekend's win against Fulham could just ignite their season, nevertheless City remain overwhelming favourites.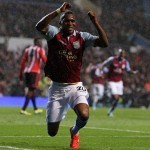 Similarly, the form of Aston Villa will be worrying to Christian Benteke owners. However, with the return of teammates Andreas Weimann and Gabriel Agbonlahor we could well be about to see a fully fit Benteke get the support he needs, such support allowed him end last season, and start the current one so brilliantly. With a more than favourable fixture against Sunderland it could be the right time.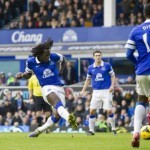 In the face of criticism from many fantasy football owners, Romelu Lukaku responded last weekend in a number of ways, making a big impact on the Merseyside derby. Stoke may struggle to contain 'the beast' and with the best minutes per goal ratio in Premier League history, rightly so. Everton have struggled of late but their consistent form throughout is a solid base for their attack which has now silenced many critics.
Worthy mentions that should be considered although not included in this article are: Wayne Rooney, Daniel Sturridge, Olivier Giroud, Loic Remy, Eden Hazard, Steven Gerrard, and Adam Lallana.
Following our analysis of our 4 Captain's Picks for GW13 we would love to hear your views below on which you are going for and why. Will it be any of our 4 or someone different? Don't forget to cast your vote on our Captain's Poll below.
Good luck to you all this gameweek, flingy (Sean).