Fantasy Football Captain Picks Gameweek 16
Welcome to Fantasy Football Captain Picks Gameweek 16
If the question last week was Jamie Vardy then it appears that the answer was in fact Sadio Mane. And it really could and should have been more emphatic than it was. With Sterling seemingly out of form, but not necessarily Man City, and with Tammy springing back to life in midweek it will probably come down to a select few candidates again for the weekend ahead. As with the GW15 captaincy article we have simply asked four of our writers to tell us who they fancy for the armband and why. Simples, off we go again then…
Kop – Tammy Abraham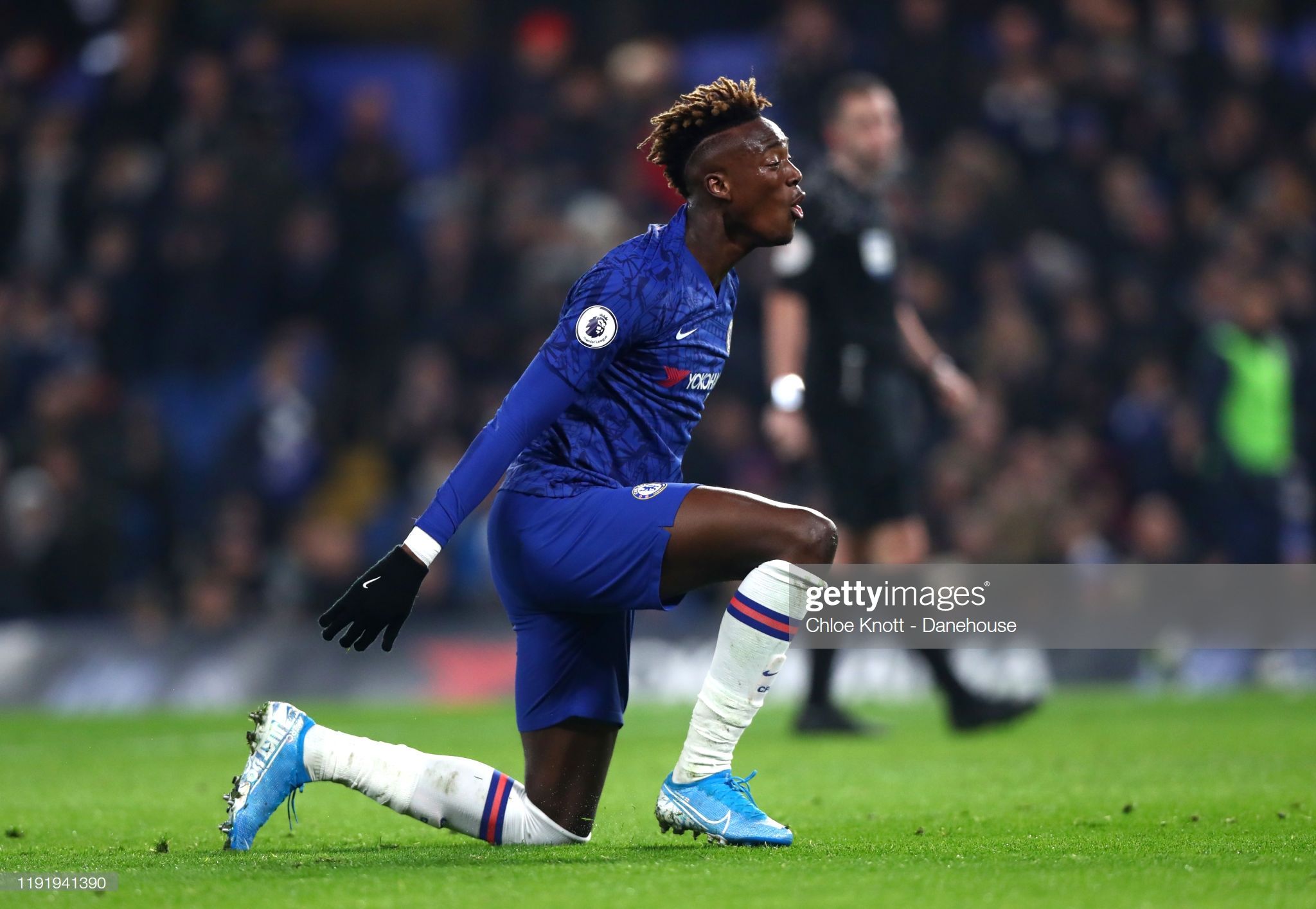 Oh Tammy Tammy, Tammy Tammy Tammy Tammy Abraham, Oh Tammy Tammy…
I would typically start off by throwing some stats at you but I'll keep those for later. Why should you captain Tammy Abraham? In a word, Everton! I've watched my fair share of Merseyside derby's over the years and I'm not sure if Liverpool have ever had it easier. Granted Everton scored twice but that was down to Liverpool's defensive issues. Liverpool scored five, but it could have been seven or eight. The Toffee's showed no appetite to fight for anything and Marco Silva is a dead man walking. Admittedly, they have a better defensive record at home but on the evidence of last night I suspect this may count for very little against Tammy & Co.
Many of us sold Tammy when it was confirmed he would miss the West Ham game in GW14. He came back to haunt us in GW15 with a goal & assist, and three bonus points. This brought his tally for the season to 11 goals and three assists. He's currently on 95pts, 2nd only to Jamie Vardy. Chelsea are the 2nd highest scorers away from home with 19 goals from seven games. I could bore you with more stats but I'm in a hurry to get to a school Christmas fair. Wish me luck!!
All signs points towards goals for Chelsea and Tammy at lunchtime on Saturday.
Mito – Jamie Vardy
Yeah, I haven't gone to bed yet, I am still at the party and that is why I am using the same picture from two days ago, you know who is also here? Read the caption.
Kop says "He's currently on 95pts, 2nd only to Jamie Vardy."

Tammy is behind Jamie and he should be behind Vardy as a captain choice also. Seven straight games for Jamie scoring now, 9 goals and 3 assists in that span. What we look for in a captain is consistency and he continues to deliver. He also gets 90 minutes to produce unlike the Tammy's of the world. Vardy has played 90 every game this season and we are all greedy in FPL, so just like you I want my captain on the pitch every second and not removed in the last 15-20 minutes.
Vardy produces against all the weaker teams, he just does. Look at his record this season. In ten of his fifteen games he has scored, the five he didn't produce in were arguably his five toughest fixtures this season. Add to that who he is playing. Aston Villa has had a few nice moments, but not against anyone in the top ten in the standings. The Villans have played eight games so far against teams in the top half and they have one point to show for it. They have conceded 2 or more goals in seven of those eight fixtures. Sounds ideal for a captain I say. A guy who is scoring every game, in particular against easy competition, facing a team who gives up 2 or more anytime they face anyone of consequence.
Don't ruin the upcoming festive period by taking huge tumbles in the overall because you got cute. Stay ugly my friends.
The Gallant Pioneer – Sadio Mane
Take Sadio Mane!
OK, so you or I could probably hit double digits against Everton right now but if like me you watched the game, then you would have noticed that the forward should have had another two goals courtesy of two 'better-than-average' chances where he was firstly played in over the top superbly only to curl just wide with only the keeper to beat and then moments later he was one-on-one with Pickford before he took one touch too many and was forced wide ultimately squandering his shot. His tally really ought to have read three goals and two assists for last night. Instead he posted just 15 points with a goal and two assists for 'Origi and Shaqiri' (which has a lovely ring to it – describing some kind of double act for something or other – but can't put my finger on what exactly).
Looking backward over a fairer sample size, the last eight appearances for the Senegalese forward have produced an average 8 points per match consisting of goals and assists in equal measure – five each – and nine bonus points.
The opposition on Saturday at 3pm is Bournemouth on the south coast. This fixture has recent relative FPL importance as t'was in this exact fixture last year that, once a few of our more esteemed FF247'ers had the bare-faced cheek to sell Mohamed Salah, the Egyptian King promptly stuck in a hat trick in a 0-4 rout for the Redmen. But what of Sadio that day you scream! Well he started from the bench and came on for 25 minutes and didn't get involved. So if you believe in corresponding fixtures shining a forward light onto today's FPL, here's where you get off I'm afraid. Although to win you back, he did score one in the reverse fixture on Merseyside.
In the two seasons preceding that (being at the time a far lesser player than the stupendous one he is now I might add) he netted 2 in three appearances both home and away against the Cherries.
Quirkily, Bournemouth have lost a not great/not terrible 9 goals at home this season – the exact same as Liverpool at Anfield, although that may say more for the Reds' own flimsiness in defence.
If you are like me: cool, calm, clinical (and languishing) you captain Sadio as he's lit currently.
DMC – Raheem Sterling
There's only one Raheem Sterling.
Or are there two?
Young Raheem has posted successive career highs this past two seasons of 229 and 234 pts. He scored 18 and 17 goals and assisted 17 and 15 times during those seasons notching a whopping 19 and 25 bps in the process. I have no stats for how many times has he blanked in those seasons but those numbers represent an average of 6 points per game. For a whole season. For two consecutive seasons.
This season though it appears as if Mr. Sterling is a man of two faces as he is averaging 'only' 5 pts per game which become 4 pts if you take out the odd hat-trick at B'Mouth in day 1. At this rate he'll end up with a meagre 200-ish total points.
So, why did I pick him for this article, 'specially it being something of a Ted Talk trying to convince you of the best and most inspiring pitch?
Well, for the simple reason that strange things happen in football and of course in FPL. Bear with me…
Many times, we think a given player will score big in a given GW and the most amazing stats are there to back it and either assure us of returns or at least show that a player is 'due' a big score. What happens then? We all know: in typical football and FPL fashion, the players returns a big fat blank. Case in point -» Harry Kane vs Newcastle in GW 3; Sterling himself vs Brighton at home in GW 4, blanking after scoring five in the first three games of the season. Or even the finnish GOAT that is Pukki blanking at home to Villa who trashed them by 1-5 after some great home form from Teemu scoring in all three of their home games up to that point.
In other cases, we are convinced that a team is so bad that they will get hammered in the next game (thus the players playing against them are good picks) and what happens? This team bounces back and we are left with no returns -» case in point: Saints with a narrow defeat in the dying minutes of the game at the Ethiad in GW 11 after being destroyed at home by Vardy and co in the previous GW by 0-9. Walker was the hero there, but many had captained Sterling or Aguero. Or West Ham, who were enduring a six winless game patch and nearing the drop zone, that, instead of obligingly conceding a plethora of goals as we expected, went on to beat Chelsea 0-1 at the Bridge leaving us Mount and Pulisic owners with nothing… (ok, this was a glitch, they are really bad, don't be lured by that result). Or Norwich, who scored only 2 goals between GWs 6 and 12 and had no attacking stats to show any kind of promise but that have now scored 5 goals in 3 matches. Or PEA blanking in home games or… I could go on.
You know where I'm going here. Sometimes a player is 'due' returns and returns zero points and sometimes a player is not due at all and hauls in the next game. Now, we can't be managing our teams based on hunches or gut feelings alone. We need to stick with the more reliable teams and players because we know that more often than not they'll match their 'dueness' factor. Is that a word? It is now. This is why we shouldn't and normally don't bet against big players scoring big. You see, even if they show signs of poor form they eventually come good and they normally (I say normally, well, maybe not normally, but surely often) do it when you least expect them to.
Which brings us to our man Raheem Sterling, who turns 25 a few hours after the Manchester derby. Is he in form? Nope, he's on 3.5 PPM in his last 6 – to put it in perspective, his team mate Rodri is on 3.8. Does he have fixture form at least? Nope. He hasn't scored a goal in the last 5 derbies, home and away. Is he due a big haul? Probably not. And that is exactly why you should captain him this gameweek.
Thanks for reading Fantasy Football Captain Picks Gameweek 16. This article was written by Kop, Mito The Gallant Pioneer and DMC
Follow @KenLyons79
Follow @TheLegendmito21
Follow @MitchellC_FF247
Follow @DCoelho
FPL FIXTURE TRACKER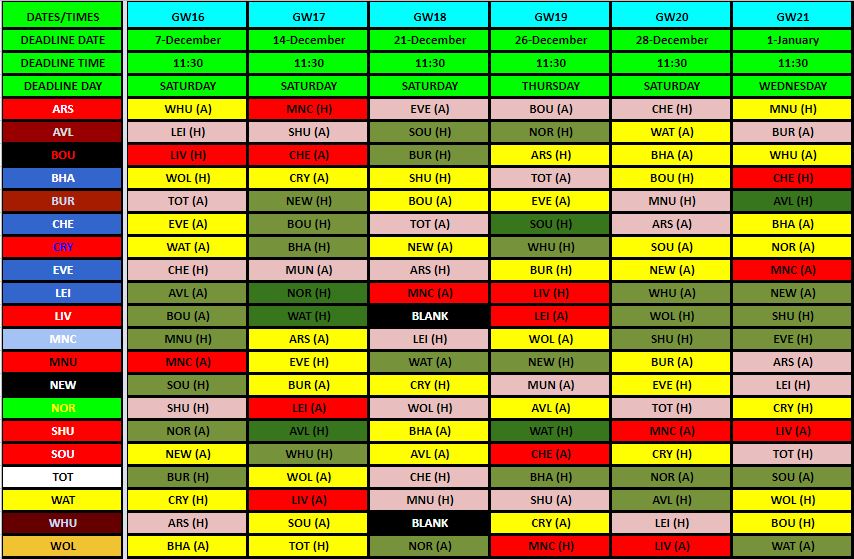 FIXTURE TRACKER LINK
Fantasy Football 247 League Codes: