Captain's Picks
Welcome to our weekly Captain's Picks article. Every week we will look to elucidate potential captains for the forthcoming game-week and give you our opinions on the merits of each, but then also delve a little deeper by analysing their recent stats to help make that crucial decision a little easier for you. Our Captain's Picks for this week are as follows: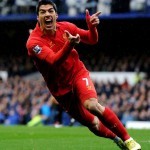 Luis Suarez is in fine form since returning from his 10 match ban; he has scored 5 goals and assisted his teammates for 3 in the last 4 game-weeks. He faces a tough challenge away to an Everton side that have conceded just 1 goal in their last 4 games, but will they be able to keep the in-form Uruguayan quiet?
Although there was no contribution by Sergio Aguero in GW11, he has still managed to net a respectable 4 times and assist 3 these past 4 game-weeks. Tottenham Hotspur travel to the Etihad Stadium to face Manchester City and Aguero will be looking to follow up his form with another impressive display. Tottenham have one of the best defensive records in the Barclays Premier League this term, second only to Southampton, conceding just 6 and 5 respectively.
Loic Remy has impressed of late, although scoring just 2 goals in the past 4 game-weeks, he scored 5 more in the previous 3 so he's certainly comfortable scoring this term. In GW12 he faces Norwich City at home, a team that has the second worst defensive record in the league with 21 goals against, joint with Crystal Palace and second only to Sunderland who have conceded 22.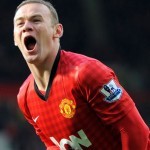 Wayne Rooney and Robin van Persie have been the main men for Manchester United this season and arguably the only reason that United have managed to climb the table after a bleak start under the new management of David Moyes. Rooney has 2 goals and 4 assists in the last 4, alongside van Persie who has managed a goal in each of the last 4 and 2 assists. With a victory over league leaders Arsenal fresh under their belts Manchester United will be looking to kick on, and with a favourable fixture against Cardiff City, the aforementioned are both potential captain material for GW12.
Goals and assists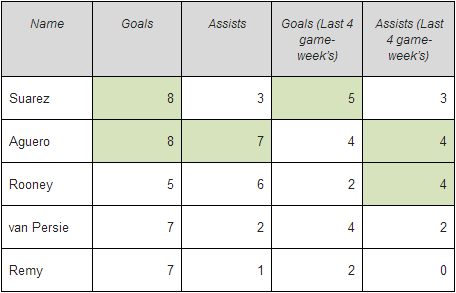 We will now analyse the statistics behind the recent performances of our 5 picks from the previous 4 matches in the Barclays Premier League, looking at the key attacking potential they hold, the threat they pose in front of goal, and finally their involvement and creativity for each of their respective teams. Statistics from the past 4 game-weeks will be used to keep player form and statistical data current.
Key attacking statistics
Suarez is presented with a chance every 14 minutes, under half the time of Rooney yet only slightly better than Aguero.
 27 – the most attempts at goal of our 5 picks come from Suarez, double that of Rooney but closely followed again by Aguero on 25.
90% of Aguero's attempts have come from within the box.
Both Suarez and Aguero have had 11 shots on target, more than the other 3.
Goal threat
Suarez and Aguero see a lot more of the ball around goal, with roughly double the touches in the penalty area than our other picks.
Rooney leads the group with a shot accuracy of 47%.
van Persie finishes 37% of his attempts at goal, just under double that of second best Suarez with 18%.
Involvement and creativity
Suarez has created 33% more chances for his teammates than Aguero, and roughly 66% more than the remaining 3 picks.
Creating a chance every 25 minutes is the best from the 5 by Suarez.
Suarez has also received the most passes in the final third of the pitch, whilst distributing the most successful passes in the same area.
Of the 5 Remy sees least of the ball in the final third of the pitch.
van Persie is involved in 75% of Manchester United's goals, although creating joint fewest chances alongside Remy (5).
Summary
Luis Suarez is the stand out performer of the 5, with a chance every 14 minutes and creating a chance every 25 he's performing at the top of his game.
Although fewer chances come the way of van Persie, he is far more clinical than the Uruguayan with a 36% conversion rate.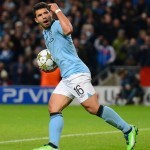 Sergio Aguero cannot be overlooked; with 90% of his attempts on goal coming from within the area he can easily net a number of goals in any game.
Even with a good goal scoring record Loic Remy seems the weakest choice of the 5, but with a better conversion rate (18%) to Aguero and Rooney (15%) it proves that no matter how many chances you have, you need to take them for it to count in terms of fantasy football.
Wayne Rooney has the best accuracy with his attempts (46%) but with a conversion rate of just 15% and minimal touches in the penalty area, it seems he is taking his attempts from distance.
Worthy mentions that should be considered although not being included in this article include: Rickie Lambert, Eden Hazard, Aaron Ramsey, Steven Gerrard and Adam Lallana.
Following our analysis of our 5 Captain's Picks for GW12 we would love to hear your views below on which you are going for and why. Will it be any of our 5 or someone different? Don't forget to cast your vote on our Captain's Poll below.
This article was written by Flingy.