UEFA Champions League Fantasy Football 2020/21
Round of 16
Hello everyone and welcome to UEFA Champions League Fantasy Football 2020/21.
Having rushed through the Group Stage at some pace we now arrive at the Round of 16 and this one will be taken at much more of a sedentary pace as it is spaced out over the course of an entire month, with no less than 8 separate match days, 2 games on each and the whole thing is split into 2 parts with an opportunity to make transfers again ahead of the 2nd leg ties. If all that seems a bit convoluted then no fear not as we shall lay out the basics below in our usual 'all you need to know' fashion.
Other than that we have an update on The Regs League and Mito has updated his Set-Piece Takers list. We have removed the section about the rules as you probably (should) know how the game works by now. If you don't though please just ask in the comments below.
Round of 16: The Basics
We all now have UNLIMITED transfers again up until the first deadline which is Tuesday 16th Feb 8pm GMT.
The whole thing is split into 2 as follows…
Leg 1
The fixtures are as below.
You can make manual subs up until the KO (8pm) on each Matchday.
Likewise you can change your Captain between each one, so having a spread of players who feature on different days would be wise.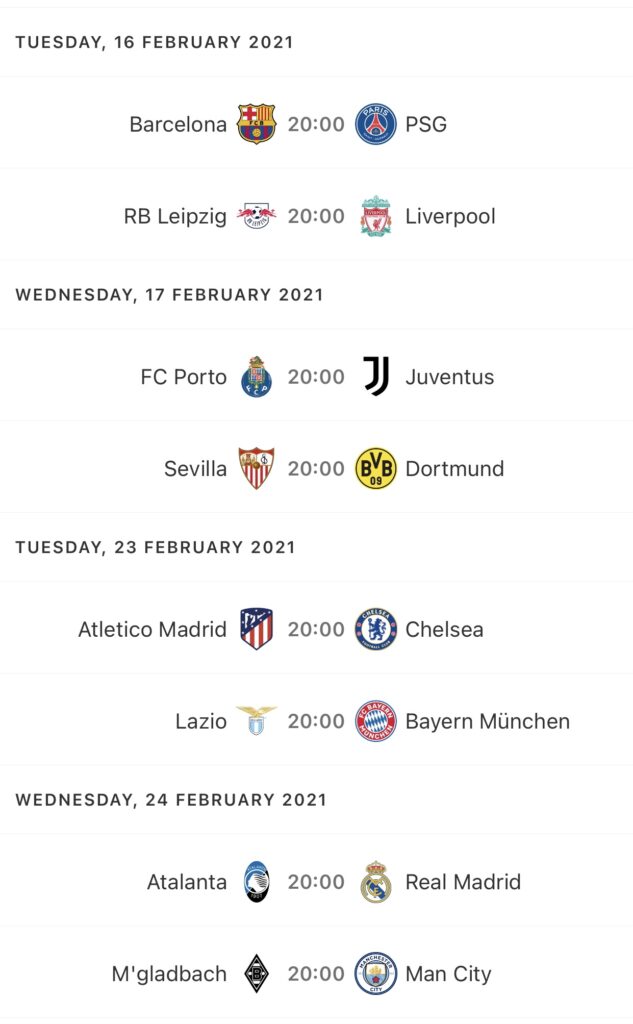 Leg 2
Again the fixtures are as below.
The main difference here is that you get an additional 3 free transfers to use before the first deadline of leg 2 (Tuesday 9th March 8pm).
After that there are again another 4 separate 'Matchdays', so crack on as per above with manual subs and Capo switches.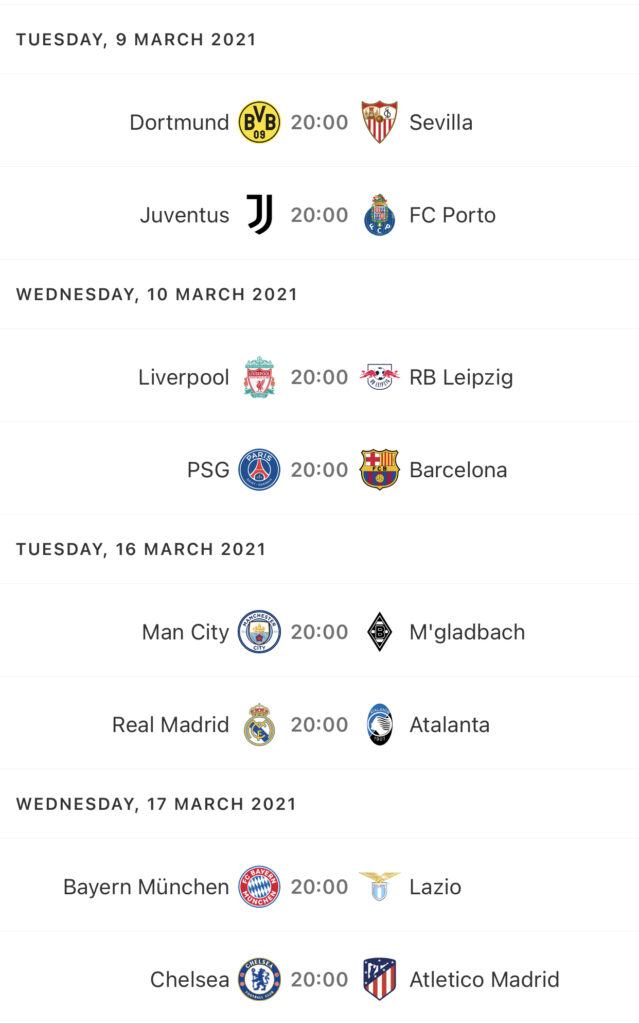 Other things to note
Your budget has now increased to €105m
You can now select 4 players from each team
The Game Itself and the FF247 League Codes
You can access the game here – Fantasy Champions League
We have two leagues running;
Our official FF247 league code is 59C1WWYBVV08
This one is the usual open air league that all and sundry are welcome to join.
FF247 Regs League
The main one!
The purpose of this one is that it is for folk who are on the FF247 forum regularly. Please don't try to join if you aren't. Email us at Contact@fantasyfootball247.co.uk if you feel like you are eligible for this (regular and recognisable contributor on the forum, etc).
Regs Top 12
Our updated league, as of the end of GW5: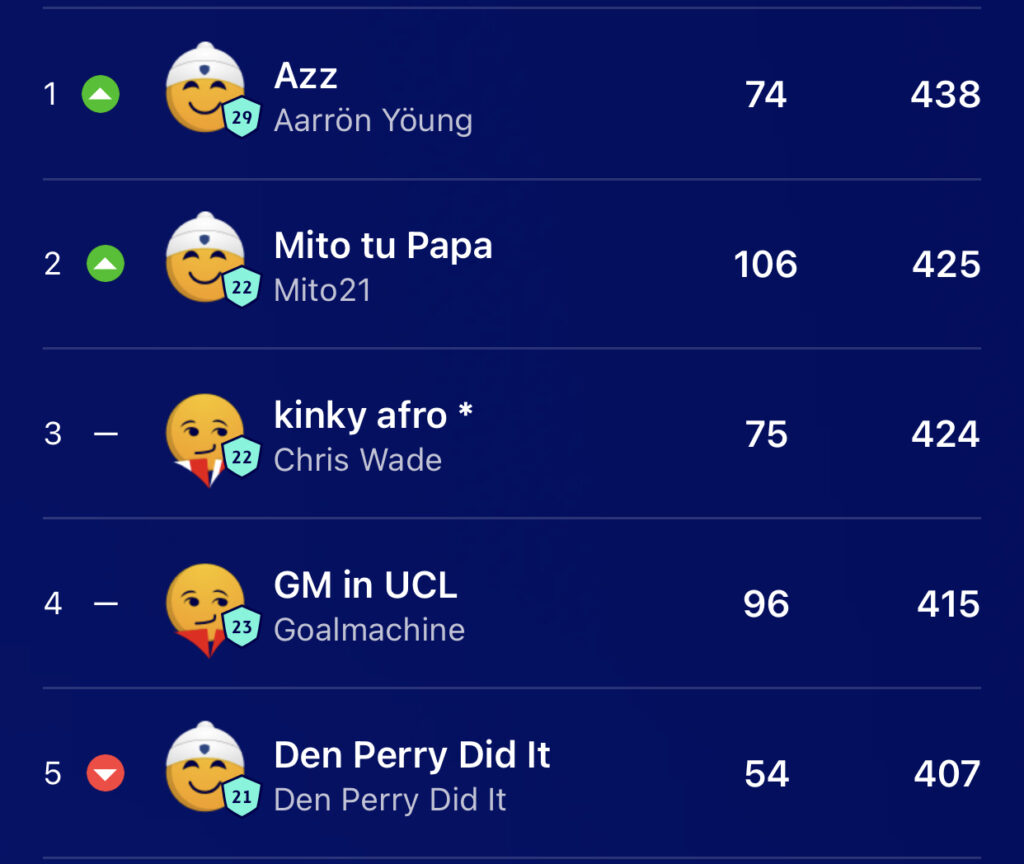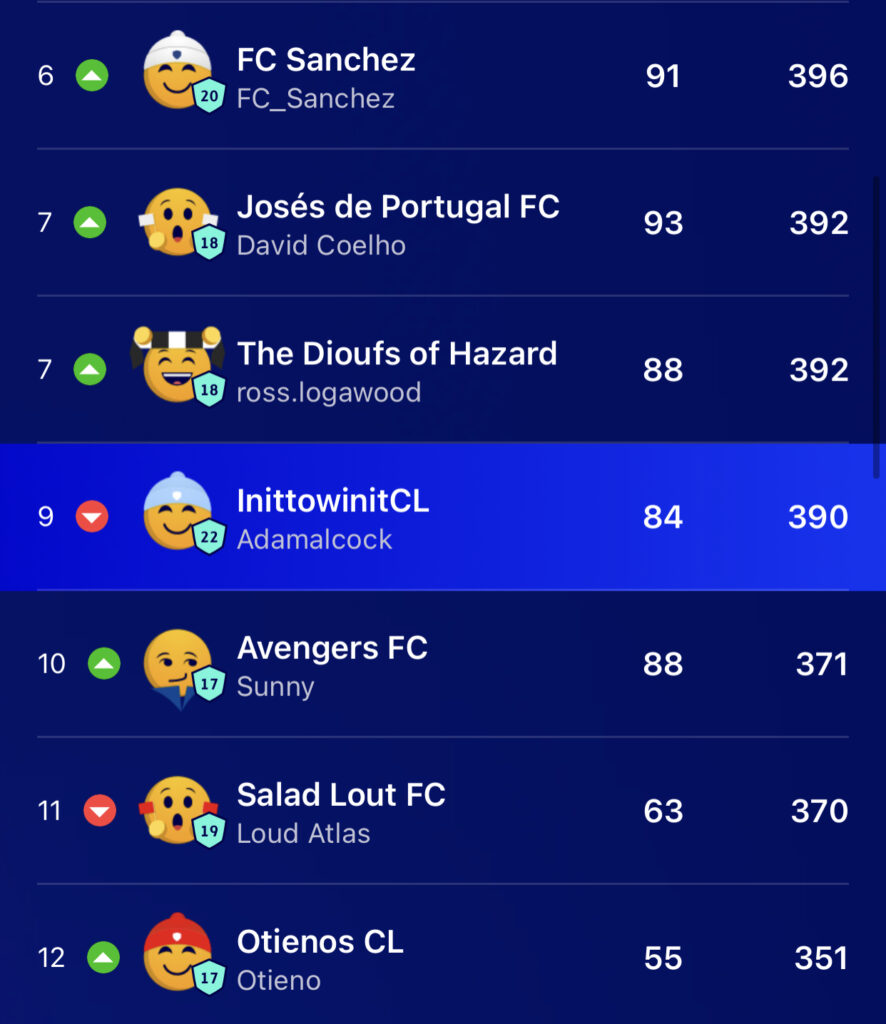 As a bit of housekeeping; there have been a couple of people kicked out recently as we basically have no idea who you are. If this was you and you feel it was unjust then just reply in the comments below. Cue the sound of silence.
UEFA Champions League Set-Piece Takers
All hail Mito who is clearly bored at the moment and has taken the time to research the following for us all: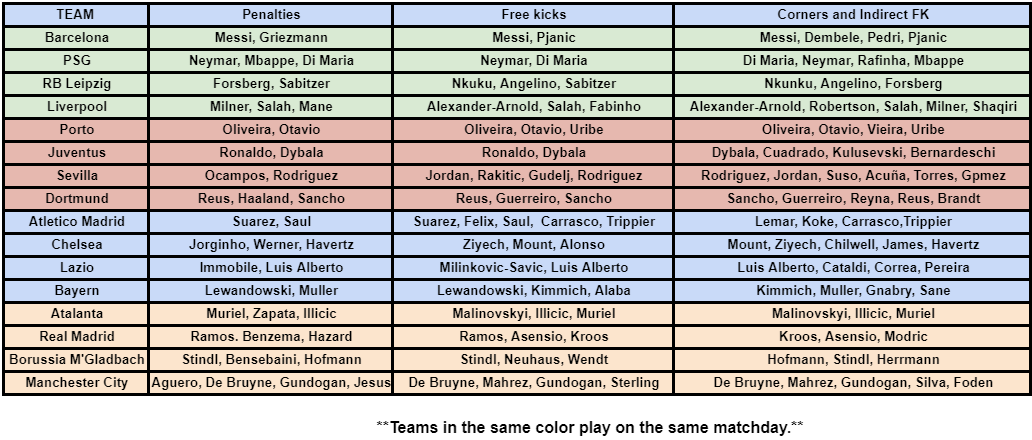 So that's the basics, in as much of a small nutshell as we could manage, without boring the pants off you. If you have any further questions or queries or if there are any clarifications you need then as always please feel to ask below.
Please feel free to post any RMT's on the issue or indeed as ever, especially as we've slightly interrupted the FPL weekend for this, just carrying on talking about that!
Thanks for reading UEFA Champions League Fantasy Football 2020/21.