FPL Tips Gameweek 2
Welcome to FPL Tips Gameweek 2. If your Gameweek 1 didn't go to plan that's ok. If you had a plan, stick to it, if you didn't then now feels like a perfectly good time to make one.
With the Manchester players back on the table, for a lot of people their transfers this week are predetermined. I don't want to write a great deal about the Manchester lot, we haven't seen them play and chances are that if you're bringing one in this week you've already decided which way you're headed. Instead, I'll focus on the players who have played, for me tips are not always the players you should get, but also the ones you shouldn't. It's easy to look at all the players who scored points in GW1 and decide you simply have to take that -8 to get Jeff Hendrick, but I'll tell you from experience, it won't end well. So instead I'll tell you who performed well, and the likelihood of them doing so again. There will also be a nod to those who, whilst they didn't get on the FPL points board, did show promise and are worthy of further analysis.
Defenders
Last season started with big at the back, this season the tides have turned and it's more how low can you go. I'm sure I'm not the only one who (outside of TAA) has a defence so cheap I'm surprised Mike Ashley isn't flogging it in his budget sports store (no free advertising from me).
No surprise then that the 2 goals scored by defenders in the opening fixtures were scored by the non-budget variety. First up we have Arsenal's new centre-back Gabriel (£5.0m). The Brazilian slotted into a back three and was imperious; No Arsenal player made more tackles or more clearances, he also completed 107 passes – the highest of any player on the pitch. Whilst the opponents have to be considered in the equation he certainly showed promise that we may once more be able to consider the Arsenal defence as a viable route to FPL clean sheets. His goal in the second half will bring him to the attention of most FPL managers, although it should be noted that he only has a single league goal in his last two seasons in Ligue 1. This brings us swiftly on to teammates Héctor Bellerín (£5.0m) and Ainsley Maitland-Niles (£5.0m). When it comes to our defenders us fantasy managers tend to prefer the attacking kind. With competition for both spots, it'll have to be monitored, but both players could be more fruitful acquisitions given their propensity to get forward. Only time will tell if Arsenal have found their long lost defensive solidity, let's see what happens when Sideshow Bob is back on the field.
Next up is Leicester's new Belgian fullback Timothy Castagne (£5.5m). Castagne slotted into his natural position at right-back in a makeshift back four that saw Wilfred Ndidi fill in at centre-back. The man signed from Atalanta in the summer capped off an impressive all-round display with a debut goal as he opened the scoring in Foxes 0-3 win. Only a Jamie Vardy double stopped Castagne from taking all 3 bonus points, as he finished the game with 14pts, not too shabby. Leicester will, of course, face sterner tests, but you have to assume that the return of key defensive assets will ensure that we can once again rely on the Leicester backline for clean sheets, goals, and assists.
More defender goals were on the menu as Monday night football rounded out GW1. Romain Saiss (£5.0m) was my personal 'shoulda woulda coulda' having remained in all my drafts till late Friday night, a goal, clean sheet max bonus points, and a no show from his replacement in my team (Vinagre) punishing my penny-pinching. Chelsea's Reece James (£5.0m) popped up with a belter of a goal, added an assist, and also scooped max bonus, saving Chelsea's blushes in an unconvincing 1-3 win. If we knew he was nailed, James would be my pick of the two, but we don't, so the Wolves man gets the nod.
Our final non-budget defender is one that FPL players are familiar with. Lucas Digne (£6.0m) flattered to deceive for much of last season although this was in no small part down to his team's overall play as opposed to his own shortcomings. Digne brought his owners 8 assists last term, finishing the term on 120pts. Decent, but you would perhaps hope for more given the financial outlay (Matt Doherty also £6.0m scored 167pts). Many had ear-marked Everton as 'one to watch' given their opening day opponents and what looks like on paper an entirely new-look midfield. As it was, Spurs were awful, and Everton turned in a disciplined performance that was sorely lacking much of last season. Even dinosaur arms had a good game.
For the most part, the budget defenders looked exactly that, you get what you pay for after all. Notable standouts from a points perspective were Tyrick Mitchell (£4.0m) and James Justin (£4.5m). Both kept a clean sheet, Justin went the extra mile as he also grabbed an assist, a bonus point, and a yellow card to boot. Both come with the caveats that they will both likely lose their spot in the team once Patrick Van Aanholt and Ricardo Pereira return from injury. Ones to watch. A notable mention should go to the Leeds full-backs Dallas and Ayling (both £4.5m). I talked at length about both in my pre-season article and their attacking prowess was there for all to see as they piled on the pressure to a seemingly still hungover Liverpool defence. Dallas grabbed an assist, but it was Ayling who seemed the more likely given his continued high position, looking more like a midfielder at times. Its Fulham up next, Nuff said.
My final mention goes to Tariq Lamptey (£4.5m). He may have ended up on the losing side, but the young right-back was for me the best player on the pitch against Chelsea. Lamptey is equally adept at either end of the pitch, and it shows the quality that Chelsea have in the that position having sold Lamptey to Brighton for just £4 Mil (in real money) and didn't bother to insert a buy back option. Yikes.
You'll have noticed I omitted keepers, and for very good reason. If the only thing you have to worry about in your team this week is changing your keeper, then you should be giving me tips and not the other way round!
Midfielders
Let's get it out the way, the elephant in the room if you will. Mo Salah (£12.0m) scored a hat-trick and not everyone had him, oh dear. If you were brave enough to go without him, fair play to you, GW1 will have stung. Similarly, if you have him, but captained anyone but the Egyptian you'll be feeling the pangs of 'what if'. Those without were quick to point out that 'it's fine, he got two penalties, he got lucky' I take it those people did not actually watch the game. For those that did, Salah looked sharp and hungry, a dangerous combination. Not only that, but the stats back the 'eye test', no player even came close to his 21 penalty area touches, and his 9 goal attempts were also almost double that of the second-highest (Mane with 5). The fixtures aren't great, you probably have other priorities but yeah, I have 99 problems, but thankfully Salah ain't one.
With everyone getting giddy over Aubameyang's re-classification, it was teammate Willian (£8.1m) who we should have been focussing our attention on. We knew what he was capable of, we all had him in at least one draft so the question is, why did we ignore Willian? Of course, there were questions on how exactly he would fit into Arteta's side and if he would be a regular, well judging by his GW1 he's the big dog and if he can build on his hat-trick of assists he'll be the big dog in all our FPL teams too.
It was 8pts a piece for Eagles Duo Zaha (£7.0m) and Townsend (£6.0m), I may be proved wrong, but I'm going to be dismissive of the latter. Zaha however, could be of interest. Many Palace fans are hoping the signing of Eberechi Eze would bring out the best in Wilf Zaha. Wilf likes to be the dog (he should chat with Willian) and Eagles fans were hoping the threat of Eze would see Zaha, who spent much of last season like a huffy 12-year-old, raise his game. Well, its early days, but his finish for the only goal in the Palace win was certainly encouraging, one to watch. Harvey Barnes, another player in the £7.0M bracket, is one worth watching. Everyone will jump on the players who scored, the key is getting the ones who are going to score. Only Salah (21) and Mane (9) registered more penalty area touches than Harvey's 8, only Salah (9) had more goal attempts than Harvey (5), and all of which came in the box. Watch this space.
Another player I was hugely impressed by was James Rodríguez (£7.5M). I'll be honest when friends mentioned his signing and how he was going straight into their FPL teams I scoffed. I feel a tad foolish now. Rodríguez looked on another level at times, so comfortable on the ball, calm and composed, everything Spurs weren't. He may not have picked up any attacking FPL points but his 3 goal attempts (2 inside the box) and 5 chances created, certainly show signs that the points will come and he'll likely make a mockery of what now seems a very reasonable price tag.
Let us jump finally to the Leeds Midfield quartet and there lies the problem. As I pointed out in my Leeds article, the problem with Leeds is that everyone scores, great as a fan, not so much as an FPL manager. Few would have expected their performance in GW1, were it not for a Mo Salah masterclass they may have walked away with an unlikely draw. Mateusz Klich (£5.5m) and Jack Harrison (£5.5m) both grabbed a goal, Kalvin Philips (£5m) and Hélder Costa (£5.5m) grabbing assists, so which one should you go for? The honest answer, I don't know. Their numbers from last season (I wrote an article you know) certainly did not offer a clear indication one way or the other. Give them a few games, but if I were a betting man, I'd take a punt on Harrison…or maybe Klich.
Forwards
Anyone who knows me knows I have no self-indulgence when it comes to Newcastle. I seldom if ever pick our players, so starting GW1 with Callum Wilson (£6.5m) will perhaps come as a surprise to some, but Callum and I have history. Incidentally, I started last season with him too, a move which quickly unravelled, but this year things are already looking up. Its grim up North they say, well, our striker options to this point have been grim for some time. We've been crying out for a player like Wilson for a long time and in GW1 he repaid my faith with a goal and 2 bonus points. Wilson had 4 goal attempts, 3 of which were in the box, only 3 forwards had more than his 7 penalty area touches, and whilst his goal was scrappy, you've got to be in the right place to score them (as they say), he was. What's perhaps more encouraging than the goal, however, is our performance as a whole, we had 15 goal attempts on Saturday, only Liverpool (22) had more. Gan on son!
I've already touched on Everton's impressive performance in their 0-1 win over Spurs. Dominic Calvert-Lewin (£7.0m) got the goal and he'll be the one who most FPL managers will be thinking about. However, it's the newly re-classified Richarlison (£8.0m) who I'm more interested in. Richarlison outshone his new teammates with an impressive all-round performance, he completed all of his 11 attempted dribbles, won 6 free kicks, won 23 of the 26 attempted duels (as a comparison the rest of the Everton team had 38 combined). Of course, you don't pick an FPL forward for his defensive capabilities, so it should also be noted that no other forward had more than the Brazilians 9 penalty area touches, or his 7 goal attempts, 5 of which came in the box. Everton's next 3 fixtures look very attractive, the bloke with yellow hair should be on your radar.
With 13pts in GW1 Jamie Vardy (£10.0m) might seem an easy transfer in, but he didn't convince me. The stats back this opinion, he had just 3 penalty area touches, 2 of which were the spot-kick from which he scored. Luck vs skill in FPL will forever be part of the conversation, and in GW1 Vardy owners got lucky. As a Timo Werner (£9.5m) owner, I'm more than happy despite a meagre 5pts in his EPL debut. Werner looks the real deal, his pace and movement were a constant threat, the stats back the 'eye test' with the German's 5 goal attempts second only to Richarlison, all 5 were taken in the box and after Liverpool's defensive performance in GW1, I'd be in no rush to sell as the Reds head to Stamford bridge.
Meanwhile, Raul Jiminez (£8.5m) continued where he left off last season, he looked fantastic and could and probably should have scored more than his single goal (+2 bonus points) in Wolves 0-2 win at Sheffield. The Mexican matched Werner for goal attempts, 4 of which were in the box. Jiminez is the epitome of consistency, he'll tick along nicely all season and I'm sure he'll be a player many of us will own throughout the season. For those with Danny Ings (£8.5m), he's a tempting sideways move, but with Manchester City up next, I'd sit on those hands for now.
That's your lot for this week. If your GW1 went to plan then well done you! If not, do not fear, do not panic, you have a plan right? It's a long season ahead, things will change, if I learned one thing last season, it was that patience is often the key to success in this game. We can't possibly judge how a team or player will perform from just a single game week, apart from Fulham, they look rubbish. Go get them green arrows, my friends!
Thanks for reading FPL Tips Gameweek 2. This article was written by Rosco.
VOTE ON THIS WEEK'S CAPTAIN POLL GW2
FPL FIXTURE TRACKER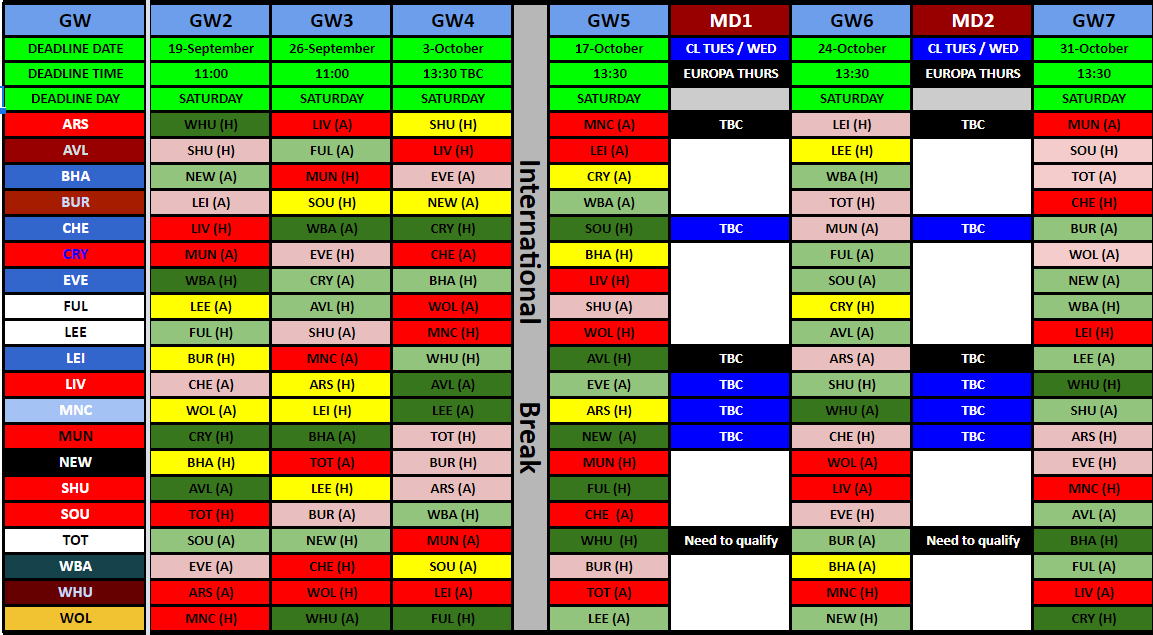 FIXTURE TRACKER LINK
For those who want their own tracker to play with, just make a copy using the link below;
Fantasy Football 247 League Codes:
All prizes must be claimed within 30 days of the final GW.