Fantasy Football Captain Picks Gameweek 11
Welcome to Fantasy Football Captain Picks Gameweek 11
Kop – Haaland v Bournemouth (H)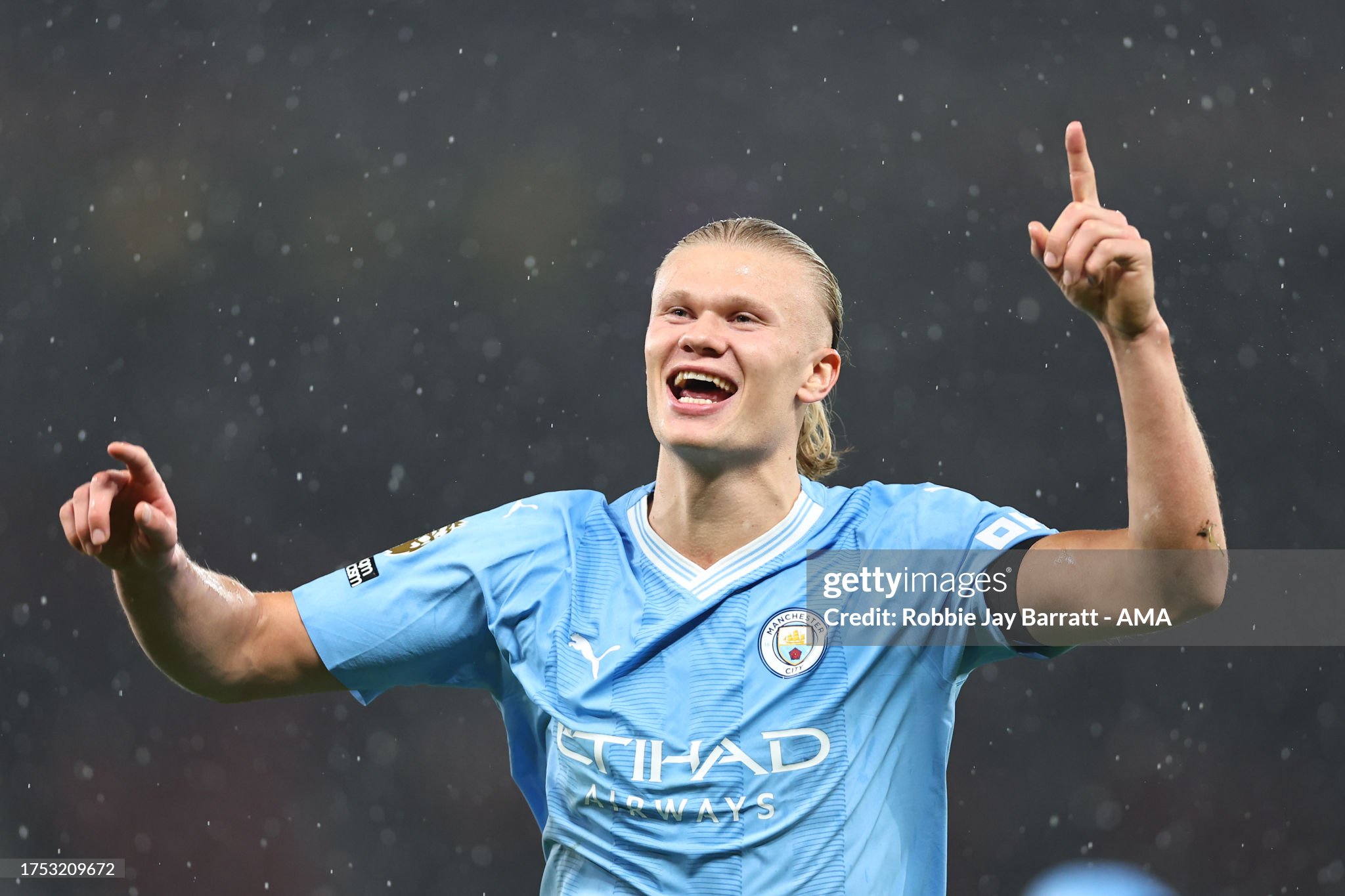 In the words of Dear old Delia… "Where are you?! Let's be 'avin' you! Come on!
Before I'm accused of becoming as doddery as Delia, of course I'm referring to those of you who opted against giving the armband to Haaland in GW10. Apparently, not giving the armband to Haaland has become a thing over recent weeks, but I'm simply referring to GW10.
So as to remain transparent, I should highlight that I myself gave the armband to Salah in GW10.
So many of us were seduced by Salah vs Forest, Watkins vs Luton and Son vs Palace. I've had a quick scan through the top 20 in the Regulars League and only one manager gave Haaland the armband, 16 went with Salah, while three went with Watkins.
Wtf were we all thinking of?! Yes, Salah was at home to Forest. However, Haaland was playing United. A United, who stumble from mediocrity to average and back to mediocrity. A United, who had lost four of their opening nine games. A United, who started the game with Harry Maguire and Jonny Evans at the back. Alf-Inge would've scored, never mind Erling!
Hey ho, that's all in the past, we need to look to the future.
Unfortunately, City don't play United this weekend. Instead, they face Bournemouth who are perhaps a poorer side than United.
They've conceded 21 goals to date and have kept just the one clean sheet. Even United have kept two clean sheets.
I accept that Haaland is yet to reach the heights he scaled last season, but he still has 11 goals to his name, which is three more than the next best.
Let's not make the same mistake this week…
Swirly – Salah v Luton (A)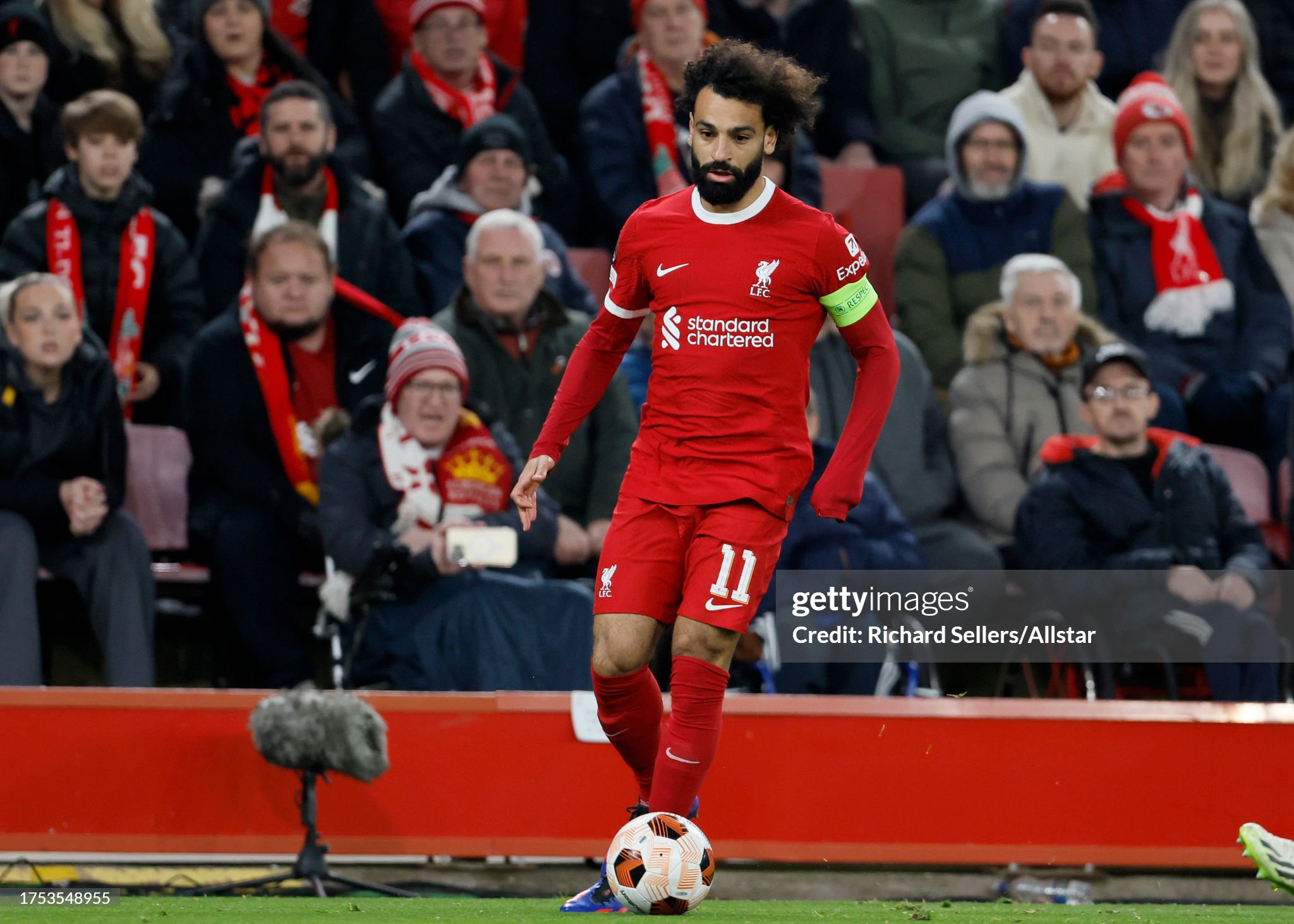 As expected, Mo was in and amongst the points the last gameweek, as Liverpool's home tie against Nottingham Forest saw him find the back of the net. Thanks to that, it's still only the one gameweek the Egyptian has blanked so far this campaign, that controversial match away at Spurs where he indeed should have got the assist for the well-timed pass to Luis Diaz. Alas, one point was all he came away from the Tottenham Hotspur Stadium with, in what has been an outstanding season so far with eight goals and four set up for others – that were counted at least.
Looking ahead to this gameweek, it's a trip to Kenilworth Road for Mo and his fellow Liverpool stars as they seek to extend their unbeaten streak to four – which, again, should actually be each and every game. Having shipped three to a Villa side that barely got out of second gear in the last gameweek, the 3-1 scoreline could actually paper over some of the cracks in the Hatters' defensive capabilities. Whilst Luis Diaz is out as a result of the very distressing circumstances he finds himself in, the goal threat has been spread out a bit among the squad, however I wouldn't be surprised to see Mo keep on delivering.
Swirly – Watkins v Forest (A)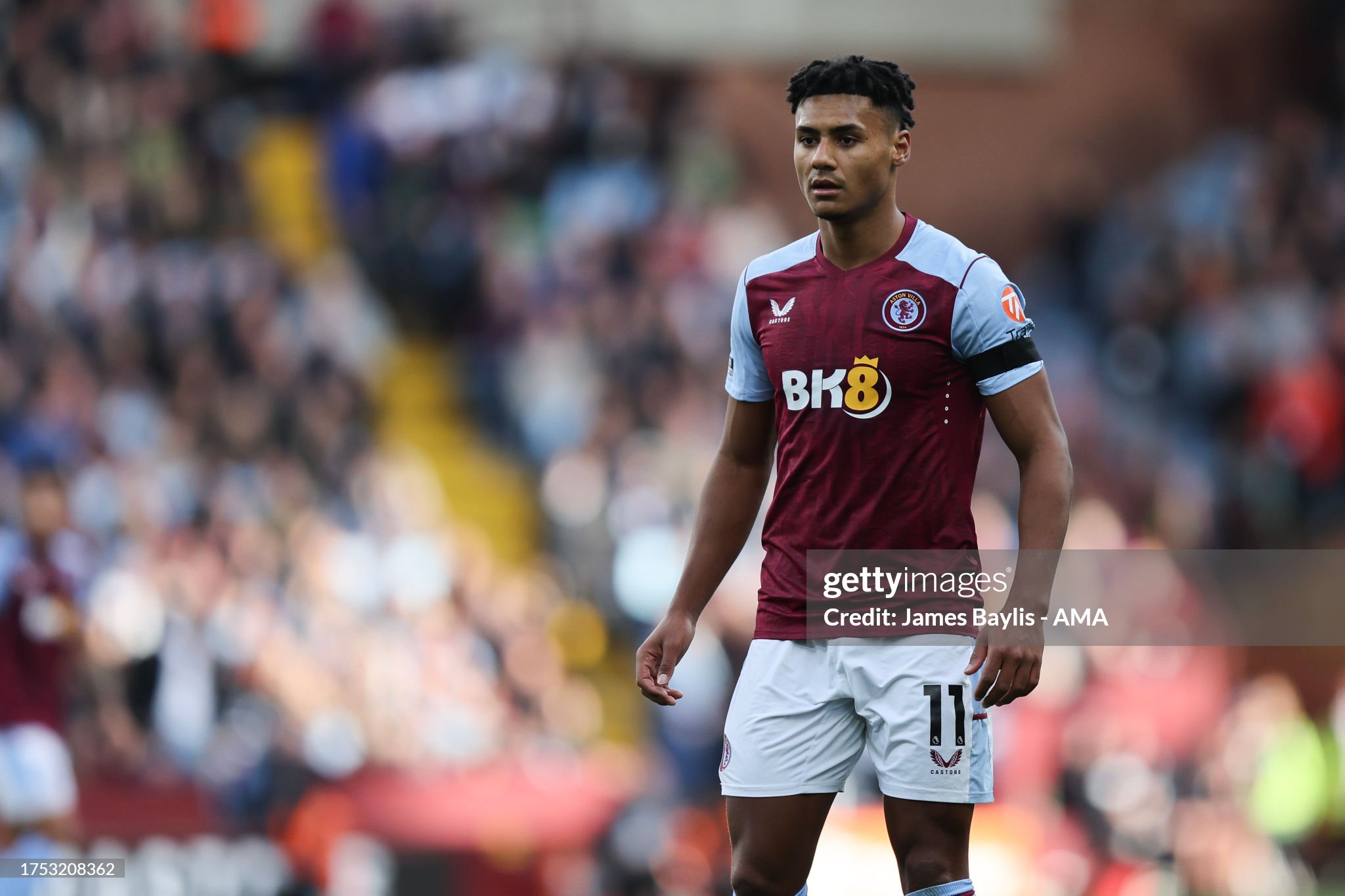 Luton at home, a sure fire hit right?! Wrong on this occasion, as Ollie registered only his second blank of the season – an impressive stat in itself that really shows how prolific he has been so far. As you may have read in the previous captains article, he has an incredible partnership with new man Moussa Diaby and it was the former Bayer Leverkusen man who actually ended up in and amongst the points. That was no doubt a wounder for those who put the faith of the armband in him, especially as Diaby's ownership could well have done some damage to the rank too.
The reason I have picked Watkins again is with memories of Villa's fixture against Forest back in the Championship days of 2018. That was a ridiculous 5-5 draw and, whilst there haven't been any other whacky results like that since, it is worth noting that even before the Emery era Villa had scored in each of the nine – the result in April this year then made it 10. Watkins himself has scored three in his last eight against the East Midlanders, and you like to think that the Luton blank – where he could have scored a couple – was just a blip.
Swirly – Son v Chelsea (H)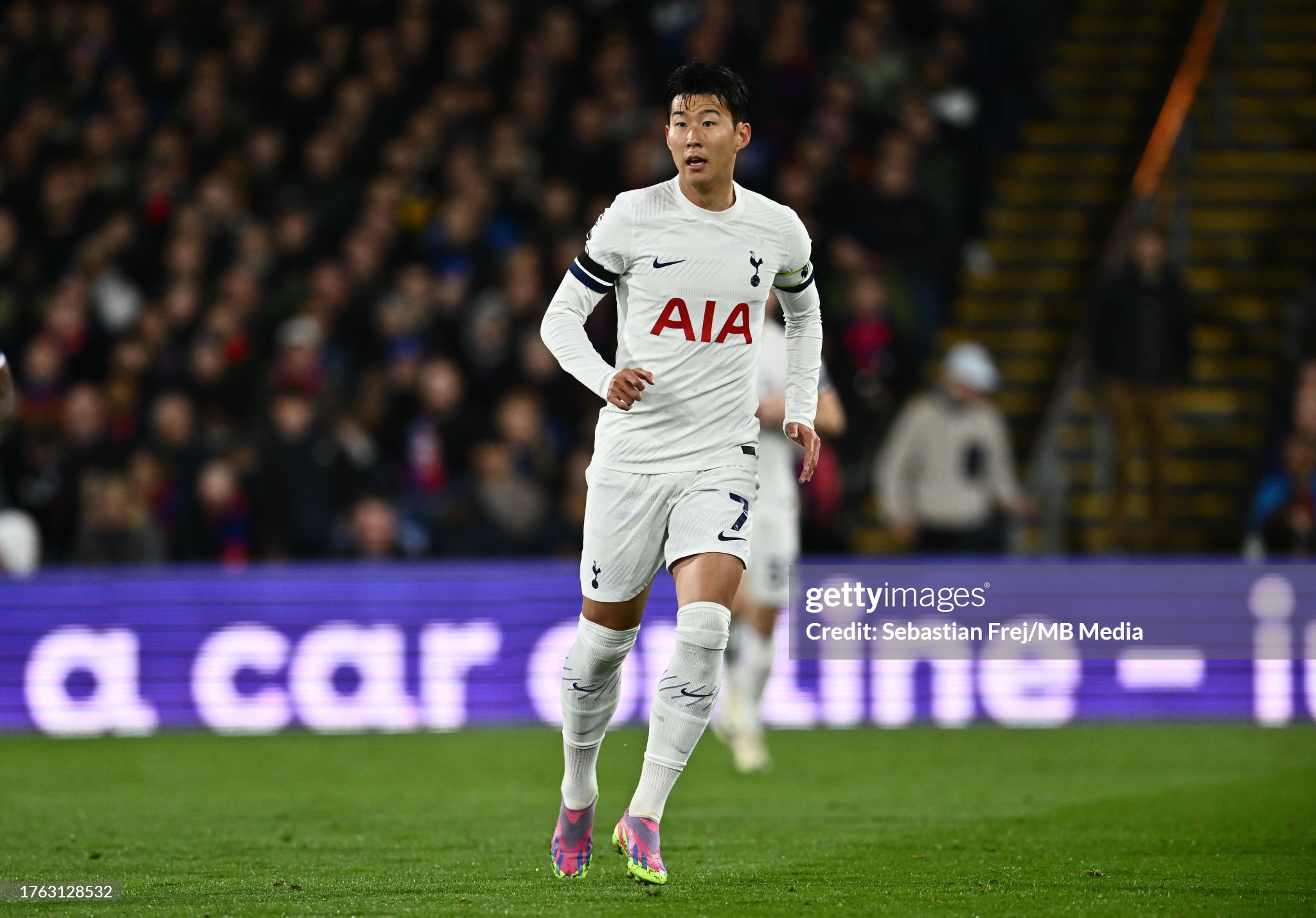 From both a neutral and an owning FPL manager perspective, it's great to see Heung-Min Son back in the kind of form we knew from a couple of seasons ago. He's a very likeable character and has formed a great partnership with James Maddison and Richarlison to make Spurs a very dangerous attacking threat. The 2-1 result against Crystal Palace which kicked off Gameweek 10 saw him find the back of the net and, with it, his eighth of the season. When you think the Korean only scored 10 the whole of the last campaign, it's easy to see we're hopefully onto something more like 2020/21 where he netted 17, or even the season after that which saw 23.
Looking ahead to this gamweek, it's Chelsea who come to town who have not exactly been enjoying life recently. Their 2-0 loss to Brentford gave the unenviable record of winning fewer games at Stamford Bridge than The Bees have in 2023, as their defence boasts just three clean sheets out of 10 games played. The Blues are going into a tough few fixtures now and I don't think their London rivals are going to give them an easy time, especially as it's Pochettino's return to his former stomping ground.
This article was written by Kop and Swirly.
VOTE ON THIS WEEK'S CAPTAIN POLL
Thanks for reading Fantasy Football Captain Picks Gameweek 11.
FPL FIXTURE TRACKER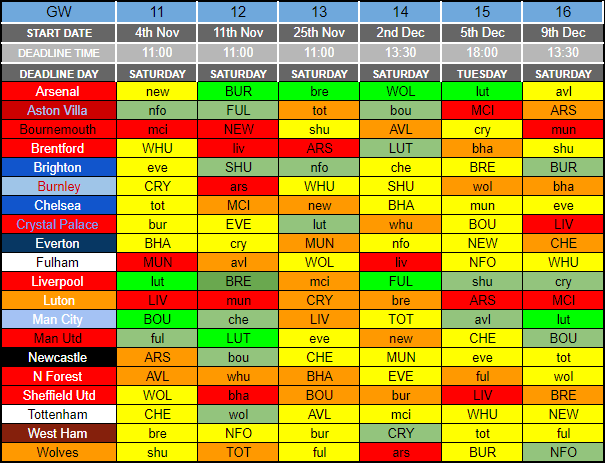 Fantasy Football 247 League Codes:
Both leagues will be shut to new entrants as of 01/01/24.