Fantasy Football Captain Picks Gameweek 13
Welcome to Fantasy Football Captain Picks Gameweek 13.
Three Liars and a Geordie
You know when something starts off by seeming like a good idea, you commit to it and then you quickly realise that it's got disaster written all over it but you're already neck deep… We'll be honest with you, that was sort of how we felt this week when we decided to split the captain article down and let four of our writers all have a stab at telling us who they are probably going to pick and then justify it. And then all four decided that they were going to write about Jamie Vardy…
Anyway, short straws drawn and three of them were sent away to come up with an alternative, so basically what you have below is one genuine pick and three others pretending who they would captain if they still somehow didn't own the lovable little rascal.
Jamie Vardy – (A) vs Brighton (Rosco)
Having just returned from St James' Park, where I witnessed a battling Newcastle grab an unexpected win against Bournemouth, it was with much trepidation that I sat down, celebratory beer in hand to take in Leicester v Arsenal. Tammy Abraham (the most captained player in Gameweek 12) had laid down the gauntlet with a respectable eight points earlier in the day and, as the match headed towards the last 20 minutes, to say I was a little nervous would be an understatement. Then it happened. The inevitable. Vardy (my captain) scored. I celebrated the goal with almost as much gusto as I'd done back at St James', the dogs both sh!t themselves and the Mrs muttered a vaguely sarcastic 'suppose you'll be happy now, I hate him'. Well, Mrs Rosco may hate Jamie Vardy, but I certainly do not. He followed his 68th-minute goal with an assist seven minutes later – a tidy 24pts from my captain. Happy days.
It'd been some week for Jamie Vardy. Eleven goals in 12 games and, by his own admission, 'is in the form of his life'. That form has seen his odds to become PFA Player of the Year slashed from 100/1 to just 10/1 and it's no surprise when you look at what he has achieved thus far this season. Across Europe's top five leagues, no player, who has scored five or more goals, has a better conversion rate than Vardy (44%).
I touched on Vardy making a laughing stock of xG data back in my Gameweek 12 captain's article, I want to elaborate on it briefly if only to add further credence to his appeal. For those of you not au fait with xG, there's a brief explanation taken from Optasports.com at the end of this lengthy diatribe. In his 12 games this season, Vardy has an xG of 4.75, what that means is that based on data (see below), he should have scored around five goals. He has 11. Vardy is what xG enthusiasts – I'm not one of them – would call 'overachieving': the rest of us normal folk call it 'in-form'. If you look at goal attempts (for forwards) this season, you would have to go all the way to 13th spot to find Vardy (25). He has had just 12 'big chances' this season, of which 11 have been put away. The man is lethal.
Brighton have fairly decent defensive stats at the Amex this season, but they will have to face Vardy and his Leicester teammates without Captain Lewis Dunk, who picked up his fifth yellow card of the campaign in GW12. Not ideal. The Vardy party is not yet over, so I think I'll head to the bar, grab another beer and stick around a while longer.
Expected goals (xG) measures the quality of a shot based on several variables such as assist type, shot angle and distance from goal, whether it was a headed shot and whether it was defined as a big chance.
Raheem Sterling – (H) vs Chelsea (Init)
Stupid straws. Yep, I'll readily admit that I have Vardy and will almost certainly captain him this week, but if I didn't I think I'd be happy enough to go chasing a Pep backlash, for a few good reasons. The first is indeed to do with how City react after a defeat. Now, granted, the sample size for this isn't huge but in the recent past they have reacted to a Wolves defeat by then sticking two and five past Palace and Atalanta respectively and a Norwich defeat saw them lash out at Shakhtar and Watford with three and five. In fact even a draw seems to anger Pep somewhat as Bournemouth and Brighton got three and four after City drew with Spurs. Even if you look at last season, they reacted to defeats by Newcastle in the league and Spurs in the Champions League by scoring three, two and three, four. You have to go back almost 12 months to last Christmas to find back to back defeats and they then won eight on the bounce, scoring 33 in the process!
Pep's mood isn't the only factor here though, we need to look at the home and away stats of both teams and the player himself, of course. Let's begin by saying that City like a home goal and Chelsea are fond of conceding them on the road. City have the most home goals with 19 in six games, Chelsea have conceded 12 away in six, the 17th worst in the league. 3-2 to City anyone then?
As for Sterling himself, he does somewhat let the whole argument down a bit! Raheem has 67 FPL points in total but only 23 of those are at home. He's scored seven (league) goals and only two of those were at the Etihad. The player has just the one assist and you know what I'm going to say next. You get the gist.
So this one points more to City performing, Chelsea conceding and simply hoping that Raheem is as fired up as Pep this weekend which, all things considered, he certainly seems like he may be!
Pierre- Emerick Aubameyang – (H) Southampton (Cookie)
Vardy will in all likelihood top most capo polls this week, folk love momentum and the modern day Steptoe has huge momentum right now. People will be scared of NOT captaining him, which is understandable given his form. That momentum gained huge ground after his hat-trick in the demolition of Southampton. However, most FPL 'officiandos' will tell you that Vardy's form and conversion rate cannot be sustained and this is why I bring you an alternative. A viable alternative. Not a weekly default choice of a Salah, Sterling, Mane or Aguero, but Pierre-Emerick Aubameyang. PEA and his Arsenal buddies host the aforementioned Saints this week at the Emirates and the Gunners are on a poor run – no wins in four has left the manager allegedly facing the boot if things don't improve sharpish.
Now it doesn't really matter to us Auba captainers if Arsenal win or lose. Personally I hope they lose and continue the entertainment. However, what Arsenal do is score goals and they have scored in every home league match this season. And as for the Saints, well they concede. For fun. They haven't kept a clean sheet since GW5 and have already conceded 29 goals this season. Auba will have a field day and has himself scored eight goals so far this term and he still has to play Southampton! While I'm not predicting another 9-0, I'm predicting goals, likely at both ends, with Auba being involved and will, in my opinion, be closer to Vardy at the top of the scoring charts come the end of the weekend.
Don't be a sheep, grow a pair and go with the sensible choice, the choice that you know makes sense.
Sadio Mane – (A) vs Crystal Palace (Swirly)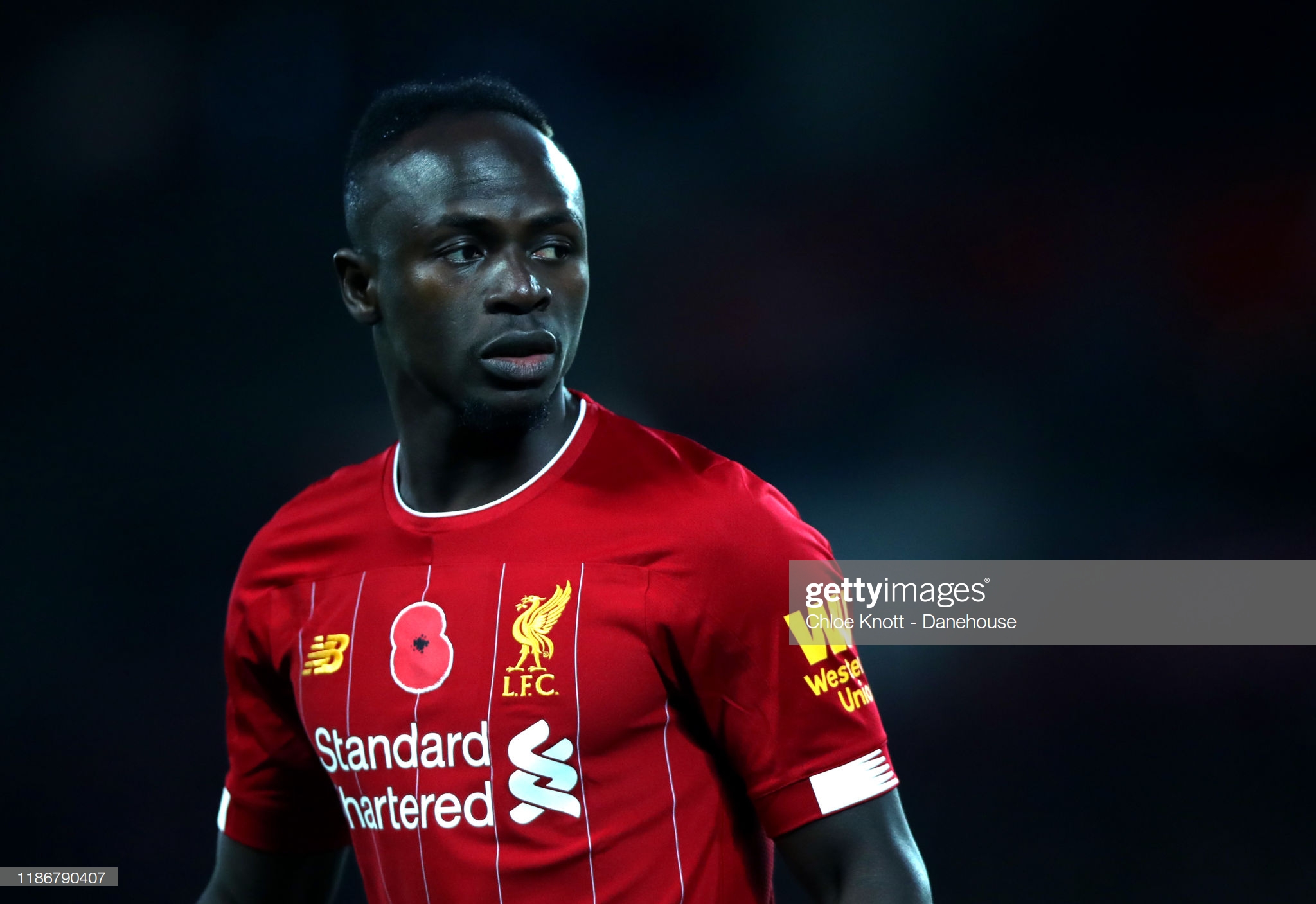 As you know from my usual articles, I love to delve into the statistics and use them for my reasoning. This is no different from that tradition! Sadio Mane has so far scored seven and set up four this season, helping to amass 83 points. That's already not far off his totals for the 2014/15, 2015/16 and 2017/18 campaigns and a third of the way towards what he managed last year. Funnily enough, we're a third of the way through this season too!
Looking ahead to this fixture, we remember Crystal Palace were a thorn in the side of Liverpool's for a few years as, between May 2014 and April 2017, the Reds won three, drew one and lost four. That included the 3-3 draw where Brendan Rodgers' squad gave away a 3-0 lead and when Jurgen Klopp endured a 2-1 loss just one month into his tenure.
Things are a lot brighter for the Merseysiders nowadays, as they have won five out of five against the Eagles in all competitions since that awkward time – netting 11 in the process. Sadio Mane has been at the centre of that, having scored seven and assisted two in the 10 times he has faced the South London side. In fact, the Senegalese number 10 has scored in each of the last four meetings. Pretty impressive!
As much as Liverpool have a cushion at the top of the table, they know from last season that they can't rest on their laurels and will need to add another win to their collection at Selhurst Park. Mane could well be at the centre of that for a fifth consecutive time.
Thanks for reading Fantasy Football Captain Picks Gameweek 13. This article was written by Cookie, Init, Rosco and Swirly
Follow @SteveCook9
Follow @AdamalcockFF247
Follow @eugoogooly
Follow @theswirly
FPL FIXTURE TRACKER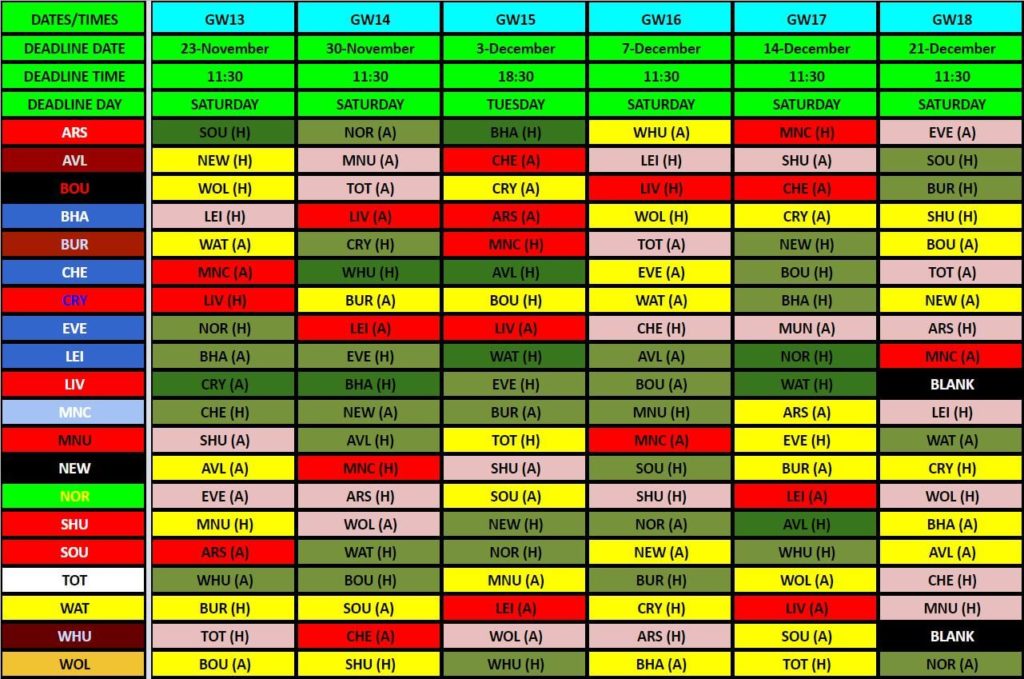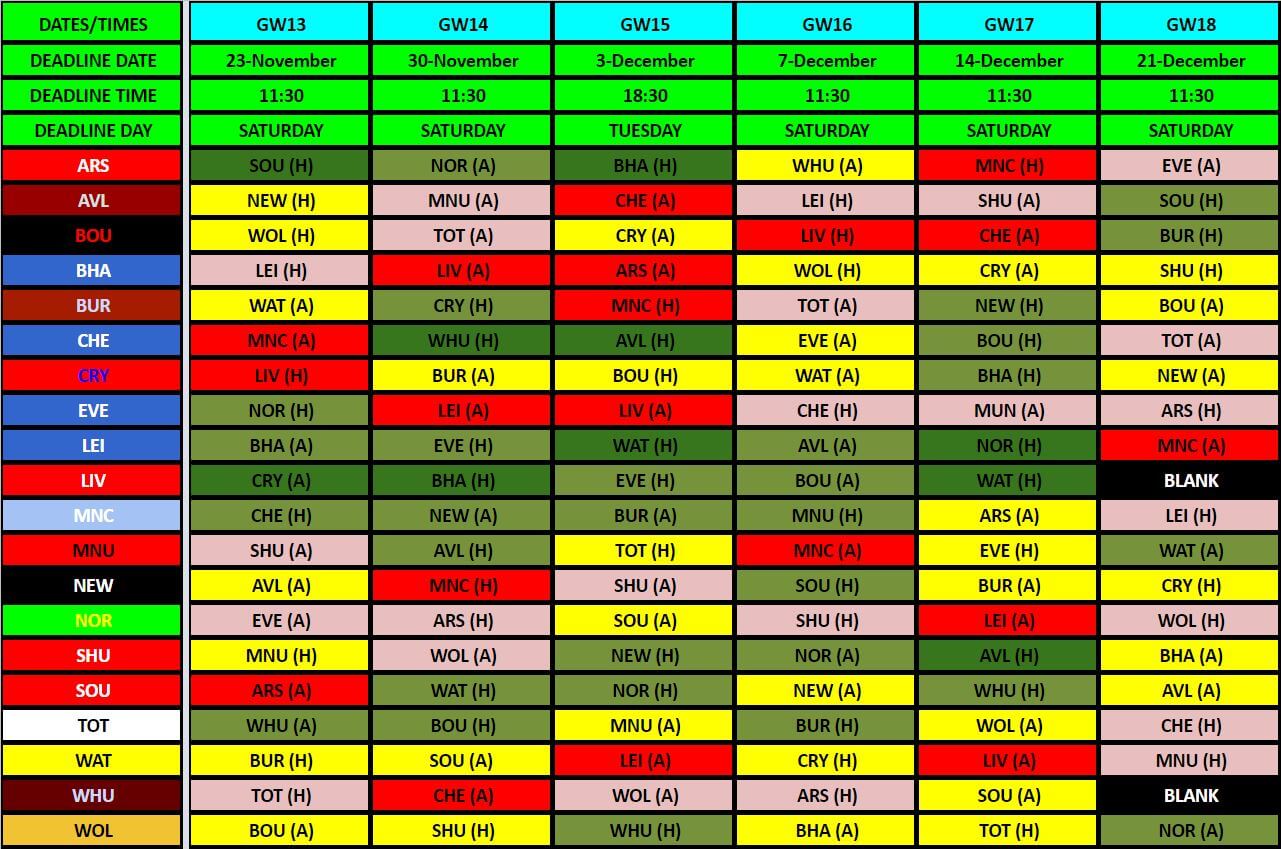 FIXTURE TRACKER LINK
Fantasy Football 247 League Codes: