Fantasy Football Captain Picks Gameweek 17
There's only one Marcus Rashford…
Welcome to Fantasy Football Captain Picks Gameweek 17. There's an unwritten rule in FPL which says that if someone is good enough to spend their time writing and researching for an article then it's terribly impolite to then go back and retrospectively given them a kicking if they got it spectacularly wrong. Ultimately the final choice is of course your own. On which note then, let's revisit some of last week's choices! We had one with a complete no-show (Mane), two who blanked (Abraham and Sterling) and only the one who came anywhere close to nailing it (Vardy). The correct answer of course, who nobody even picked, was Kane.
Back to the panel we go again this week then as Rosco, Jamesimmo, Init, AT and Floydeth are asked to take your FPL fate in their own hands. There's no pressure though, because as we said above we'd never name and shame them if their picks go all Pete Tong….
Rosco — Sadio Mané
What's the perfect antidote to remedy a poor game-week (or three in my case)? Well, let's hope it's writing about why you should captain one of the players responsible for said plight!
Bored of Jamie Vardy and those annoyingly consistent double-digit hauls? Ladies and gents, I offer you Sadio 'no show' Mané. In fairness, I can't really lay any blame at Sadio's door for my poor turnout (or indeed his no-show), with the fixtures piling up for Jürgen Klopp's table-topping Reds, and following the midweek benching of both Mo Salah and Roberto Firmino, the writing was on the wall for the Senegalese frontman. Those on Twitter who had speculated that it was his turn, were as usual giving it the whole 'I told you so', funny how they don't do this when they're wrong – Wassocks. I digress. So, as my old Granny used to say 'what makes you bad makes you better', (as long as what made you bad wasn't crack – just say no kids). So what better way to welcome (hopefully) Sadio's return to your fantasy team than also handing him your Captain's armband?
The red's face bottom club Watford at Anfield this week, a team with almost as many managers (3) on the season as they do points (5) away from Vicarage road. Indeed, no team has conceded more goals (17) than the hornets have on their travels. A 0-0 draw at home to Palace at the weekend may have papered over the cracks, but make no mistake, Nigel Pearson's team are ripe for the picking.
Sadio heads into the match as the second-highest points scorer in the game (109), he's already notched 5 double-digit hauls this season, and 3 of those have come on home turf. Anyone who watched Liverpool's GW15 match against Everton will tell you he could (and should) have scored more than the 15pts he walked away with. Well, I did watch it, and he could have easily ended up on 25pts. So what damage could a well-rested Mané do to the leagues whipping boys? A lot.
Jamesimmo — Jamie Vardy
Good evening, ladies and gentlemen, welcome. I've been expecting you.
What's even better than being the second-highest-scoring player thus far? Being the highest-scoring player, one could say. What's even better than producing five double-digit hauls already? Producing six double-digit hauls, one might argue. Right, ok, what's definitely better than writing an informative, timely, original contribution for the Captain Picks GW17 article? Scanning through Rosco's above contribution first and then parrying it without having any organic thought processes.
Let's pretend for a minute that you haven't already decided to captain Jamie Vardy this weekend. We can even pretend that, like Liverpool on Tuesday night, Leicester also have to travel to Continental Europe for a midweek fixture. Dare we pretend that Vardy hasn't scored in eight consecutive PL matches as well? Alright, that's a step too far, I'm sorry. You know that it's illogical to look elsewhere.
In a nutshell: with an exact 8-points-per-match FPL average ⁠— nobody else comes close to this insane consistency ⁠— and producing 12+ points in 37.5% of his PL matches, Jamie's party isn't about 'balloons' and 'cake' anymore, it's about avoiding the FOMO symptoms. Yep, the Fear Of Missing Out if (inevitably) Norwich crumble whilst on the road, thus enabling The Foxes to secure nine consecutive PL wins.
Conciser still: nailed-on 90 minutes, insatiable form, the lively focal point of his team and their designated penalty taker. All of the best! Quite literally. All at your fingertips…
Inittowinit — Tammy Abraham
Yep, I'm back again to feed you more lies and untruths, and campaign religously all week to get you to back my pick, all the while knowing that it's a crock of sh*t and I'll be (not so) secretly voting for someone else myself. But, hey, it's election week so you are probably all more than well versed in the ways of the devil right now.
Unlike Boris, Jeremy and co though I'm willing to be totally upfront and tell you that if my armband goes on anyone but Jamie Vardy this week then my FPL account has probably been hacked. I've been very loyal to Jamie recently, albeit I had strayed last week for a brief dalliance with Kane. And let me tell you, he's an amazing lover too.
Why am I writing about Tammy then? Simply because James drew the long straw and got Vardy. That's not to say I don't believe what I am about to tell you, I do. Which probably means I think you should be grabbing Tammy back for this week, regardless of the armband.
I'll admit I was circumspect at best about Tammy's prospects ahead of a trip to 'Big Dunc County'. He did however fulfil the 'eye test' as he had me on the edge of my seat for most of the game, and that was as a non-owner. Fundamemntally there was nothing wrong with him, and he could easily have had a hat-trick on another day. Chances were certainly created. He was about three inches short of converting at least two tap ins. It just wasn't his day but as a threat he was certainly there.
As for his opponents this week Bournemouth are all over the shop at the moment and look ripe for a roasting. They've conceded 12 away from home which isn't the worst record by any means but whenever they have faced one the 'big boys' this season they have shipped 3 goals (Man City; 1-3 , Leicester; 3 -1, Spurs; 3-2, Liverpool; 0-3).
#voteTammy #captainVardy
AT — Marcus Rashford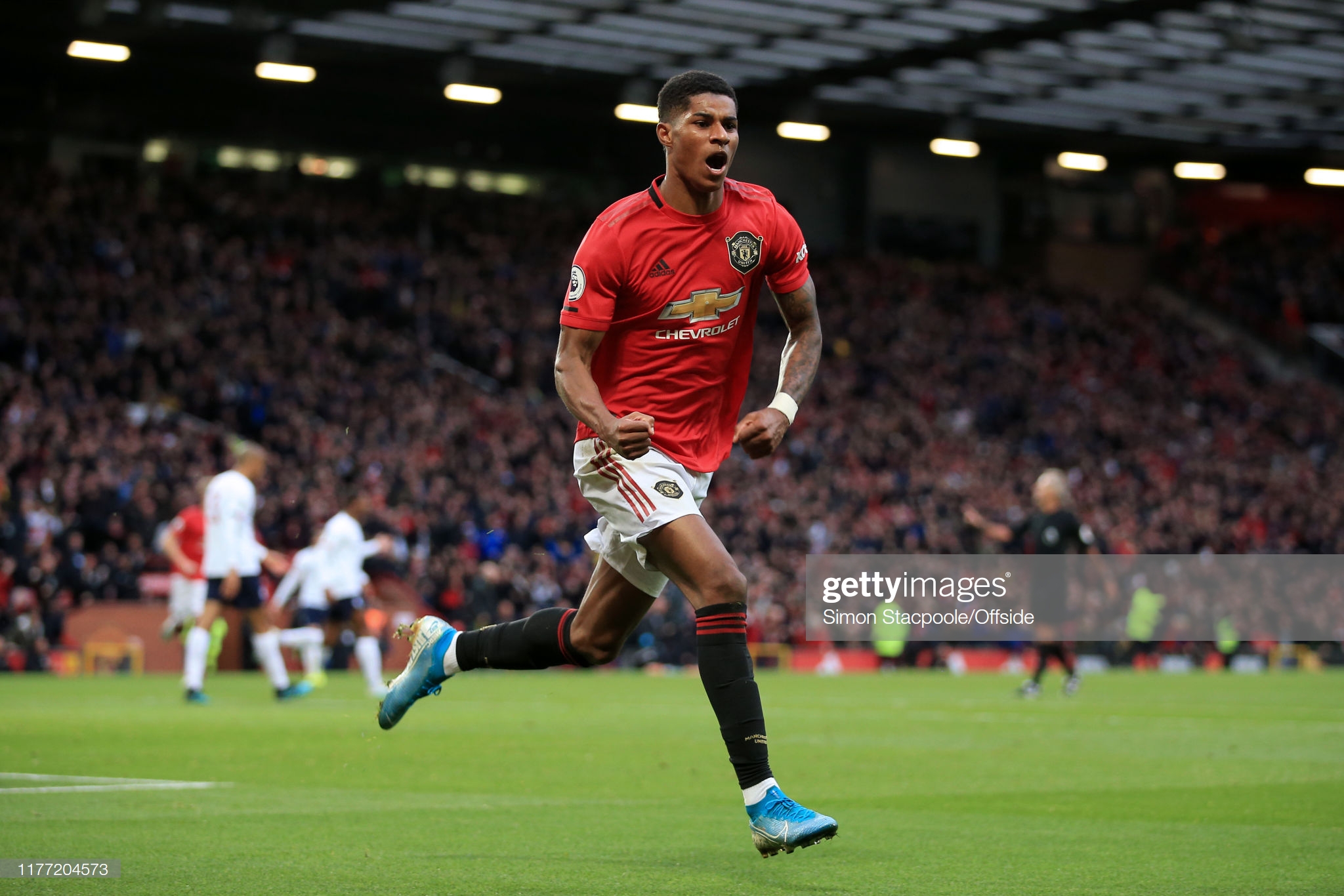 AT, the slow tortoise, was last to pick a captain. The other three authors above, the swift hares, had already possessively stretched their armbands around the arms of three excellent options. "Perseverance conquers all", some suggest is the true meaning of this fable. Well, I did persevere, but much in the same way that the last person to a bag of Haribo Starmix perseveres; the gummy bears and rings aren't so bad that you reject the offer, but you are hardly enamoured by the choices before you.
However, as a firm believer in slow and steady wins the race (which may or may not be an indication of my physical capabilities), this player is definitely worth considering for your armband. In his last ten fixtures, Marcus Rashford has scored seven and assisted four more, amassing 13 bonus points in the process. The England International has only blanked four times all season. He has embarrassingly gone under my radar for far too long.
Everton make the trip to Old Trafford this week. Have they been rejuvenated by Duncan Ferguson wearing a suit and a sweatband? Only time will tell, but at present the stats don't make for pretty reading. With just one away win all season (a 2-1 victory over Southampton), and only three more since the turn of the year (against two relegated sides, Huddersfield Town and Cardiff City, and West Ham), Everton don't look set to add to their points tally here.
United have scored in every home game so far. Whilst they managed to score just the one goal in four of those matches, that did include visits from Leicester, Arsenal (okay, maybe that one isn't very forgivable!) and Liverpool. Rashford and Co have only played three home games since the start of November but that hasn't stopped them from scoring seven goals in the process. Contrast this to Everton who have conceded in every away game since the opening game of the season against Crystal Palace and 11 in their last four.
Floydeth — Marcus Rashord
I told myself I wouldn't own another United player after my recent stint with Martial as it feels like a double-whammy when your team loses and your player blanks. However, Rashford's form has definitely got my attention after producing 7 returns in his last 5, scoring 5 and assisting 2. He sits 3rd overall for points behind Vardy and Mane which is pretty impressive considering how inconsistent United have been so far this season. He is also second for bonus point sitting 2 behind Party Boy.
He seems to have mastered his spot kicks after missing a couple earlier in the season. It's worth noting United have won 8 of those in the PL this season which is a massive plus. Rashford has taken 6 of them, missing 2. 
Rashord is already on for his best tally for a season with 10 goals and 4 assits and will want to get past the elusive '20 goals a season' mark. Pogba's imminent return will also boost United's attack / creativity and with Fred and McTom playing well in the middle he could even slot in in the attacking midfeild role which Rashford could thrive off.
Everton do have Big Duncan Ferguson in charge and there was a noticable 'bounce' at Goodison Park but away from home they have only managed one win and a draw in 8 so far this season, conceeding 17 goals in the process. Given United have scored 7 in the last 3 home games and conceeded 4 I expect goals at both ends with United coming out on top 3-2.
Thanks for reading Fantasy Football Captain Picks Gameweek 17. This article was written by Rosco, James, Init, AT and Floydeth.
Follow @eugoogooly – Rosco
Follow @James777Simpson – James
Follow @AdamalcockFF247 – Init
Follow @Fpl_AT – AT
Follow @TinkerManFPL – Floydeth
FPL FIXTURE TRACKER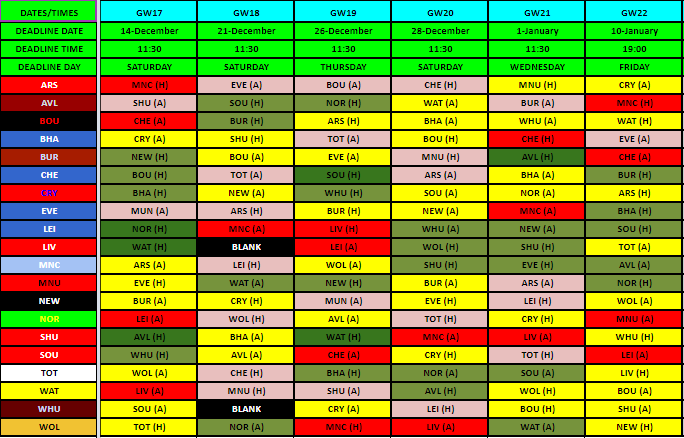 FIXTURE TRACKER LINK
Fantasy Football 247 League Codes: