Fantasy Football Captain Picks Gameweek 22
Welcome to Fantasy Football Captain Picks Gameweek 22
In our last Captain Picks piece on New Year's Eve we had two distinct winners and two distinct losers. Vardy was a no show for Matt and Jimenez may as well have been too for Kop. AT thought he'd sprung gold with a slightly surprising 9 point haul from Ings but Rosco took the spoils with Salah and his 10 points. Hardly awe inspiring though when we consider that all of Noble (16), Sokratis (15), Perez, Grealish, Jesus (13), Robertson, Deulofeu (12), Stephens, Fredericks and Azpi (11) fared better!
Once again we go to the well though and ask our writers who they think should get the armband this week, will there be any big time differentials within their picks. Probably not…
Smash – Tammy Abraham (H vs Burnley)
There are maybe more obvious picks here! I mean top scorer Jamie Vardy screams out as he's playing Southampton at home. Hey I might even captain Vardy now, but if that doesn't put you off him I don't know what will, what with my record this season. However it's a new year which brings new optimism and the need for someone a little bit different. Do you want to be that person that just follows the crowd or do you want something a little different. I present Tammy Abraham.
Only Vardy, Aubameyang and Ings have scored more Premier League goals than Tammy Abraham. Tammy has 12 goals and 4 assists in his first 21 games. For those that like a goal imminent table Tammy also features in the top three on that alongside Salah and Mahrez which generally means he's due a goal or two. With Chelsea being linked with another striker and being in negotiations for a new contract he will be keen to keep the momentum going. Chelsea really need a win to keep themselves in the top four after some inconsistent recent results. It's always good to captain someone with purpose!
If you are still are not convinced by Chelsea, how about looking at the opposition themselves, as some prefer to look at the fixture rather than the player. They are playing Burnley at home, who are not the defensive tour-de-force they used to be, having conceded 34 goals in 21 games this season. They have conceded 11 goals in their last 6 away games so are currently not travelling very well. 16 headed chances conceded in these 6 games as well which can only help the case for Tammy.
Rosco – Jamie Vardy (H vs Southampton)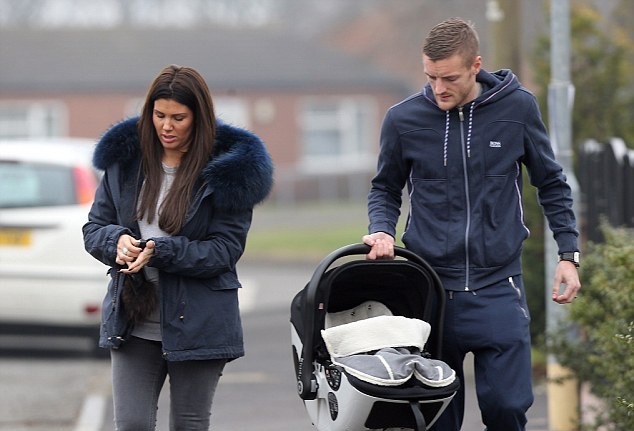 On New Year's Day everyone presumed Jamie Vardy would return to the Foxes 11, even Brendan Rogers thought so, or at least he said as much and we obviously always take managers word as bond yeah? Maybe it was too much fizz on New Year's Eve, maybe the new sprog had kept him up, whatever happened, Vardy was a no-show. Sometimes it's almost as if these players don't care about the FPL ramifications of their actions. For many, it was fortuitous with the likes of Mané or Salah VC, but for many like myself (with KDB) it was the standard 2pts and feelings of 'what could have been' as the Foxes went on to comfortably defeat my lot without their talisman.
So here I am, promoting a player still not declared fit, and let's face it, even if Rodgers came out and said he was good to go, we'd be still treating it as a VAR decision and waiting for visual confirmation before we celebrate any potential return. However, if he does return, then you have to say that a home fixture against Southampton surely makes 17-goal Vardy a shoo-in for the armband this game-week.
Whilst I am here to sing the praises of the party man, it would be remiss of me not to point out that Ralph Hasenhüttl's team have been much improved in recent weeks. They recorded victories over Chelsea and Villa in their last two outings away from St Mary's and will head into fixture full of beans following their 1-0 victory over Spurs in GW21. Managers expecting a repeat of the 9-0 victory in GW10 may be disappointed, however, despite all the above points, I still think Vardy will want to add to his already impressive goal tally, maybe he'll even go full Bebeto with his celebrations. If he plays of course.
GP – Marcus Rashford (H vs Norwich)
Seeing as Matt stole my Mr Consistency –  Wolves' Raul Jimenez – for himself, I find myself championing a new player this week in the form of Manchester United hotshot Marcus Rashford.
In all honesty/full disclosure and all that, I own and will captain Rashford myself this week so I guess it's only fair that I tell you why you must too.
The opposition for United this weekend is Norwich City at home, 3pm on Saturday. Focusing on Norwich first before working up to the player himself, the Canaries come in to this match 20th in the table and are the only side in the league not to have won any of their last five league matches (collecting just three points from 15 available). Overall they have the worst defensive record in the league conceding 41 in total and are certainties to be relegated at the end of the season. Inspecting their away record then and I report that they have the worst away record in the league with just one win and two draws from ten matches. Admittedly their defensive away record is slightly better then their home but I wouldn't pay any attention to that as that's like spending time comparing your two worst ever hangovers to declare a winner.
I like to take a look at the early-week transfer stats and amazingly, England International Rashford has already been sold by over 62,000 FPL managers this week (?) but has been snapped up by almost 115,000 new ones. This net transfer amount still confuses though given the fixture. Anyhow points-wise the young Manc' has 122 so far this season and with that, is far and away the Red Devils' best performer, and overall in the strikers list he is only bettered by Jamie Vardy and Pierre Emerick-Aubameyang, the latter by just one solitary point.
So in summary:
The captain you want to have has 12 goals this season (8 AT HOME).
The captain you want to have has 5 assists this season (2 AT HOME).
The captain you want to have has the maximum bonus points FIVE TIMES this season (4 AT HOME).
The Captain you want plays as striker for Manchester United who average two home goals per premier league match.
Manchester United are at home this week.
Norwich (TWENTIETH) are the visitors.
Matt – Raul Jiménez (H vs Newcastle)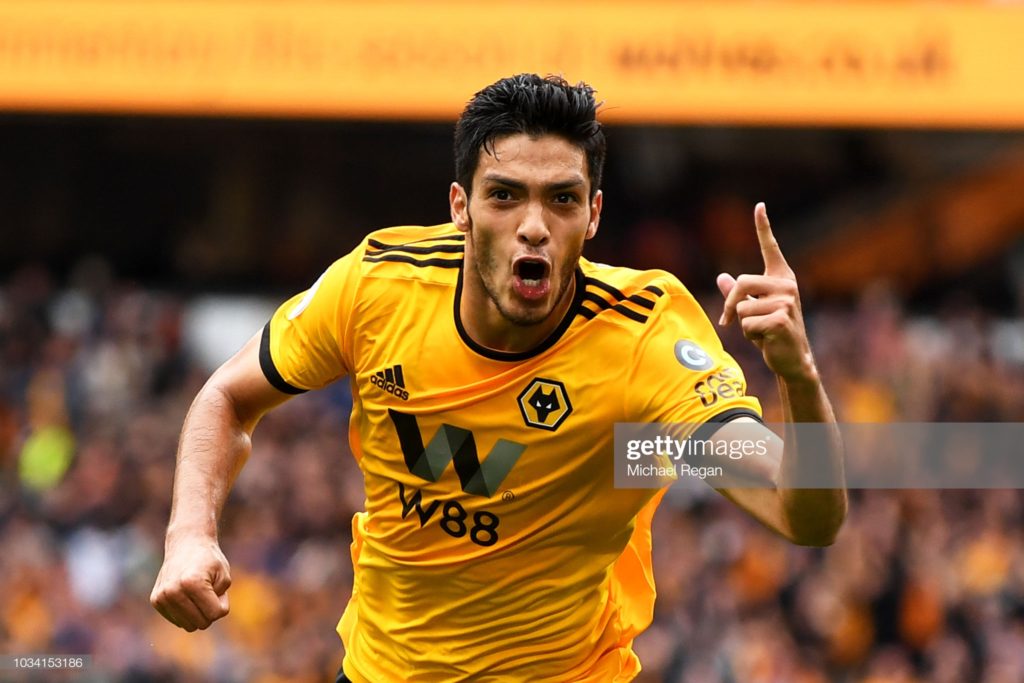 The current Wolves man may not be there for much longer if Sunday's media is to be believed! Both Manchester clubs are believed to be interested in the Mexican frontman and it seems Wolves would listen to offers of £60 million. United could use a bit of firepower up top and Jiménez would provide just that! City on the other hand could use some more defenders as they are pretty much all injured. Goals is not what they need but they have plenty money to throw around and can easily match Wolves' asking price. With all this said, would Jiménez leave Wolves to sit on the City bench or go to a team like United who are in turmoil right now and one could suggest are a lesser team than his current side. I would like to think he wouldn't as he is having a very good season.
For right now, Jiménez is wearing the yellow of Wolves which comes just in time for a tasty little fixture this weekend. Wolves face a Newcastle side who are on a run of three losses on the bounce. This does not make good reading for Newcastle fans (sorry Rosco) as the Mexican comes into this game with 8 goals and 6 assists so far this season. The only saving grace for Steve Bruce's men is Jiménez's last two appearances saw 18 minutes from the bench against Liverpool and 90 minutes against Watford in a 2-1 loss. This has cooled the red-hot form he was in a tad as the four games before that saw 2 goals and 3 assists. This includes a goal and assist against his possible future employers, Man City!
Not only can Jiménez score and assist but he has the added appeal of nabbing bonus points. Having picked up 17 points already this season, the opposition of Newcastle should provide him with plenty of opportunities to add to his points tally. The other great thing about the Mexican striker is he seems to be allergic to yellow cards! He has only picked up two this season and in both games he scored so I am assuming he got a bit too excited and whipped his top off! If this is the only way he picks up cards, then I think I can handle the -1. If you don't have him in your team I would suggest you do as I will be strongly considering him for the armband this weekend.
Cookie – Kevin De Bruyne (A vs Aston Villa)
I would imagine that most of you will be compelled to captain either Vardy for his consistency or Rashford for his fixture. That's fine, but the obvious is not always the winning route, as our introduction proves. Plus can one really trust Rashford or United? And will Vardy be so relieved to be out of the house for a few hours that he runs around like a headless chicken and aggravates his groin again? Stranger things have happened.
The lure of a supposedly more obvious name may not have led you to think of KdB as your GW22 Captain, which is strange given his form, his fixture and his importance to Manchester City. Seven goals already this season sees the Belgian just two strikes away from his best ever haul while his tally of 14 assists sees him head and shoulders above the next best (TAA with 10).
City are at the point where they simply have to win every game if they have any chance of catching Liverpool. They play a Villa side this week who have kept just four clean sheets all season, fighting relegation and who may well have to field a 3rd choice keeper this week.
Given that City have only failed to score two or more goals in every away fixture bar one (vs Liverpool) this season, it would appear to me that KdB is as safe an Captain option as any for this week.
And if you need any further persuasion, well who doesn't love their captain performing in the last fixture of the weekend?
Inittowinit – Sadio Manè (A vs Spurs)
How to split Mane and Salah? The reality is that they are split by 20 points so far (140 vs 120), which is probably surprisingly little given how much more Mane seems to have progressed this season, as opposed to how much Salah has (perhaps) seemingly regressed. Both are probably true to some extent, but it's all relative.
I thought I'd chip in and take a Capo pick though, as nobody else was willing to take a punt on one of the league leaders, the 2nd top scorers and two of the top six FPL point scorers. Granted, they covered three of the others but come on… Liverpool have scored 49 goals this season, surely one of these two is a candidate?
I was hoping my analysis would scream 'yes', but alas, I fear not. Sort of. I decided to go and compare how each of mine have fared away from home, and then in relation to the other four picks above, in relation to how they have fared this season, home or away, depending on what they are doing this week. If that makes any sense…
Mane has 55 points away from home, Salah just 35. So that's my argument for the pick itself, but how do they both compare to the others? Let's see;
Vardy (H) 71
Rashford (H) 68
KDB (A) 64
Mane (A) 55
Jiminez (H) 54
Abraham (H) 44
Salah (A) 35
Poorly, evidently! Certainly Salah anyway.
Good luck with Vardy this week then…!
FPL FIXTURE TRACKER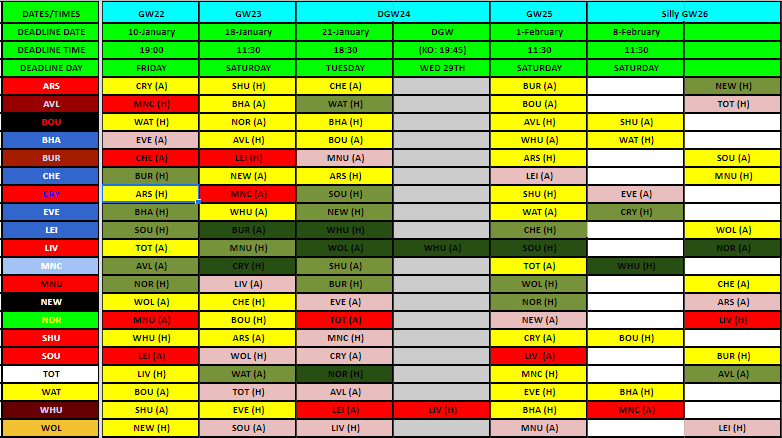 FIXTURE TRACKER LINK
Fantasy Football 247 League Codes: