Fantasy Football Captain Picks Gameweek 22
Welcome to Fantasy Football Captain Picks Gameweek 22. A new year, a fresh start and the wide-eyed optimism that this will indeed be your year. Or the date has changed and we are still in exactly the same position as we were before except now we're all 6lbs heavier.
I don't do New Year's resolutions either, and there is nothing more annoying than people announcing them to the world. If I hear one more person being all righteous about 'dry January' then I will not be responsible for clocking them over the head with my pint glass (once I have emptied it of course). New Year's resolutions are done by February so the only type of resolutions that I am going to make are FPL ones.
Some context; the festive fixture pile-up is a period I usually enjoy in FPL, not this year though, no Sir, this year the festive fixtures have kicked me all over and left me wondering how best to salvage what threatens to be my worst FPL season to date.
With time on my hands, I set about looking at what has gone wrong, and more importantly what I can do about it. In doing so I put to together a list of FPL resolutions. The following isn't anything ground-breaking, its stuff I knew (and you probably know too), but sometimes, when the going gets tough, you need to get back to basics.
1.  Stay cool fool. This one is aimed squarely at yours truly and that bloke on Twitter who threatened to quit after dropping out the top 300 (poor hun). This game can be brutal, but the key word in that statement? Game. Yes, folks its just a game, it's not the end of the world if you have a rubbish week, aim to have a better one next week and don't do as I did and whinge about it, because there is always someone worse off and you'll just look like a dick.
2.  The hits don't lie. A strategic hit or two can work wonders for a season, but when things aren't going your way, chances are that -16 is going to cause more harm than good. Another problem with hits; you're more likely to remove that key player just as he's about to score big. Believe me, I know.
3.  Ride out the bad fixtures. That is to say, select a set of core players who you intend to keep over the full season (barring injury of course) and do just that; keep them. Sure they may pick up a couple of 2 pointers, but then you'll still have them when they turn up and smash in 12pts when everyone else has moved them on.
4. You've got to know when to hold 'em; This one applies to any player, but even more so with your big hitters. We literally cannot have them all, and it's very rare for the ones we do own to post a big score week-in week-out, it's easy to get an itchy trigger finger when the one you do have blanks, and the one you don't hauls, but move around too much and you run the risk of never having the right one at the right time.
5. Know when to fold 'em. Of course, this one links directly to the last point, we all have our limits, so if your big money players are not performing don't make the mistake of holding on to them longer than you really should. Check the stats, watch the games and if everything points to a player out of form, kick them to the curb.
6.  Sorry seems to be the hardest word. You've done it; you've severed all ties with the player you never thought would leave your team. What do they do? Well, of course, they score a hat-trick and ruin your game-week (or the next three). Never be too proud to admit your mistakes and rectify them.
7.  Captain Sensible. If you can accept a 2pt captain return and move on as if nothing has happened, then go ahead, captain whoever takes your fancy. If however you're like me and take failed captaincies as a personal affront to your existence, then play it safe. With a little research (or just ask on the boards) the information is out there. Captain polls on various websites (this one included) whilst not an exact science, will give a good indication of who the masses favour. It's easier to have a failed captain pick en-masse than to look on with regret as your 'I just have a feeling' pick failed to flourish whilst captain sensible did the business.
That final point leads us nicely into this week's captain picks. These aren't so much the 'best picks' (although any one of them may serve you well) but more the ones most people will likely go for. I'll weigh up the relative merits for each of them and then hopefully things will be clearer come the end of this article.
Eden Hazard – Newcastle (H)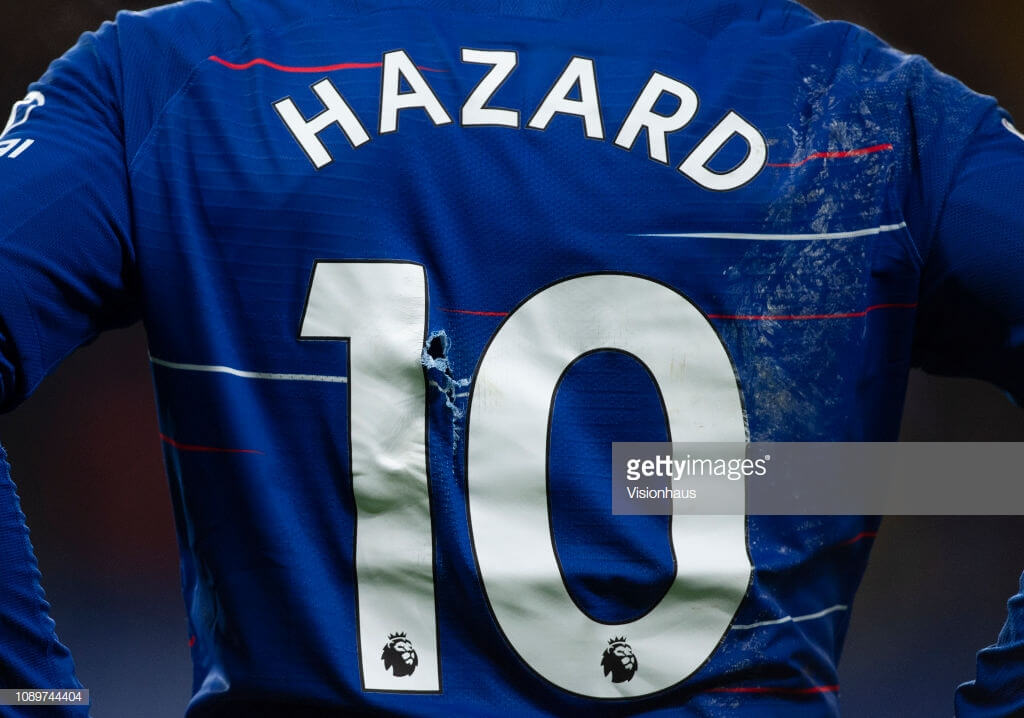 Someone posts a picture up on twitter showing Hazard's 3pts against the Saints side by side with a 21pts score against Newcastle along with the usual 'if you don't love me at / you don't deserve me at'. I always cringe when I see such posts but it wouldn't surprise me to see something along those lines come Saturday evening.
The problem for those who handed him the armband in GW21 (that'll be me then) is really just; are we brave (stupid) enough to do the same again and expect a different result? Well, its not the worst idea in the world given that he's arguably more capable of turning in a double-digit score than any other player (a point proven by his 6 double-digit scores to date this season), and because well that's just how things always seem to happen in FPL.
I could talk at length about his opponents this week, but let's save ourselves all the pain that would bring. Let's just say that I don't expect us to put up much of a fight. Our form away from St James has at times flattered to deceive but we showed in GW19 (0-4 defeat to Liverpool) that against the big boys we're still liable to take a good kicking any given game-week.
Whichever Man City player you have – Wolves (H)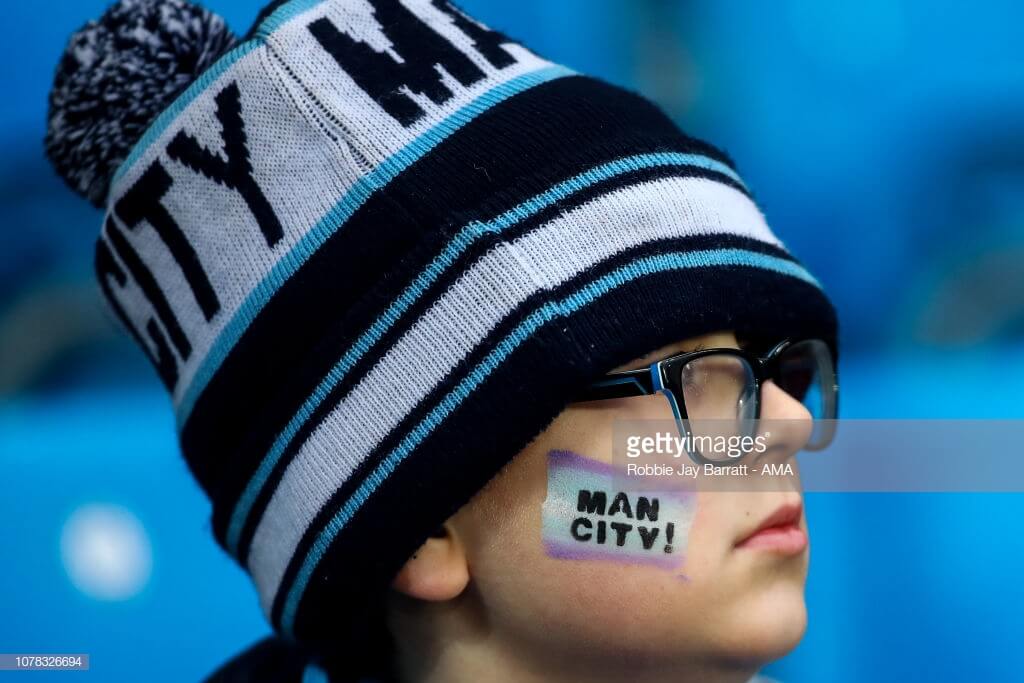 For many FPL managers, their downturn in FPL fortunes over the festivities directly coincided with Manchester City's own mini festive implosion. It began badly; defeat at home to Palace in GW18 followed by another just a few days later down at Leicester. Some respectability was restored with their 1-3 win over the Saints but their performance was far from convincing. However, it's not all doom and gloom, whilst City may have relinquished top spot to Liverpool, their 2-1 win in GW21 was a signal of intent. So the question we're all wondering is; will the real Manchester City be back any time soon?
A lot will depend on which Wolves show up at the Etihad. Will it be the side that fought back to claim a memorable 1-3 win away to Spurs in GW20 or the Wolves who went down 0-2 to Crystal Palace just days later? Your guess is as good as mine.
As for which City asset to captain largely depends on who you have or who you fancy bringing in because let's face it, as always there's no real way of knowing who starts let alone who scores. One player who could be worth a punt is Sergio Aguero. After missing four games through injury he has now scored in his last 2 fixtures, we all know he's one of the few players capable of a 20+ score, it's surely only a matter of time until he grabs another and we're all scrambling to get him back into our teams.
Mo Salah – Brighton (A)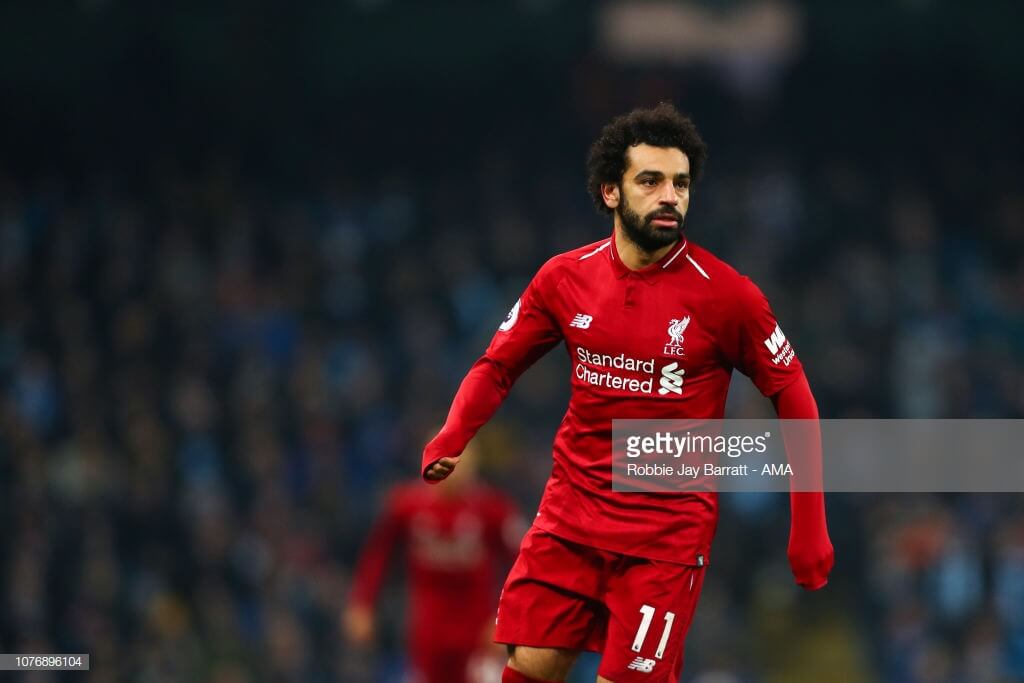 Is he worth £13.3m? Some say yes, some say no, but here's the thing; he doesn't need to be. When you captain a player you essentially get 2 players for that money, so in essence that's 2 players that cost £6.65m each and every time you give him the armband. Had you done that in every match this season you would have 302pts thus far, now that is value for money. Whilst it may not be a fun way to play, perhaps simply captaining Salah every week might not be such a bad idea. Sure you'll end up getting the occasional two-pointer, but it means you'll never miss out when he pops up with an unexpected hat-trick.
Opponents Brighton actually have a pretty decent home record, one that is bettered only by the 'big six' (5 home wins in 10 and only 2 defeats). The seagulls also have 3 clean sheets and haven't conceded more than 2 in any of their home fixtures.
If you were to base your decision on these stats alone you may be tempted to look elsewhere, however, Salah is a man in form. Prior to the City game, he picked up 12pts away to wolves and then there was, of course, those 21pts away to Bournemouth. He's once again the highest owned player in the game (42%), has more goals (6), more goal attempts (37),and more shots on target (18) than any other player away from home this season. Always captain Salah? I just might.
Harry Kane / Heung Min Son – Man Utd (H)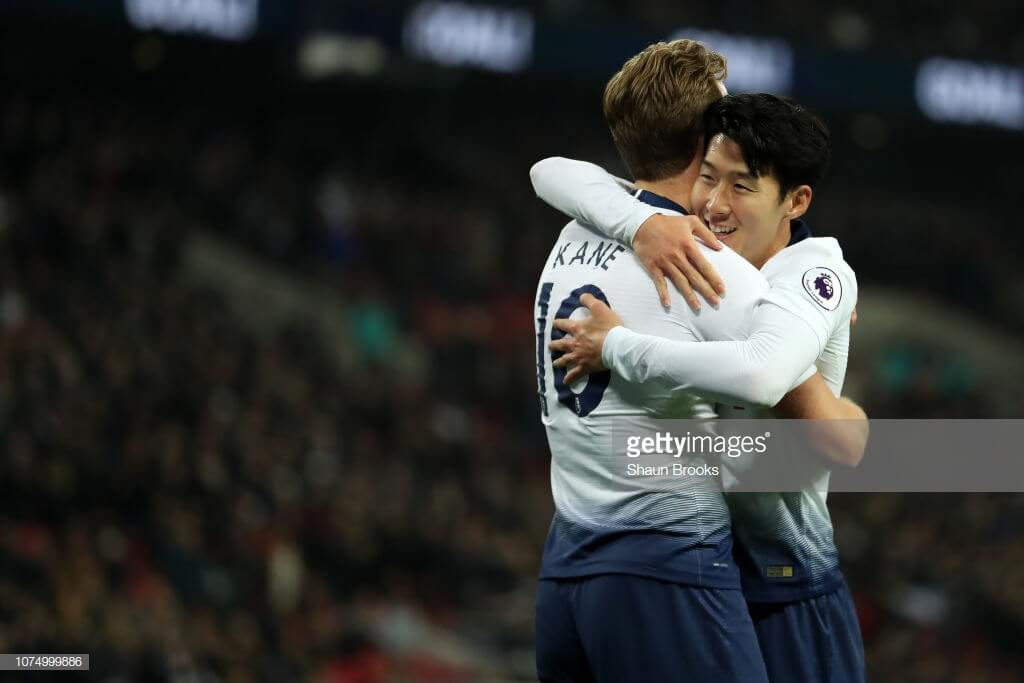 If you're looking for Mr reliable then Harry is your guy. 10 returns in his last 11 matches thanks to 9 goals and 5 assists. He's also picked up 10 bonus points in that same period and hit a double-digit score 3 times. Safe as they come. Unless of course, you were one of the lucky sods to have also acquired the services of teammate Heung Min Son. Son has looked sensational, over the same period he's racked up 8 goals, 7 assists, 10 bonus and 4 double digit hauls. This game is, of course, Son's last before he departs for the Asian Cup, a welcome relief for those without him (yup me again).
The only fly in the ointment is, of course, this week's opposition. The Red Devils have been rejuvenated under Ole Gunnar Solskjaer; four wins in four and fourteen goals scored. The one thing Solskjaer has yet to achieve however is a solid backline. You could point to their clean-sheet over my lot as a sign of things to come but to be fair we couldn't score in a brot… you get the picture.
Pierre-Emerick Aubamayang vs Marko Arnautovic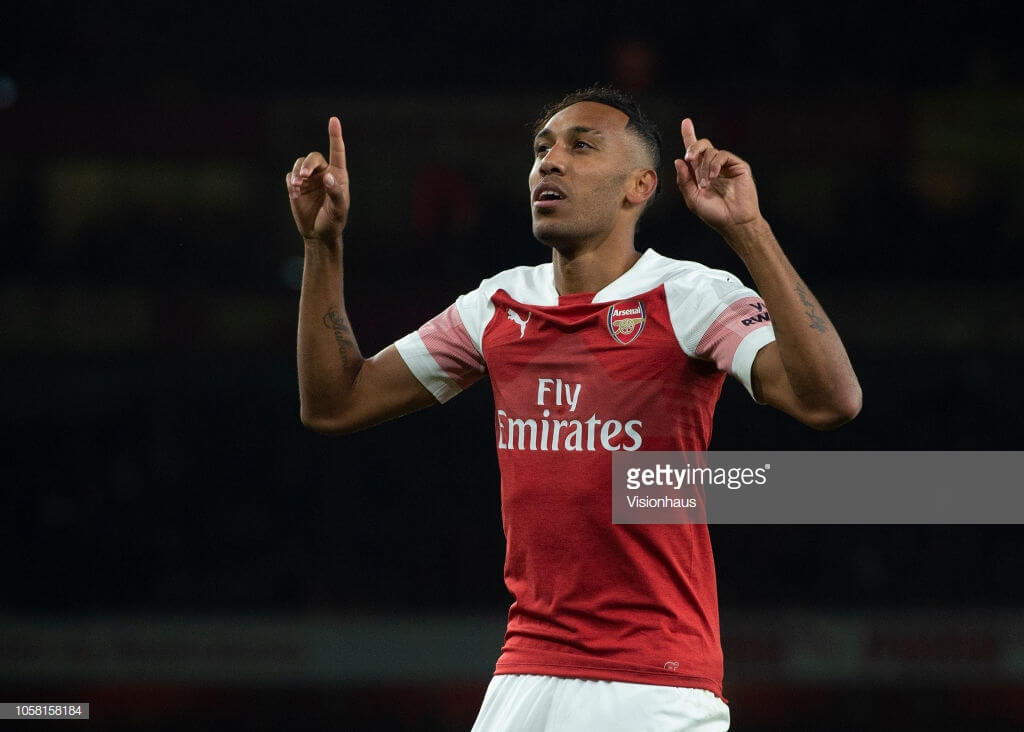 Who knows what the final score will be in this one. Neither team seems capable of keeping a clean sheet and either one of the above two players could be the beneficiary. Arnie is currently yellow flagged but hey what else is new! He returned from a four-game absence in GW20 and notched a double in GW21. Aubamayang meanwhile seems to have finally locked down his starting spot having played the full 90 in his last 10. In that period he's scored 7 goals and picked up a couple of assists. So yeah, like I said either one of them could do well, although if I had to hang my hat on one it would be Aubamayang as Arnie may not even start, although given his reaction at his early withdrawal in the cup I suspect he'll be fine and dandy come the weekend.
Ok, that's your lot from me, I'll be honest, I have no idea who to go with, it will be one of Salah, Kane or Hazard so maybe just watch the boards and avoid the one I end up choosing. You have been warned.
Thanks for reading Fantasy Football Captain Picks Gameweek 22. This article was written by Rosco.
FPL FIXTURE TRACKER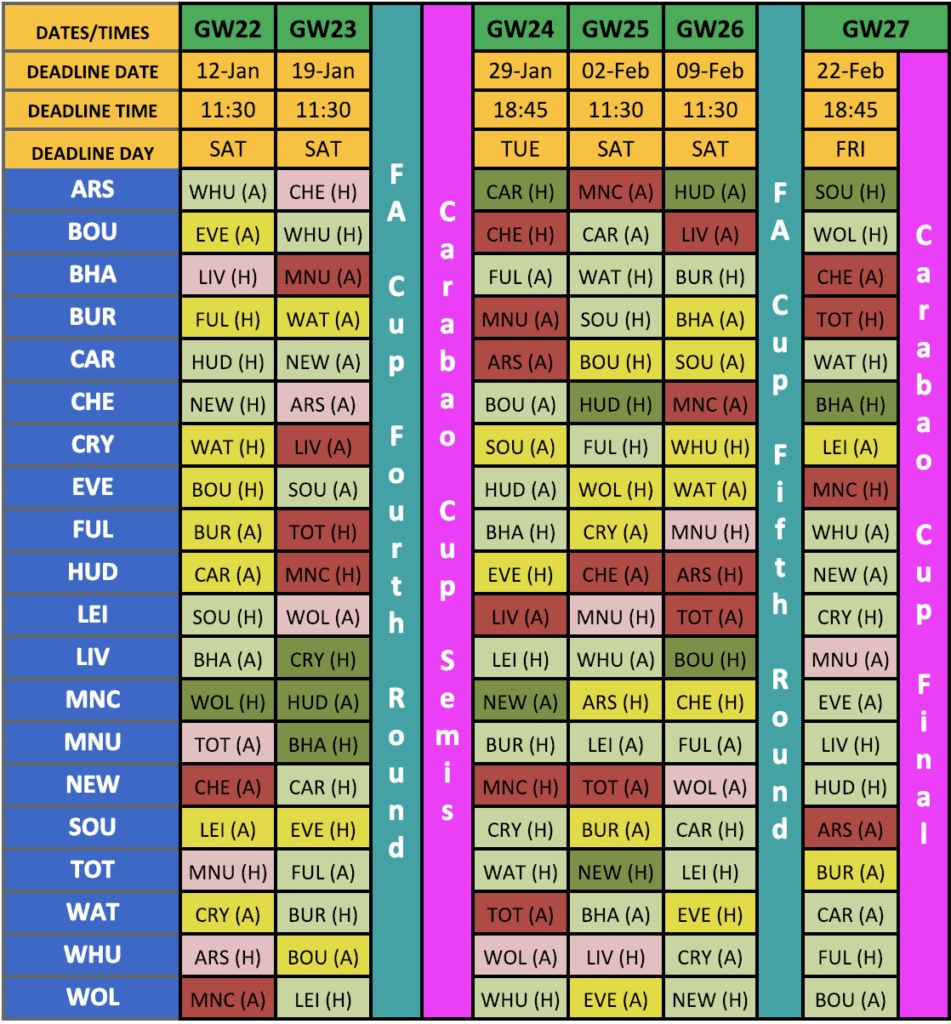 FIXTURE TRACKER LINK
Welcome to our Fantasy Football leagues section.
The League Codes for FF247 for the 2018/19 season are as follows –
Thanks to our friends Follow @ff_surgery and please give them a follow.