Fantasy Football Captain Picks Gameweek 23
Welcome to Fantasy Football Captain Picks Gameweek 23.
GW22 saw a mixed bag to say the least, ranging from a Jimenez blank returning Matt's 'supporters' a meagre 4 captaincy points, all the way through to GP topping the pile with his Rashford pick, who rewarded him with two goals, three bonus points and 24 lovely points, despite only playing for 58 minutes! In-between these we had Init backing Mane to no avail and 6 points, Rosco seeing his Vardy party fizzle out after a solitary assist and 10 points, Smash stepped up with a goal, or at least Tammy did, to get him 12 points and it was close but no cigar for Cookie as KDB and his wonderful assists brought him home with 18.
After a bumper week of potential candidates it's slimmer pickings this time around but let's go see who Smash, Kop, Cookie and DMC are backing for that all important armband for GW23.
Smash – Mo Salah (H) vs Man United

So there I am walking round an Tutankhamun exhibition in London all about ancient Egyptian history and I get asked who my captain pick is this week. Well if that's not a sign from the pharaoh gods I don't know what is. Its got to be the Egyptian King himself Mo Salah!
Liverpool just keep winning, 20 wins from 21 games this season which makes it very difficult to argue against another Liverpool win here. United aren't exactly the team from the Fergie years with Ole at the wheel . Now there's always the conundrum of who to captain Salah or Mane for Liverpool assets. In this case Mane will be up against Wan Bissaka while Salah faces off against the rookie United defender Williams or well always injured or never match fit Luke Shaw. Now for home form Salah has 9 goals and XG of 7.11 to Mane's 7 goals and XG of 5.52. Salah also shoots a lot more at Anfield having had 41 goal attempts to Mane's 26 which may suggest Salah has been unlucky not to have scored more.
Salah's ownership is currently 25% which is almost differential territory for a player as explosive and generally popular as Salah. Mo also currently has the added bonus of being on Penalties as James Milner will continue to miss out through injury. Now last week I said Tammy Abraham was on the list for anyone that likes a goals imminent table and he duly scored. This week Mo Salah is currently on the same list maybe another Pharaoh god sign.
Kop – Danny Ings (H) vs Wolves
In our capos article ahead of GW21 AT picked a certain Danny Ings. He was ridiculed in certain parts but Ings came up trumps for the kid with a goal and three bonus points. AT put together quite a lengthy case for Ings in said article, something I don't intend to do today!
Ings followed up his goal in GW21 with another last weekend against Leicester to bring his tally for the season to 14, 10 of which have come in his last 11 games. He is unquestionably the inform striker in the league. Sometimes it's not about stats, it's a simple as going for the guy who's scoring. That guy is Danny Ings. At times last weekend he was unplayable, he hit the woodwork twice and Schmeichel pulled off a world class save to deny him. Not only is he scoring goals he's also picking up bonus points, a staggering 27 to date.
A quick word on the opposition, Wolves. Defensively they're not a shambles, in fact they have the 7th best defence in the league. However, this record is a little deceiving as they have kept just one clean sheet over the last 14 game-weeks. Granted they haven't conceded more than two goals in any game during this period but I wouldn't let that concern you. Ings only need one goal to pick up maximum bonus points. Don't believe me? He has picked up maximum bonus points on seven occasions this season and in six of these games he only scored once.
Cookie – Sergio Aguero (H) vs Crystal Palace
When one decides who should be their captain in any particular week, there are a number of factors any candidate should pass. Form and fixture are the obvious two. Explosiveness and high ceiling are in there also, as is ownership. Sergio Aguero at home to Crystal Palace fits all of the above and more. Kun has scored 13 goals this term and sits below just Vardy, Aubayemang, Ings, Tammy and Rashford in the race for the Golden Boot, despite playing in half of the minutes of the others.
His hat-trick at Villa last week gave non-owners a reminder of what the striker is capable of and rewarded those managers who retained faith in the scorer of the most Premier League hat-tricks. This week's opponents haven't kept a clean sheet in six game-weeks and are beset by injuries.
Owners will be captaining Aguero this week, non-owners will be trying to find a way of fitting him in to their current plans and will be hiding behind a large sofa if they go into GW23 without him.
Kun is the perfect captaincy candidate this week. Dare you go without him?
DMC – Jamie Vardy (A) vs Burnley
He scores when he wants – Jamie Vardy.
So, you have been lured by my co-panellists into captaining Salah, Ings or Aguero right? Don't do that to yourself, it's a trap. They all are. Utd have been better at defending of late so that won't be a goal fest. Ings plays a Wolves team that likes possession play and are comfortable on the ball. Only three times this season have they let in more than 1 goal away from home in eleven games. And then there's the diminutive Argentine that we all know is going to be rotated/rested/whatever in this next home game as he was in their last home game.
Ok, I'm just being mean. Those are all good picks. But they are not Jamie Vardy. This man is having a tremendous season leading the line for a team that is having a remarkable season. Many tipped them to battle for Champions League football at the beginning of the season but no-one in their right senses would have predicted that they would sit in third come GW 22, 11 points clear of 5th spot. Sure, they have shown a small dip in form and their recent record shows 3 league losses in their last 5. However, that period includes matches vs the almighty Liverpool and an away game at City in which old Jamie actually scored a beauty. Papa Vardy missed two games recently but after a poor-ish display from him and the team vs Villa in the league cup last midweek he then returned an assist in GW 22. Reports suggest this was a lacklustre showing by Leicester but let not that fool you. They were playing the form team in Saints who are second only to Liverpool in that chart in the last 5. How about Burnley? Well, they are no Saints… they are actually culprits of 4 losses on the bounce including losing to Aston Villa of all teams. At Turf Moor. They are not showing the home form they were once known by with 6 losses and 17 goals conceded in 11 games. Now Vardy likes an away goal as his 9 of those in 17 show. Here's another interesting stat: this season, he has only blanked in 3 away games and they were vs top 6 opposition (Chelsea, Man Utd and Liverpool). He is playing away. He scores when he wants and he has scored in two of his four Premier League games at Burnley so far so this seems like the perfect time to trust him with the armband while the bandwagon collects a blank elsewhere.
Thanks for reading Fantasy Football Captain Picks Gameweek 23. This article was written by Kop, Smash, Cookie and DMC
Follow @Chrismartin1984
Follow @KenLyons79
Follow @SteveCook9
Follow @DCoelho
FPL FIXTURE TRACKER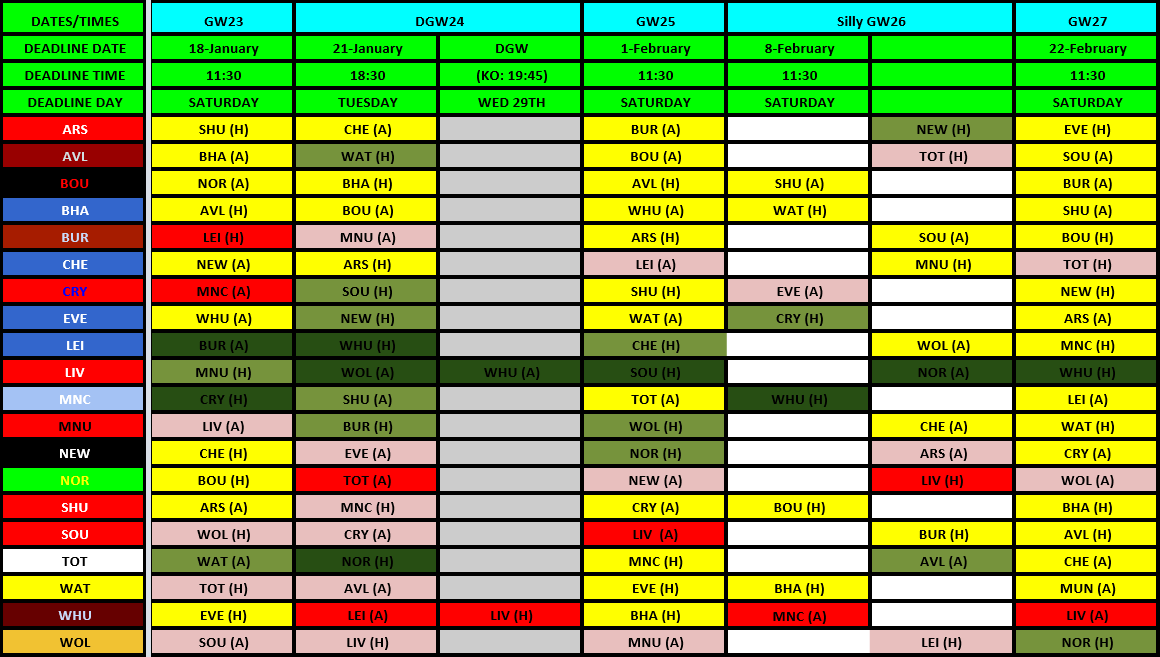 FIXTURE TRACKER LINK
Fantasy Football 247 League Codes: