Fantasy Football Captain Picks Gameweek 24
Welcome to Fantasy Football Captain Picks Gameweek 24.  Your captain choice can make or break your gameweek. The correct choice can leave you feeling like you've had sherbet sprinkled in your blood. The wrong choice – and by 'wrong' I mean your luck wasn't in – and you are a sunken cheeked wreck, mumbling 'I could have been a contender' while posting spurious congratulations to other managers.
Try not to take it too badly if it doesn't work out. But before the bottom lip starts wobbling, please take my hand and I'll try to lead you towards the soft, golden light…
Mo Salah
Pros: Back to his consistent, double-digit self (6 in the last 8 GW's) rested and has a home game. Is starting to rake in BP'S. No player has scored more goals over the last 6 GW's – and he's two goals to the good in the golden boot race. I'd be very surprised if Salah didn't dominate the GW24 captain polls.
Cons: At first I couldn't see many cons. In fact I thought the only con was trying to con you into thinking there were other decent options that won't cripple your OR if it goes wrong. However Leicester may not be pushovers. Their defence has let 29 goals in, which sounds bad until you realise it's the 5th best in the league. So while Salah, down to his form, ownership and high amount of goal attempts is the very obvious candidate, things may not go that easily. But don't risk it.
Pierre-Emerick Aubameyang
Pros: Very nice home game against a leaky defence – joint third for generosity over the last 6 weeks, and second overall to Fulham – so in theory this is the easiest game any of my captain choices has. Auba is joint second scorer in the Prem and will I'm sure be pushing, or rather kicking out, for the golden boot.
Cons: There aren't a lot, really, other than the terrible risk you could be taking by not captaining Salah.
Paul Pogba
Pros: Pogba is in terrific form and is a key ingredient in Man U's entertaining push for a top 4 finish. The last 6 games have seen a pleasingly symmetrical 5 goals and 5 assists. Man U are starting to keep clean sheets. The points are flowing. He's not a bad choice at all, but for the terrible risk etc.
Cons: Burnley may have turned a minor corner – recent form of three wins and a draw – but the dark shadows may not have lifted completely and I doubt they're relishing the trip south.
Eden Hazard
Pros: Still reading? You've done well. Eden's been merrily popping cherries for a while, going back to 2015/16 and he (predictably) netted earlier in the season against them. Whether or not they'll continue in this soft, yielding way for him we shall see.
Cons: The last 4 GWs have seen meagre returns. Chelsea seem to be stuck, league-wise, in a sticky patch, with a manager determining player positions on the hoof and then making curious statements to the media.
André Schürrle
And for those who have no rational sense, and infinite patience, here's a cheeky differential: why not the mighty Schürrle – at the time of writing he has an ownership of 2.9%. He loves to have a go at goal – 50 attempts and counting, with 6 goals so far. At home vs the often hapless on the road B&HA in a fixture Fulham have to win. Has the look of a haunted character in an Ingmar Bergman film. Go on, captain him. I dare you.
In some ways any captain selection this week other than Salah is a differential pick, and could pay off – or crash, badly.
Best of luck.
Thanks for reading Fantasy Football Captain Picks Gameweek 24. This article was written by Kralin.
FPL FIXTURE TRACKER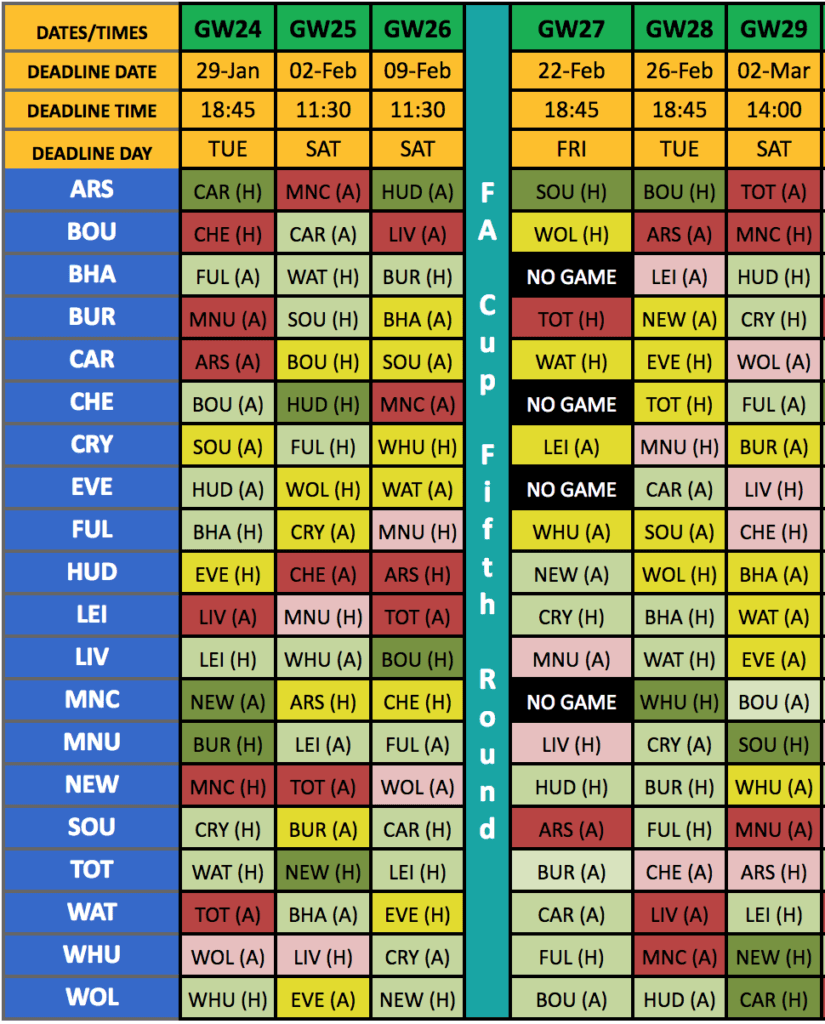 FIXTURE TRACKER LINK
Welcome to our Fantasy Football leagues section.
The League Codes for FF247 for the 2018/19 season are as follows –