Fantasy Football Captain Picks Gameweek 25
Bloody Liars!
Welcome to Fantasy Football Captain Picks Gameweek 25. We usually begin here by (cruelly) analysing last week's picks but we are in the unusual spot of not actually knowing the outcome of that yet, what with Liverpool (and West Ham) still to conclude their DGW. As a reminder of last week's article though it was Liverpool all the way and Mane took the lions share of the vote. Or so we thought! We grew suspicious when a couple of the writers starting seeming to favour Salah in the comments section…
Turns out that this phenomenon was even more widespread than we first suspected! To be fair to them (before we lay in to them), 13 out of the 14 did actually stick to what they said about playing the TC chip, which was good of them. Not so good on the actual details though… SIX of them, yes SIX of them, went for a different captain to the one they presented to you!!! Five flipped from Mane to Salah and one vice-versa. But of course we won't name names, we don't do that around here.
On a completely separate and hypothetical note if you need to know what time the next bus is and happen to meet any of Matt, Smash, Kop, Rosco, Elle or Init this week we'd probably go buy a timetable instead. And if Cookie serves you in a bar we'd check that double vodka isn't actually a treble. (Although you can at least trust that it will definitely be vodka, one from Right at the Back of the bar).
Let's go see if any of them can lie straight in bed this week, or at least which mask they are hiding behind when they do…
Ahem, just before we do, we just wanted to say what a pleasure it is to welcome back one of the finest writers to have ever graced our pages. He's on a bit of a hiatus from FPL and insisted on picking his 'captain' last so this could be fun! Welcome back Bry, you've been sincerely missed.
Rosco – Mo Salah
Ok ok, I fess up! I am indeed one of the soon to be infamous 'Mane six', but hear me out! First off apologies, but hey, it's a man's prerogative to change his mind right? Liar feels a bit harsh. Hypocrite? Well maybe a little, but when Salah joined my team just 5 minutes before the deadline (having learned Aguero was benched) the temptation of my shiny new thing was just too, well tempting. So here I am, I still have (hopefully) a second shot at this TC malarkey (again, my sincere condolences Mane brigade), and furthermore, I'm going to suggest you captain him once more in GW25. Maybe it's a hint of Gamblers fallacy* creeping into my decision making, but it just feels right.
Granted Southampton are one of the form teams, indeed they've won their last 4 away from St Mary's including wins over Chelsea and Leicester but this Is Liverpool, and this is Mo Salah. In their last 4 home fixtures (all of which they've won – obviously) no player has more goals than Salah (4), penalty area touches (42) or goal attempts (18). Yes, he's a bit ball greedy at times, the best ones always are. In his last 4 home fixtures, Salah has had 5 big chances, he's put away 4 of them, all in the box. The man is lethal. (Ps I might go with Aubameyang if I buy him)
*The gambler's fallacy is the belief that the chances of something happening with a fixed probability become higher or lower as the process is repeated. People who commit the gambler's fallacy believe that past events affect the probability of something happening in the future.
Kop Warrior – Kevin De Bruyne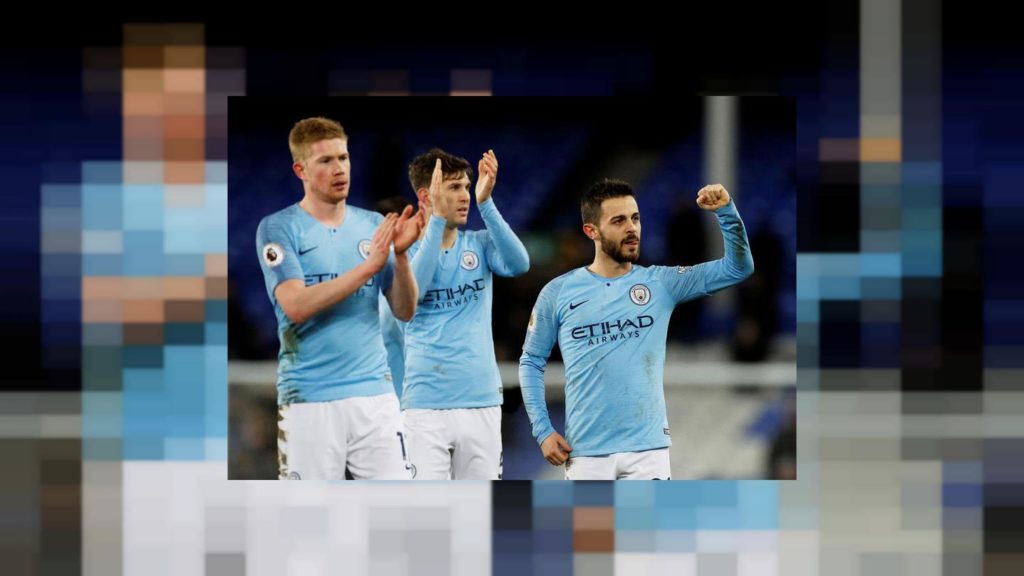 As Rosco has graciously held his hands up and admitted to being a member of the 'Mane Six', I to must also confess to being a member. However, unlike Rosco, I'm not sorry! I'd do it again tomorrow. Ah stop your moaning, it's not like my underhandedness has worked out to my benefit. Yet!
Now, on to this week's pick. Had de Bruyne's teammates reached the same levels of performance as the Belgian over the course of the season City would a damn sight closer to Liverpool. The ginger one is currently the leading point's scorer in FPL thanks primarily to seven goals and 17 assists. With 13 games remaining he is well on course to having his best ever FPL season.
Over the course of the season he has been extremely consistent, blanking on just seven occasions. I should point out that his consistency doesn't merely equate to 5pts every week, as on six occasions he's hit double figures. His returns away from the Etihad are nearly as impressive as those at home, he has three goals away from home and four at the Etihad, seven assists away from the Etihad compared to eight at home.
Games between City and Spurs usually contain goals and the last 10 PL games between the two have had an average of 3.5 goals. KdB himself has a reasonable record against Spurs, with three goals and two assists in seven league games against the London side. The two assists came back in GW2 of this season.
Spurs v City is the final game of the game-week, so when Salah, Auba & TAA have already failed you can sit there smugly and wait for KdB to fail as well!
Smash – Pierre Emerick Aubameyang
So he's back. Fully rested after missing Arsenal's last three games through suspension. Aubameyang will be chomping at the bit on his return and is a great differential captain pick this week when we might need a Vardy replacement. Auba is the guy no one ever seems to own. You scroll through the site and it's almost as rare to find someone with the man from Gabon in their team as it is to find someone that has actually been to Gabon! He has a live ownership of just 4.6% and if you are talking the holy grail top 10k this is just 0.26%! Now when do we get the chance to captain a differential like that who has 127 fantasy points, 14 goals, 3 assists and last season was the Premier League's top goal scorer?
Who does he play this week then? It's Burnley, who Auba has a phenomenal record against. In four matches against them, he has seven goals and one assist! Despite Burnley's last two great results they have still conceded the fourth most goals this season in the league; a high 38 in 24 games. If you want more stats, Aubameyang has 24 bonus points this season which shows when he scores he usually comes away with the bonus, XG of 10.25 and XA of 2.7. Whatever that means.
Bry – Trent Alexander-Arnold
Gameweeks 8 to 15 saw Liverpool fail to keep a single clean sheet despite their relentless run of results. It's been a different story since then of course, and only last week did Wolves bring the Reds' string of 7 consecutive shutouts to an end. FPL gaffers will be hoping that this isn't the start of another defensive drought.
Southampton have been a revelation of late racking up 16 points from the last 21 on offer, giving this fixture a more competitive edge than might have been otherwise expected just a few months ago. Cuddly man mountain Ralph Hassenhüttl has won over both fans and neutrals alike, having somehow managed to ameliorate his Saints' 9-0 sins and resurrect their season.
Naturally, none of this has done anything to convince you to choose Trent Alexander-Arnold. So you should probably stop reading here and just check Cookie's analysis from last week's Captain Picks. Opting for TAA should need little persuasion, anyway. Sure he's a 'defender', but lets face it, he's not. He's a dynamic superhero forged from pure steel in the suburb of West Derby, Liverpool, and as you all undoubtedly already know, 'West Derby' comes from an Old Norse word meaning "place of the wild beasts" (Source: Wikipedia). Rumours still persist that this was the reason for him being originally christened Terence Trent West Derby (Source: Imagination).
If you're still not convinced, then you hardly deserve to be reminded that he's the in-form FPL player. Even excluding that freak Leicester haul, TTWD has averaged 6 points over the last 7 games.
Thanks for reading Fantasy Football Captain Picks Gameweek 25. This article was written by Init, Kop, Rosco, Smash and Bry
You can check the best odds on who is most likely to score at the BettingLounge
FPL FIXTURE TRACKER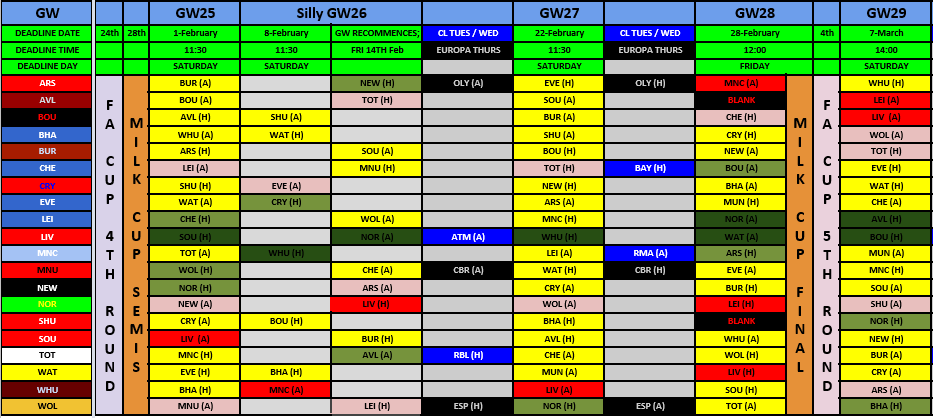 FIXTURE TRACKER LINK
Fantasy Football 247 League Codes: