Fantasy Football Captain Picks Gameweek 29
Welcome to Fantasy Football Captain Picks Gameweek 29.
We need to talk about Kevin…
It was difficult to pick a winner from last week. Mainly because they all ultimately fell flat on their faces. Trent delivered Kop an unexpectedly low 2-point captain return and perhaps he learned his lesson about captaining defenders. Not that he did (perhaps the former, he didn't do the latter regardless…). We also hope that Smash had a decent vice, as Vardy failed to even turn up for him. That's assuming he captained him (he didn't…). Technically the winner was Rosco, as he picked both Mané and Salah but, even with that potent double advantage, he still only brought home 8 captaincy points. With both! That's four of the top-scoring players in FPL covered — they got 10 points between them, after being doubled……………… #enoughsaid.
Now there's been another DGW announced — but will anybody actually play in both matches? Let's go see what this week's panel make of it all. Will they stick with Liverpool or will they seek out (DGW) pastures new?
Jamesimmo — Pierre-Emerick Aubameyang
I could (and will) argue that West Ham (H) is a good enough reason to captain Aubameyang for this weekend. However, with DGW29 confirmed, he'll get another chance to bolster his armband returns on Wednesday night against a Man City side that's already conceded 6 more goals than they did over all 38 matches of last season combined.
West Ham — almost always at hand to make teams like Man City feel better about life — have, on average, conceded 2.5 goals per match in their 6 recent PL fixtures. It's a troubling statistic that's only exacerbated by considering their away performances alone from that sample.
Aubameyang's played 90+ minutes in all of his 5 recent (post-suspension) appearances and has netted 4 times over this resurgent period. That really should've been 5 times, having missed an absolute sitter in the dying moments of extra time during the Olympiacos humiliation, but as for the bicycle-kick goal that preceded it? Sublime stuff. Pierre can often bag similarly fantastic goals from all kinds of positions (except, apparently, right in front of the goal…) and playing for another ~180 minutes in one Gameweek should see him prove that once / twice / thrice more.
Signing him could mean selling another Golden Boot contender — see below — but form, as ever, is key here. In this case, backing him will also keep your dreams alive right up until the midweek Gameweek finale, which is arguably an emotional curse. Given his 12-point haul in the reverse West Ham fixture, though, such suffering shouldn't occur. Anybody going against him could be set for a very long week…
AT — Jamie Vardy
With just one win in their last seven matches, I'd forgive you for not having any Leicester players to hand the captain's armband to. Indeed, Vardy is currently sidelined with a calf injury. Rodgers does expect Vardy to be fit for the game against Villa though.
If you're a fan of xG, Leicester should have scored (just under) three goals in their last three matches. If you're not a fan, and more pertinently, they didn't score any goals in that period. I can almost ignore Wolves and Man City, but Norwich. Norwich! Let's put that down to the main man Vardy being out. Expertly ignored.
It would be wrong of me to pretend that Leicester are playing well at the moment. However, despite recent results, they have still scored 2+ goals in nine of their 14 home matches whilst Villa have conceded in every match away from Villa Park, letting in 2+ on ten occasions. In the reverse fixture in December, Leicester put four past the Villans with Vardy racking up two goals.
Other than Liverpool's attackers, you'll struggle to find stats as strong as these for this week, and who wants their captain to play in the Saturday lunchtime fixture! Leicester play on Monday night so at least a blank from your captain won't ruin your weekend.
The Gallant Pioneer — Raúl Jiménez
Alright, so now that Liverpool have begun their inevitable implosion, we turn our attention back to more reliable captaincy options. Reaching form my Collins Dictionary in my study… (I don't have a study, or a dictionary for that matter…) I look up the word 'reliable' and there I find a picture of Wolverhampton Wanderers' Raúl Alonso Jiménez Rodriguez or 'Raúl Jiménez' (nee 'Raúl') to you and I.
The third-highest-scoring forward, he now has 145 points and his goal against Spurs last weekend equalled his previous season's league tally of 13. He has TEN further games to beat the record and with a run of games against Brighton this weekend followed by West Ham United, Bournemouth, Aston Villa… in fact upon thorough inspection, he has no worrying games left! Arsenal at home and Chelsea away are hardly impenetrable for a striker who has numbers against Manchester City (twice), Liverpool, Arsenal and Spurs (also now twice) this season.
The Seagulls come to Molineux on Saturday at 3pm with our amigo looking to add not just to his 13 goals but his six assists — one of which came in the corresponding fixture in early December — and I'm backing him to do it with his old partner Diogo Jota linking with him in a more traditional front two style partnership even if it is sometimes like a front three. It may indeed become a switch back to 3–5–2 for Wolves if Adama Traoré is struggling with injury. Either way, in any formation, Raúl is the main attacking outlet for the Midlands side as they look to close out a magnificent season. Champions League beckons. Either via winning the Europa League or by finishing in the top four of the Premier League. Interestingly, they made ground on all seven teams who were above them at the beginning of the weekend.
Brighton at home will be viewed as a must-win after going to Tottenham and winning. Of his 13 goals, 6 were at home, showing that an even spread of points is attainable wherever the Mexican plays.
If you don't own him for some odd reason, he's still just £8.0mln!
DMC — Kevin De Bruyne
There's only one Kevin De Bruyne… and he has a DGW now!
Well, well, well, a DGW has in fact been confirmed for this coming Gameweek 29. It's not that we weren't expecting it but damn they left it late this time around. This means that Man City — the title holders — (ok, and Arsenal) now have two games. But are they enticing enough to make us trust their players with the armband this week?
Well, the second of those games is of course against Arsenal, at the Ethiad, and in my opinion it doesn't really appeal that much. Arsenal have been better under Arteta and are unbeaten in their last seven, their biggest run this season, winning three and drawing the other four. They have conceded 9 goals in Arteta's 10 games in charge nailing 4 clean sheets in that spell. To put it in perspective, under Unai Emery, they had shipped 27 goals in 17 games with only 2 CSs to show. Don't get me wrong, they'll still probably lose this one, but perhaps a battering is not likely.
The other game is away at rivals United. Now, City have been by far the better team of Manchester for the last few years but United, as bad as they've been since Sir Alex Ferguson, still have a fight in them and this being a derby game they'll no doubt show it. More so with Bruno 'The Machine' Fernandes now in their ranks. The former Sporting Clube de Portugal midfielder, playmaker, box-to-box, attacker and winger (when needed) has risen the standard since his arrival there, which suggests that City won't have an easy game.
So, why am I tipping our friend Kevin? Well, for a few very simple reasons. He is the most selected player in the game (50% ownership), he is the top-scorer at the moment (178 points) and he has two games to show the absolutely world-class play that he has coming from his boots. Also, against all odds, Pep finally let him have a go from the penalty spot which suggest that, if it's not Ederson, he may be on penalties (the caveat being that Kun was not on the pitch when that happened).
Now, we know that DGW players are often outscored by single-Gameweek players and with favourable fixtures for Liverpool, Wolves and Leicester, nobody would be surprised if that's the case here. However, not captaining the biggest scorer in the fantasy division that also happens to be in decent enough form (6.3) and playing for the most attacking team (68 goals scored, 2.42 goals per match on average) when he has two attempts at some much-welcomed FPL points seems maverick. And (too) maverick I am not so, there you go, there's only one Kevin De Bruyne… and he has a DGW.
Smash — Mo Salah
Mo Salah might be the boring and most obvious captain pick this week if there's no double. Salah has a current ownership of 45% upon writing this so he is no means a differential but will likely be up there for being the most popular pick! 2,107,350 captained the Egyptian last time out when they were away to Watford and this week he is home to Bournemouth. Sometimes the most obvious pick is the safest, the most sensible and it might just be staring at you in the face. FPL is a simple game that we like to overcomplicate and Salah might just be the simple pick.
Salah only has 2 goals in 14 away matches which means the majority of his points come at Anfield. He is the second top scoring player in the game just one point behind KDB. He is the top scoring midfielder with 15 goals and is currently on penalties while Milner is injured. Only Aubameyang, Vardy and Agüero have more Premier League goals. No player in the league has more shots on goal than Mo Salah and with Bournemouth coming to Anfield this will only increase.
Liverpool host Bournemouth having won their last 21 home Premier League games. Bournemouth have lost their last five away from home, having conceded 45 goals this season: the fifth-most. The Cherries have conceded at least twice in four of their last five away trips, losing their two most recent league visits to Liverpool 3–0. Salah loves playing against them too; he has 7 goals in 5 games including a hat-trick against them last season. Salah himself has found the net in each of his last four home outings, scoring against West Ham, Southampton, Manchester United and Sheffield United. Need I go on?
VOTE ON THIS WEEK'S CAPTAIN POLL GW29
Thanks for reading Fantasy Football Captain Picks Gameweek 29. This article was written by James, AT, GP, DMC, Smash.
FPL FIXTURE TRACKER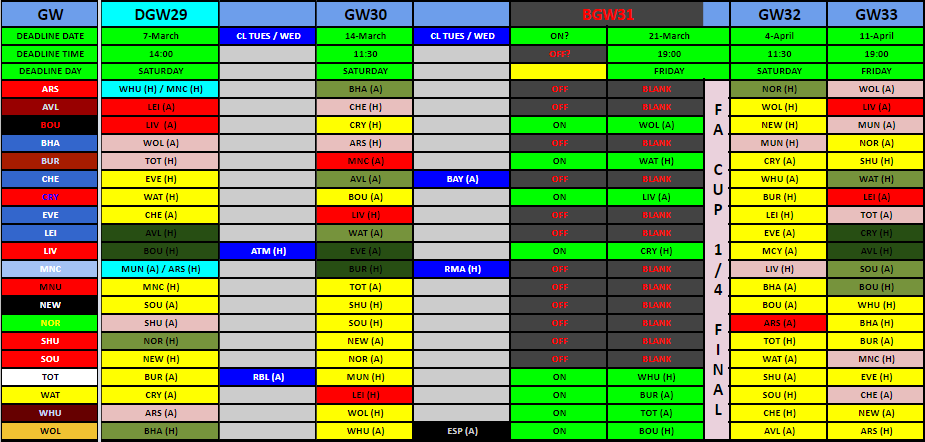 FIXTURE TRACKER LINK
Fantasy Football 247 League Codes: