Fantasy Football Captain Picks Gameweek 32 2017/18
Welcome to Fantasy Football Captain Picks Gameweek 32. Savour this article. As it may be the last one for a good while that doesn't bang on endlessly about DGW's! And BGW's for that matter. Our Fixtures article did, and our Tips article that will follow almost certainly will. That's not our MO here though, we are here to talk about GW32 and GW32 alone. So much so that you could almost also consider this as a player tips article for this week alone, except for the fact that we can only see 3 viable options! Armband or not, if a player makes this shortlist then you can be sure that he's one that you should probably at least aspire to want in your ranks for the week ahead.
We say the above because a certain Egyptian has almost made this article itself a redundant issue. We know who you will probably captain this week. You don't have to be of Mystic Meg proportions to suggest that Mo Salah will get the majority of overall armbands for GW32. It's only natural. Even before his 4 goal haul last week he grabbed 88.8% of the armband's from the top 10k*. If that's not borderline 95% this week we will be very surprised.
*As an aside, we've used the top 10k as a marker there rather than the overall as at least we know it is representative of manager's who are still active. The overall table last week saw 3 of the top 5 spots (roughly 30% in total) taken by players who didn't even have a game. And 2 of those were also injured for good measure!
Other candidates are available of course and as such we shall spend some time assessing them and do our best to convince you why you should at least consider them instead, and then finally try to rubbish the credentials of Salah, which may be difficult… Before you just slap it on Salah anyway.
Romelu Lukaku – Swansea (H)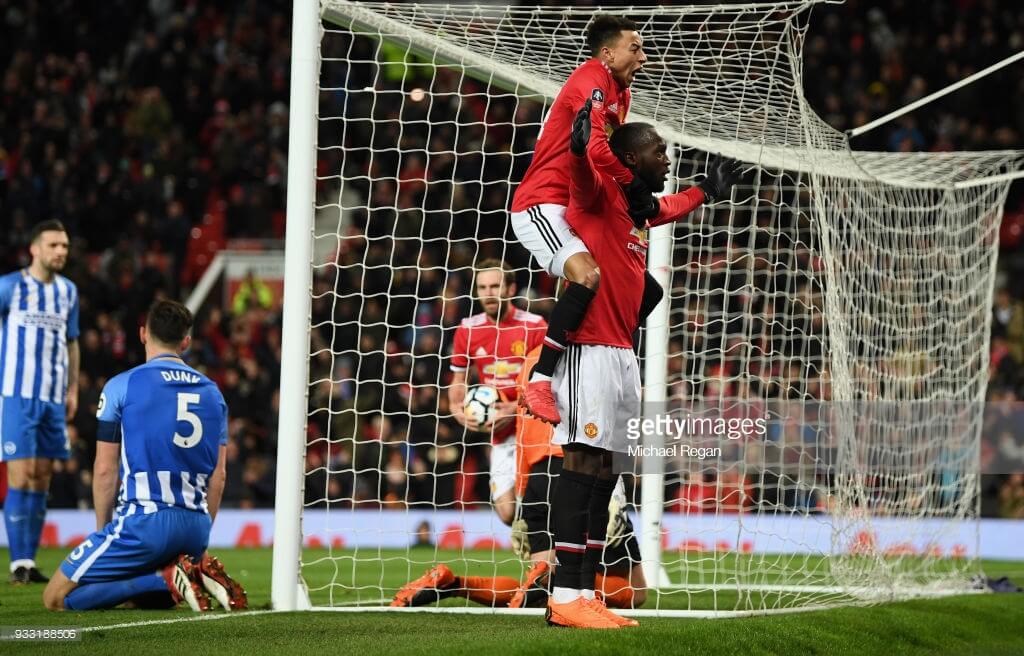 Does anybody else feel like they have been missing out at a bit on Lukaku recently? Maybe, maybe not. He's become a bit of a lost soul in the FPL wilderness as he's viewed as a premium striker in a relatively conservative team but still he's managed 3 goals and an assist in his last 4 and has grabbed 5 bonus points to boot. The truth is that he's just not been top of anybody's shopping list given the other options available in his price range. He suddenly becomes relevant again though given that he has 2 DGW's on the bounce, and it helps that he is in form and scoring. From a DGW point of view there's not a lot not to like here in all honesty. His 4 DGW games are against West Brom, Bournemouth, Brighton and West Ham. But hey, that's not why were are here right now…
As for GW32 he's at home to Swansea and the Key Facts in this one are as follows –
Swansea have conceded 23 in 15 away games, or an average of about 1.5 per game.
United have scored 33 in 15 home games, or an average of 2.2 per game.
Lukaku himself has scored 9 of his 14 league goals at home.
In terms of points split he's got 82 of his 144 points at home, or 57%.
He has only breached the double figures mark on 3 occasions (13, 12 & 12) but all of those were at home.
Pierre-Emerick Aubameyang – Stoke (H)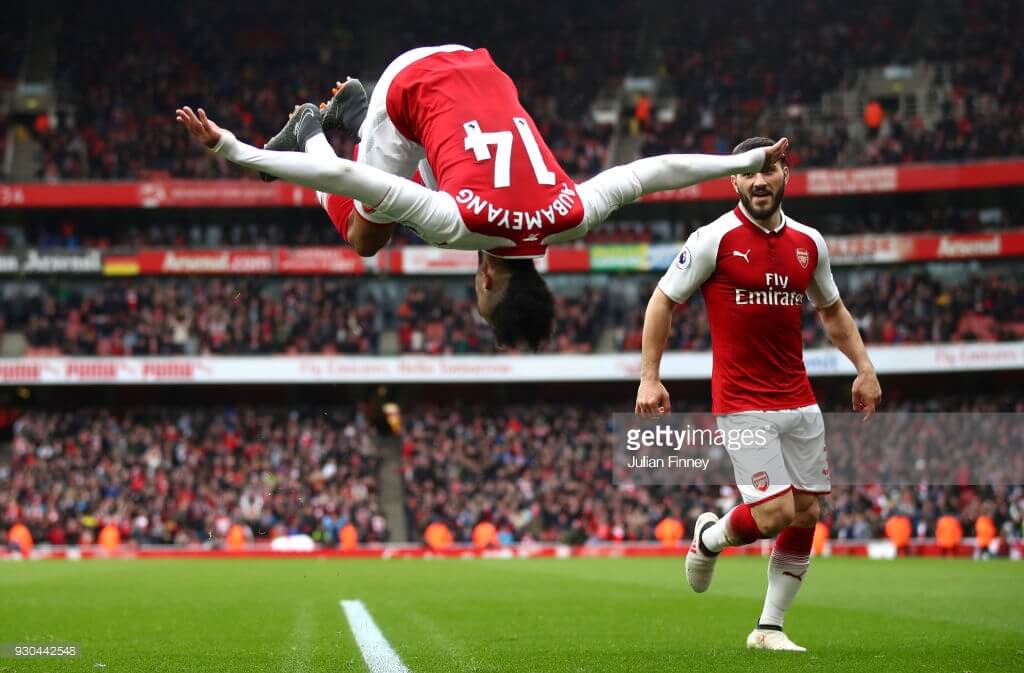 PEA, or Auba (take your pick) has sort of hit the ground running since his £56m transfer in January having already clocked 3 goals in his 5 games so far. And the other 2 were against Spurs and Man City, games that they lost and in all honesty weren't expected to compete in, never mind win. And that's not a sly dig at Arsenal, it's just the reality of their current status. The other 3 games were against Everton, Brighton and Watford, games that they were expected to win, and they did. Handsomely. Scoring 10 goals in the process. The term 'flat-track bully' springs to mind ('someone who dominates inferior opposition, but who cannot beat top-level opponents' – yep, even the Collins English Dictionary has your number Arsenal!). Which brings us nicely onto Stoke….
Key facts –
Stoke have conceded 33 goals in 15 away games, or 2.2 per game.
Arsenal have scored 39 in 15 home games, or 2.6 per game.
Stoke have managed to concede 28 goals in the 8 games they have played against the top 5 teams, or 3.5 per game.
They have played those teams in 4 away games and conceded 7, 5, 5 and 3 for a total of 20, or a nice round average of 5 per game.
Arsenal are not in the top 5!
But the point stands, especially as Arsenal are a 'flat-track bully', and much like the actual top 5 do like to score big against crap teams.
Stoke are a crap team.
Mo Salah – Crystal Palace (a)


He scored 4 last week, so of course he will also score 4 this week too… Ok, he won't. But let's face facts here, he's now bordering on 'perma cap' status. If it wasn't for Liverpool, somewhat unhelpfully, not having a DGW at all we would probably all just captain him from now until the end of the season and forget about it. DGW or not that may still be a plan as he has games like Bournemouth, West Brom and Stoke on the horizon. Unlike his 2 'rivals' though he's actually away from home this week so could that swing the balance a bit? Let's go find out with our Key Facts –
In his and his 'rivals' last 5 FPL games he has scored 62 points, Lukaku has scored 33 and Auba has 26.
Palace have conceded 23 in 15 games at home, or just over 1.5 per game.
Liverpool have scored 35 in 15 away games (the most by any team), or 2.3 per game.
Salah has hit double digit points 14 times this season! Let that sink in…
In his other 17 games he's got over 7 points in 7 of those. So even when he's not in 'explosive' mode he's still registering consistently.
Never mind double figures, he's got 15 or more points on 4 occasions now.
We may have found a slight in his armour though as he's only scored 104 of his total 266 FPL points away from home, or 39%.
That said, take out last weeks ridiculous home haul and the figure rises to 44%, so still not too shabby!
He has however only scored 11 of his 28 goals away from Anfield. Again though, separate out last weeks and it is still almost half, sort of (46%).
Conclusion:
Captain Salah!
Sorry, we did our best to find someone to rival him, but we fear we may have failed.
If you are either very brave or simply need a differential for a mini-league reason then we would certainly consider one of the other two candidates. And Aubameyang would probably be our preference for this week, mainly because of Stoke. If you are playing the bigger picture in terms of DGW's though just remember that Auba doesn't have a DGW in 34, whereas Lukaku does.
Whatever you decide this week we wish you the best of luck with it. And we apologise for interrupting your WC and Chip planning… crack on with that in the comments below!
Thanks for reading Fantasy Football Captain Picks Gameweek 32. This article was written by inittowinit.
The League Codes for FF247 for the 2017/18 season are as follows:
Gameweek Tracker GW32-38