Fantasy Football Captain Picks Gameweek 35
Welcome to Football Captain Picks Gameweek 35. Fellow FPL players, we are in the month of April. As the deadline for GW35 passes, we will be entering the final three calendar weeks of the 2018/2019 FPL season. And, as if that isn't daunting enough, we are facing the last Double Gameweek of the season, and chips are bound to be flyin'. Ladies and Gentlemen, it's squeaky bum time. Welcome to Fantasy Football Captain Picks Gameweek 35.
Gameweek 34 saw a lot of Wildcards activated (for example, 62,6 percent of the top 10k used their WC). And, as was practically written in the stars, the players that frustrated us during blank Gameweeks 31 and 33 decided that GW34 was to be their day in the FPL Limelight. As Saturdays slate of games came to an end, BGW super trio Paul Pogba, Callum Wilson and Ryan Frasier had combined for 46 points. Meanwhile, a combo of Matt Ryan, Shane Duffy, Matt Doherty, Kieran Trippier, Diogo Jota, Heung-Min Son and Raul Jiménez would have netted you the grand total of 8 points. In other words, Gameweek 34 was weird.
As we bid Gameweek 34 adieu, some FPL players will be floating through Easter Week as big winners. Others may feel dejected and hard done by. My advice to both camps is the same. One Gameweek does not a season make. Double Gameweek 35 is right around the corner, and it is massive. Whether you need to bounce back from disappointment, or you are looking to build on a good position, Double Gameweek 35 has the potential to rocket strap your season.
Now, I've been given the honor of guiding you through this week's captaincy options. And there are quite a few. Now, before we get started on the options, I find it necessary to address the Chips in the room. This piece is being written early in the week, which means I do not have access to reliable chip usage statistics. But I think it's safe to assume we'll be seeing plenty of active chips this week. Many will be looking to capitalize on their Bench Boost, while others are looking for a Triple Captain. This article will not delve into which chip you should use this week, and it is not the intention of this article to encourage or dissuade chip usage at all. This article is simply trying to provide an opinion on what players are captaincy candidates this week. As far as I have a preferred captaincy candidate, you may of course infer that the player is a decent TC candidate as well. But let your chip strategy and gut feeling be the deciding factor for your decision.
At last, it's time to look at our Double Gameweek 35 Captaincy Candidates.
Sergio Aguero, Raheem Sterling, Kevin De Bruyne – Spurs (H), Manchester United (A)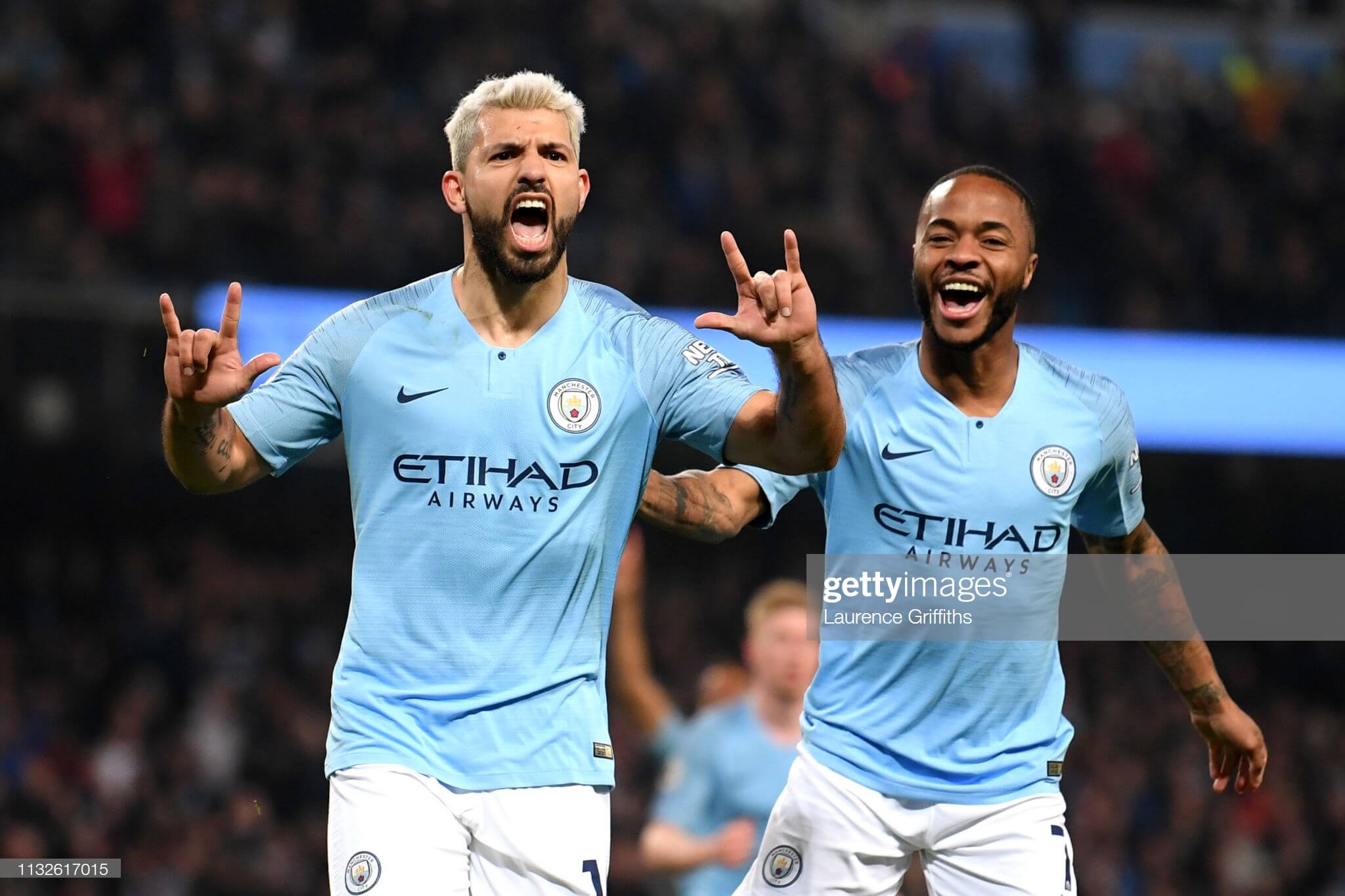 First stop on this Tour de Capitan is the Pep Roulette. As usual, choosing a City captain is done at your own volition. That being said, my personal captaincy pick might just be a City player.
Researching Sergio Aguero's captaincy potential, you'll read about Kuns eye-popping stats against Spurs and Manchester United. And justifiably so. Aguero can now boast 11 goals and 2 assists in 15 matches against Spurs, and 9 goals in 13 matches against Manchester United. But those numbers only tell half the story.
If I were to be making this choice back in the 2015/2016 FPL season, Sergio Aguero would be the obvious favorite. Between August 2011 and May 2015, Kun faced Spurs seven times, returning 10 goals and 1 assist. One of those games was of course the 4 goal and a penalty miss masterclass of October 2014. In the same period, Kun faced Manchester United eight times, scoring 8 goals. In short, Aguero has returned 20 times in 27 appearances against his DGW opponents. But out of those 20 returns, 19 came in the 15 appearances between August 2011 and May 2015. As for the last 12 appearances against his DGW opponents, Aguero has returned only twice.
Prior to picking up a knock in GW32, Aguero was in outstanding form. Before ending his run with a goal and an assist in GW32, Aguero returned 15 times in 12 starts between GW19 and GW32, including two straight home hat-tricks against Arsenal and Chelsea. Aguero then returned from a two-game absence with a penalty miss in the UCL Quarter final defeat to Spurs, before looking a bit off his game away to Crystal Palace. Chances are he needs playing time to get back in form. The return leg against Spurs was helpful in that regard as he got back in form a bit with a goal and an assist. In any case, those looking to captain Aguero in the upcoming DGW will be gambling on him being fit enough to start both fixtures.
Raheem Sterling is Manchester City's top FPL returner. He is enjoying a fantastic season and is in the running for POTY honors. With 30 returns in 26 starts, Sterling could be a premier candidate for the armband in DGW35. But should he be? In my opinion, it boils down to Sterling's expected minutes. Sterling has started 5 of the last 8 league games and subbed on for 30+ minute cameos on two occasions. Furthermore, this is City's third double gameweek of the season. In both the previous two DGWs (GW25 and GW32), Sterling started the first fixture, and found himself benched for the second. In other words, it is very possible Pep chooses to bench Sterling for one of the DGW fixtures. The counter-argument is simple. Manchester City has to win every single league game until the end of the season. Will Pep bench what has perhaps been his best attacking player against Spurs or Manchester United? Perhaps the chances of rotation are less now after their UCL exit and having just the league to concentrate on? If Sterling starts, we're looking at a player who will have started four games in 12 days, going into three league games in 8 days. In short, it's impossible to predict what Pep will do. Sterling offers tremendous upside if he plays, but the little useful data we do have indicates a slightly lower security of starts.
Lastly, Kevin De Bruyne looks to be back to his dominant self. He has now started three straight league games, notching one goal and two assists. In an interview following City's win at Selhurst Park, Pep praised De Bruyne in a way that illustrates how important the Belgian maestro is to his team: "The last three or four games, he's been incredible the way he played. We had missed him a lot. He has that ability and vision to see passes that the rest of human beings are not able to see. With him, our pace and our passes in front in the final third from his passing is incredible." Looking back at De Bruynes season so far, picking him for your FPL team is a gamble. Captaining him for a DGW is a major gamble. But Peps quotes, as well as De Bruynes security of starts in previous seasons, might indicate that De Bruyne is likely to start most games going forward. He could provide a differential captaincy who, although he might not match Sterling's or Aguero's explosiveness, may give you a decent return in the upcoming two fixtures.
Heung-Min Son, Christian Eriksen – Manchester City (A), Brighton (H)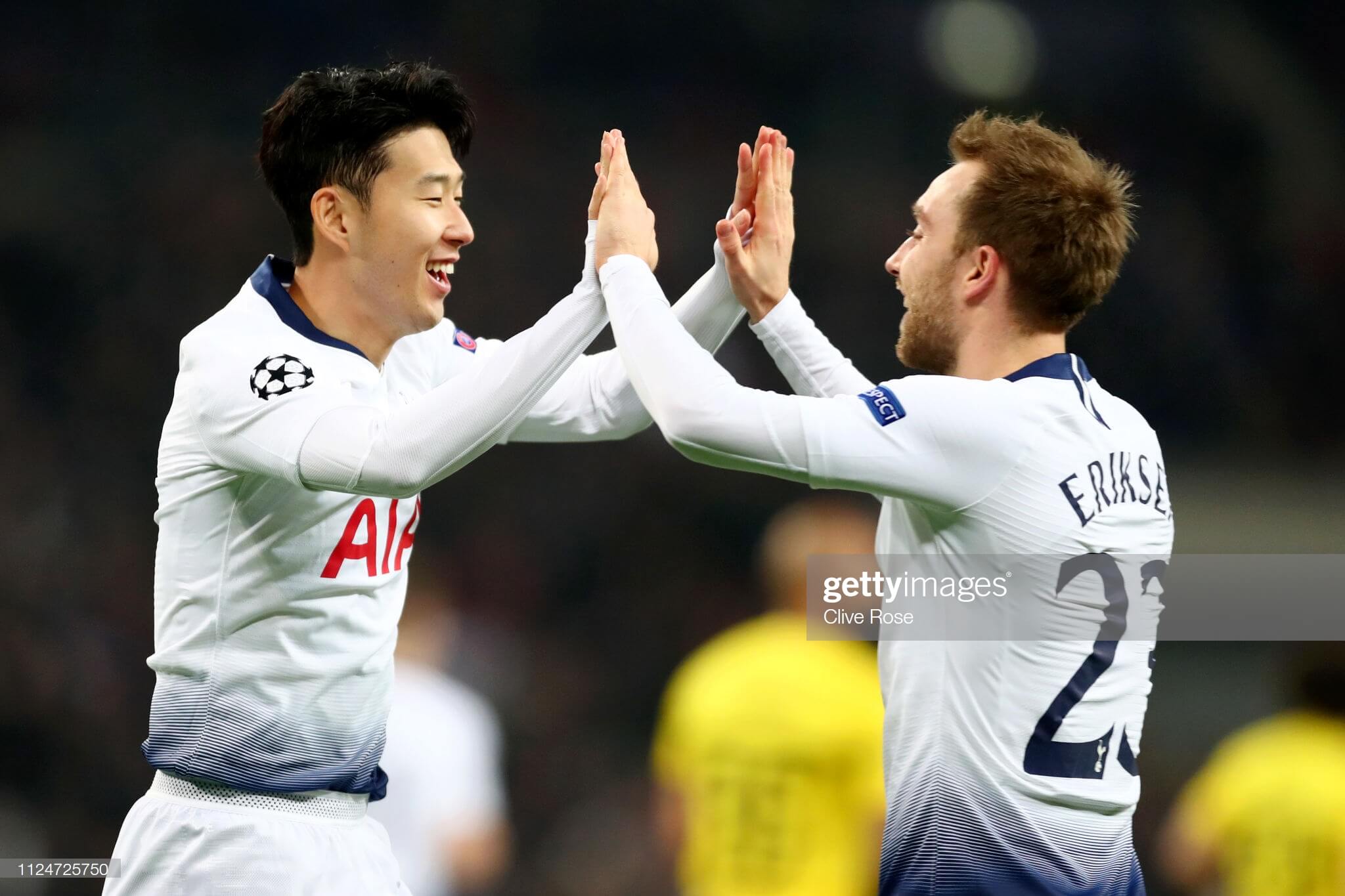 Spurs assets are hard to trust with the armband. The team has seen stars go down injured, and their UCL push threatens rotation in the Premiership. Add to that a tough fixture at the Etihad as part one of the DGW, and Spurs assets aren't looking all that great. Progress in the UCL complicates matters, and indeed their priorities. Heung-Min Son has seen his PL minutes limited, starting only one of the last four. He might find himself replacing Harry Kane in the striker role, and I do feel confident he will start most games. He looks rejuvenated after a few quiet performances earlier in the year and should be considered Spurs prime goal scoring threat.
Christian Eriksen's deeper role against Huddersfield left owners underwhelmed. Despite playing deeper, Eriksen still created more chances than anyone else on the pitch (6 chances), and also managed 5 shots at goal, including a deflected effort that hit the post. This builds on his run of games generating impressive underlying stats. In the four gameweeks prior to this weekend, Eriksen had 14 goal attempts and created 14 chances. The numbers are partly a result of him playing further forward, and a deeper role is concerning in that respect. As is the risk of rotation. Eriksen has played a lot of minutes lately and might be due a rest. But Eriksen is nevertheless on a great statistical run and should be considered for the captaincy.
Fixture wise, it might be difficult to imagine Spurs getting anything away to City. It may be easier to imagine Spurs looking to bounce back from two straight defeats at the Etihad and needing a victory to stay in the top 4. A Brighton team with 11 defeats and 30 conceded goals in 16 away PL games should provide the perfect opportunity to strike back.
Raul Jiménez – Brighton (H), Arsenal (H)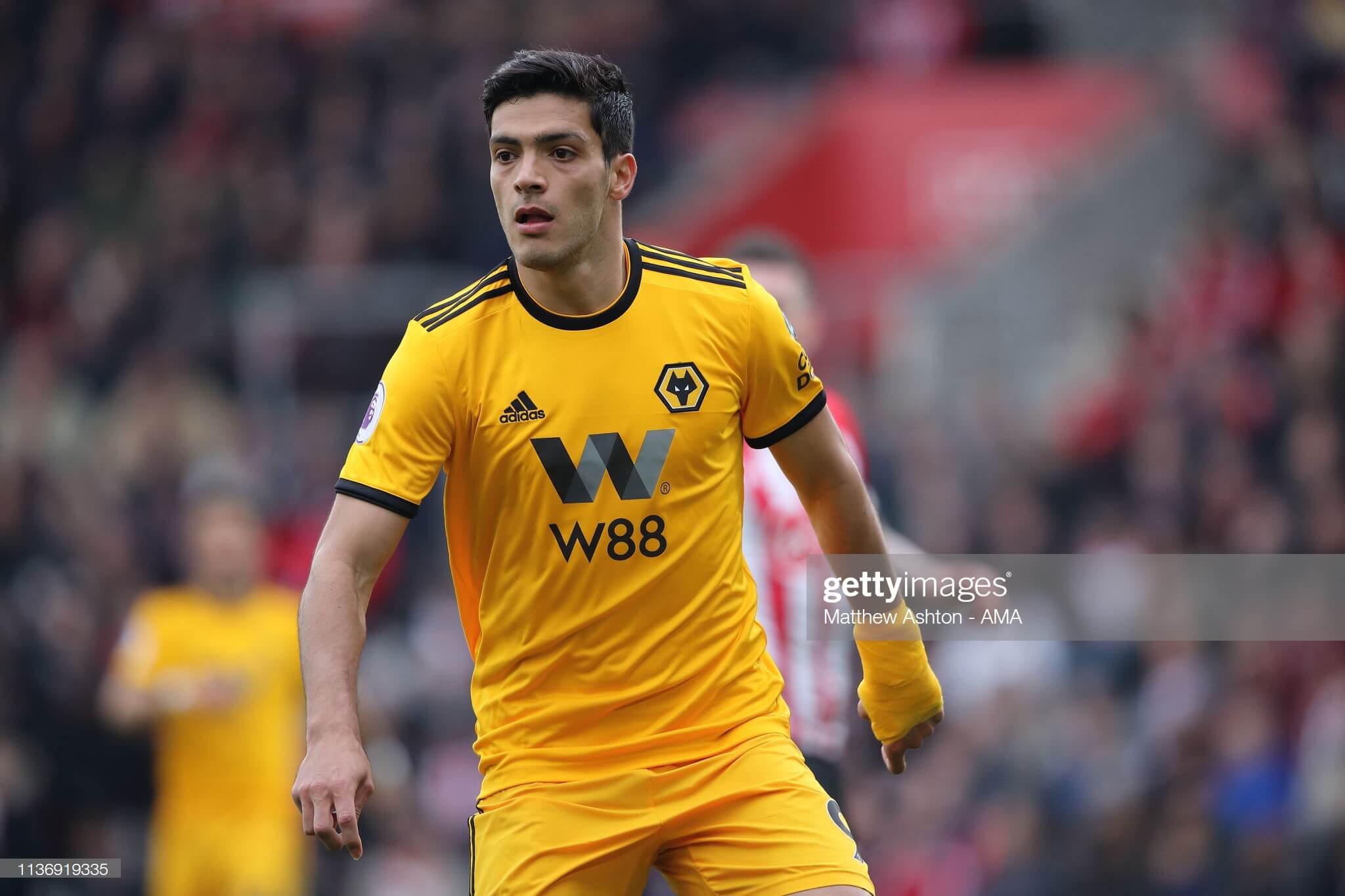 Full disclosure, Wolves FPL assets scare me a bit. Partly because the team has performed inconsistently against lesser opposition, and partly because they are showing signs of being on the beach. Goalless losses against Huddersfield (twice), Brighton, Crystal Palace, Burnley, Watford and Leicester, losses against Cardiff and Southampton, and draws against Fulham, Newcastle and Bournemouth paints a picture of an unreliable team. As most will remember, Wolves also suffered a crushing FA Cup semi final defeat at the hands of Watford. The question facing FPL players now is whether Wolves are up to the challenge of finishing the season in style. This weekends loss at Southampton, and especially what was an atrocious second half, is discouraging at best, and just might be proof of a team already on the beach.
For Raul Jiménez, the fixture combo in DGW 35 is fantastic. The Arsenal fixture would normally be the perfect Jiménez and Wolves fixture. Jiménez has returned against Arsenal, Chelsea (two returns), Spurs (three returns), Manchester United (five returns, including two in the FA Cup), and Liverpool (in the FA Cup). The guy is an obvious big game player and can boast 22 returns in 32 PL starts. Under "normal" circumstances, Jiménez is an outstanding captaincy option for DGW35. As for the opposition, Brighton are atrocious away from home, and, as demonstrated by Bournemouth in GW34, basically just atrocious in general. Arsenal managed to secure their annual away clean sheet against ten-men Watford in GW34. This was also only Arsenals second away win in the last ten away games. In my opinion, Jiménez ticks most boxes for a captaincy option. My only issue with a Jiménez captaincy would simply be a fear of them having checked out for the year. If you feel comfortable trusting Wolves, Jiménez might be the best pick of the bunch this week.
Troy Deeney – Huddersfield (A), Southampton (H)
Never mind.
Paul Pogba, Marcus Rashford, Romelu Lukaku – Everton (A), Manchester City (H)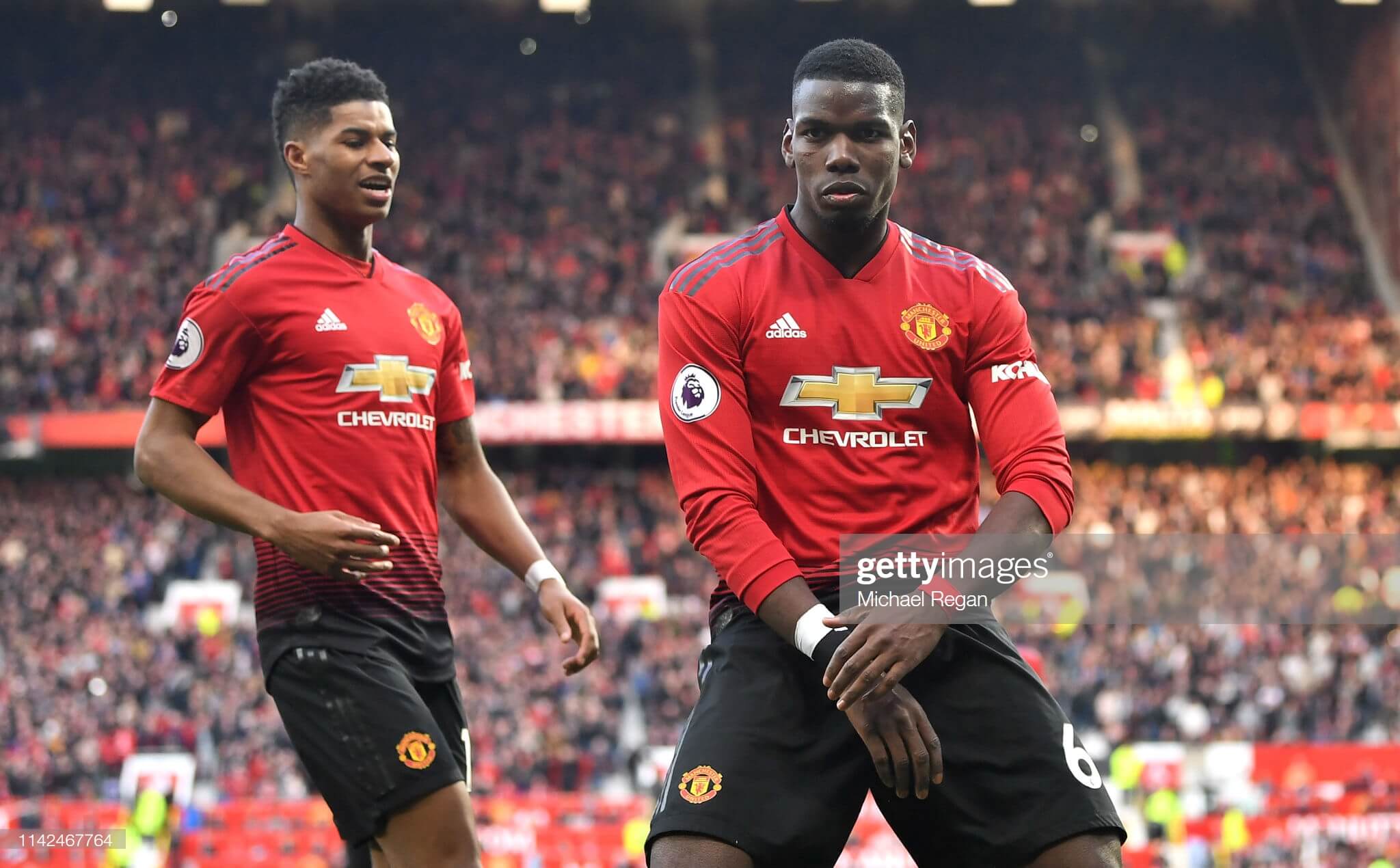 Manchester United assets and FPL, name a more iconic duo? Tired and overused memes aside, it's been difficult to predict how Manchester United assets will perform, both in FPL and in real life. Marcus Rashford went on a great run in the striker role, until he suffered an injury and Romelu Lukaku was re-introduced to the starting eleven. As for Lukaku, he had two brilliant games before suffering an injury himself. And Paul Pogba, who had the greatest run of all United assets, went quiet following his penalty miss against Southampton in GW29, before resurfacing with a double penalty return in GW34.
To me, the only realistic captaincy option among Manchester United's assets is Pogba. He is the team's penalty taker, top scorer, top assist provider and top FPL point scorer. Pogba also seems to be underperforming his expected goals and assists through the last six weeks, which indicates he might be due to start returning from free play again. As for Rashford and Lukaku, their lack of reliable production should render them untenable as captaincy options.
Manchester United also seem to be a bit out of sorts again, especially defensively. With the exception of one night in Paris and a good performance at home to Barcelona, the team has struggled to perform, and Pogba has been less influential than earlier in the season. Statistically, Manchester United are doing okay, sitting sixth in minutes per chance over the last six gameweeks. But the performances of late do not inspire confidence in a team due to face a Manchester City team in must-win mode, followed by a trip to Everton at what has all of a sudden become the impenetrable Fort Goodison. The arguments against captaining a Manchester United asset seem to outweigh the arguments for it. For those of you throwing caution to the wind, Pogba looks to be the best alternative.
Pierre-Emerick Aubameyang, Alexandre Lacazette – Crystal Palace (H), Wolves (A)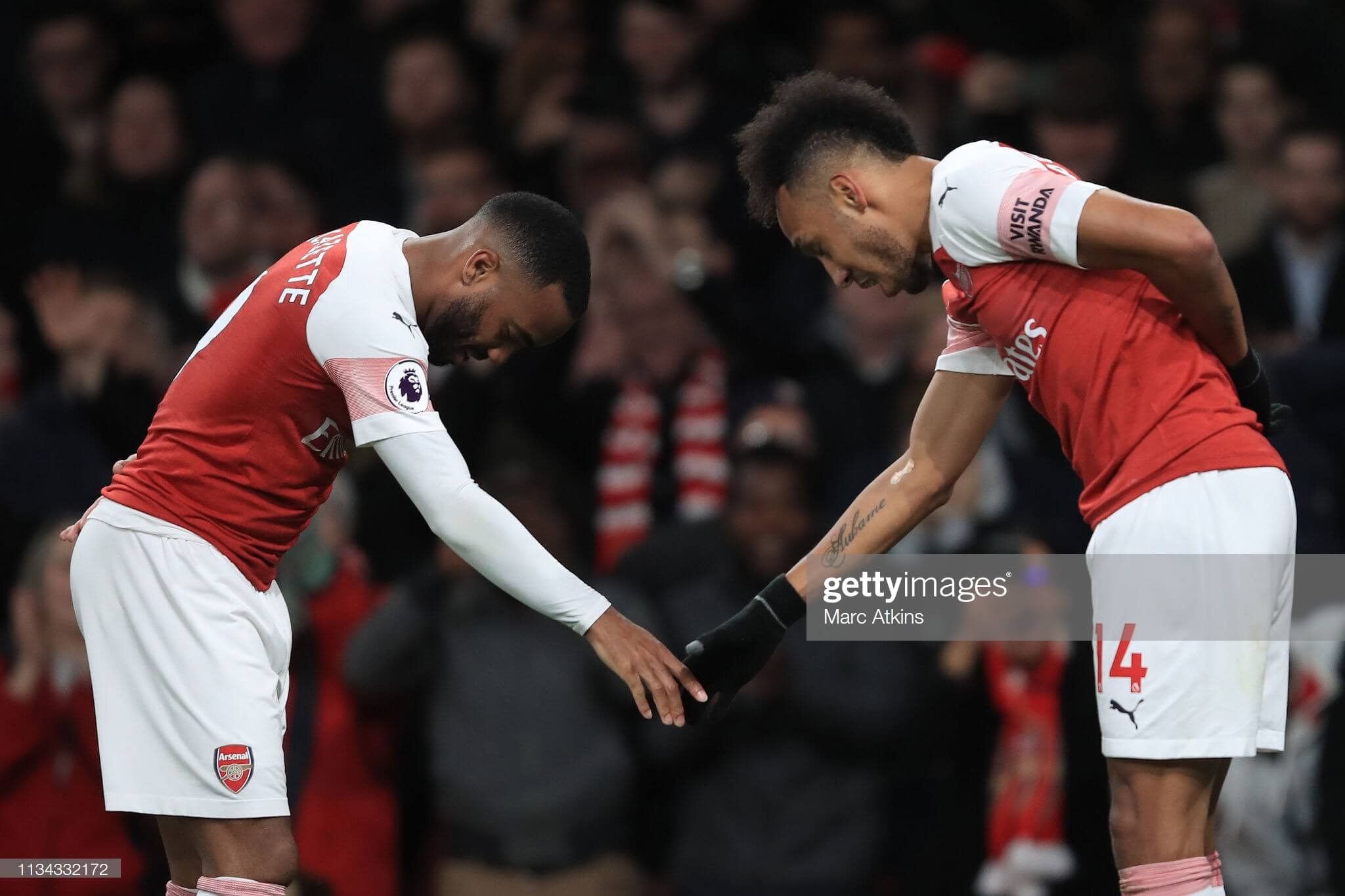 I've already touched on difficulty predicting the performances of Manchester Uniteds FPL assets. The same certainly goes for Arsenal players. Unai Emery has never seen a rotation opportunity he didn't like, and at this point you're probably more likely to catch two identical snowflakes than you are to predict Arsenals lineup over two games. For all FPL intents and purposes, the rotation has left Arsenals midfield completely irrelevant, leaving Arsenals striker duo as the only realistic captaincy options for DGW35.
Pierre-Emerick Aubameyang has 25 returns in 26 starts. Alexandre Lacazette has 24 returns in 22 starts. Stats wise, and in a vacuum, they are both great options. Not to mention, their fixtures look decent as well. In short, both are fantastic players with high chances of returns. But can we captain them?
Despite their fantastic rate of return and the decent fixtures, Aubameyang and Lacazette remain risky captaincy choices for two reasons. Arsenals abysmal form away from home indicates the Wolves fixture might be tough sledding. As mentioned earlier, Arsenal have only managed two wins in the last ten league games away from the Emirates, losing five, drawing three, and only scoring 11 goals. Perhaps more important, both players are risky captaincy picks because you just don't know who Emery will decide to start. Aubameyang has started just three of the last eight PL fixtures, but started 16 straight fixtures prior to GW25. Lacazette, on the other hand, has started 11 of the last 13 PL fixtures, and could therefore perhaps be the "safer" pick of the two. But prior to his current run of starts, Lacazette started 2 of the 8 fixtures in GW 13-20. Not to mention Lacazette being an unused sub in GW34. Arsenal are set to face Napoli in the second leg of the Europa League Quarter Finals, and Thursday evenings team selection might shed some light on who Emery will start in DGW35. Personally, I do not feel comfortable predicting Arsenals lineup over two games, which will probably be enough for me to stay away from Aubameyang and Lacazette as captaincy alternatives.
Before I wrap this up, I want to mention three options who'll only play once during DGW35. The three players will not come as a surprise, as they are currently number 1, 2 and 4 on the FPL top overall point scorer list.
Mohammed Salah, Sadio Mane – Cardiff (A)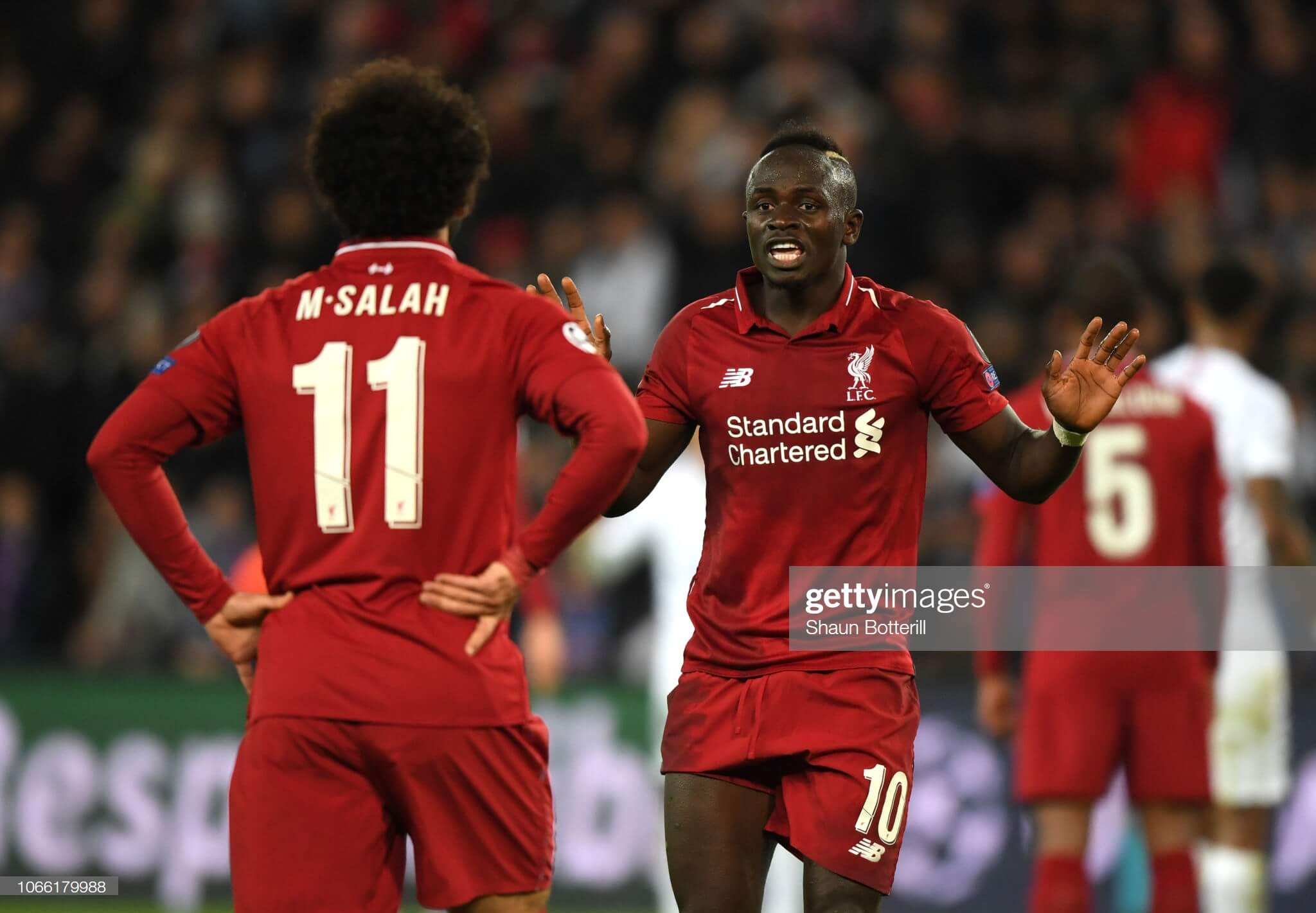 Even with just a single fixture, Liverpool assets should not be overlooked. Mo Salah has four returns in five league games and looked very lively against Chelsea. Scoring an absolute banger in such an important game will surely boost his confidence going forward, and it was easy to see how much the goal meant to him. The biggest detraction to Salah's captaincy case is his lack of big hauls. Mo hasn't returned more than 8 points since GW23 (which ended a run of form where he double or triple returned six times in eight GWs). Captaining Salah in a DGW would therefore be gambling on the return of his explosivity. As for Sadio Mane, he has also returned four times in the last five GWs. But unlike Salah, Mane has posted double returns on two occasions. It's also worth mentioning that Mane consistently outscore Salah in bonus points (6 bonus points to 0 in the last five GWs). Mane might therefore be the slightly more explosive option of the two, although I would be reticent to gamble on that remaining the case throughout the end of the season.
Choosing between the two is difficult to say the least. Throughout the last ten gameweeks, Mane has been the better pick, and the more explosive player. Going back to the turn of the year, Mane has been the better pick. The players post similar underlying stats as well. Therefore, Mane would probably be the slightly better captaincy choice as of right now. But be prepared for Salah to explode into life.
As to why we should consider captaining a Liverpool player, despite them only playing once in DGW35, the answer is simply form and fixture. Liverpool have won five straight league games, scoring 13 goals. This week Liverpool are facing Cardiff City. Normally, games against teams fighting to avoid relegation are tight and difficult. And that might also turn out to be the case this Sunday. But Cardiff City manager Neil Warnock stated earlier this season that his team has a better chance of getting results when they "go for it", instead of sitting back to defend. Facing a team of Liverpool's qualities, it's hard to see an outcome where that strategy is successful. In my opinion, Liverpool are bound to find space to play, and will pick Cardiff City apart. I will be expecting a comfortable win for Liverpool, and I believe both Salah and Mane have the potential to match the returns of any of the DGW captaincy options.
Eden Hazard – Burnley (H)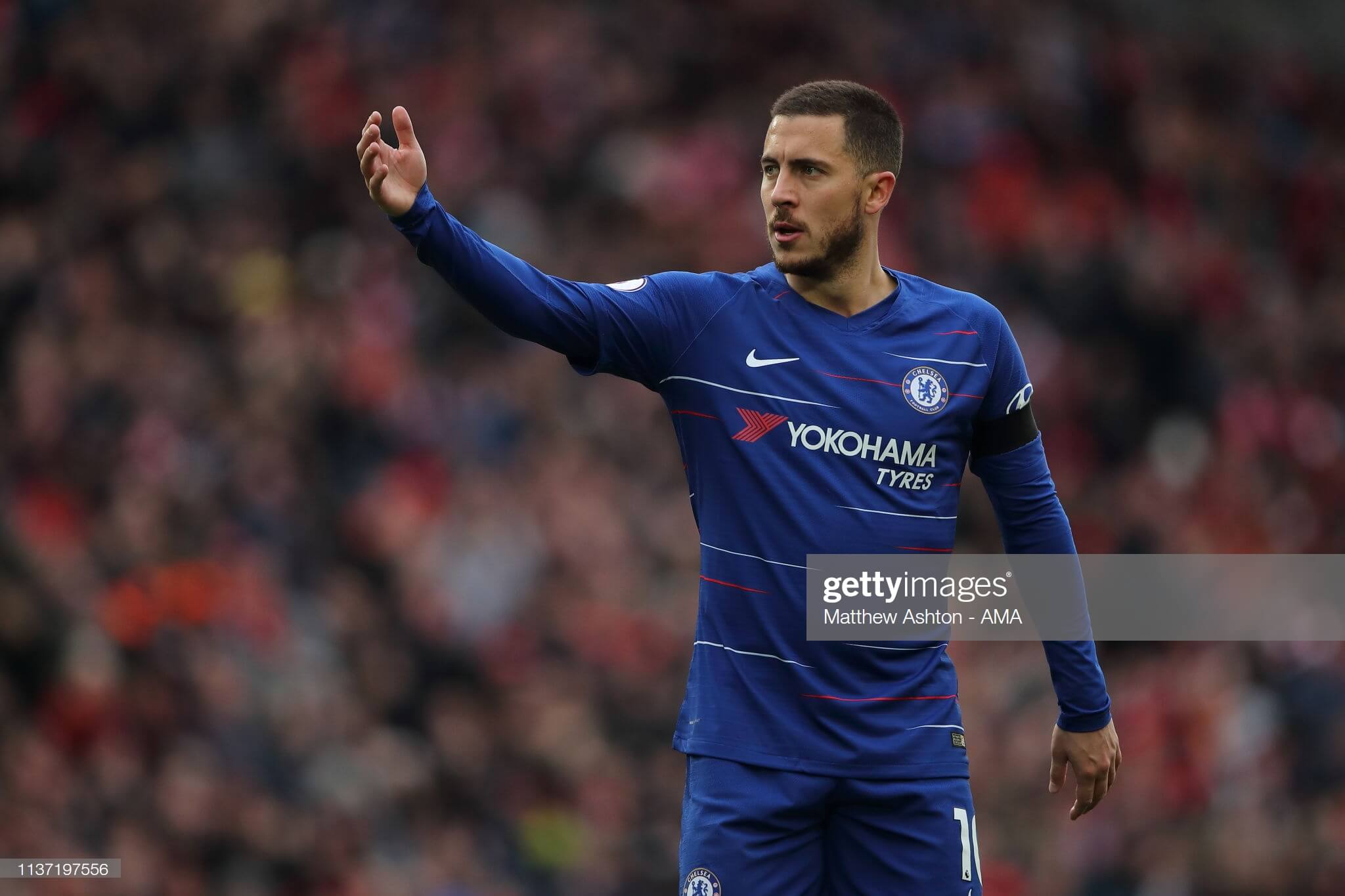 Lastly, Eden Hazard will round out this week's captaincy options. The Belgian magician has been in electric form of late, posting two double returns in the last three GWs, and three double figure returns in the last six. Furthermore, Hazard was unlucky not to score at least once at Anfield. He might just be the most in-form player in the league. As for his opponent, Burnley will most likely allow Chelsea to control the fixture. We should expect a full-strength Chelsea side looking for a much-needed victory, and Hazard will spearhead that effort.
Thanks for reading Fantasy Football Captain Picks Gameweek 35. This article was written by Pele.
FPL FIXTURE TRACKER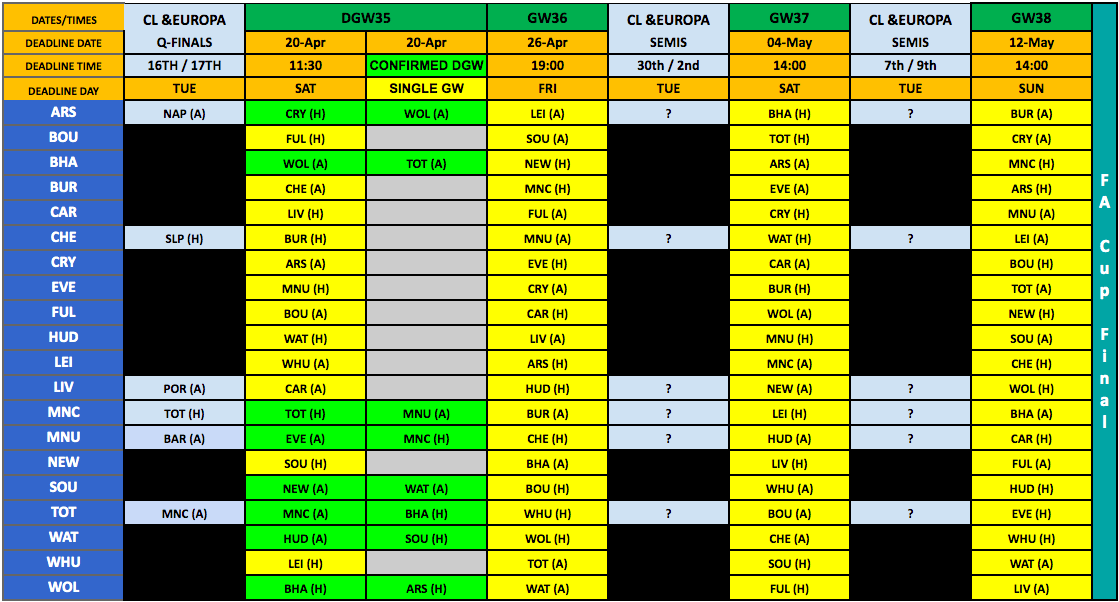 Welcome to our Fantasy Football leagues section.
The League Codes for FF247 for the 2018/19 season are as follows –