Fantasy Football Captain Picks Gameweek 37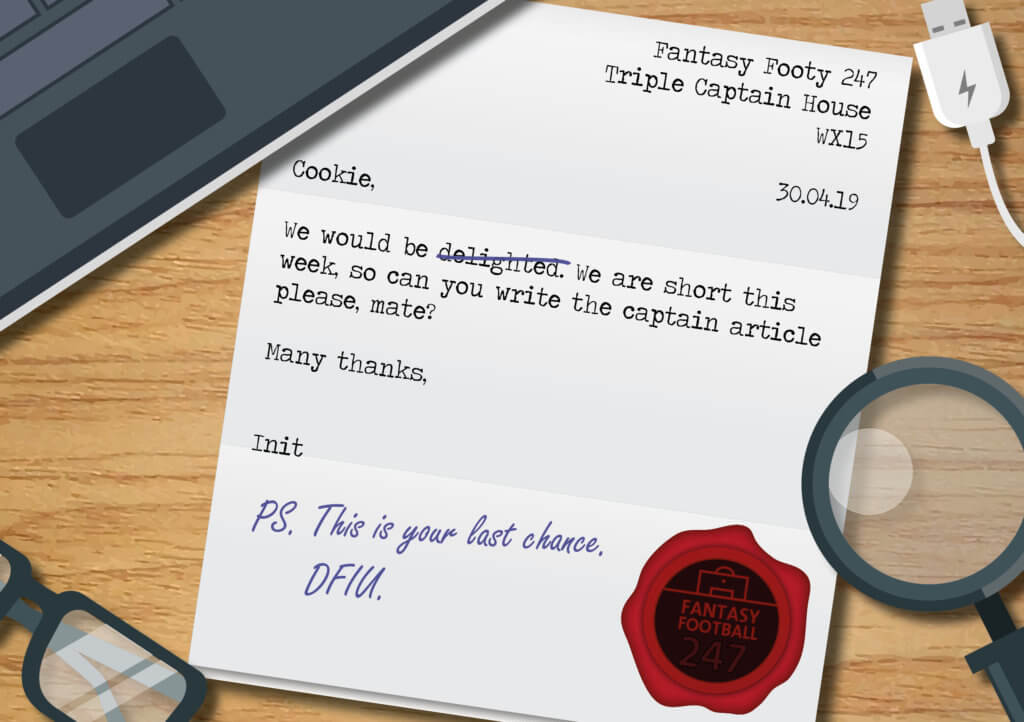 Welcome to Football Captain Picks Gameweek 37. It was with much excitement that I ripped open the envelope that landed on my door mat. Could this be it? My golden ticket moment. Even though I'm feeling more like Grandpa Joe than Charlie Bucket these days, mentally I'm still a kid. I couldn't wait to find the letter opener, I ripped the seal apart with my bare hands… and there it was. My invitation to write the GW37 Captain article personally sent from FF247's very own Willy Wonka.
You see I didn't think I'd be allowed back after some horrendous selections over the years which have included nightmare picks of Baines, Kolarov and Kolasinac and culminating in me recommending on the boards to you all to Capo Shane Duffy in DGW34. Even the Site Team committee has a separate WhatsApp chat without me. They thought I didn't know.
So here we are. The penultimate game-week of the season. Time to nail that armband on your prime candidate and who better qualified to walk you through such an important process…..?!?! 😉
The Early Bird
Lucas Digne (home vs Burnley)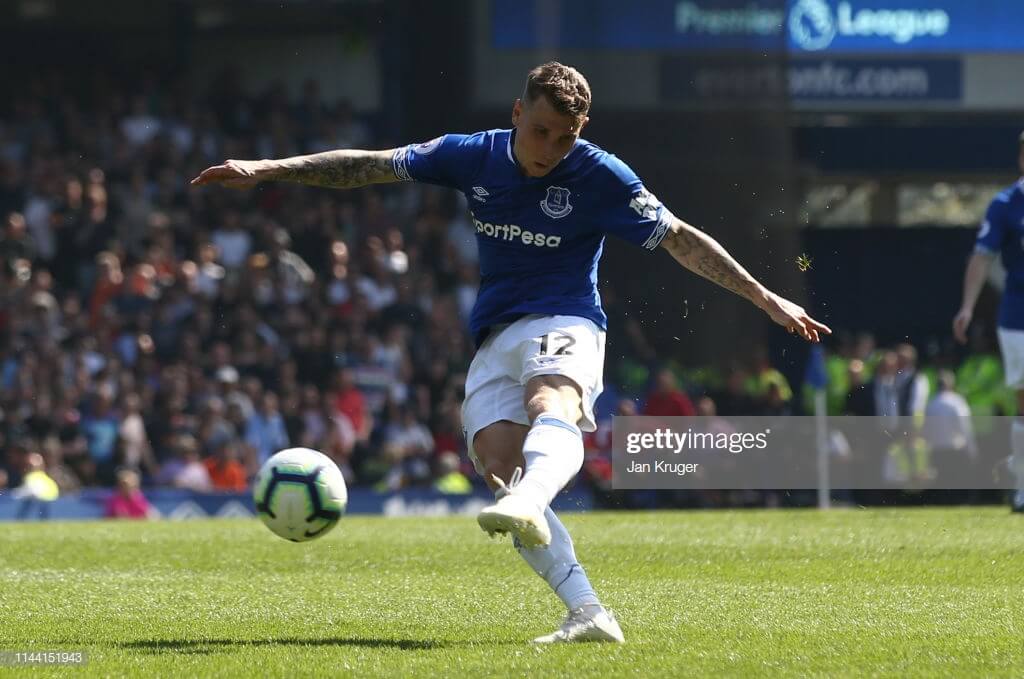 Ah c'mon I had to start with a defender didn't I?! Many of you had tremendous joy with a Friday captain last week and will be hoping that lightning strikes twice. Despite Burnley tightening up as soon as they got shot of Joe Hart (who'd have thought?) Everton have found a resilience not seen since the Mountfield & Radcliffe days… and a young Init was parading around Goodison as a mascot with Chewy the Toffee.
I digress. Lucas Digne – much maligned by many a Gwladys Street groupie earlier in the season has found some remarkable (it's all relative) form. Four successive clean sheets at home, seven clean sheets in their last nine home and away and two bonus points three times in the last four matches has seen Digne rise to become the joint sixth highest scoring defender in FPL.
Recent stats suggest another clean sheet is highly probable and if so, bonus points are likely to follow.
Digne scored a brace the last time the teams met in December – a repeat of that would be a perfect start to your GW.
Will Friday be lucky for you again this week?
Too scared not to?
Mo Salah / Sadio Mane (away vs Newcastle)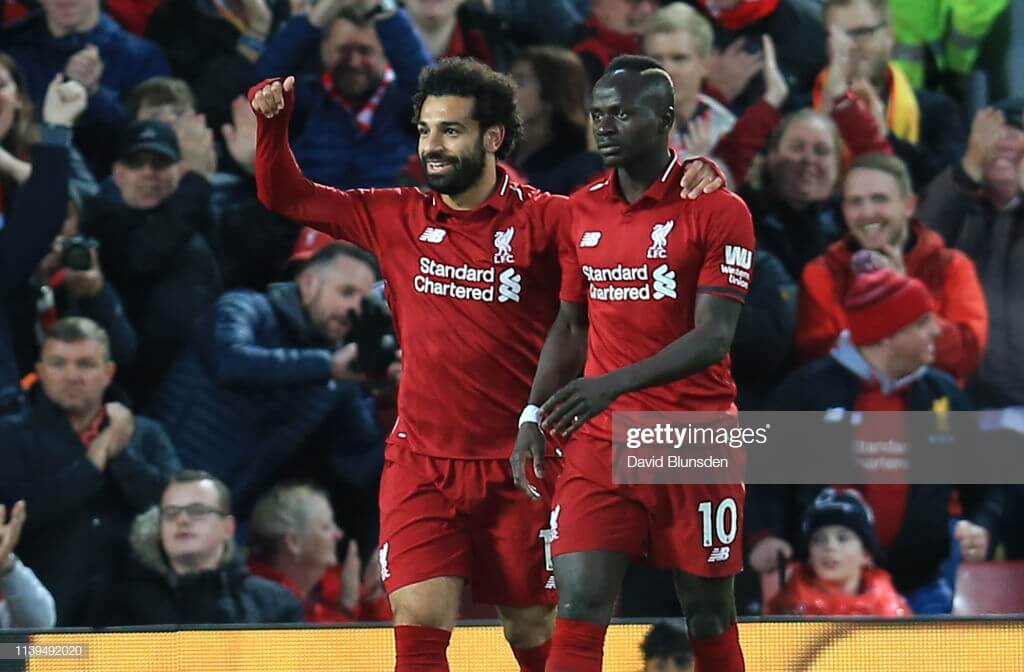 These two need no introduction after dominating the captain stats last week. But can they do it on a cold, dark night in Newcastle? How the hell would I know, I've never been to Newcastle? So I asked our very own gentle Geordie, Rosco, the vital question. His answer was and I quote;
"For one it won't be all that dark, Mike Ashely may be tight, but as yet the floodlights have yet to come a cropper (those giant mugs aren't going to advertise themselves) and it'll probably not be that cold (it's not as grim up north as some would have you believe). But all jokes aside, yeah, probably. Rafa will keep it tight but will it be enough? I doubt it. I'll be honest, as a Salah owner I'll be more than happy with another 19pts… in a 4-3 win.. just like the 90's; except I'll not be crying!"
It appears I caught Rosco on the back of a long lunch.
So he's predicting more scalps for Liverpool's deadly duo as they attempt to regain top spot.
When the sides met in GW19 Liverpool triumphed 4-0 at Anfield – Salah scored and assisted, Mané blanked. Read into that what you will.
It may be worth pointing out that as yet Newcastle have yet to concede more than two goals in any home game this season.
But have you the guts to ignore them this week?
Home Sweet Home
Raúl Jiménez (home vs Fulham)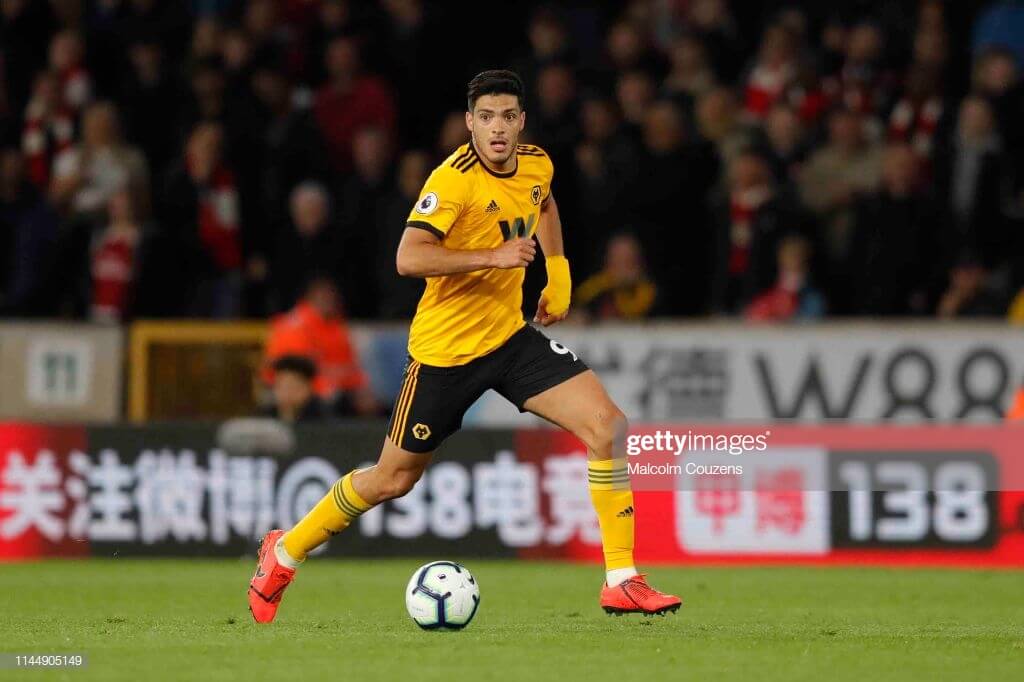 At the time of writing Jiménez was the 2nd most owned player in FPL. Add that stat to Jimmy's Saturday afternoon home fixture vs a relegated Fulham, this surely carries some weight in this week's big armband decision?
We'll ignore the fact that Wolves' leading scorer blanked in DGW35 and I have conveniently forgotten that I captained him in that DGW. For our Mexican magician rose from the FPL ashes to find the net at Watford last time out and returns this week to Molineux where he has returned four double digit hauls already this season.
With Wolves hoping to grab a possible Europa spot, don't be deceived by Fulham's recent 'revival'. The Mexican bandit is sniffing more loot and he'll be looking to rob the posh boys from West London at the weekend.
Anyone playing vs Shane Duffy!
Pierre-Emerick Aubameyang / Alexandre Lacazette (home vs Brighton)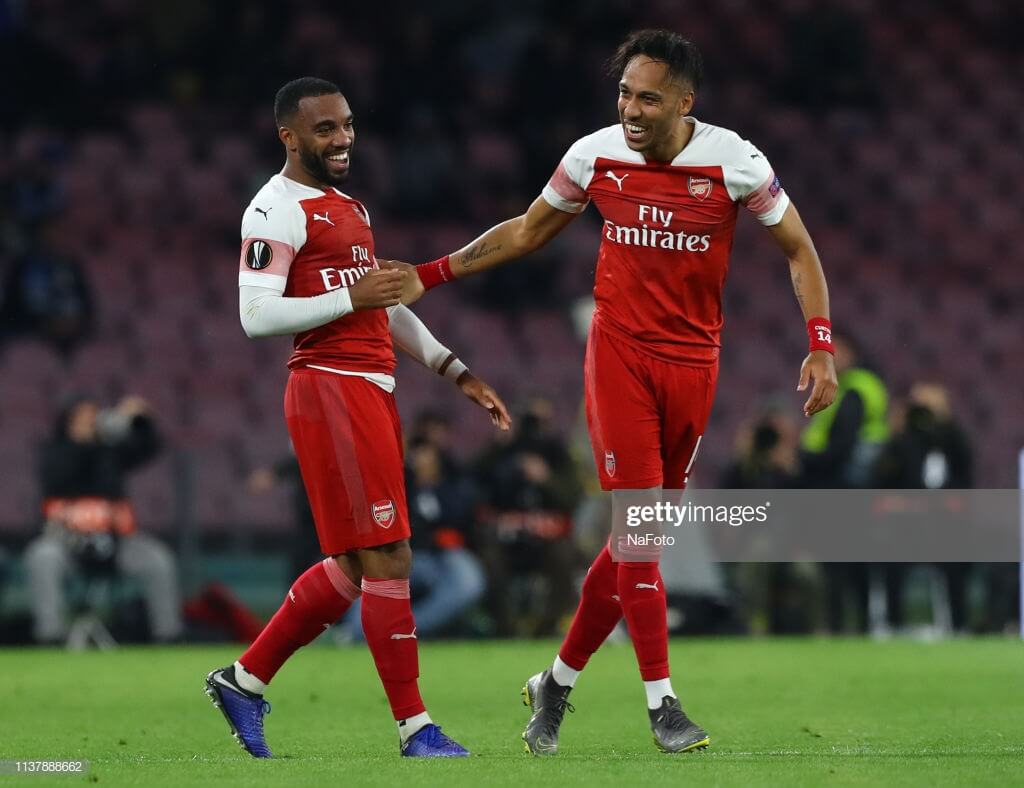 The Duffer and I have enjoyed experienced a traumatic on/off relationship of late. Together in DGW34 I bestowed him with my armband. He slapped me in the face and booted me in the nuts.
In a violent rage I threw him and his mate Dunk on the bench for DGW35 where they proceeded to neutralise my Capo Jiménez and almost did likewise a few days later at Spurs.
Naturally I came to my senses and played them both home to Toon in GW36 and they conceded within half hour. Bitches.
They travel to the Emirates this weekend to face up to Aubameyang & Lacazette. These two pros will do what I couldn't and wipe the smiles off their faces and give them a proper hiding.
Before the loss at home to Palace, the Gooners had won ten in a row at home and they should have no bother returning to winning ways on Sunday. When the two met earlier in the season, Auba scored and Laca assisted in a 1-1 draw. They have form vs Dumb & Dumber and the Duffers will suffer an overdue spanking this weekend.
Mr Reliable
Eden Hazard (home vs Watford)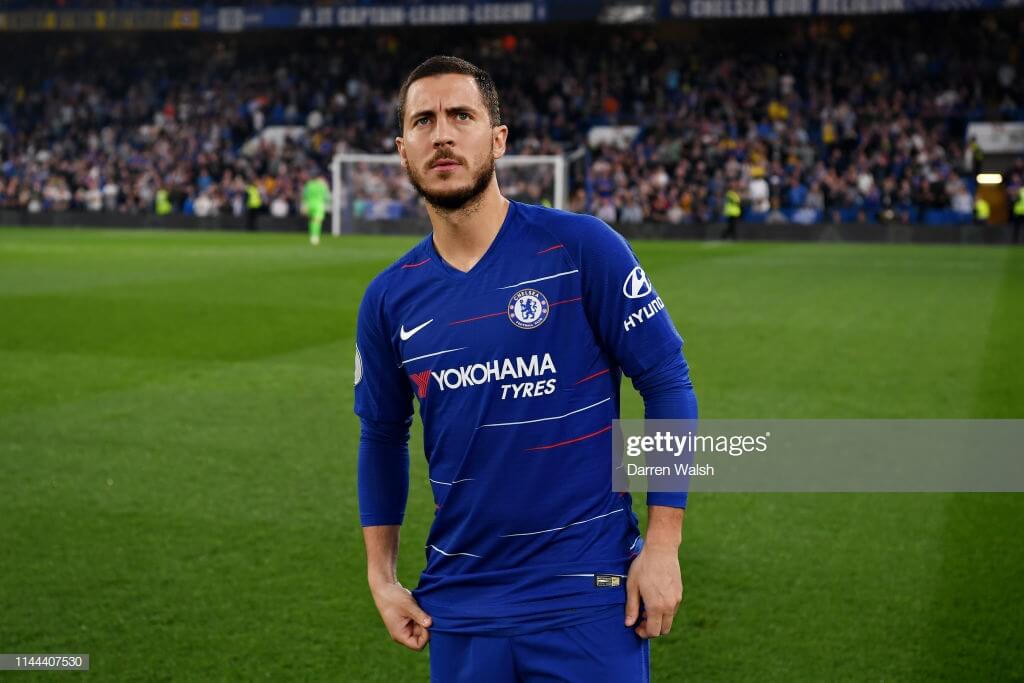 If I told you that the joint 2nd highest points scorer in FPL has recorded scores of 7, 16, 14 & 10 in his last four home matches and this week faces a team that hasn't kept a clean sheet in ten matches, you'd be tempted for sure. If I then told you that Eden Hazard has already scored a brace vs Watford this season, you'd be really interested, no?
So how come he's not owned and captained by more teams this week?
Clearly its the perceived lack of consistency in Sarri's Chelsea. However with just two matches left and the Blues in pole position to grab the final CL spot, Sarri and Hazard will be desperate to take a massive stride towards European qualification in their final home game of the season.
11 of Hazard's 16 goals have come at the Bridge this season as have 8 of his 13 assists. This is a massive game for Chelsea with a tricky trip to inform Leicester on the agenda for GW38.
To quote Sherlock Holmes, 'there is nothing more deceptive than an obvious fact'.
The Late, Late Show
Sergio Aguero (home vs Leicester)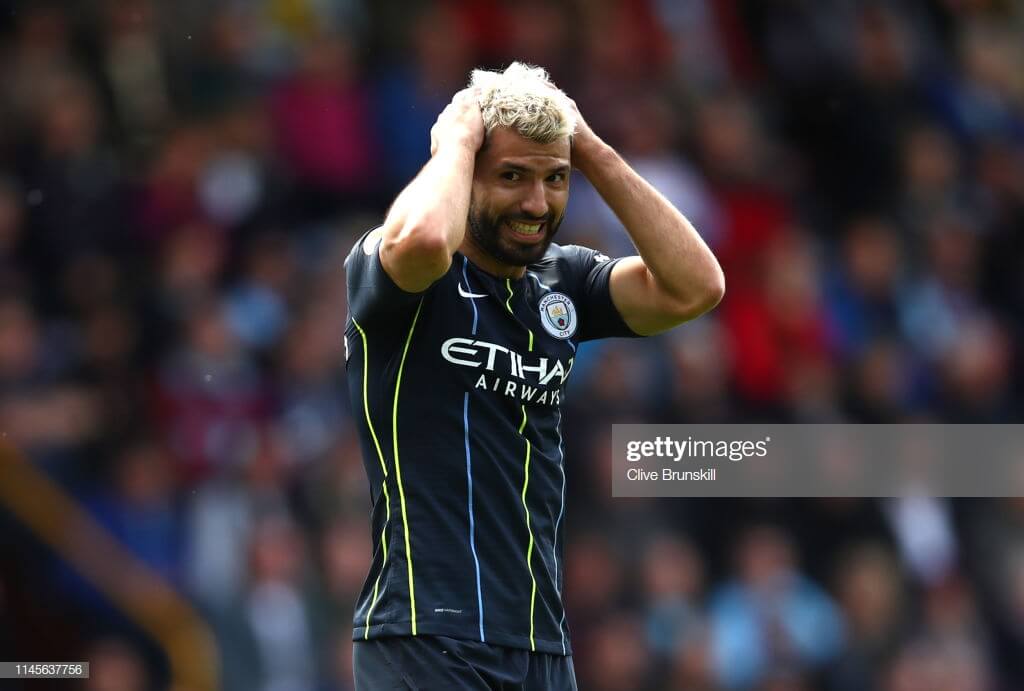 Some FPL managers love an obvious captain, some folk like a differential captain. Some, quite recently, have been romanced by a Friday evening captain. And I know for a fact that a lot of learned FPL players love a Monday Night Football skipper. The joy and adrenaline rush of having your captain play in the final match of the game-week.
And what an option this week. The game's most highly owned player playing at home with the chance to take his team a step closer to retaining their title.
Let this fact sink in – Aguero has scored and/or assisted in every league start at the Etihad this season. That's pretty impressive and consistent.
He also likes playing Leicester having scored four times in the win over the Foxes at home last season.
Sure, Leicester have improved under Brenda and what's not to say that Vardy won't continue his good form. However it's the best players that step up when their team really needs them to see them over the line and they don't come much better than Kun.
Good luck with whoever you choose. I genuinely believe in every one of my selections above – I would love them all as my captain this week, hence they have been included here.
But which one will you go for? Or have you someone else in mind?
Thanks for reading Fantasy Football Captain Picks Gameweek 37. This article was written by Cookie.
FPL FIXTURE TRACKER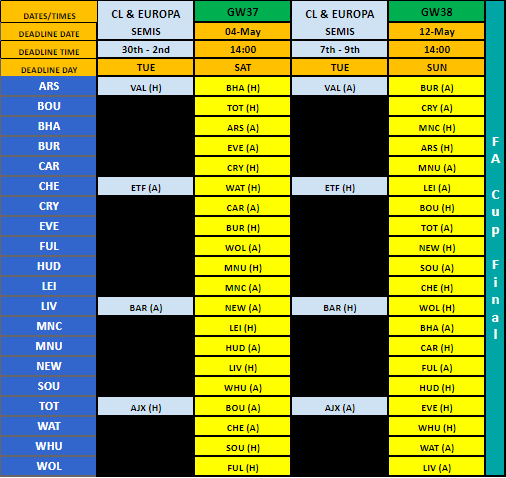 Welcome to our Fantasy Football leagues section.
The League Codes for FF247 for the 2018/19 season are as follows –