Fantasy Football Captain Picks Gameweek 4
Welcome to Fantasy Football Captain Picks Gameweek 4. Ok, spoiler alert: I'm not going to make a case for you to hand the armband to Harry Kane in the North London Derby. I mean it's not like he has 9 goals in 9 premier league games against them. You know, he doesn't have 3 goals in 4 games played at the Emirates…well, you get the picture, stranger things have happened, FPL and all that, but with many a manager still hungover after his blank last time out at home to Newcastle I just think we should focus elsewhere. Also, you've probably rage transferred him out already for Aguero with a -4 to go along with it to fund the bloody thing so I'll spare your nerves here. I'm also not going to cover any Liverpool players either and that's because the usual suspect that is Mo Salah has never scored at Burnley (he barely played there actually) and they seem to be back at their best, so I don't expect a goal fest here. Do captain him or his friend Sadio Mane by all means if you feel they'll score big though. Anyway, it's still early days and with only being three games in, we don't really have enough material yet to work on so that we can say whether or not someone is a reliable captain. That said, there are a few trends and stats that can be handy for this specific article and at that light I've come up with this bunch:
Raheem Sterling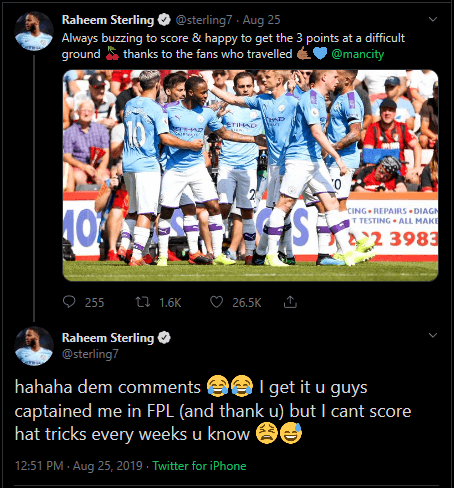 Scored in every match, including a first day hattrick at West Ham, and leads the goal scoring chart ex aequo with goal machine Teemu Pukki. He has 12 shots, 7 of which were on target which means almost a goal every two shots and 71% conversion rate from the ones that hit the target. He has 34 goals for City in 57 starts at the Etihad and only 18 in 58 away from home, so, despite being fixture proof and capable of big scores away from home (as per gw 1), he seems more likely to post big hauls at home which is where he'll play this weekend. A key stat here are the through balls. City have 18 of those in 3 gws. To put this in perspective, Arsenal and Leicester are next best with 11 and 8. Why is this so relevant? Well, our man Sterling has 4 goals from through balls…you do the math.
Sergio Aguero
Scored in every match (yeah, him too) despite starting the first on the bench and being subbed off early in the second. I'm sure he'd lead in points per minute if there was such a stat indicator on the FPL site. What caught the eye here with old Sergio is the way he's poaching them goals in. If you haven't seen them, do take a moment, as they look like the goals of an inform striker, being at the right place at the right time and meeting the ball at the exact pace and shot strength needed to score. The first vs Bournemouth tells the story really, what a class player he is. On the stats front, he brandishes a total of 8 shots, 4 of which were on target. You read that right – he has scored from all of his shots on target. Now that's not sustainable obviously but with City shooting on target 8 times per game right now … you do the math. Brighton probably won't be pushovers – their last three at the Etihad read 3-1, 2-0 and 1-0 – but we know what City and Kun in particular can do to teams when in form.
Teemu Pukki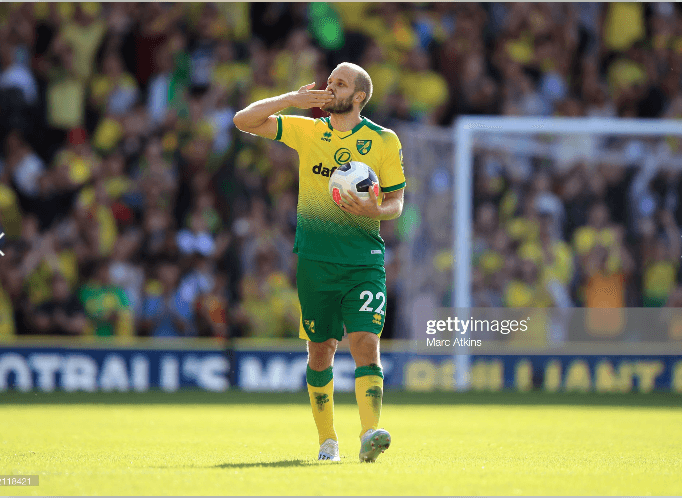 Now, Aguero may be a class act, but he's no Teemu Pukki. The Finnish goal machine, the ruthless Scandinavian, the GOAT as he's been branded in certain Finnish circles (nevermind, they all live in cellars – sorry Zed mate). He's a man in truly spectacular form. He's in fact a summer solstice setting the world alight. He too has scored in every match, including a hattrick against the strongest Newcastle team of all time (sorry Rosco mate) and, perhaps most notably, a goal at Anfield in the opening day and a double digit score against a top 6 team in gw 3 (no, it's not Newcastle). Fixture proof? Who knows, but in such an attacking team as Norwich, ignore him at your peril. Next up is West Ham, a team not showing well in several key defensive stats. Here are some that may interest our Pukki owners: they have 7 goals conceded in 3 games, failed to keep a clean sheet and have conceded a whopping average of 18 shots per game! Now, I'm aware those stats are a consequence of Man City coming to town in gw 1 but Norwich themselves have a total of 33 shots, 18 on target and our Finnish star has 12 shots, 9 on target, so … you do the math. Ok, I'll do it for you: what those numbers mean is that West Ham are highly likely to concede and that Pukki is highly likely to have shots on target and he has a +50% conversion rate at the moment from those that hit the target. What's not to like?
Sébastien Haller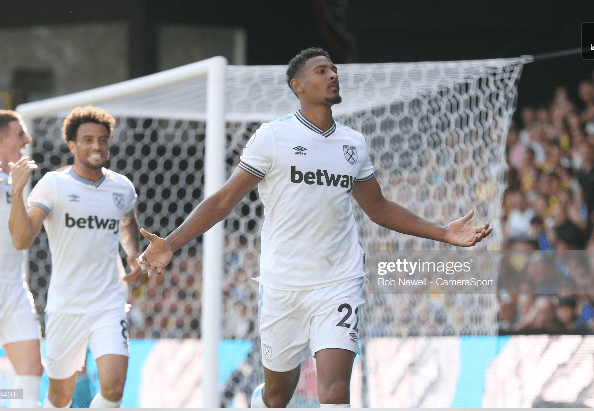 Not yet convinced? Like a hipster pick? I give you Seba Haller, the French goal machine. And yes, you guessed it, on average, he has scored in every match he has played. Ok, I have cheated a bit there as he did feck all vs City in gw 1 but that's perhaps no surprise given the opposition. He then didn't feature in gw 2 because of a niggle and has now presented himself to the community with two typical poacher goals away at Watford. The way those goals came probably says more about the Watford defence than Haller's ability but we've seen notable people fail easier chances, so yeah, he looks promising. Promising, however, is not reliable, so, why would I pick him for a Captains article? Well, despite being a debutant in the English premier league, Haller, 25 years, born in Auxerre, has pedigree and a few travels in his legs with spells in Holland (Utrecht) at the age of 20 for 3 seasons and then Germany (Eintracht Frankfurt) before joining the hammers. His career record reads 94 goals in 234 games (0,4 per game), 86 in 177 (0,5), if you don't count his early Auxerre seasons. And, guess what, he's on a 1 goal per game ratio right now. Norwich, despite their attacking merits, are a liability at the back with 8 goals conceded, the league's worst. West Ham may allow 18 shots per game, but Norwich are on 17. These two teams have very similar attacking and defensive stats so in typical FPL fashion it's either a 4-4 or a 0-0, though the latter would be a stats glitch for sure.
Jamie Vardy/James Maddison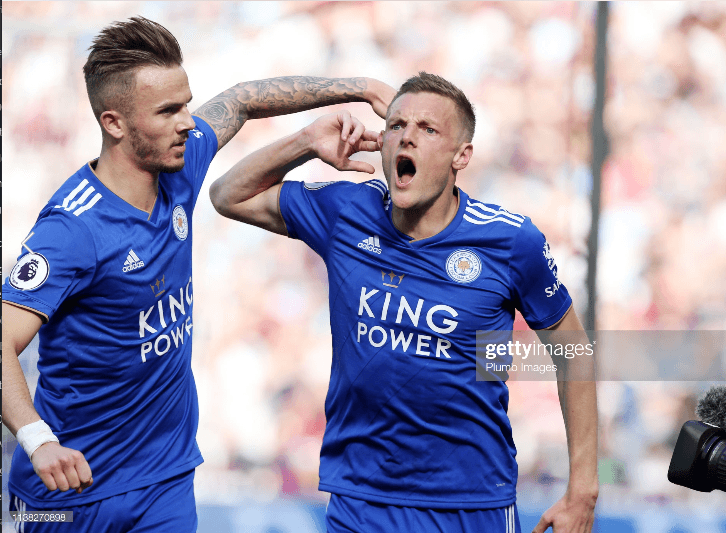 They haven't scored in every match and they don't even have attacking returns to show in every match. Heck, Vardy has a meagre goal and Maddison has two assists, one from a corner (the other being a brilliant pass to Vardy last time out to be fair). So, the numbers aren't really there. They are here for two reasons: one being that they have a handful of class players playing in attack (as was well documented in pre-season) and the other being that they face a below par Bournemouth. Now Bournemouth are not a bad team, but they have conceded in all of their games and that includes Sheffield United and Aston Villa, none of which have Teemu Pukki! So, call it a leap of faith, a gut feeling, whatever you like, one if not both of these guys will post a double digit haul this weekend. Fixtures look good too despite the FPL site having the Utd and the Spurs game as a level 4 difficulty fixture. I don't agree with that at all. Leicester have exactly the type of players to put 3 past Utd at Old Trafford (sorry Cookie) (as they could've at Stamford Bridge in gw 2) and probably do enough to beat an out of sorts Spurs team. I know Matt put them on the "dumb" section of the fixtures article but if you read his explanation you get the sense that they should be on the 'smart' section. I'll give that to the jet lag… (sorry Matt mate). Granted they have Liverpool in gw 8 but after that it gets enticing until gw 18 so whether you own them or should you have a spare transfer you could do worse than captaining or buying and captaining one of these boys.
Thanks for reading Fantasy Football Captain Picks Gameweek 4. This article was written by DMC.
FPL FIXTURE TRACKER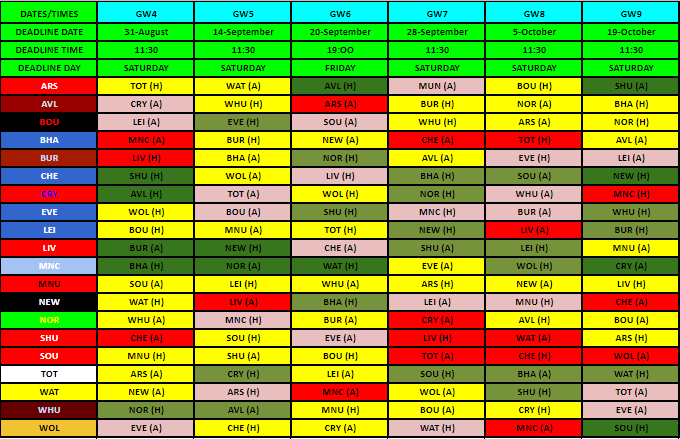 FIXTURE TRACKER LINK
Fantasy Football 247 League Codes: