Fantasy Football Captain Picks Gameweek 6
Welcome to Fantasy Football Captain Picks Gameweek 6. Spare parts are not always needed and I do enjoy just sitting about and watching all the others do the work, but occasionally they ask me to jump in and act like I know what I am doing. So when one of the guys was not able to write the captaincy article this week, the site turned to the 'break glass in case of emergency' writer. Last time I wrote this article… some time ago, I was told I was too negative about all my picks and having read it back, I really was. I spent the whole article telling all the readers why I wouldn't captain the guy I had picked.
Just had a thought, we can carry a transfer over, it be great if we can rollover a captaincy and triple up the next GW if possible. Oh my!!
Where was I? Oh yeah, don't be negative, don't be negative, don't be negative. I will do my best, but just know that when you are sitting around the FF247 offices playing solitaire and ordering stuff you don't need from Amazon and all of a sudden you get pressed into action, it is hard not to be negative. I mean, who really wants to do their job anyway, the nerve of this site!
Liverpool Divas
Some captains just pick themselves and these two probably would. The thing is, we can't pick both, well unless you are one of those nuts who runs more than one team, you know who you are, shame, shame, shame. I put this duo first, not because they are the most obvious choice this week, but because they demanded to go ahead of all the candidates. Naturally, they wanted a spot all to their own, but this is my article not theirs so I paired them. I can go on and on about these two and the many reasons why either make a good choice this week and I will, to a degree.
Mo Salah is the two time reigning FPL points champion and is currently third this season. He leads in points when it comes to mids and denying opportunities to mates by not passing it. To be fair to the old boy, he does have plenty of attempted assists, so the selfish label could be a bit much. Mo has 4 goals and 2 assists this young season and his shots per game and shots inside the box are where you would want them to be. Plus he has 7 big chances so far which is second among all players, so certainly the opportunity for big returns is there. Then again, why am I trying to convince anyone of that, if you don't know that by now, you're doing FPL wrong. Also, Salah has had a return in all games except one so far, so not only does he have a high ceiling, but he also has a higher floor than most if not all. Then again, why am I….
Sadio Mane is second in FPL points (for mids) to Mo and second in this Liverpool divas section, he won't be happy. This however doesn't mean that he should be second to his mate or anyone else when picking a captain. Sadio has certainly shown that he can score with the best of them and now that he has shamed Mo, he might score even more, with Salah being a more willing passer. Mane has seemingly had a history of being hot and cold. A bit of a double digits or nothing guy. This season though he has been a bit more consistent with his returns, for now. In the four games he has started he has accrued 39 points and only blanked once, still early doors, but a good sign. Maybe one day he will even go ahead of Salah when I write an article.

At first I looked at their fixture and thought, not ideal. You know, Chelsea have been looking good and Lamps has them boys going in the right direction. A closer inspection though and you notice that Chelsea have kept no clean sheets and have the second most goals allowed in the league. Plus, if you look at the quality of the opponents, you notice that they have been giving up goals to teams that are not renowned for their attacking threat. This game could be a case of a young manager and his young team feeling brave and getting pummeled for it. There is one thing we all know you can't give Liverpool and that is space in behind, they will eat you alive, like Pep learned the hard way. So if Chelsea go at Liverpool naively and they probably will since they are on a bit of high after hammering Wolves, I would expect the Liverpool duo to get their fair share of opportunities. So Mo and Sadio are definitely ones to consider for captain.

Pep's Barca lite
Taking the cheap way out again? You damn right!! Yeah, like the divas above it is easier to just put City assets in a pile and not try and justify picking one over the other. Trying to select from one of
De Bruyne
,
Sterling
or
Aguero
can cause headaches. There is always rotation to consider as people who captained KDB last gameweek found out. And now with the Champions League under way, Peptation should be out in full force. Looking to see what kind of minutes these three get vs Shakhtar could make one or the other a better candidate for the captaincy. KDB has got a return in every game he has started, so if you feel confident he is in the XI he is not a bad choice. Still, it does feel like he is the least safest in terms of minutes. So if he doesn't interest you, maybe a little Argentinian will do the trick. Kun has had returns in every fixture so far this season and now has 7 goals and 1 assist, so if he is benched midweek, it would certainly jump this man to the front of the line when looking for someone to put the badge on. Then there is also Raheem. He does have two blanks in a row, but we all know of his explosive qualities, he has the biggest haul (20 points) of the season so far of any player in FPL, so the chance for a big GW is there if you go with him.
The three of them play Watford this week and they really should get a couple of goals. The Hornets currently sit last in the table and haven't kept a single clean sheet so far. Figuring out who scores for City will be the key or better yet, who scores the most for City, as it is very possible that all 3 get something from this fixture. If you feel like you definitely want to go with a City player, I probably go Kun if he doesn't start vs Shakhtar or at least comes off early.
Pierre-Emerick Aubameyang
Returns in every game this season and a juicy home fixture vs Aston Villa make Pierre a great candidate this GW. Auba returned double digits last time out and has grabbed the 3 bonus points in his last two encounters. One may look at Villa and think that they are not necessarily a pushover having only given up 6 goals so far, but 5 of those were against the two better attacking sides they faced, so they are vulnerable to a team like Arsenal and a striker like PEA. Plus, we all know Arsenal have to score 3-4 goals a game to win, because their back line will give away 2-3. Also with Lacazette out until after the next international break, it means that we don't have the worries of having Auba slotted out wide. There is another thing that adds value to Auba, as much as it pains me to admit it. If Ozil is starting that helps Pierre, it just does. Mesut is a lot of things, but a bad passer he is not and it was Ozil who basically set up Auba for that tap in vs Watford. PEA has 14 goals in his last 14 PL matches for the Gunners. You might go elsewhere with your captain, but if you go here, no one could really blame you this week.
Teemu Pukki
I remember when Salah came into the league and started getting returns game after game. I still kept turning to other players for my captain choices week after week. It took me a while to give in and start using him as captain, guess I just thought he was on a Michu run and the moment I captained him he finally stop scoring. I wasn't alone though, I remember looking at my mates teams to see if I was crazy and while we all owned him, basically none of us were captaining him. I guess it felt like too much of a risk and we always justified someone else. About that same time I looked at the overall top 10 in FPL and noticed there was a team sitting in 9th who had not made a single transfer all season and had barely fielded XI players some weeks and 10 in a couple of others, yet they sat 9th. You can probably guess who they had captain since gameweek 1, it was Salah. After more than 10 weeks if I remember it correctly, that team sat 9th having made no transfers and never having changed captains. Lucky? Yeah. But, that was also due to the FPL community not believing in Salah as a captain choice. When we all started to use Salah as a captain, that ghost ship started to plummet in the overall and I never saw it again. Which tells us all how important that captain is in FPL. How many times has a bad GW been saved by the right captain? Plenty, that's how many. That ghost ship proved that the right captain, even if the team is crumbling around him can keep you scoring well in most gameweeks.
So why did I put a picture of Pukki and write about Salah, well Mo demanded that he have more space in the article than Sadio, but also because he was at one time owned by many but captained by none, just like our boy the Pukkster. Teemu has the most points in FPL so far, has returns in four of five and three double digit hauls. He also has gotten bonus points in four of five and has scored against the two best teams in the league. So even if he had a tough fixture you couldn't really use that as a crutch. Sure Burnley is not a pushover, but they haven't kept a clean sheet in the last four and surely the Clarets will give this game a go and not just pack it in, so there should be space for Pukki to conduct his magic. In the end, it is up to you if you choose to believe in Pukki now or in a couple of weeks when a Finnish FPL player is sitting in the top 10 having only captained Teemu all season.
Thanks for reading Fantasy Football Captain Picks Gameweek 6. This article was written by Mito21.
FPL FIXTURE TRACKER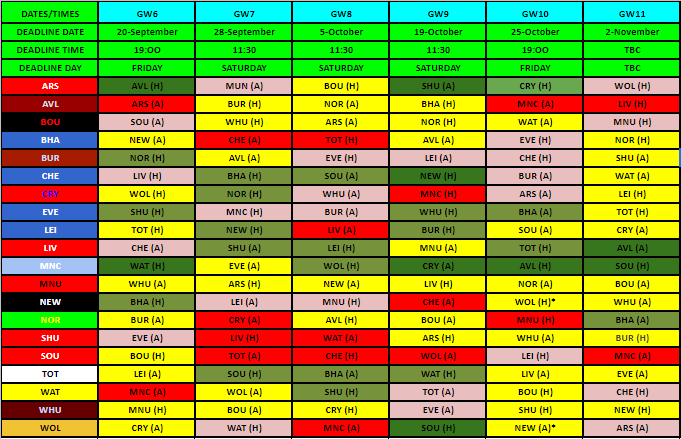 FIXTURE TRACKER LINK
Fantasy Football 247 League Codes: