Fantasy Football Devil's Advocate Gameweek 29
Been a while since Smash and I have had one of these, but seeing that he gave away that he was on a free hit this week, I thought, Init thought this be a good time for one. Thanks as always to Smash for letting me question him on his fpl decisions it takes a brave manager to let someone just have at it. A quick recap of his fpl season sees poor Smash off to a horrid start, but being the fighter he is he has slowly been grinding his way back to a better ranking. Currently he sits in 250k, but since sitting 1.4 millionth in GW13 he has seen 11 green arrows in the last 15 gameweeks. Hopefully this free hit will let him climb some more in the overall over us losers who will be hitting this week just to field a decent team and by decent I mean like a team of nine players or so.
Well, let us see what Smash has put together for the big blank of the season and for a bit of context we will post his current team first.

Current team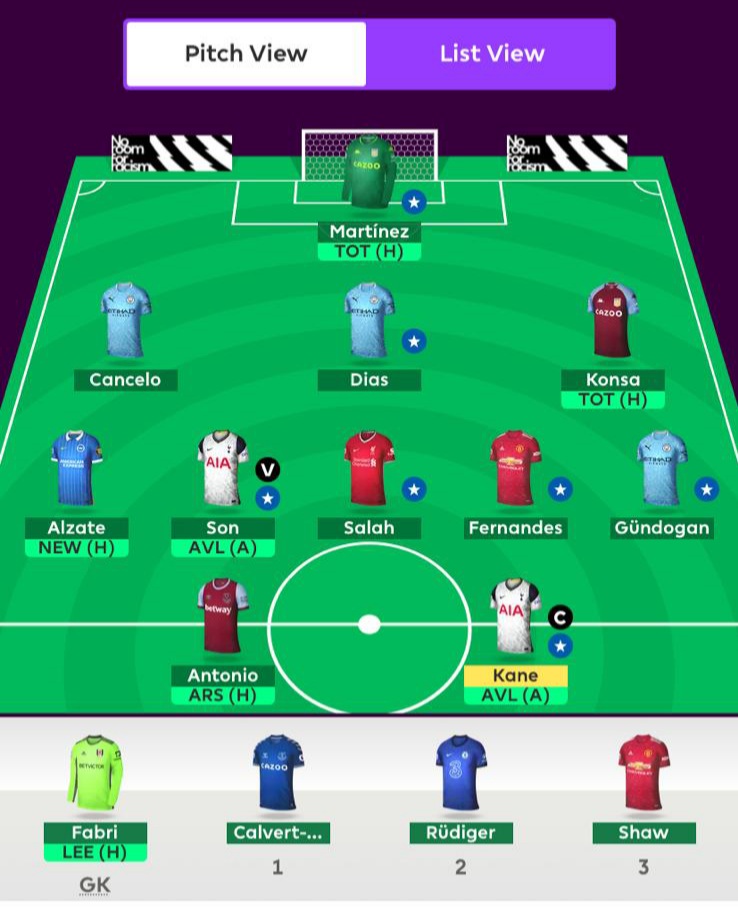 Free Hit team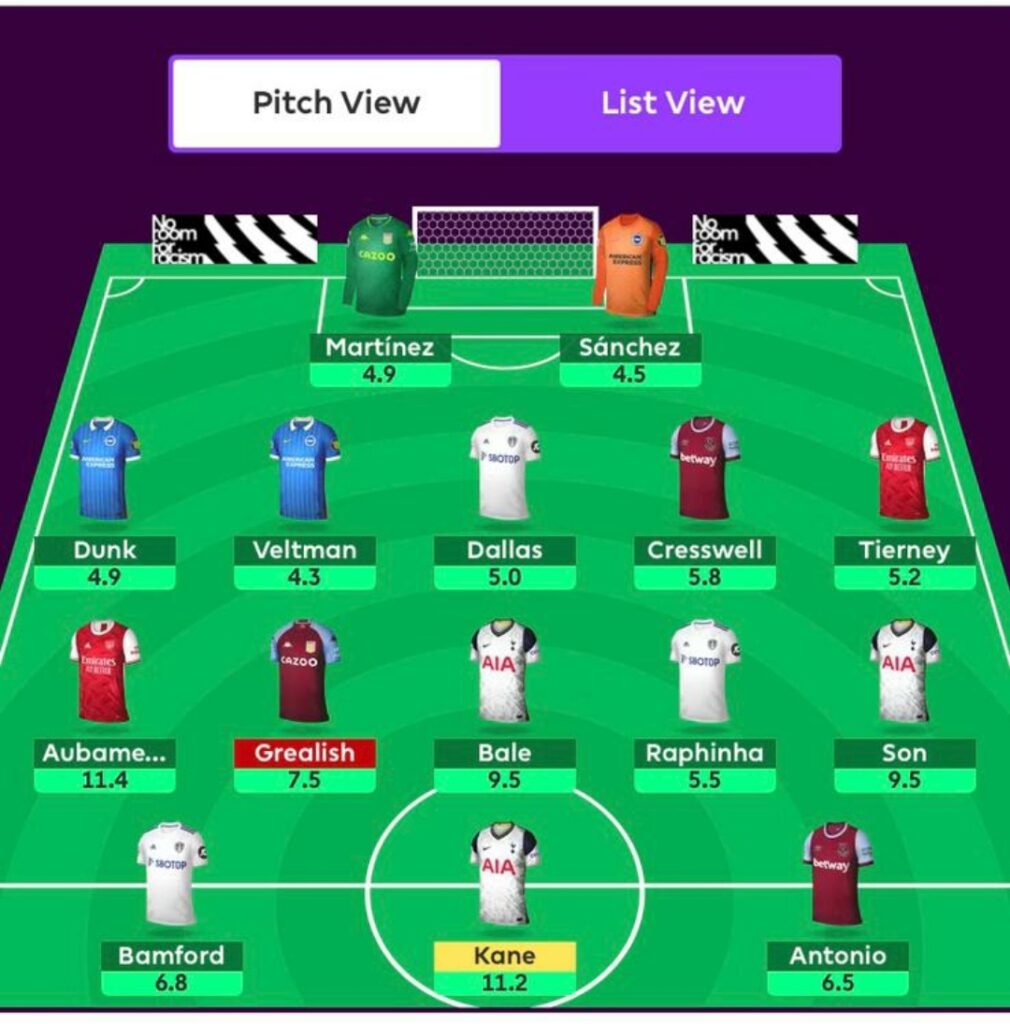 Mito:
Think most will look at your current team and be understanding of you playing the Free Hit. I have obviously added a screenshot of a current team for context, but since you are the one that asked for context in our Whatsapp convo then let us add even a bit more. You played your wildcard in gameweek 26 for that big double, considering that you could not use any other chip that week and that 27 was only a City double with 28 being a normal week could you have not set up the team a bit better with the wildcard to deal with this big blank?
Possibly saving that free hit for a later date or do you feel there won't be a better time than now?
Smash: I have put myself in a position where I need to FH. What I feel is important is it's not a decision made on this week in isolation. It's the fixtures before and after as well as this week. It's also about the current team I have for the game weeks ahead. I made a decision to wildcard in GW26 to maximise not only the biggest double of the season but also to set myself up for the season.
My rank was not the best so I wanted to shake my team up for the rest of the season. I kind of made the decision that I will FH in GW29 then. My viewpoint was that I didn't want players playing for the teams in GW29 for a few reasons, form and fixtures long term. Therefore instead of bringing them in gradually one week at a time I thought I would just FH them all in for one go in one week. Therefore the FH is as much about the gameweeks around it as it is about GW29. I see people talking about the fixtures not being very good in GW29 to target, yeah they are not but by not using the FH you realise you are buying them for more than one week only as you will have them for the future game weeks to come.
Remember we only get one free transfer a week. (Editor's Note: How condescending, that line made me gasp)
Neither is using transfers taking out the likes of Salah/Bruno and having triple Spurs attack away at Arsenal or double Leeds attack playing against Chelsea and West Ham in the weeks before. Advantage to FH29 is you get full 11 out and there are players capable of getting points it's just difficult to predict who they will be. It's not the best fixture wise but don't have to worry about the mess after. You could go too big in focussing on getting 11 for GW29 or using hits to get there and then hits to remove them. GW33 is the alternative because of the city and Spurs blanks, the advantage it's easier to get better big hitters in without worrying about ditching City/Spurs. However benching a couple is easy. Also there is the risk of taking out players who will score points. Therefore there's not an obvious alternative to play the FH chip so why not take a stab at a GW when I will have 11 and most others will have 7 or 8 players maybe less. It's very unlikely we will see any other double game weeks apart from the two fixtures that still need to be played. It just don't look very sexy to have a team with triple Brighton, Arsenal, West Ham you get the picture but it is what it is and I'm not stuck with players from those clubs who I do not want. I have seen wildcard drafts for GW30 and they look fairly similar to my current draft but that is a good strategy as you can go nuts this week and just correct it all on a wildcard.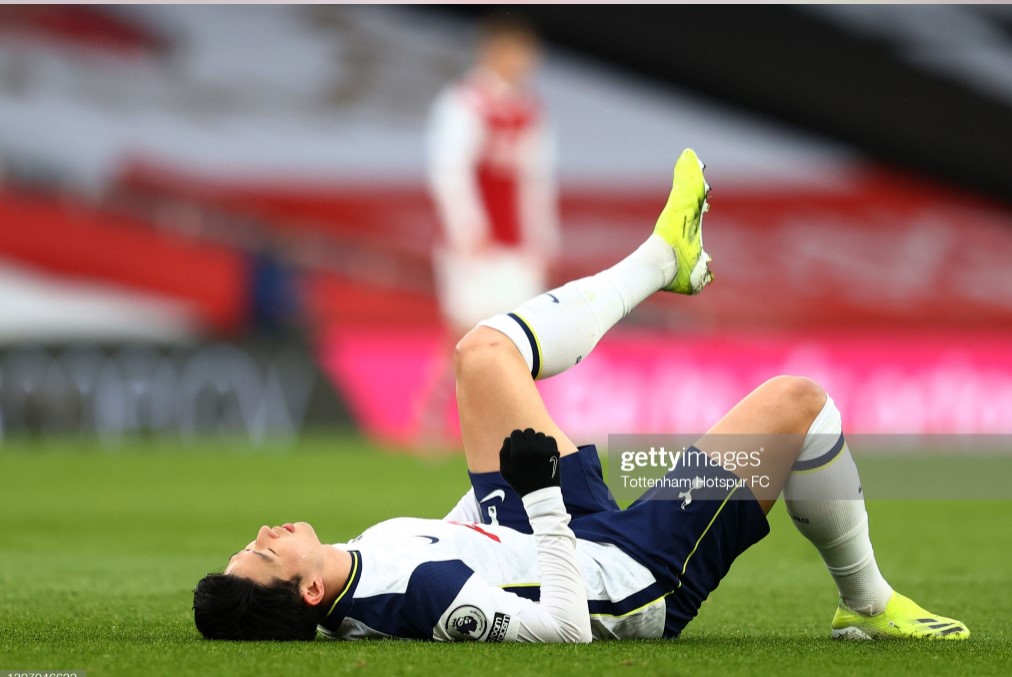 Mito: What are your plans for any fitness news that possibly makes you alter your free hit side? Bamford, Grealish and Son.
Smash: Yeah those players certainly throw a spanner in the works however me being on a FH and the high ownership of Son and Bamford that maybe an advantage. Bamford I'm expecting to be fine but he could be Maupay or Lacazette. Veltman would be changed to Lascelles to include Maupay. It's home to Newcastle and he's on pens if there's ever a week he will score this could be it.
The injury prognosis on Grealish was a month which is up now, if I see signs of him being on the training pitch I'll take the chance. With cash not being a massive issue I will have a back up. If there is no chance I like the look of Lingard who has 4 goals and two assists in his last 6 matches. Lingard is the potential replacement for Son or Grealish. Son has a hamstring injury and I'm expecting to be unavailable however if there's the smallest chance he will play I'll leave him in there. If both are doubts Lingard will come in for one as I can afford to carry one. Other replacement is really difficult as you are looking at punts on the likes of Moura, Alli or Pepe.

Mito: I know there are ways to cut money and have more in the bank, but there is no point to it as most of the teams playing this week don't carry very expensive players, but why not carry a Reguilon per say, is it because you just rather have another Spurs attacking player?
Smash: Reguilon is a decent pick and if I don't go with Son he could be the Spurs player I'll have. Likely instead of Veltman or Tierney. I do however like my defence. Moura is the other Spurs attacking player I'm considering as he's been playing off the front and if Lamela and Son are unavailable he could start. Same thing with Alli if Jose says anything on him. With the lack of decent midfield options I might be more likely to punt on a Moura.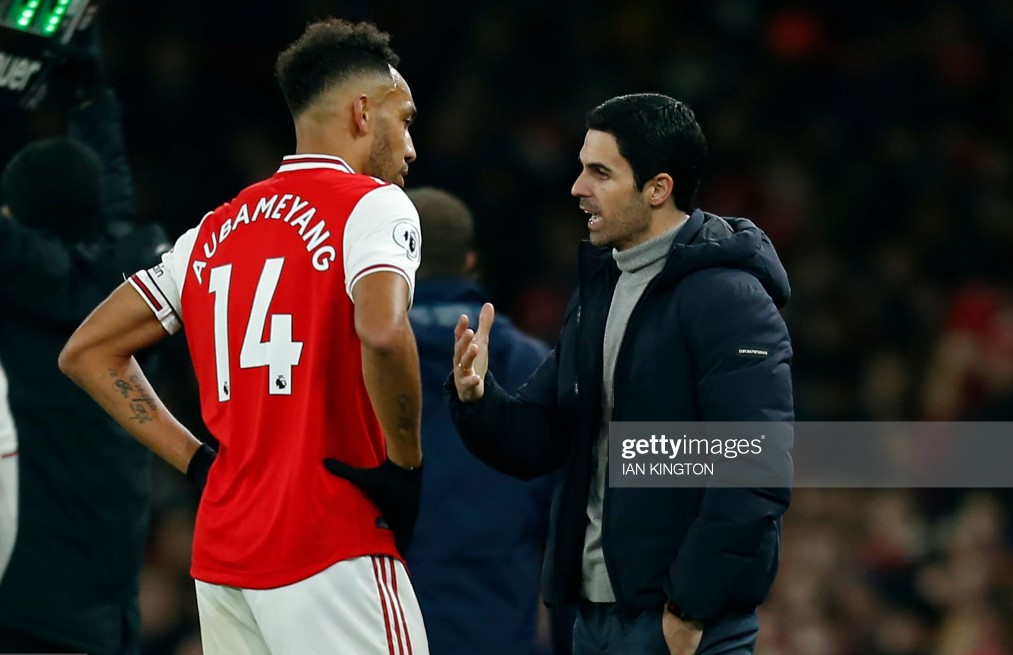 Mito: Do you feel happy with Auba in there, not a bit worried about Arteta and their big win with Auba being benched? Bale worth having for his 60 minutes or would it not be better to have a different Spurs player? You know, Lacazette has scored in his last 2 starts, why do you hate him?
Smash: Arteta said everything is ok with Auba he was just really late. He also said how important he is to the team. Auba is their best player and captain I'd expect him to come back in. It might even put people off buying him. He's the player with the highest ceiling so I have to gamble on that. He's also been scoring lately, he has that hat-trick v Leeds and I'm sure he will be wanting to prove a point after being left out for the derby. Saka pulled up with hamstring too which helps the case for him returning.
Bale is similar to Auba in the fact I feel I have to chase the high points potential 19 points v Burnley and 14 v Palace has to be worth the punt. On a FH that's easier than spending a transfer to get him. If Son is out they could rely on him more so he has to be in there for me with the limited amount of options available. Lacazette is different I'm not sure on him he could make it in there. The reason he is not, is that Kane is the best asset from Spurs, Antonio is the best asset from West Ham and Bamford has scored the most points from Leeds this season so it's the lack of forward slots basically. If Bamford is injured he could find himself in my side, but it must be stressed West Ham away is one of the harder fixtures in this game week so I have just focus on the other fixtures/teams. Brighton for example are 3rd for xG and 1st for xG conceded in home games this season while Newcastle are 20th for xG conceded and 19th for xG in away games this season so I might be more likely to go Maupay than Lacazette.
Mito: Wow, I was just kidding when I asked why you hated Laca.
Mito: Say the team you currently have is what you go with, who goes to the bench from that 15 and who do you plan to captain?
Smash: Captain is easy it's got to be Kane. I'd expect that's where most go this week. As for the team in goal will be Sanchez as I feel Brighton have the best chance of a clean sheet so he will be joined by Dunk for that very reason. Fulham struggle to score goals and with Klich struggling for form I can see Dallas playing midfield and no defender has more goals than Dallas with 5. Cresswell has 10 assists which is more than any other defender and is West Ham's most creative player this season. So I find the defence and goalkeeper pick themselves.
In midfield if all fit they all play. Auba and Bale I have talked about with their high ceilings, Son has to start obviously. Raphinha has been unlucky to not get more returns as the last six game weeks no one has created more chances than him with 21. He even plays against Fulham's weaker left side. If fit and I think there is a chance, Grealish just has to be in there as he's created the 2nd most amount of chances for any player this season. I will be keeping an eye on training pictures etc, but he's too good to leave out.
Kane and Bamford play as they have proven their worth all season. If Bamford is out I'll take a chance on Maupay as that's the stand out fixture in fact he could start if anyone is ruled out with injury for that reason. Antonio is a great first sub as is Veltman which is important as there are some risks in this side.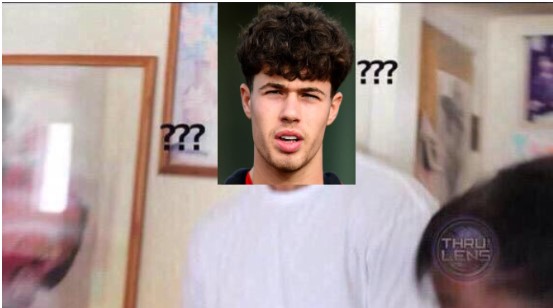 Mito:
In a non free hit related question, why looking at some of your decisions lately I noticed that you bought
Neco Williams
in 26 on your wildcard then sold him while still on the wildcard then brought him back before your wildcard expired right before the deadline and then you sold him in GW28 again. What the hell are you doing?
Smash: I messed up on my wildcard. Neco Williams being in and out was how close I was going Son over Vardy on wildcard basically because of the price difference to enable that change. I got carried away on not needing a bench as GW33 was miles away and I had used my bench boost. I tried to squeeze in Vardy and Cancelo. I should have just kept Stones instead of going Cancelo or kept Son instead of Vardy. I looked at Leicester's fixtures and I thought I want some of that so asked loads of people on the site who do you prefer Vardy or Son? Everyone said Vardy who has not really looked the same player this season and Leicester have struggled since the Barnes and Maddison injuries on the whole which happened after. I also had the Barnes injury to deal with who was the one player I did not want to get injured after wildcard as there was not an obvious replacement so swapped him for Son. So I corrected it and wanted Son instead of Vardy which has allowed me to upgrade Neco to Konsa. Also Pep roulette is back in full force so I really need a bench so Alzate to Smith-Rowe or changing to a 3-5-2 with Jota is something I want to do in the future. So in answer to your question Neco was an enabler like Alzate as I thought I could get away with one strong bench player and maximising my cash for my starting eleven. Now I want to improve my bench to deal with GW33 and Pep rotation.
Mito: Somehow I knew that this would be that bald fraud's fault, it is always is. Next time just answer 'Pep' and we will all nod along as most of us blame him for everything anyway. Also works outside of fpl by the way.
Thanks for reading Fantasy Football Devil's Advocate Gameweek 29. This article was written by Mito21.
VOTE ON THIS WEEK'S CAPTAIN POLL GW29
FPL FIXTURE TRACKER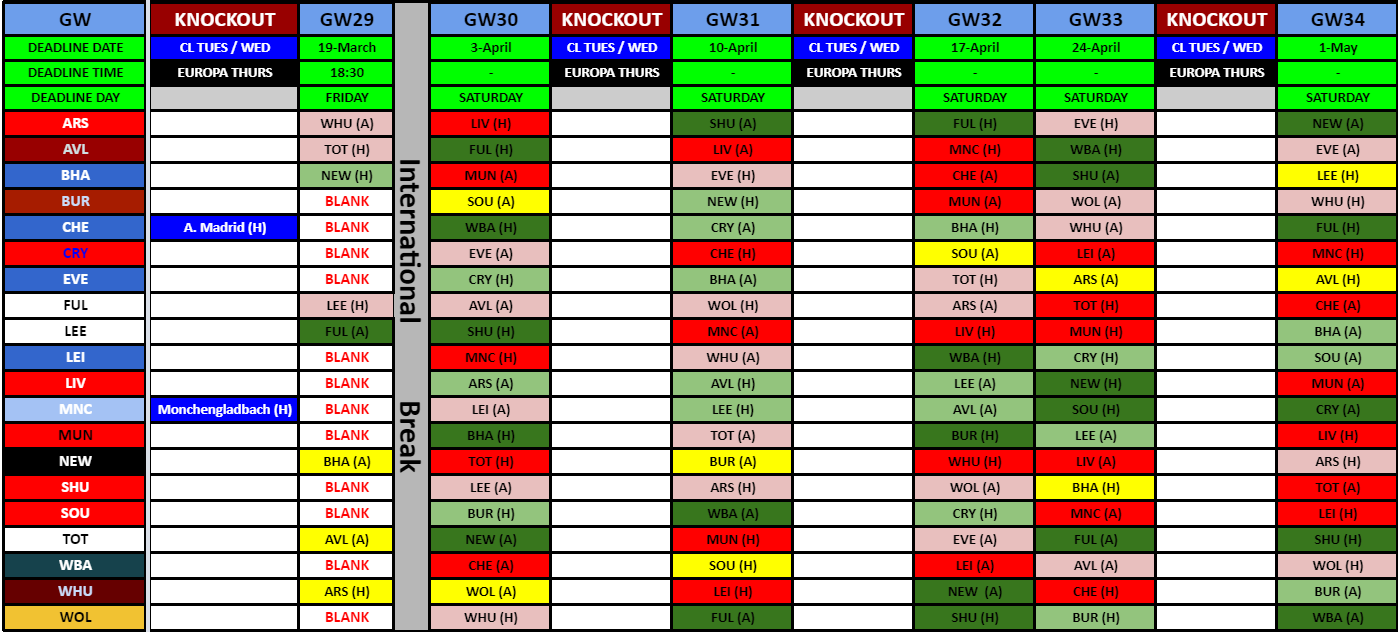 FIXTURE TRACKER LINK