Fantasy Football Diary 2020/21
Dangerous Liaisons, Wildcard woes and a donkey
You may remember in my first diary entry that my season hadn't started well with a paltry 40pts in game-week 1. But there's a long way to go. As you are all aware FPL brings its own hurdles and problems along the way, some of them are self-inflicted, seemingly most of mine.
Tuesday 15 September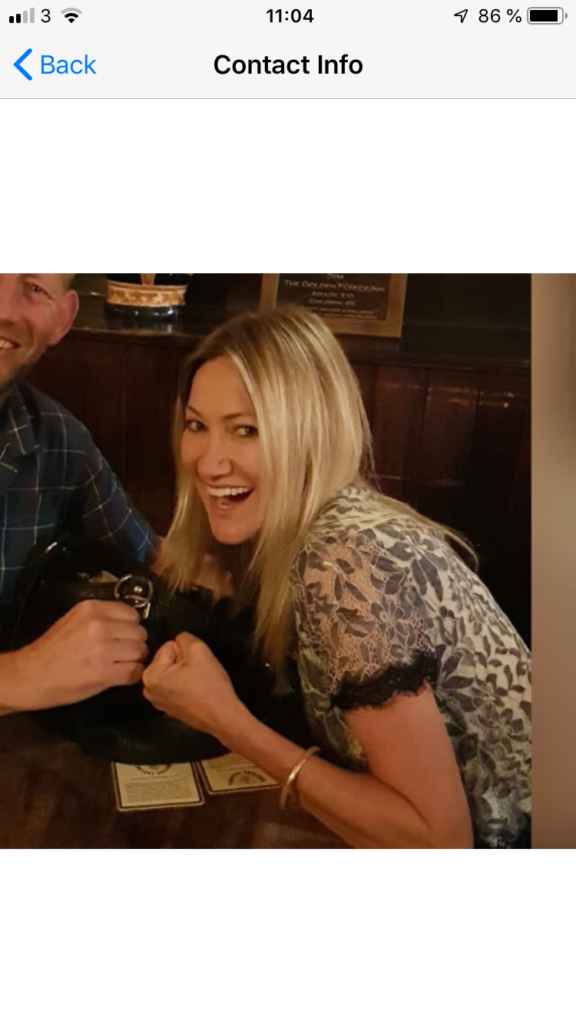 Took the kids to the park round the back of Morrisons while Mrs went shopping. Approached by a lady on a bike who asked if she could take a video of me playing football with the kids. Either a weirdo or a scout. Rather taken aback I gave permission. She asked for my number so she could send me the video and she put me in her phone as 'Park Dude'. Luckily she disappeared before said Mrs returned.
Thursday 17 September
Received Whatsapp message from unrecognised number. It was a video of me playing with the kids. Ah, must be 'Park Chick'. I looked at her Whatsapp picture and thought (to myself) that she looked quite hot – certainly hotter than she looked in the park. I text back, 'Thank you. Think I need to lose some timber'. Not really flirtatious, but leaving it out there. An hour later she replied, 'Pleasure! Running after those 3 will help'. Bit of a disappointing response but probably for the best.
Friday 18 September
GW2 starts tomorrow and not feeling the joy of it after my GW1 horror show of 40 points. I decide to sell HertzAvis as the useless German car rental midfielder was pants by all accounts and has since admitted 'he needs time to adapt' – me too pal, see ya.
Saturday 19 September – GW2
A day of mixed emotions. I have started playing cricket for the village team. This will be my 5th game for them. Having not picked up a bat for 14 years I started ok a few weeks ago, scoring 46 and 54 before reality hit home. The last two matches have seen scores of 2 and 2 although last time I was given out caught behind when I didn't hit it, so obviously that doesn't count. We lose the toss and are fielding first. Just as Everton are kicking off vs West Brom. Halfway through the opposition's innings we stop for drinks, I make an excuse that I need a wee, run into the clubhouse, dash past the toilets into the dressing room and grab my phone. Everton 4-2 up and DCL has scored a brace, still half hour to go. Get in. I run back onto the field.
Stand at square leg and chat to the umpire. It turns out he plays FPL too and is checking his phone every couple of overs. '5-2 Everton', he tells me, 'DCL hatty'. He has Rodriguez, Richarlison and Keane so he's happy too. I recall that William has Doucoure whose only contribution is a yellow card. I snigger.
Chasing 172 we start well and the openers put on 115 before the first wicket falls. I'm in next but before long I am run out by my partner who must think I'm Usain ******* Bolt. Run out for a duck. That's four runs in 3 innings.
Meanwhile Mitrovic scores two vs Leeds which will hurt my rank.
We win and have a couple of beers. The idiot that ran me out has to down a glass of sherry after being voted plonker of the day. It's no consolation, my confidence is shot to pieces. I drive home and watch United lose 3-1 at home to Palace. William and I then watch Captain Auba produce just an assist vs West Ham.
Sunday 20 September
As we watch William play rugby, the wife announces we need to go shopping. How much do these kids eat? Then I remember Morrisons and quickly offer to take the kids to the park while she shops. Dad of the Year. To my horror she suggests we wait in the car as she only needs 'a few bits'. Disappointed I turn the radio on only to discover Son has scored twice vs my keeper. William has Son. He's loving it. 35mins later the Mrs appears with five large bags of shopping and there are two more Son goals.
Furious I drive home and mow the lawn, needing Wilson to score vs Brighton. Toon lose 0-3. Incandescent with rage I look at my team and hit the wildcard button. Just. Like. That. No thought, no planning. BOSH.
My Mané then scores a brace vs Chelsea and Justin scores vs Burnley. I'm actually in pretty good shape. But on a wildcard.
Monday 21 September
A horror of a day, FPL wise. I only have John Egan left. John Egan gets sent off 11mins into the game vs Villa. Seriously? FFS. KdB then notches 13pts vs Wolves, Jimenez scores, Sterling assists, I drop over a million places. I drink a couple of glasses of red wine and fall asleep tinkering with my wildcard.
Tuesday 22 September
Our glorious leader Boris announces we must all WFH again. I am anyway, have been since March What a year. We've gone from the angry horrors of Brexit to a new normal of WFH, social distancing, zoom calls, economic ruin, curfews, rule of six and face masks. I spend most of my life in my bedroom wearing not much more than my underwear. This must be how it feels to be a Kardashian.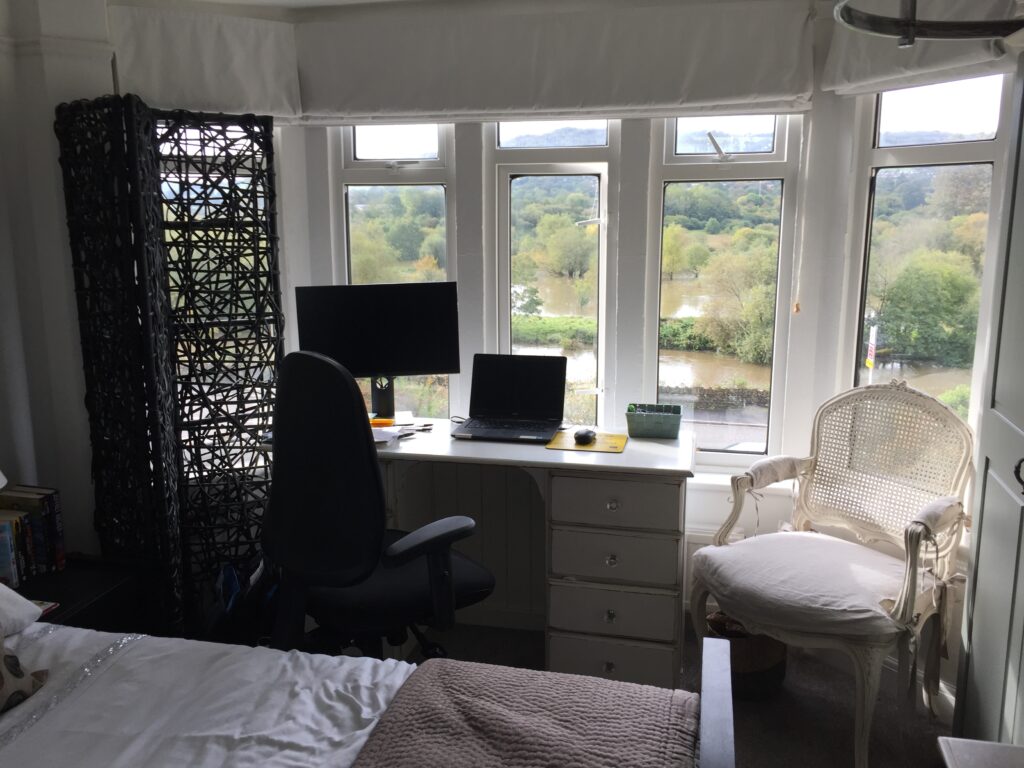 I chat to GP about wildcards and team up for an article as he too is playing his.
Wednesday 23 – Friday 25 September
After numerous discussions with GP and plenty of tinkering I finally come up with a Wildcard team I like. Selling DCL felt a little wrong but he can't keep scoring with his only touch of the game and Werner vs West Brom is too good to ignore, as is Jimenez and his up and coming fixtures starting with West Ham.
Saturday 26 September – GW3
Usual Saturday morning routine – get woken up, make coffee, ignore various calls to make breakfast, sort FanTeam out and then have a look at William's team with him.
Having seen my Wildcard team, William decides to make just one transfer. Cheeky git. He sells Aubameyang for KdB and captains him, like me.
Teams locked in, we head off to cricket practice.
After cricket we head home where we watch United somehow beat Brighton. Rashford scores for United. I sold Rashford, William still has him.
The afternoon match sees DCL and Richarlison score. My prediction to GP that Everton have peaked may have been premature. Never fear, I've still got Werner and James at WBA.
I open a bottle of red as Chelsea kick off vs The Baggies. I'm half way through it by half time with Chelsea 3 down and James already booked. Chelsea recover to draw 3-3, with nothing for Werner and James. Cosmic.
I put the girls to bed just as Southampton kick off at Burnley. Che Adams assists Ings early on. Nice one. When I say 'nice one' I don't realise how prophetic this will be given what is to follow.
Saints win 1-0, McCarthy & KWP keep a clean sheet. I sold both on my wildcard. William has McCarthy.
Sunday 27 September
I wake up slightly woozy after a few glasses of red. I go downstairs to make the Mrs a cup of tea and me a coffee. I notice we are stupidly short of coffee. Yet we have packets of the coffee the inlaws drink when they invade my space. And we have three tubs of spreadable butter, 2 boxes of grapes and one and a half bottles of Bacardi, but very little of my coffee. That gives me the hump.
A lot is going on. William has rugby training, it's the girls' 4th birthday tomorrow and I have KdB (c), Sterling, Saiss, Podence and Jimenez all playing, all with great chances of a monster haul.
After rugby the Mrs declares she needs to go to Morrisons to get ingredients to make a birthday cake for the twins. While she is taking one of the girls to the toilet I look in her bag for the shopping list and add COFFEE in large letters.
I insist we drive her to the supermarket and go and play in the park behind. Loaded up with footballs, snacks, drinks and cones, we drop off the Mrs and play some footy, but there is no sign of Park Chick, disappointingly. But probably just as well.
Once home I lay on the sofa and watch the start of Spurs vs Newcastle. Kane assists early, Son hits the post twice before half-time. I can't sit through another Son show so I take the girls out on their bikes across the river, up to the canal and through the field, alongside the railway and back to the river.
By the field we see a horse and then a donkey. I didn't appreciate the irony until later.
Son gets taken off at half-time. Must be injured. I snigger.
An angry, out of control, ownerless wolf dog runs up to us, snarling with not very healthy looking teeth. Acting like Super Dad I lurch towards it trying to scare it away (while nervously shaking inside) – I win, sort of, but it's not happy and keeps turning around as we go our separate ways.
Having seen off the wolf dog I check my phone.
There's a VAR check at Spurs and Toon are awarded a last minute penalty. I snigger more as all those Doherty, Dier and Lloris clean sheets could get wiped! Andy Carroll has the ball. Bruce then orders Andy to give the ball to Wilson. Nooooooo. I sold Wilson on my wildcard. William still owns Wilson. Wilson scores. I cry. I receive a Whatsapp from the Mrs, 'Daddy, Wilson has scored for me. Did you sell him? William xx'. Delete.
KdB and Sterling both start for City and a goal flash pops up early doors. It's Mahrez, no assist. FFS. The rest is history, City lose 5-2 at home to Leicester, which is amusing enough in itself. But no involvement for KdB or Sterling. A Vardy hat-trick not great as I led the calls for the site team to sell him for Jimenez. Ooops!
Still my man Jimenez is up next vs the Hammers. Podence doesn't make the squad. Oliver Burke is first on my bench and despite costing just 4.5mln and playing up front (OOP) he still feels like a waste of space – however his 3pts are most welcome and feels like riches this week.
The Hammers score within 5mins, Saiss clean sheet gone. Soucek then scores a goal which is soon credited to a Jimenez og, nooooooo. This truly is the worst wildcard ever. Soucek gets the assist, I sold him for Burke. Who's the burke now? A 4-0 West Ham win sees Saiss score 0, Jimenez and his og score 0 and the absent Podence of course 0. My 2 City, 2 Chelsea and 3 Wolves wasters have scored 9pts between them. Without swearing I don't know what else to say.
'Fck it'. There you go, I swore.
With Burke's 3pts I'm on 17pts with Martinez, Robertson and Van Dijk left tomorrow. Disaster.
Monday 28 September
It is the twins' 4th birthday and a manic morning sees them open a couple of pressies before pre-school. Work is good, I get a load done with the Mrs at work and the house to myself. Still feeling like a Kardashian, but with a smaller arse. And a much smaller bank balance.
The evening sees riches, FPL riches as Martinez keeps a cleanie at Fulham. He is now my highest scorer this week, sorry Che, must try harder.
William is on 36 this week, he's destroying me. And loving it. The git is willing on Fulham to score to dent my clean sheet. I spend the last 5mins of the match shouting at the phone ordering Fulham to 'shoot on target, but not score'. I need save points, any points. Desperado.
Leaving William snoring blissfully in his FPL-content sleep I slope off downstairs pour a large glass of red and watch Lacazette ruin my double Liverpool clean sheet.
This is what I hate about FPL – Chelsea can't beat WBA, Spurs lose a win in the last minute, City get tonked at home and Arsenal take the lead at Anfield and each of the above has screwed me. I should be celebrating, yet I'm mourning. And regretting playing my wildcard.
'It's a funny ol' game'. Salah then assists Mané. I sold Mané. Seriously, you couldn't make this up. Then I cheer as Robertson scores, he's now on 7pts and becomes my highest scorer of the week. With Burke's 3pts I'm on 31pts at half-time. Start of the comeback. The wildcard can only be judged in a few weeks. All the clichés come out.
I end the week with 35pts, which to be fair feels like a bit of a result given that I started the day on 14pts. However the average was 43pts. If I had kept my team of GW2, made no transfers and captained Mané I would have scored 67pts. That would have placed me just inside the top 1.5mln, instead I'm only just inside the top 4mln and without a wildcard until Christmas.
William scored 45pts and is beating me by 4pts and still has his wildcard. He thinks this is funny.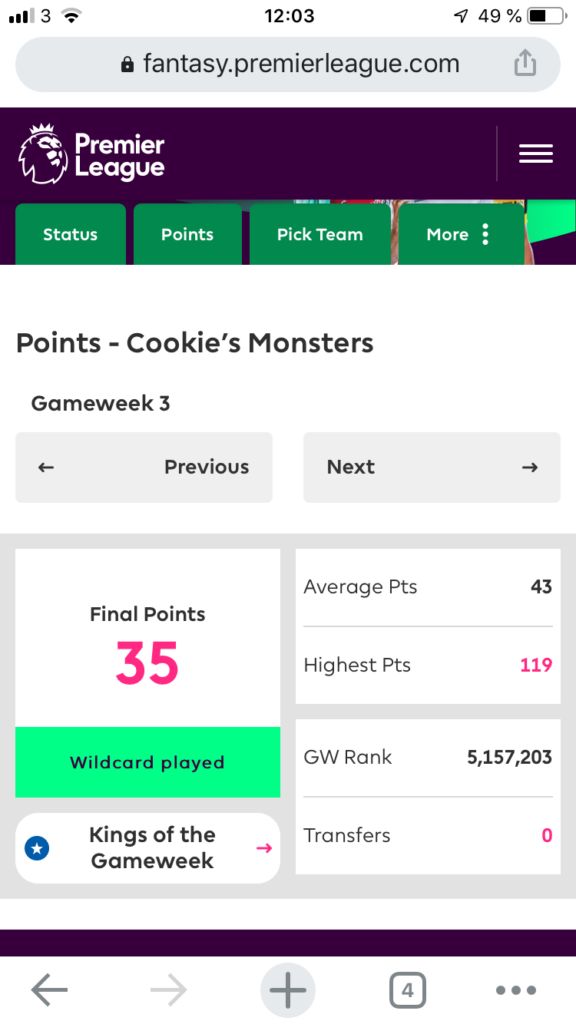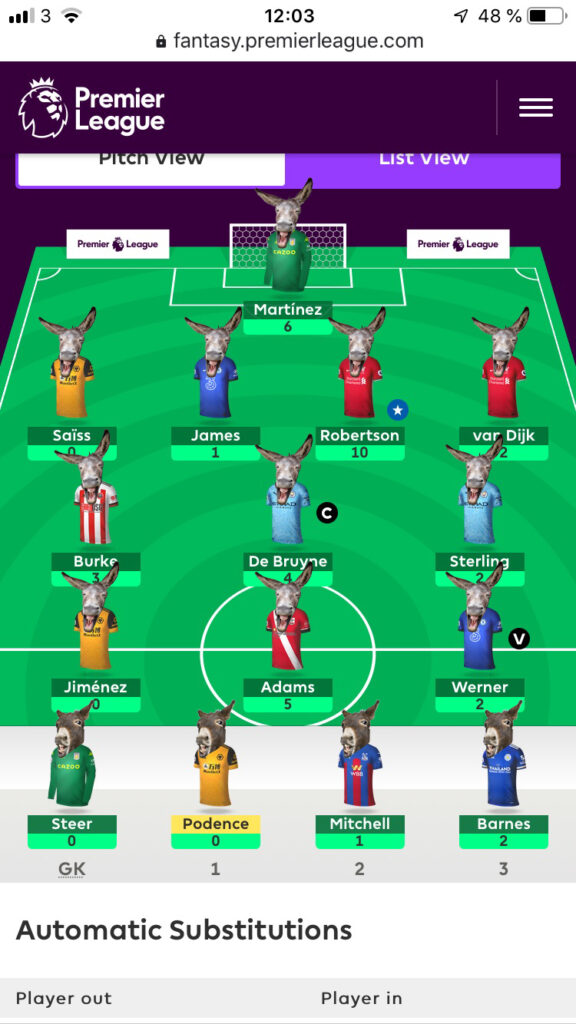 Tuesday 29 September
A day off FPL otherwise I may rage quit or cry.
Wednesday 30 September
A day off FPL cos I hate it.
Thursday 1 October
A new month, a new start. I have to write the Site Team intro because it was my suggestion that we sell Vardy for Jiménez. Doesn't matter that it was voted in by the committee. These are the buffoons I am dealing with.
Work was ok, not as busy as it has been. Watched a heron looking for some lunch earlier and decided they look almost prehistoric when they fly. Then came the fun. Went to collect the girls from pre-school and the car conked out. It's been short of fuel for a while, the yellow light has been on for a week or so but I only ever drive the kids to school. William has been urging me to put some fuel in it. Now it's given up, just when I need to get back to collect William and then go to the park to run his after school club. Silly me was waiting for the red light to come on. That doesn't work, clearly. My Mrs hates the car, there's bits falling off inside (not bad bits, just bits) – I bought it from some dodgy dealer called Hashmee from Watford. Hashmee, if you're reading this, you ****ing owe me pal.
The amusing part (for you lot) is that the car is a diesel and it turns out it's not as easy to get going as a petrol car would be. While I was running the kids club the father in law put some diesel in it and then he completely ran the battery down trying to start it. Of course, it's all my fault. I had to get my mate to take me up there and jump the car while squeezing a baster-type pump in the engine to unlock the air bubble, or something like that.
If you ever need advice on starting a fuelled out diesel on a slope with a flat battery, give me a shout and I'll run you through it.
I get home around 8pm hoping the Mrs would have got the kids down. Oh no. William is parading naked while looking out of his window auditioning for the Ron Jeremy role, one of the girls is wondering down the stairs looking half asleep and the other twin is screaming the place down with a bath towel wrapped round her screaming 'Daddeeeeeeeeee'. If anyone could hear, they'd call the authorities.
In 20mins the girls are asleep, I'm in with William as he settles down and I'm thinking I want to captain Sterling away at Leeds this week. Not sure why that crept into my head at such a time and after such a hectic few hours.
I go downstairs, pour myself a LARGE glass of red (I need it but it's becoming a habit) and come upstairs to check in on work emails and see what I missed while I was playing Fantasy RAC.
Friday 2 October
A quiet day, all by myself. The kids have gone round to the outlaws after school and the Mrs is at work. Quite a lonely day, but I get a load of work done. The heron reappears, as do some swans, 2 jays and a herd of cows in the field opposite.
My watch strap breaks, not sure how. The car, now my watch. Jeez.
I am trying my hardest to hold my free transfer this week which will mean playing Werner vs Palace and ignoring DCL at home to Brighton.
Saturday 3 October – GW4
Get woken up, make coffee, sort Fanteam out, just about resist the urge to sell Werner for DCL, the only reason being I am trying to show restraint and carry 2 free transfers over the international break as everyone says I am too impetuous. William sells Werner for Jiménez. He captains KdB, I captain Sterling.
It's been raining for two days now and William's footy has been called off while I have called his cricket off. He gets invited to go trampolining in Bath. As I grab the car keys and my glasses, my glasses break, snap, f**k. Car, watch, glasses. The rule of three. I walk round Bath trying to find an optician who can fix them. One suggests I go back to the shop I bought them in. 'Could be tricky, I bought them in Monaco'. Now I immediately come across like a rich bastard who can afford a helicopter, yacht, Ferrari and three Russian hookers.
Having failed miserably to get my glasses fixed I collect William and get home to watch Werner hardly touch the ball vs Palace. And James is benched. FFS. Great start, here we go again.
The wife's phone has now packed up, the black screen of death. Seriously??? What next? Car, watch, glasses, her phone, all broken. I am broken. My team is broken.
DCL obviously then scores for Everton. I want to cry. Guess where we are… Morrisons car park. Nothing good ever happens to me in Morrisons car park, only the park. And that fizzled out quicker than my wildcard hopes.
It's still raining. Metaphorically as well as literally.
Captain Sterling scores early vs Leeds and things are looking up. Sadly this is as good as the game-week got. William went to bed wanting to watch 15mins of Newcastle vs Burnley. He has Wilson, remember? Wilson assists Saint-Maximin and he goes to sleep a happy little FPL bunny, while his pathetic excuse for a FPL figurehead wallows in self-pity and two large glasses of South African red as Wilson adds a brace and 3bps to his assist. My lord.
I try unsuccessfully to superglue my glasses while coming to the conclusion that I was right all along – the value is in the cheaper forwards – namely DCL, Wilson, Maupay, Bamford… hopefully it's not too late to resurrect the season.
Sunday 4 October
William's rugby coach is an army sergeant who believes that 'if it's not raining, it's not training' and therefore the U8's are the only age group training despite it now raining continuously for over 48 hours. Muggins here takes him and stands under an umbrella while the fields either side of the rugby club flood and the geese have a party.
FPL wise, the afternoon was as cosmic as ever. Harvey Barnes has a goal ruled out for offside, Jiménez does nothing vs Fulham and Adams does nothing vs West Brom. Obviously. McCarthy gets a clean sheet for William though. Saiss does me proud with 8pts. Small mercies. He and Sterling have combined for 26 of my 36 points thus far.
Son scores for Spurs vs United and my boys are 3-1 down with Martial sent off. The rain has stopped and Noah-like I order the family out for a walk across the field to see the donkey. It feels like the right thing to do. Son scores again and also assists. William thinks its FPL Christmas. I might just dump him in a manger with the donkey.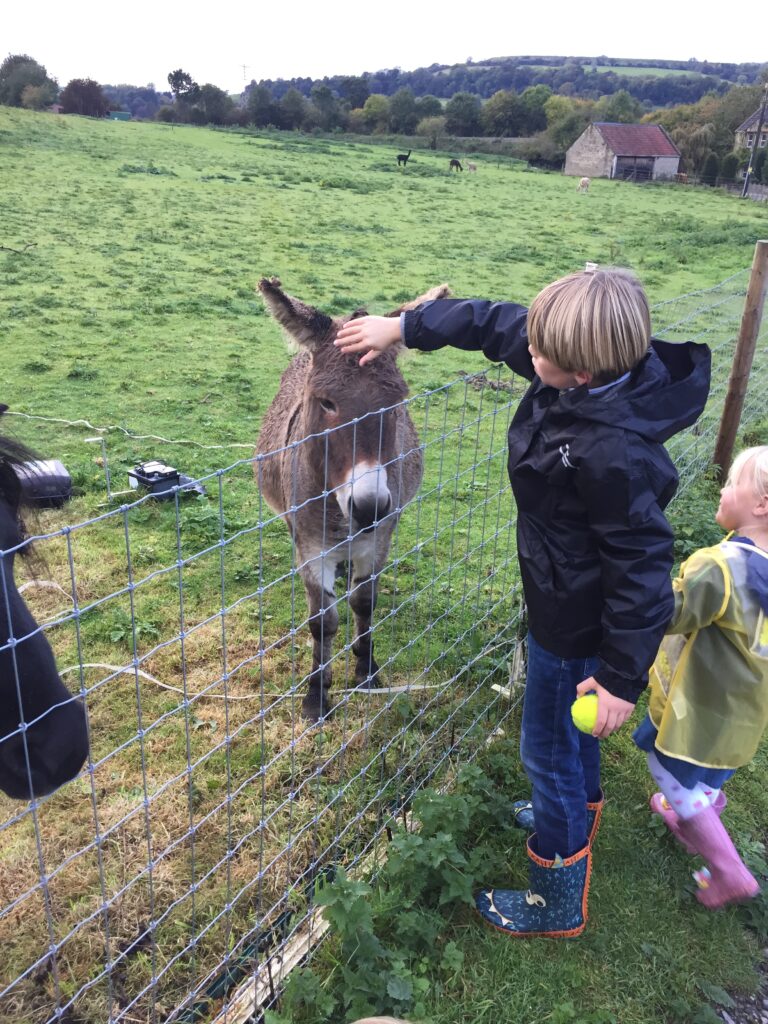 My double Liverpool clean sheet disappears in 4mins. Watkins scores his first Villa goal. Another cheap striker. I put the girls to bed – William rushes in with my phone and a scoreline that reads Villa 4-1 Liverpool. WTF? A Watkins hatty and a Salah goal. Damn Salah. The overall 7-2 is one of the funniest things ever and great entertainment. F**k my double Liverpool defenders, this is too funny!
Funny indeed, unlike my game-week score or indeed my rank. Embarrassingly I scored 39pts this week and I now sit in a shockingly bad rank of 4,189,976 – in the words of Yazz and the Plastic Population, 'The Only Way is Up.'
William scored 56pts and his rank is 2,923,960. I'm not even the best FPL manager in my family.
Monday 5 October
Not usually a fan of Mondays, but the rain has stopped and it's a lovely sunny day – the ducks, swans and geese are loving the flooded fields and with the rain washed away, maybe also is my bad run.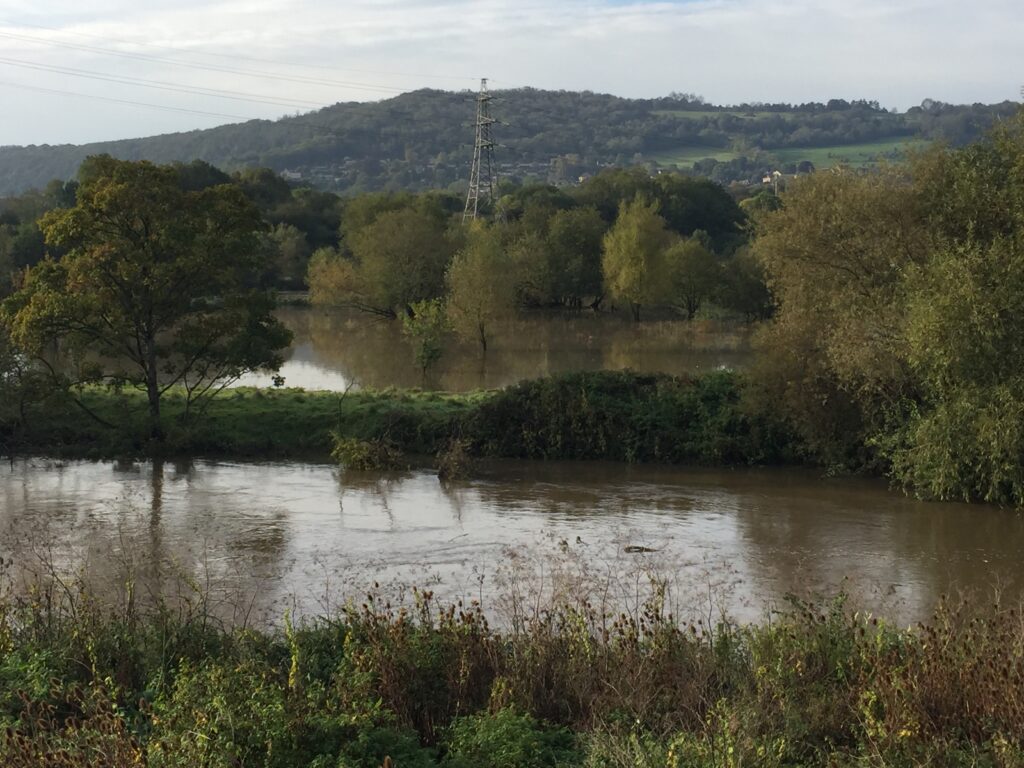 A new start beckons, from now I go again. Re-focus, make a plan and climb those rankings as despite a shocking start and a wasted wildcard, we are only four weeks in. There's plenty of time.
See you soon.
Thanks for reading Fantasy Football Diary 2020/21. This article was written by Cookie.
VOTE ON THIS WEEK'S CAPTAIN POLL GW5
FPL FIXTURE TRACKER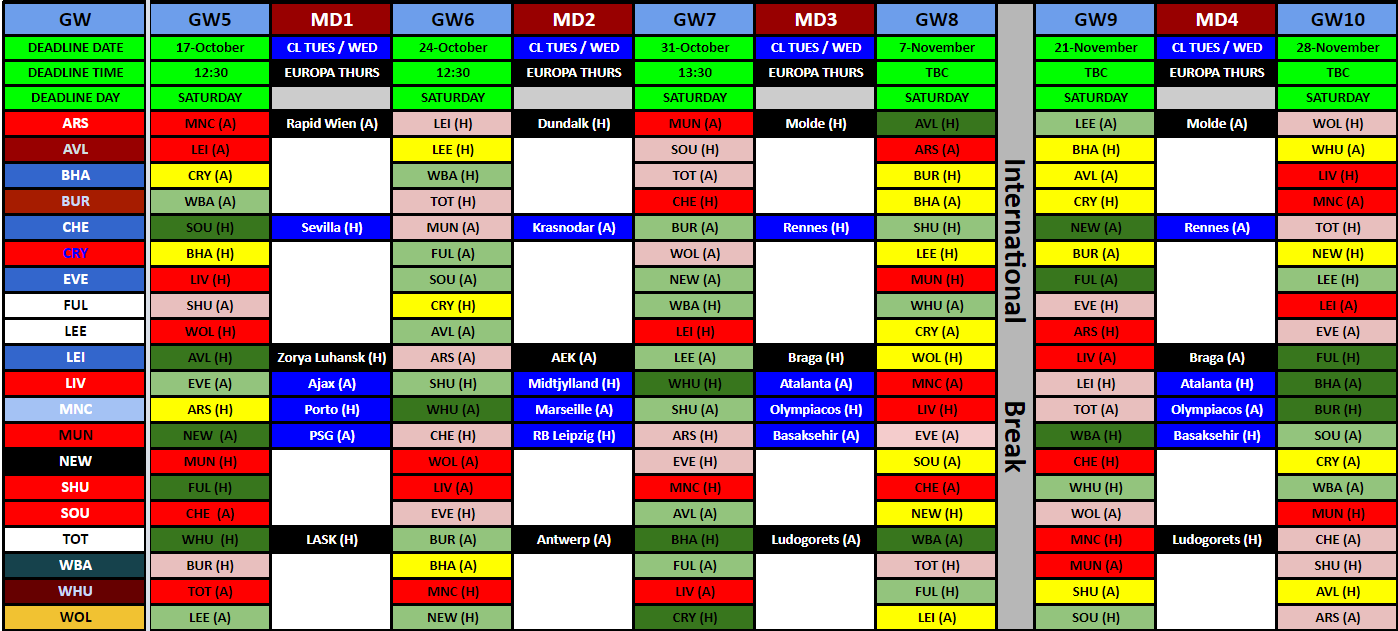 FIXTURE TRACKER LINK
For those who want their own tracker to play with, just make a copy using the link below;
Fantasy Football 247 League Codes:
All prizes must be claimed within 30 days of the final GW.